One of the things I noticed upon entering adulthood was my newfound love for grocery shopping. As a child, I looked forward to weekly trips with my mom because I got to pick out my favorite snacks off the shelves. Now, as an adult, I see it more as a menial task that's somewhat therapeutic, letting my mind rest while still being productive.
ADVERTISEMENT - CONTINUE READING BELOW
Heart Evangelista once shared on her Instagram Stories that she was casually out and about in an Herve Pierre made-to-order dress just to buy salted egg (obviously, she was kidding—she was on her way to a contract signing). Prior to it, she also joked about going out to buy corned beef (yes, she said it on video) while clad in a deep turquoise Martin Bautista frock, which went viral and launched a thousand memes. People found it humorous how she's dressed extra to go to the grocery. But in retrospect, I couldn't see what was wrong or laughable about it. Perhaps I have this perspective because I work in fashion—but come to think of it, what's so bad about going the extra mile to treat yourself?
CONTINUE READING BELOW
Recommended Videos
ADVERTISEMENT - CONTINUE READING BELOW
And so, in the spirit of being extra, I borrowed couture gowns from our favorite local designers to help me reach my peak Heart Evangelista. On a bright Monday morning, I decided to drop by Landers Superstore to pick up some of my household needs dressed in floor-length frocks. Read all about my experience below.
The Fit
While pulling out the clothes from the designers, my primary worry was the fit. Of course, these were tailored to fit someone else—models and mannequins—so I wasn't sure if the dresses would fit me. But this concern led me to realize just how special couture is: The clothes are ultimately one of a kind. Sure, they sometimes repeat one design to cater to all interested clients, but they can't be exactly the same because the clothes are specifically made with one's measurements. It hugs your body like a glove because it's meant to highlight your best assets (and perhaps downplay your problem areas).
ADVERTISEMENT - CONTINUE READING BELOW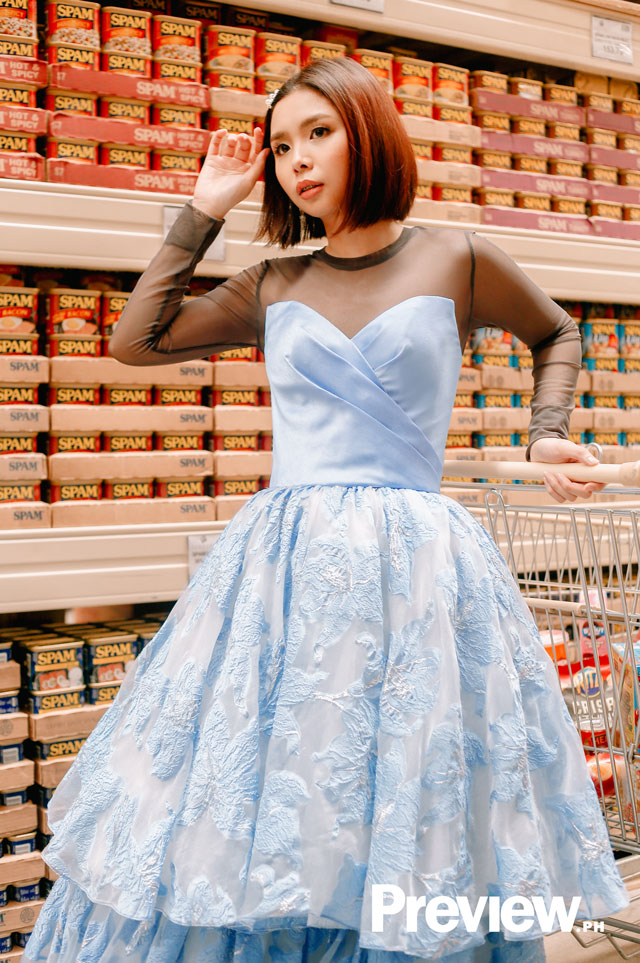 I borrowed a dress from one of Heart's favorite designers, Mark Bumgarner. In the photo above, I'm wearing a gown from his newly launched Spring 2019 collection. As soon as I put it on, trust me, I wanted wear it all day long. The bustier dress fit me well and had enough allowance to allow me to eat and breathe, but wasn't too loose in the chest area. This sort of balance is hard to come when it comes to RTW clothes because a garment falls on each person's body differently. But with Mark being one of the best at making bustiers, you'll surely get your money's worth.
ADVERTISEMENT - CONTINUE READING BELOW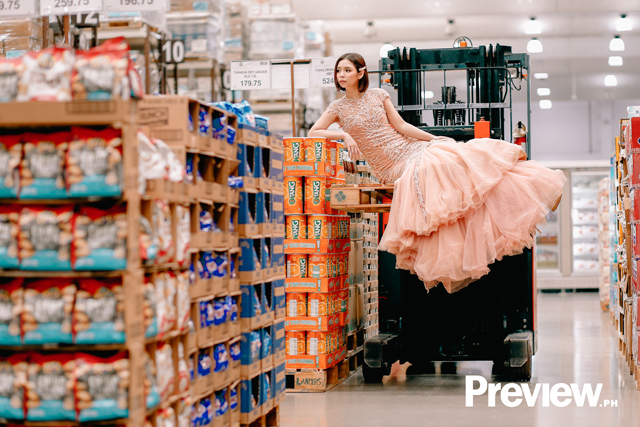 I also got to wear the Francis Libiran gown Megan Young wore the night she won Miss World back in 2014. Fitting into this serpentine dress was a huge worry because...have you seen Megan?! How could I possibly do justice to the gown? But blessed with my mother's thin genes, I was able to fit in it. It was a little snug but I guess Francis has an innate talent in making flattering silhouettes for all women. That's another lesson I learned while wearing couture dresses; you may not be at your best body shape (I don't remember the last time I had a proper workout), but when you're dressed by an expert, you'll love your body no matter what.
ADVERTISEMENT - CONTINUE READING BELOW
Rajo Laurel is responsible for my last designer dress. I wore one of his 25th Anniversary Gala gowns, which was launched when he was honored at the Red Charity Ball last year. From afar, the dress looked boxy and I was worried about losing my shape, but it actually had the opposite effect. The simple straight cut dress fit me perfectly and its silhouette gave my body a nicer curve.
ADVERTISEMENT - CONTINUE READING BELOW
The Design and Quality
Knowing I'd be decked out in designer dresses at the grocery, I kind of feared for my life. I knew each dress bore a hefty price tag and I've always wondered why. But when I got to hold and wear the dresses, I finally understood. The quality of the dresses are unparalleled. Sure, off-the-rack garments have their own merit but these frocks were a labor of love and go completely beyond expectations—once worn, you can see and feel the difference.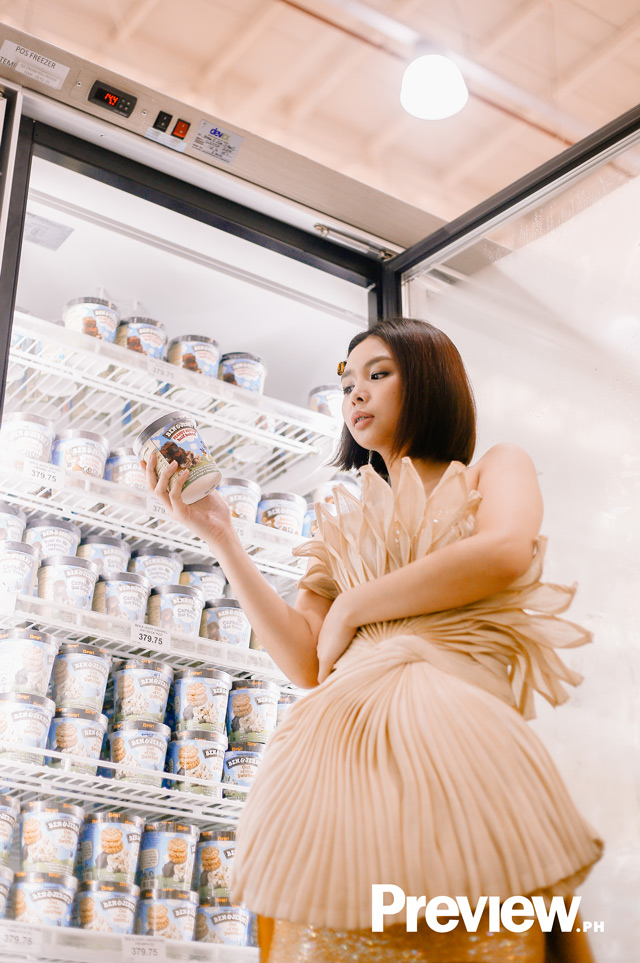 ADVERTISEMENT - CONTINUE READING BELOW
Take this Rajo Laurel dress, for example. Don't underestimate it for its lack of shiny embellishments, the technique alone that rendered this art-like design in the front takes real talent to make and a mastery of skills to create. For one, piña fabric is a tough fabric to manipulate, and the fact that Rajo was able to make a 3D floral pattern with pressed knife pleats? That surely says a lot about his sartorial dexterity.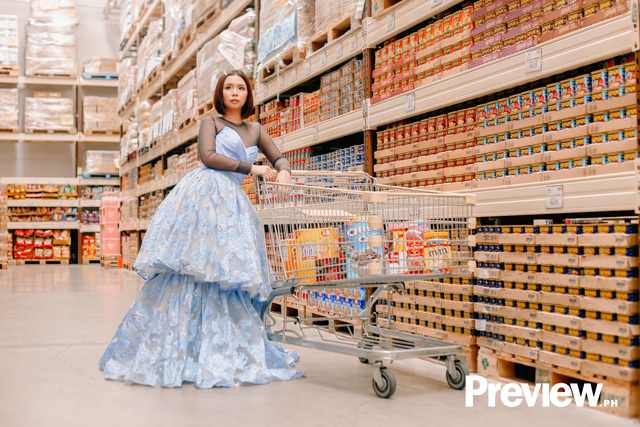 ADVERTISEMENT - CONTINUE READING BELOW
Meanwhile, this Mark Bumgarner gown may look like it was made with a readily available floral textile, but inspect it closer and you'll see individually embroidered floral appliqués instead, stitched to create the dreamy fabric overlay. Not to mention, the bodice itself is made with high quality ruched silk.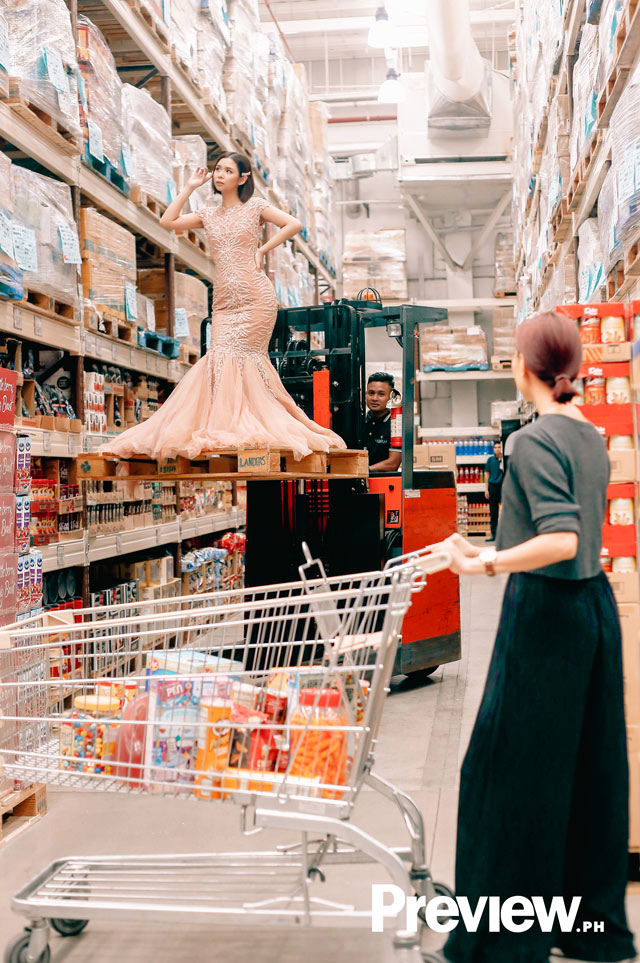 ADVERTISEMENT - CONTINUE READING BELOW
And who can argue about the quality of this hand-embellished Francis Libiran gown? From the pattern, to the material, to the hours it took to make the gown, you're practically paying for wearable art.
The Feeling
In a nutshell, I felt like a million bucks. My self-esteem sky rocketed not just because I was wearing pretty gowns, but because I know they were tailored especially to highlight my body. I felt celebrated because the pieces were given special thought and utmost attention. And when you're wearing exceptional gowns, won't you feel just that?
The Practicality
I am not gonna lie. The dresses were not made for everyday wear. But they're not as heavy as I imagined them to be. The dresses were easy to move in (yes, even that serpentine gown) and were comfortable to wear.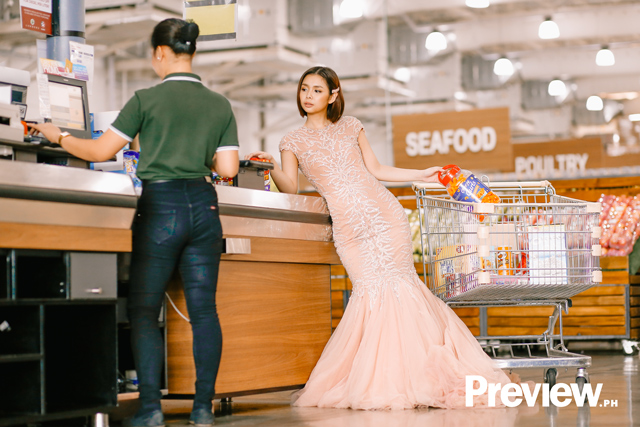 ADVERTISEMENT - CONTINUE READING BELOW
Conclusion
I can understand now why Heart might want to dress up to go to the grocery. Making a spectacle out of doing something mundane makes the task even more engaging to do. Plus, you can turn it into a me time type of endeavor.
Clothes have always been a magical tool for me. Dressing up instantly makes me feel better, no matter my mood, and it even gives me a sense of purpose to roll out of bed (even if it means to just change out of my pajamas). The effort of dressing up lets me value myself a little more. It's one of those little self-care practices that can shape up the rest of your day or the way you look at yourself. Plus, it makes a mean content mine for your Instagram. And who are we to say no to that?
Granted, wearing a fully-beaded formal gown is a bit extreme (we're trying to prove a point here) to do on a normal day, but hear me out on this two-pronged lesson I learned from this experience: 1) Dressing up is always a good idea. There's nothing wrong with putting on your best outfit to run errands. You dress up to feel good, to show yourself a little more love because you deserve it; and 2) Custom-made pieces are worth it. You know they will fit you well, they will flatter you, and they will last a long time. What's a few more bucks to spend on a good investment, right?
ADVERTISEMENT - CONTINUE READING BELOW
Now, if you ask me to wear an elaborate gown to the grocery again, my answer would probably be no. But ask me if I would ever wear a custom-made designer outfit to buy some snacks? My boosted self-esteem and uplifted spirit will produce a resounding yes.
Produced by Steph Sison
Art direction by Mark Buenaobra
Co-produced by Maura Rodriguez
Photographed by Karlo Torio
Hair and makeup by Hanna Pechon
Shot on location at Landers Superstore Balintawak
Special thanks to Pinky Angodung and Mitzi Cabrera
Related Stories from Preview.ph
Hey, Preview readers! Follow us on Facebook, Instagram, YouTube, Tiktok, and Twitter to stay up to speed on all things trendy and creative. We'll curate the most stylish feed for you!