I'm pretty lucky when it comes to hunting down designer pieces for a fraction of the cost, if I do say so myself. I count among my most stellar finds a pair of cherry red Roger Vivier Belle Vivier pumps I copped for 350 bucks in a Cubao ukay, black Carven men's trousers in immaculate shape (read: with the price tag still on!) lying grievously ignored inside a shabby cardboard box marked 'PHP50', a thrifted leopard spotted Ports 1961 slip dress, chrome glitter Numero Ventuno Knot slides at 80% off, a bright Barbie pink Furla Metropolis from my favorite Melbourne outlet store, and—my pride and joy—a tiny little Oblique monogrammed Dior handbag in perfect vintage condition.
ADVERTISEMENT - CONTINUE READING BELOW
CONTINUE READING BELOW
Recommended Videos
You know what I mean, fellow ukay queens: The thrill one gets from thrifting is incomparable and inimitable, and it definitely helps to have a discerning eye for both under-the-radar labels and bigger brands alike. Which leads me to ramble on about my latest acquisition! I bought a dusty, dirt cheap old Lady Dior from a secondhand shop, then had it cleaned and polished to look brand spankin' new.
ADVERTISEMENT - CONTINUE READING BELOW
I'm wearing the aforementioned Ports 1961 frock in the above snap, by the way! I love it when my shopping habits come full circle. Anyway, I snatched up my Lady (affectionately named Soy Nut after my sister nearly sat on it and to spit out the lesser-known Anne Hathaway line "Please don't crush my soy nuts" from The Princess Diaries was my immediate reaction) at an online preloved seller's popup event. When we first met, she was sporting some very obvious dark smudge marks streaked across her suede blend body, but in terms of figure, she was perfect—firm and boxy, plus her gold hardware was still gorgeous. And she had a pristine, complete set of authenticity cards carefully sealed in a small Ziploc. I laid eyes on her and knew she was the one...all that, and combined with a total steal price, the deal was sealed. I was taking her home.
ADVERTISEMENT - CONTINUE READING BELOW
Here's what she looked like at the beginning of this journey: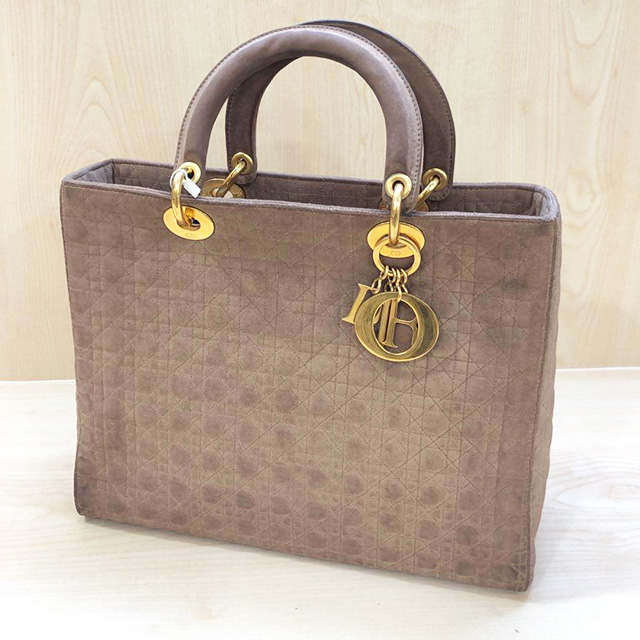 Enter Grail Cleaning Services into the picture. Weeks prior to meeting Soy Nut, AJ Francisco of Grail had jovially offered premium cleaning services for any number of my designer stuff, and that early proposition echoed in my head as I examined the bag up close. A great part of decision to take her on was my great faith that, despite her flaws, she was 100% cleanable.
ADVERTISEMENT - CONTINUE READING BELOW
So was she? Let us pause for a quick chat with Henrik Lim, CEO of Grail, for the basic ABCs of this mammoth endeavor, and to answer any possible questions you might have right off the bat.
What was the game plan for cleaning the tan Dior bag? Exactly what combination of services was used to restore it?
"For bags, we have two kinds of services. Overall Cleaning (which addresses interior, exterior, and metal parts), then the second one is Overall Cleaning + Premium Protector. For the tan Dior bag it was the Overall Cleaning process."
Could you take us through a step by step process of its restoration? Which problem areas were tackled first and last?
"First step would be to brush off any dust or dirt both inside and outside of the bag. Then, we started with the heavier stains. We used a cloth with our cleaning solution and just gently rubbed the stained parts. For the tan Dior, since the stains were very sticky, we used a soft bristle brush to remove the stickiness and marks. After cleaning all parts of the fabric, we left it to air dry. Drying is very crucial, especially for fabric material, because water marks might be left behind if it isn't cleaned or dried well. After the bag is fully dry, we can start polishing the metal parts."
ADVERTISEMENT - CONTINUE READING BELOW
What solution was used to take out the dark stains?
"We produce our own cleaning solutions that are specialized to target every type of material and item, whether it's a bag, wallet, or shoes."
How was cleaning a microfiber bag easier or more difficult than leather?
"Cleaning any fabric or microfiber is more difficult than leather because you can't put too much solution or water on the fabric. That, and you really have to be patient with rubbing or brushing the material gently until all the stains are treated."
There you have it. To be completely honest, I had to ferry Soy Nut back and forth to Grail's Podium branch several times because one session didn't prove to be enough--the first round left her a bit slouched and strained from the intensive cleaning. Something I learned is that, for structured purses, it's essential that you insist they're dried with stuffing inside...otherwise, they'll quickly lose their shape, and you so don't want that.
ADVERTISEMENT - CONTINUE READING BELOW
Result
I was fairly satisfied the second time around, though! Below, my fair Lady on her maiden outing post-Grail: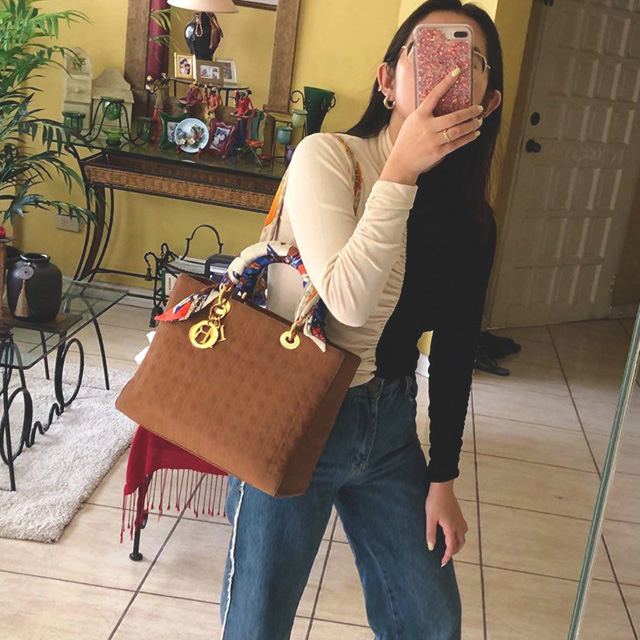 Peer closer and spy that her original caramel hue was successfully restored from the sooty dismal starting point of a dusty, graying beige. And, though not a lot of work was needed on the metal bits, the way they shone following a thorough anti-mold polish rivaled the sun itself. Some stubborn marks on the bottom corners and top handles simply couldn't be sloughed away, but I'm not fretting--that's nothing a chic, knotted pair of slim silk scarves can't disguise. (I used a third length to create a makeshift shoulder strap, in case you didn't already notice. Hacks.)
ADVERTISEMENT - CONTINUE READING BELOW
To wrap things up: Yes, Soy Nut indeed emerged from her ordeal rejuvenated, glorious, and boasting a fresh lease on life. A true miracle. We're best pals now, ready to take on anything from a hectic work day to a quick press trip abroad...just keep the wine splatters and accidental lipstick stains far, far away.
Find Grail Cleaning Services branches at Level 4, The Podium, Ortigas and Basement 1, One Uptown Residences BGC.
Related Stories from Preview.ph
Hey, Preview readers! Follow us on Facebook, Instagram, YouTube, Tiktok, and Twitter to stay up to speed on all things trendy and creative. We'll curate the most stylish feed for you!