On the fourth installment of our Denim Glossary series, we're moving on to the various styles we all know and love. Plain denim made to be worn forever is great, but you know us ladies, sometimes we just can't help but crave for something more. Added twists such as embellishments, rips, and prints, are so much more fun to wear, don't you think? Today we show you four of the most common jean alterations we urge you to try for a change. You ready? Scroll down.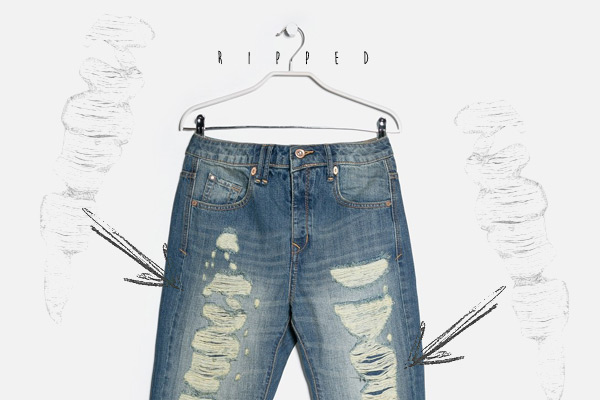 Since the 1980s, the distressed trend has been falling in and out of the radars. But with the return of the '90s, the ripped and rugged beauty of this style has become the perfect pair to the skinny and boyfriend cuts, sending it straight under the spotlight. The rips may vary depending on the thickness of the denim used, but tears grow after each use and wash making it look like a totally different pair after months or years of use.
What it says about you: All its tattered glory instantly says you're a laid-back chick who's not afraid of a little imperfection. It's the perfect way to dress down your white button down and pumps, but also looks great with sneakers and a muscle tee.
ADVERTISEMENT - CONTINUE READING BELOW
Prints are usually, well, printed onto the fabric in this digital age. What used to be tie-dyed or painted are now easily digitized and applied to the fabric through machines. With advanced technology, the design options are endless. From simple stripes, polka dots, chevron, to florals, plaid and more, all you have to do is take your pick.
What it says about you: It screams that you are fun and game to go where others can't. It's tricky to buy a printed pair of jeans as they are not as versatile, so kudos to you if you can find more than a handful of ways to style it.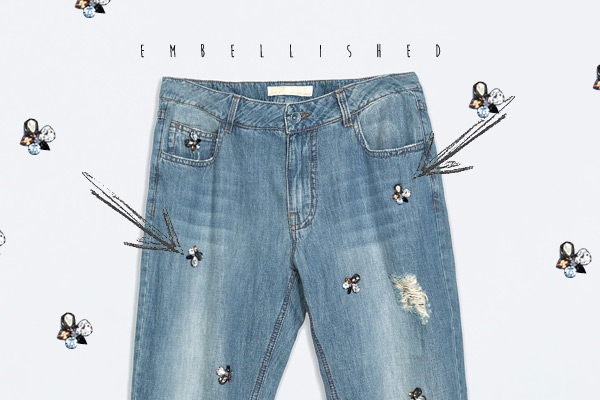 ADVERTISEMENT - CONTINUE READING BELOW
Embellishments are basically an upgraded print. Often sewn onto the denim instead of mere printing, embellished jeans are a style that can go from simple to outrageous depending on how much is placed. This is a favorite of DIY-ers.
What it says about you: Pizzazz is your middle name. You fancy more intricate details like a few gems, pearls, buttons or sequins on your denim. You are the type who prefers dainty, pretty, and sophisticated bling that you can easily dress up.
Patchwork on jeans is basically a combination of different fabrics sewn together to create more drama. The different fabrics pieced together do not necessarily need to be of the same size and the juxtaposition can be as random as it can get.
What it says about you: Artsy cool is your kind of thing. Not everything in this world needs to be patterned to look like everything else.
Have you taken your pick? Then check the gallery to begin shopping.
Check out our first three entries for the Denim Glossary Series: the different types of washes, the different types of cuts, and the different jean rises.