A still from one of Annie's videos, Wes Anderson-like in their pristine wardrobe and production design.
When photos of them walking together in New York popped up, model Cara Delevingne and musician St. Vincent became the Internet's new couple crush. Cara has been seen at the musician's shows from Tulsa to Tokyo - with the initials AC (Annie Clark, St. Vincent's real name) newly tattooed on her finger. Meanwhile Annie, who isn't really open about her private life (says David Byrne, who she toured with for a year) is happy to kiss, hug and be near CD at parties. Sigh.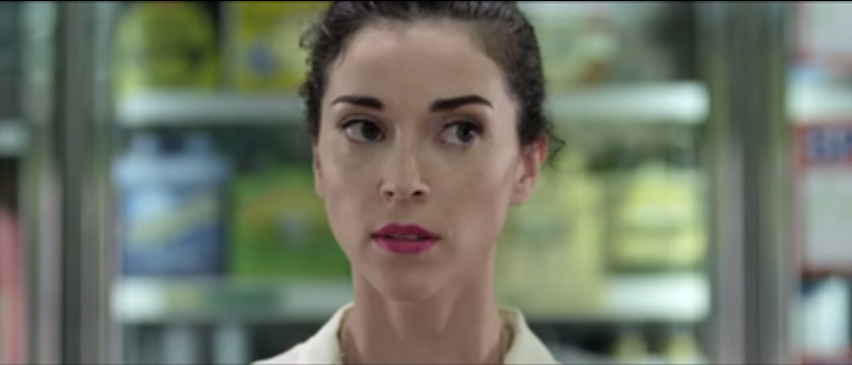 ADVERTISEMENT - CONTINUE READING BELOW
Clark in "Cruel"
St. Vincent, a stunner with an enviable jawline, has been dubbed by GQ as the next David Bowie and is one of the most definitive guitarists to emerge over the past decade. Over the course of her career, her songs and videos have gotten stranger and stranger. She's been a housewife buried alive by her own family, a Gulliver trapped in a museum exhibit, and an otherworldly humanoid floating in a five-dimensional Rubik's cube. Annie basks in the spotlight of the music and fashion worlds, crowd surfing in leather pants and avant-garde dresses, debuting a song about the age of Instagram ("Digital Witness") at the 4oth anniversary of Diane von Furstenberg's wrap dress, and literally taking things to new heights by climbing up stage scaffolding at festivals in stilettos. For her latest album, she has taken on a superhuman air with bleached white locks and a retro-futuristic persona onstage. In contrast to Cara's bubbliness, Annie offstage is more reserved and private, but her mysteriousness makes her all the more magnetic.
CONTINUE READING BELOW
Recommended Videos
Cara as the manic, pixie, dream girl-next-door in Paper Towns. (Via IMDB)
Back on our planet, Cara's modeling career has skyrocketed over the past few years. At the age of 22, she has been photographed by Mario Testino for British Vogue, won model of the year at British Fashion Awards, and dated people from Harry Styles to Michelle Rodriguez. Even her eyebrows have an Internet following. Cara also looks superhuman in another way, because her face seems to be everywhere. She has also been dipping her toes into the acting industry, with a starring role in the upcoming movie adaptation of Fault in Our Stars author John Green's Paper Towns. Not bad for a girl whose previous experience was sticking her tongue out at the paparazzi - something Style Bible once saw outside a Lanvin Show in Paris.
ADVERTISEMENT - CONTINUE READING BELOW
For the pair that famously revels in the weird, here are some films that might just be part of their movie marathons:
The Man Who Fell to Earth (1976)
David Bowie, one of Annie's biggest fashion icons, is the reason why she bleached her hair for her latest album, St. Vincent. Here, Bowie is an alien simultaneously fascinated and bored with suburbia: A similar kind of disposition Annie's in when it comes to her songs.
The Rocky Horror Picture Show (1975)
It's a cult classic with its fair share of weirdness: An undead transvestite, a time warp, and sexualities as fluid as oil.
Alien (1979)
Sigourney Weaver is the kind of heroine whose bizarre circumstances like a stranded ship in outer space, being hunted down by bloodthirsty aliens, and being a total badass, is the stuff of St. Vincent songs.
Zoolander (2001)
Derek Zoolander and Hansel McDonald (a.k.a. Ben Stiller and Owen Wilson) crashed the Valentino runway show during Paris Fashion Week, and Cara hung out with them backstage. The movie is hilarious, and almost as crazy as Cara is. (Also, there's a David Bowie cameo.)
ADVERTISEMENT - CONTINUE READING BELOW
Spice World (1997)
It's about Spice Girls saving the world. No wonder it's Cara's favorite film. Who can resist the Spice Girls, anyway?
Bonus: a playlist of tracks they both probably dig:
Mariah Reodica plays guitar for The Buildings.
Hey, Preview readers! Follow us on Facebook, Instagram, YouTube, Tiktok, and Twitter to stay up to speed on all things trendy and creative. We'll curate the most stylish feed for you!