It's a shakedown of tradition and convention as our very own fashion director, Daryl Chang-Lotho , resets the familiar with her way of celebrating "I do." Here, Daryl reveals the details of her wedding last April 2016 in Cebu—from her dress, the reception, to planning the most miniscule details.
To be honest, it really felt like we were in uncharted territory (because of the many things that we did differently). We reformulated and readjusted so many times that we learned to be adaptive. While that made preparations challenging, it also made it thrilling (and sometimes nerve-wracking, too). For every expected wedding tradition that we've successfully countered with our own spin, we took small pleasure in knowing that we might actually be the first. This was evidenced by suppliers' frequent responses of "No, ma'am, we don't have this, and no, we also don't have that." Frustrating as these roadblocks were, we did—with stubborn determination and a blind refusal to accept no for an answer—bring our concept to life. And we're happy to share that here.
ADVERTISEMENT - CONTINUE READING BELOW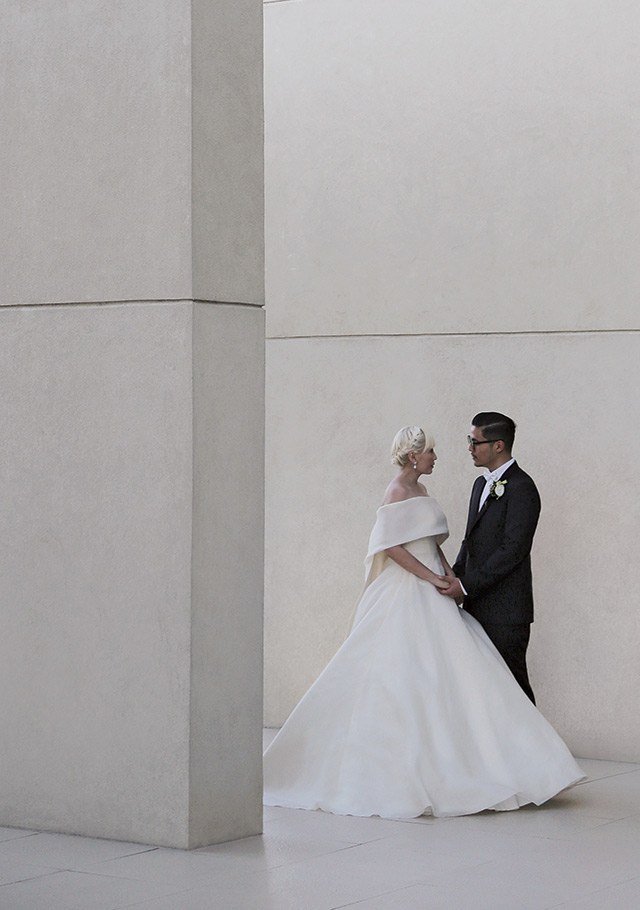 IMAGE Pat Dy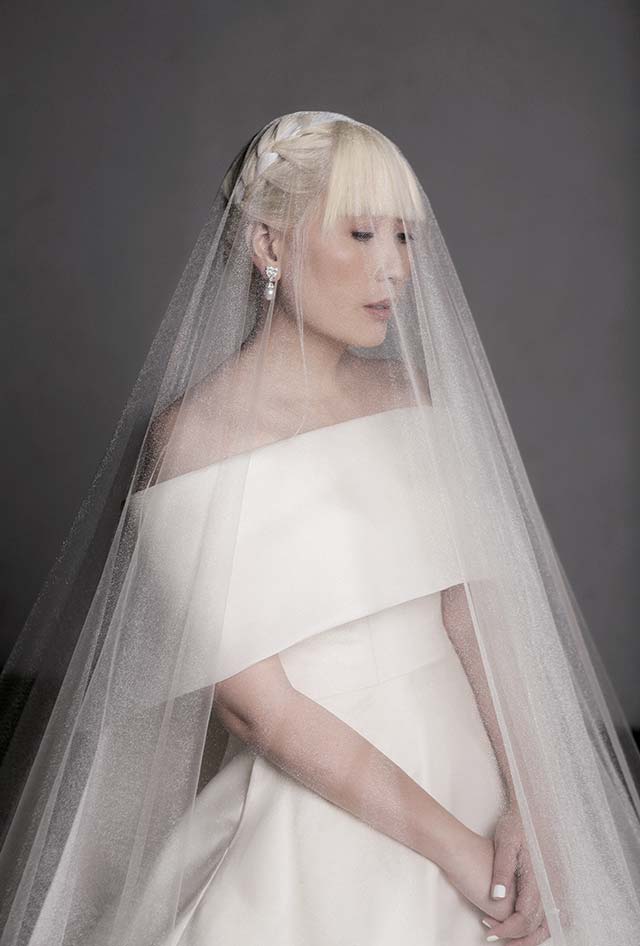 CONTINUE READING BELOW
Recommended Videos
IMAGE Pat Dy
This minimal but beautifully sculpted gown by Cary Santiago brought out my softer side more than any embellishment—beads, appliqués or lace—would ever do. As for my hair and makeup: subdued freshness by makeup artist Omar Ermita, and a decorative braid by Mark Familara.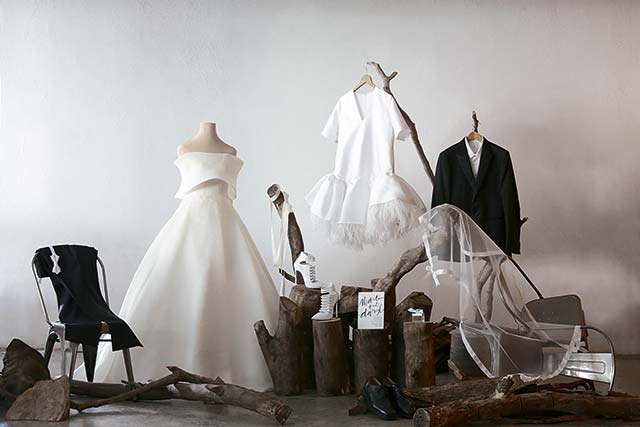 IMAGE Pat Dy
ADVERTISEMENT - CONTINUE READING BELOW
Even before my editor-in-chief, Isha Vallés, asked if they could publish my wedding in Preview, I already planned this product shoot—a sort of moody, surrealist snap of our sartorial wedding essentials. Shot on the day of the wedding, the vignette was styled by my brother and man of honor Andre Chang, the props set up by production designer Mabelle Lequin of Wild Reverie, and the creative direction was by Vince Uy.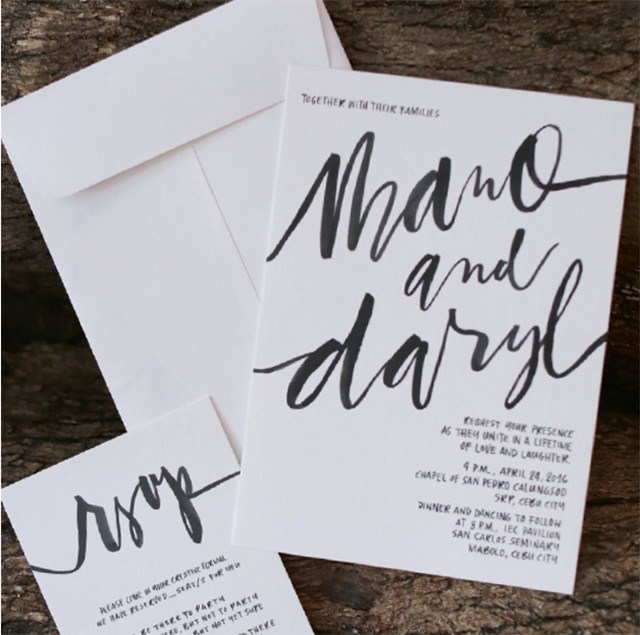 ADVERTISEMENT - CONTINUE READING BELOW
IMAGE Pat Dy
We believe that receiving an invitation with your name beautifully written in calligraphy is one of life's simple pleasures. Our envelopes were handwritten by Fozzy Castro-Dayrit (thefozzybook.com), all 300 of them.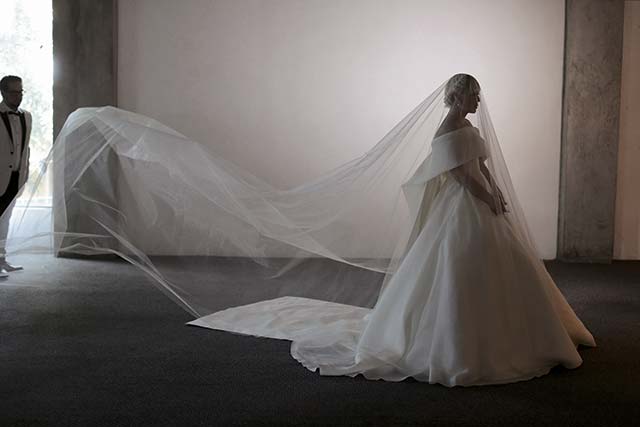 IMAGE Pat Dy
"She was such an easy bride. In fact, I was the one who was having difficulties because Daryl herself is such a fashionable lady," my wedding gown designer, Cary Santiago, explains. "The fabric I used was imported from London: It's silk gazar, which is quite difficult to manipulate. There was really no room for error."
ADVERTISEMENT - CONTINUE READING BELOW
A fabric fact: Silk gazar was created in the 1960s by a Swiss textile company in collaboration with Cristóbal Balenciaga. The pared-down and sculptural look of my dress is reminiscent of old-world Balenciaga and the choice of the silk gazar a rather fortuitous circumstance.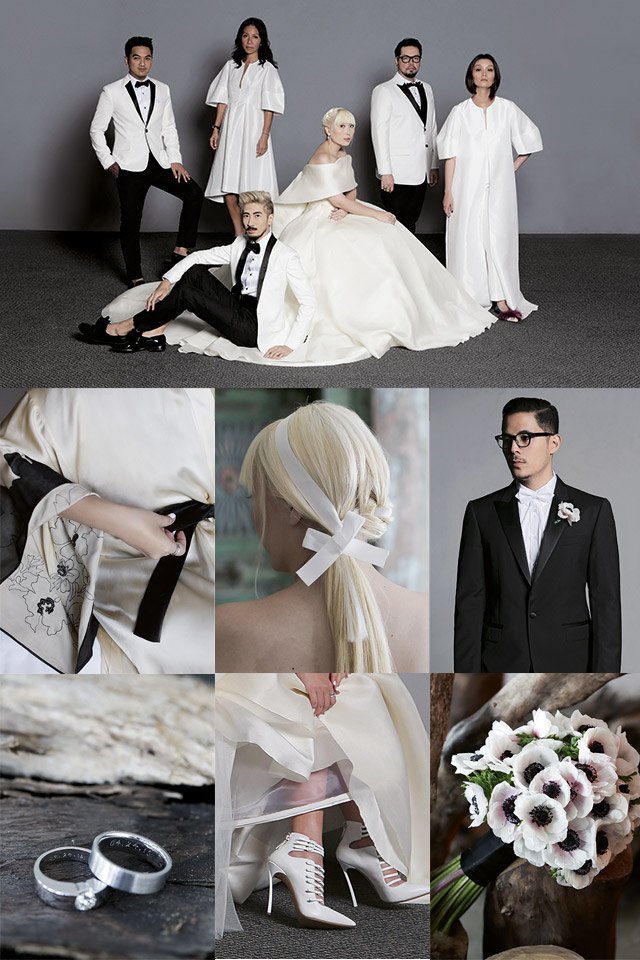 IMAGE Pat Dy
(From left to right) 1. My bridesmaids: Vivien Ramsay and Pauline Juan. My bridesmen: Vince Uy, my co-creative director; man of honor Andre Chang, all-around best support ever; and Epoy Arcino, the man behind my "cheese cake," all wearing tuxes by M Barretto. Makeup and grooming was done by Don de Jesus and Byron Velasquez for MAC Cosmetics and hairstylist Ethan David.
ADVERTISEMENT - CONTINUE READING BELOW
2. Getting ready in a Natori robe.
3. I wanted a hairstyle that wasn't uptight and didn't take itself too seriously. This grosgrain band woven into a loose braid was my ideal of pretty, done by Mark Familara, of course.
4. My husband, Mano Lotho, in a Lanvin suit and Jil Sander button-down shirt.
5. Our wedding rings were designed by my husband (a smooth finish on mine to contrast the hammered texture of my engagement ring, and a brushed matte finish on his), executed by Janina Dizon-Hoschka.

6. My bespoke 6-inch Casadeis that truly captured my personality. Sharp minimalist lines that were neither overly girlish nor off-the-extreme edge—it was just perfect. A gift from Ben Chan and hand-carried all the way from Italy by Patrick Ty of Bench global brands.
7. "Brides tend to stay away from anything black in their bouquets," my florist said, but I was immediately drawn to these dark-centered anemones.
ADVERTISEMENT - CONTINUE READING BELOW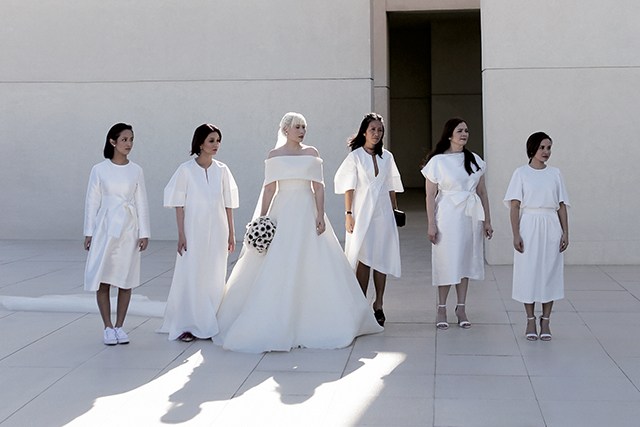 IMAGE Pat Dy
The cool draw of white always will be irresistible to me. It has this understated luxury that's disciplined, elegant and powerful all at the same time. My entourage designer (for the ladies) Jerome Salaya Ang and I made it the canvas for all the voluminous and geometric silhouettes of my attendants.
ADVERTISEMENT - CONTINUE READING BELOW
While white kept my entourage dresses visually in order, there was deliberate disorder with the designs for each person, done in different lengths and shapes, and paired with my entourage's footwear of choice. A focus on the feet is important because shoes have the power to turn fashion clichés into a style hit. Take it from shoe-lover and former Preview editor-in-chief Pauline Juan: "But my shoes can't be seen!" she said when I first showed her the floor-length tunic I wanted her to wear. We ended up cropping her trousers to the ankles so she could debut her Fendi Bug flats, giving her almost monastic outfit a cute and stylish punctuation.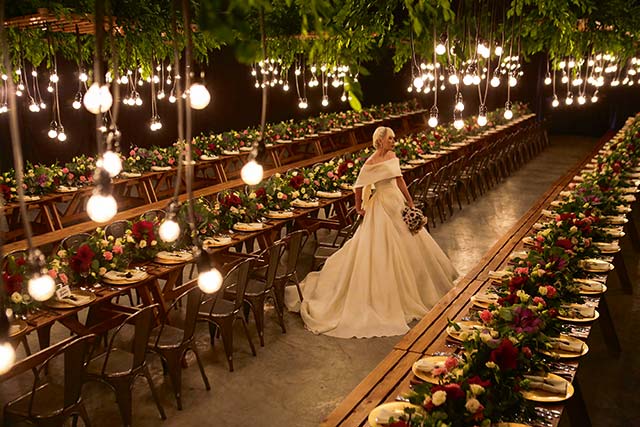 ADVERTISEMENT - CONTINUE READING BELOW
IMAGE Pat Dy
6 facts about our reception:
1. We reverted to the old way of doing things and welcomed our guests as they arrived instead of our guests receiving us as a couple. The upside to that was having a quiet moment to breathe and relax before the festivities started.
2. Location was key in planning our reception. We were dead-set on having it in an industrial warehouse with concrete floors, a high ceiling and exposed beams. The problem was that no such place with the proper amenities (airconditioning, clean toilets) seemed to exist in Cebu. We thoroughly searched commercial buildings, film studios and art galleries but found nothing that fit the requirements. My planner, Stanz Catalan, was the one who found IEC (International Eucharistic Congress) Pavilion—it ticked off everything on our list, with room to spare (the capacity to fit 7000 people, to be exact). We probably curtained off only a fourteenth of the place and the space was still massive.
ADVERTISEMENT - CONTINUE READING BELOW
3. We wanted strings and strings and strings of bulbs! Lighting sets the overall mood and we wanted an intimate, casual and warm atmosphere. To achieve that, everything in the setup had to be custom-made by Debbie Huang of Simple Wishes Events, including the lights draped overhead, the suspended flora with bulbs, and all the tables and benches, because there weren't enough available for rent to create the three long tables that could each seat 72 persons. The metal chairs in the center row were an afterthought because we thought the titas would appreciate not having to step over benches in their gowns in order to sit down.
4. The floral centerpieces and chandeliers gave a lush and cozy atmosphere, exactly the feeling we were aiming for. While we wanted it to be festive, we also wanted it to be intimate. Wild, undone and raw best describe the mix of amaryllis, lisianthius, cabbage roses, carnations and eucalyptus leaves that lined the tables.
ADVERTISEMENT - CONTINUE READING BELOW
5. The attention to detail also trickled down to the table settings. Each charger had a napkin that was hand-tied with twine and lovingly accented with a small bunch of grapes.
6. The only program in our reception my Dad's welcome address and Mano's parents' closing speech. That, and a quick "cheese cake"-cutting ceremony in between, which drew the attention of friends and family to the fact that we were formally opening the food hall for dinner, yay!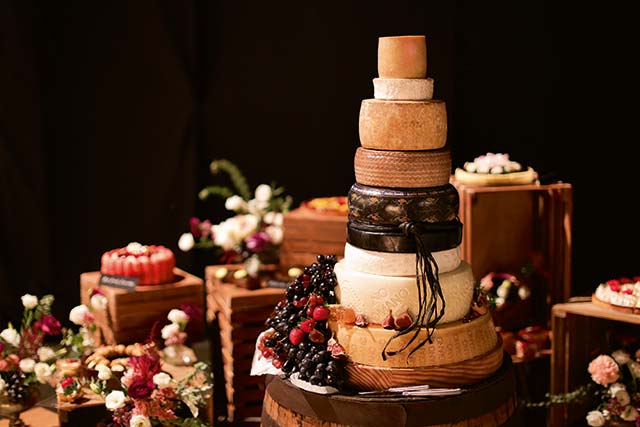 ADVERTISEMENT - CONTINUE READING BELOW
IMAGE Pat Dy
I love cheese, but that's probably an understatement, so it doesn't come as a surprise that we had massive wheels of it as our wedding cake. I trusted no one else other than my best friend, creative director of Lee Jeans and sometimes a genius cake-maker (Remember Liz Uy's giant Louboutin-shaped birthday cake? Yup, that was his), Epoy Arcino.
He shipped to Cebu 38 kilos of unpasteurized and artisanal cheeses, excluding condiments, cheese-cutters and knives, and constructed this tower of cheese in less than an hour on the day of the wedding because he was also my bridesman. Stress, I know. But the time constraint didn't show at all—look at this golden gourmet marvel! What magnificence. Epoy says, "My goal was to create a tall enough tower (with the best selection of cheeses), taking into consideration the visual appearance and size of the wheels so that it stacked correctly and was dramatic enough to be the center of attention. It took me four months of planning, researching, tasting and advanced ordering from different suppliers to finally confirm and be confident that this nine-tier 'cheese cake' from my drawing board will come to life."
ADVERTISEMENT - CONTINUE READING BELOW
Here's the rundown of cheeses from the top: Tête de Moine, Brillat-Savarin, Ossou-Iraty, Manchego, Truffle Noire Gouda, vintage cheddar, Cambozola, Pecorino Romano and Parmigiano Reggiano.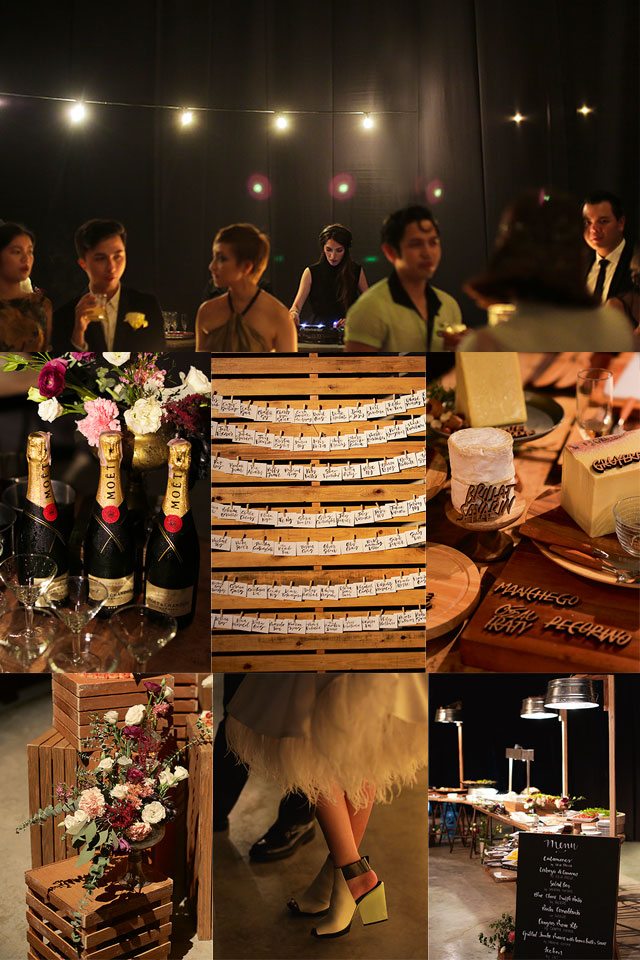 IMAGE Pat Dy
(From left to right) 1. As much as I like indie music, pop hits were the go-to on the big day. It got the people dancing—voluntarily and involuntarily. Xtina Superstar, our DJ, mixed pop, dance anthems and classics in an irresistible party playlist.
ADVERTISEMENT - CONTINUE READING BELOW
2. Celebrations are never complete without champagne!
3. We thought it would be fun to make the guests find their own name cards. There was no strict seating. You could just pluck your name off the board and seat yourself anywhere.

4. Aside from the "cheese cake" tower, Epoy also curated a side table of cheese wedges in even more varieties with woodcarved names that he had custom-made.
5. Undone in an atypical bouquet—just my kind of arrangement. The flowers in the food hall were arranged by Mabelle Lequin of Wild Reverie.

6. Dancing outfit on: a feather-trimmed dress by Jun Escario and comfortable wedges from 3.1 Phillip Lim.
7. The other point of us wanting an industrial warehouse as the location for our reception was that it set off our food hall concept perfectly. We brought in food from six of our favorite restaurants in Cebu, and made it a smorgasbord for feasting.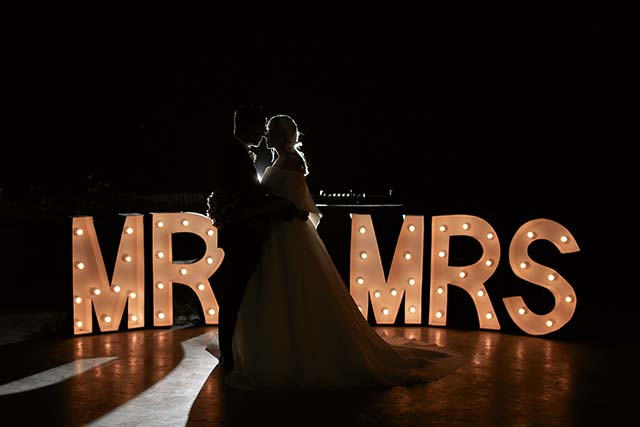 ADVERTISEMENT - CONTINUE READING BELOW
IMAGE Pat Dy
This photograph captures my husband and I in a quiet, just-us moment. But in planning our wedding, it was never just us. Thank you to our parents and the whole village that made this dream wedding of ours a fantastic reality. We will be forever grateful.
This article originally appeared in Preview Magazine June 2016 issue.
Related Stories from Preview.ph
Hey, Preview readers! Follow us on Facebook, Instagram, YouTube, Tiktok, and Twitter to stay up to speed on all things trendy and creative. We'll curate the most stylish feed for you!