My personal style is a little eclectic, a tad kitschy, a bit of Harajuku here and there, and sometimes grandma chic. It isn't formulaic. I tend to pick up trends every so often, too—but ultimately remixing and making them my own. Having said that, I've never been styled or have asked anyone to style me. So when I asked my 58-year-old dad to raid my closet and come up with a week's worth of outfits, it was a mix of both fear, curiosity, and excitement. I mean, who in their right mind would ask their father to dress them at 29?!
Me, I guess.
But to give context to my self-imposed experiment, my dad is truthfully not your typical "tito." He's an artist—and I say that literally. He does contemporary art and is currently a university professor, used to be a pastor for 20 years, was also an animator, and oddly enough played bass in a punk rock band with Romeo Lee back in the '80s. He's not a normal dad, he's a cool dad. And often times, he'd comment on my outfits before I leave for work. Sometimes suggesting boots over heels, or like a different top to match with my skirt, and so on. Being his daughter (and someone who works in fashion), I'd give this disapproving look that translates to "How would you know what works better?!" but I'd eventually try his suggestion and be surprised that his choices weren't bad at all.
ADVERTISEMENT - CONTINUE READING BELOW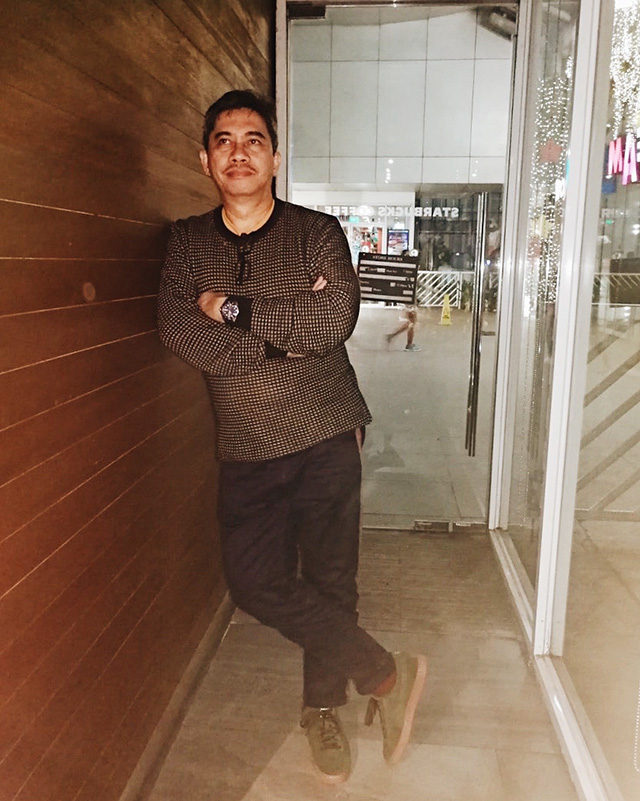 So now we're here. I've put him through the ultimate challenge of dressing me up—much to our dread. I basically asked him to go to my room, check out my closet and the rack of clothes I have, and let his inner stylist free. How did he fare? Scroll down to find out.
ADVERTISEMENT - CONTINUE READING BELOW
Recommended Videos
Look 1: Christmas Day Lunch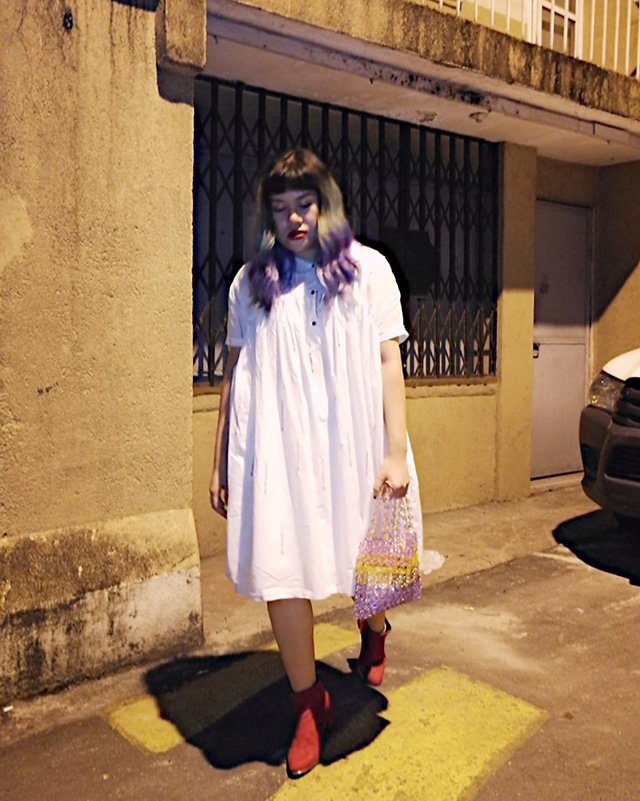 Call me crazy, but yes, I asked my dad to pick my outfit for our annual family Christmas reunion. The key to this look, he told me, was comfort because I'd be eating a lot. (Thanks, dad!) It's also why he decided on this over a beaded Arnold Galang dress, which was his second option. He picked this billowy shirt dress and paired it with red boots. He INSISTED on the boots. He even wished they were shiny and patent. Sorry I disappointed you, dad.
ADVERTISEMENT - CONTINUE READING BELOW
Look 2: An Afternoon with Friends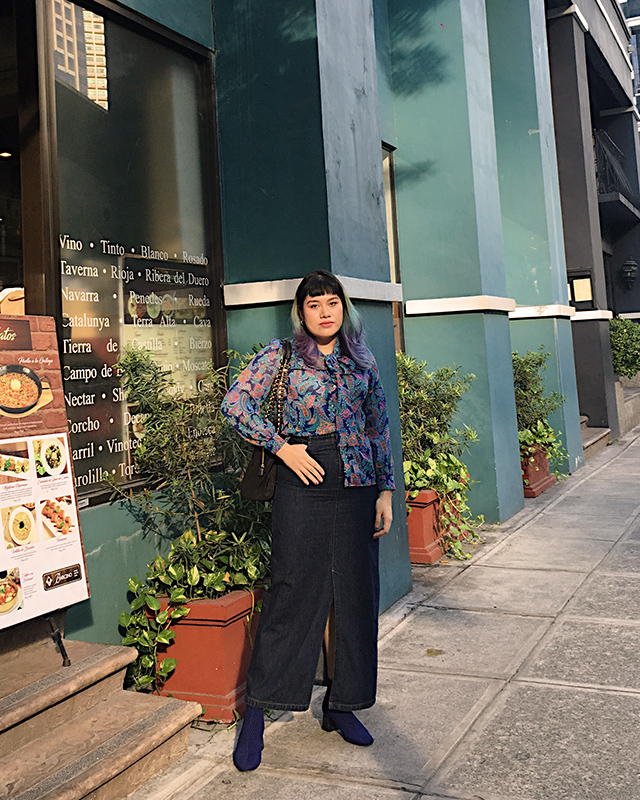 I met up with some friends in BGC over the holiday break and he picked one of the tightest denim skirts I own. (Thank God I still fit, though.) It's a bit too dressed up for an afternoon out, but he didn't care and proved that you can never be too "extra." I also like this monochromatic look a lot, and he went with this loose silhouette for my top and suddenly something form-fitting for my skirt. Chic! He picked matching blue boots, too!
ADVERTISEMENT - CONTINUE READING BELOW
Look 3: Thrifting and a Cosplay Convention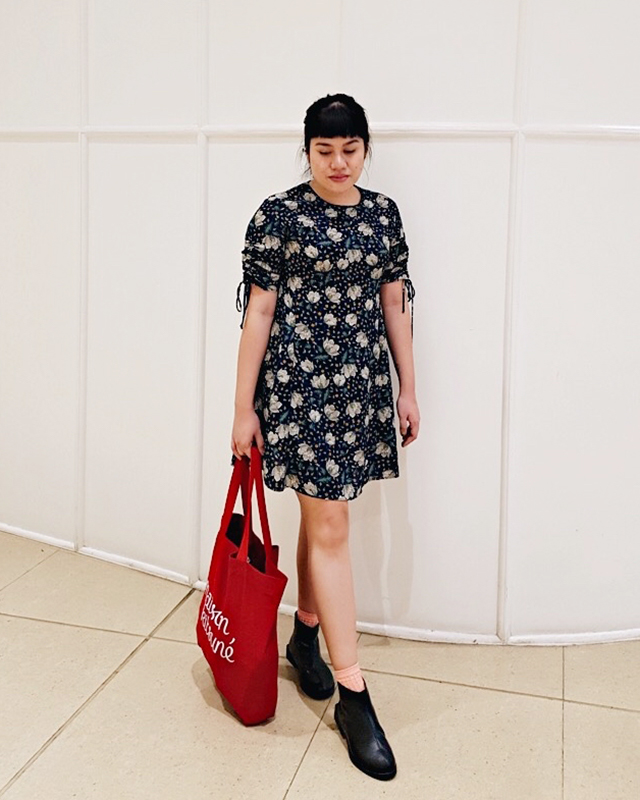 "Are you sure you want me to wear a dress to the ukay?" He retorts, "Why not?" So yeah, I wore a dress to go thrift-shopping. I had also been wearing boots for three consecutive days. To quote my dad, "Mag boots ka. Cool 'yan. Uso 'yan." To be fair, they are cute and on trend, and I do own a lot of boots. I guess he was also taking into consideration that I'll be going to a cosplay convention later that day. (I know, my schedule is odd.) Also, this look is blue again. I'm starting to think it's his favorite color.
ADVERTISEMENT - CONTINUE READING BELOW
Look 4: Grocery Shopping
Okay, he does like blue. I'm discovering he favors a navy palette in general with this fourth look. It's also a dress-over-pants outfit! I was like, "Oh, wow. Dress over pants? Really? OKAY." I think he was trying to prove to me that he can ace this challenge with flying colors. He also initially wanted me to wear a shirt (that had the word MERCY on it) under the dress, but I told him the shirt's print wouldn't be seen since the neckline is too high so he ditched that look. "Then wala nang point if hindi kita," he told me and I agreed. And oh, he let me wear sneakers!
ADVERTISEMENT - CONTINUE READING BELOW
Look 5: Tiangge Shopping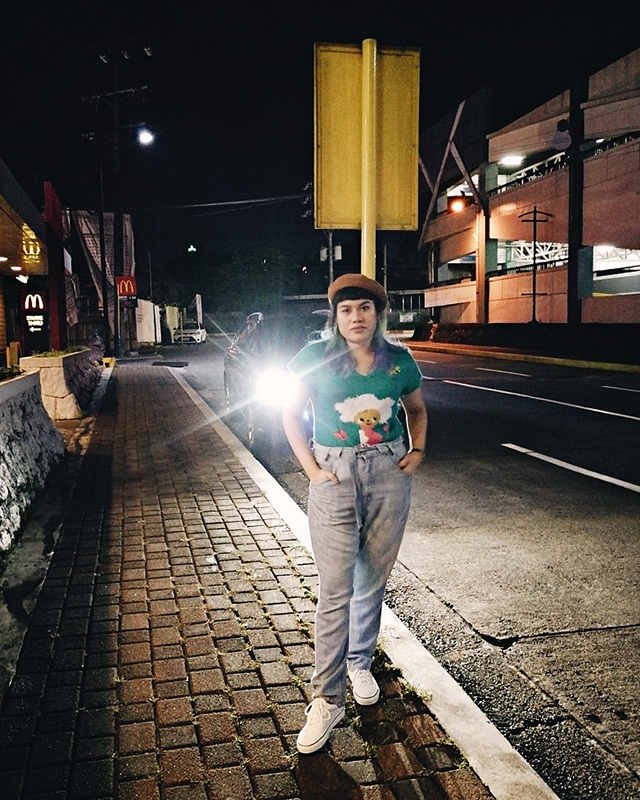 Here's my second sneaker look for a fun day out shopping in Greenhills. I feared he might pick this sweater out of my closet and he did. Not that I hate it; I just think it makes me look chunkier than usual—and paired with these loose high-waist jeans, it wasn't the most slimming silhouette. Then again, I don't think that was what my dad was going for. I guess he wanted this very out-of-the-box look.
ADVERTISEMENT - CONTINUE READING BELOW
Look 6: Highschool Reunion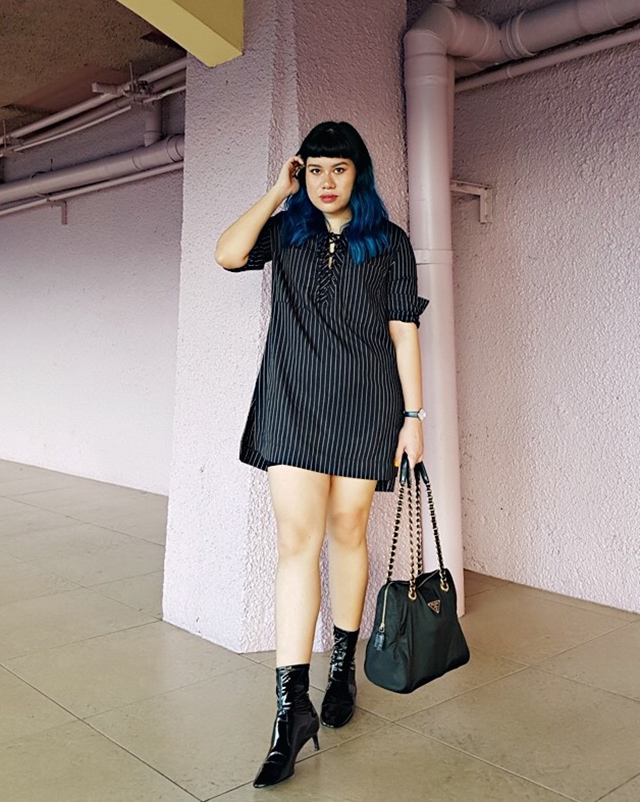 Another afternoon soiree, but with people I haven't seen in over 10 years or so. Big deal. Again, this look seems more like something for an evening affair, but wear whatever you want, right? The boots are back and he still opted for something in navy. I have to say, it's not a conservative look, and I'm proud of him for putting this together.
ADVERTISEMENT - CONTINUE READING BELOW
Look 7: Back to Work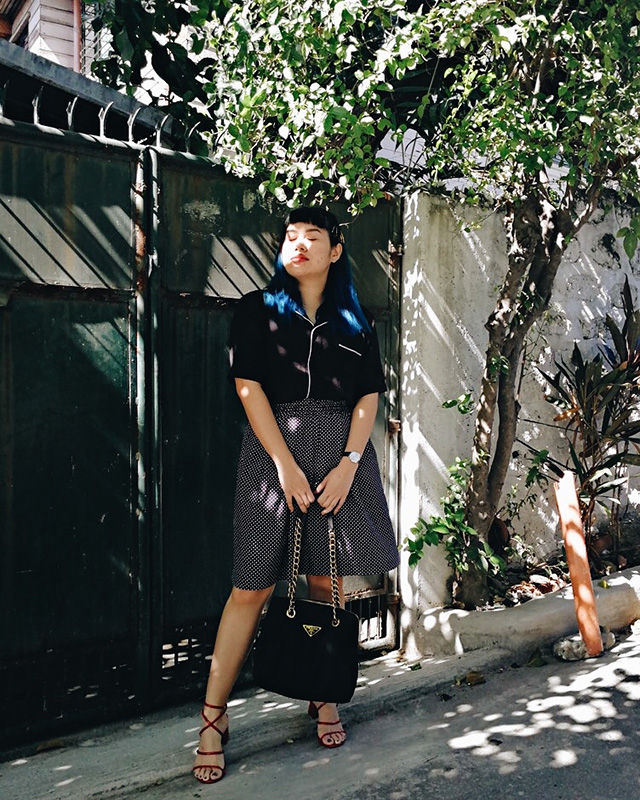 My first week back for the new year and he picked…polka dots! Cute! He styled it with a pajama top and scrappy bright red heels, which, according to him,"are the central part of this outfit." And you're right dad, they are! A pop of red in a black and white outfit? A statement!
ADVERTISEMENT - CONTINUE READING BELOW
Conclusion:
I was surprisingly impressed by how well my dad did. I realized he really pays attention to my outfits and knows me well enough to decipher what I like and don't like. It was also a refreshing experience to have someone else take a look at my closet and style me without giving any personal comments or opinions. I realized I ALWAYS have something to wear, and how my clothes can look new if styled with a fresh set of eyes. There were a lot of moments where I'd be, "Oh yeah, those are cute together!" or "Oh that works!" It also reassured me that my closet is curated enough for someone else to put together outfits for me.
What I appreciated the most, however, is the fact that my dad wasn't too concerned about making me look "thin." Admittedly, being a woman who's not a size small (and never was), I've been so conscious about wearing outfits that make me look "fat." Instead of are cute or fashion-forward albeit not slimming, I tend to favor looks that make me look thin. But having my dad just mix and match my clothes based on color combinations, textures, prints, and the overall look, instead of focusing on the big "Does this make me look fat?" question mark, was quite refreshing for me. It was one of the things I was quite scared about going into this little experiment, and I realize now that there was nothing to worry about. It feels good, actually, to not always want to dress thin, and I really look forward to dressing up even more now after the whole exercise.
ADVERTISEMENT - CONTINUE READING BELOW
As my dad took one of my OOTDs, he suddenly asked, "Pwede ko na ba palitan si BJ Pascual?" I laughed and gave him a grin. "Maybe not yet, dad," I replied. But he could very well be my stylist.
Related Stories from Preview.ph
Hey, Preview readers! Follow us on Facebook, Instagram, YouTube, Tiktok, and Twitter to stay up to speed on all things trendy and creative. We'll curate the most stylish feed for you!