Couture by Casa Buen isn't just your run off the mill clothing brand. Unlike your usual printed designs, this burgeoning family business boasts hand-painted wearable art created by a father-daughter tandem deeply ingrained in their love for the craft. The collaboration between these two is seamless, "I'm more of the ideas person, so I select the clothing piece and which artworks could be done on it." Joyce Buen, currently an Art Management student, tells Preview. "We'll have a conversation about it afterwards on how it will be done and he executes the design." she continues, taking pride in her father, Robert Buen's impeccable talent for the arts.
Their store currently has two pieces available: a skater skirt with Vincent Van Gogh's Starry Night, and a pencil skirt in Gustav Klimt's The Kiss. But that's not all. The brand also offers an avenue for you to revamp old clothes from your closet that you've grown tired of. Couture by Casa Buen allows you to request your own custom-made designs and have them painted on pre-owned clothes from your wardrobe, as well as on readymade products, or on completely new tailor-made pieces!
ADVERTISEMENT - CONTINUE READING BELOW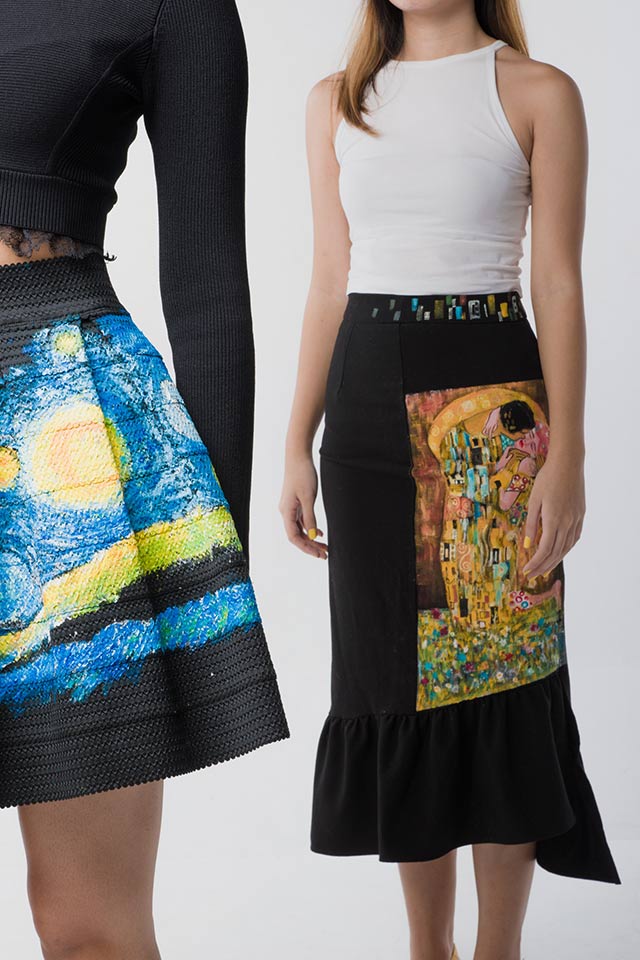 Below, Joyce tells us more about their business and how you can get your own clothing masterpiece.
ADVERTISEMENT - CONTINUE READING BELOW
What brought you to create hand-painted wearable art?
"It really is a family collaboration, because it was my mom who kept pushing for my dad and me to make hand-painted clothes."
Where do you take your inspiration from?
"Currently, I'm an Art Management student and so I'm basically surrounded by art everyday. I always look out for iconic paintings that would look interesting on clothing."
Could you take us through the process of creating these pieces?
"The starting point for me is always the clothing piece. After choosing the piece, we decide which artworks would look good with the cut. It's then expertly hand-painted on and that's it!"
What's the process like if we want our own custom-made pieces?
"If clients want their own pieces custom-made, they can either give me a pre-owned item or we can collaborate on designing a tailor-made one! They can also request artworks they might like and it will be up for conversation. The time of production depends on the chosen artwork or materials. It can take as long as a week or just a day!"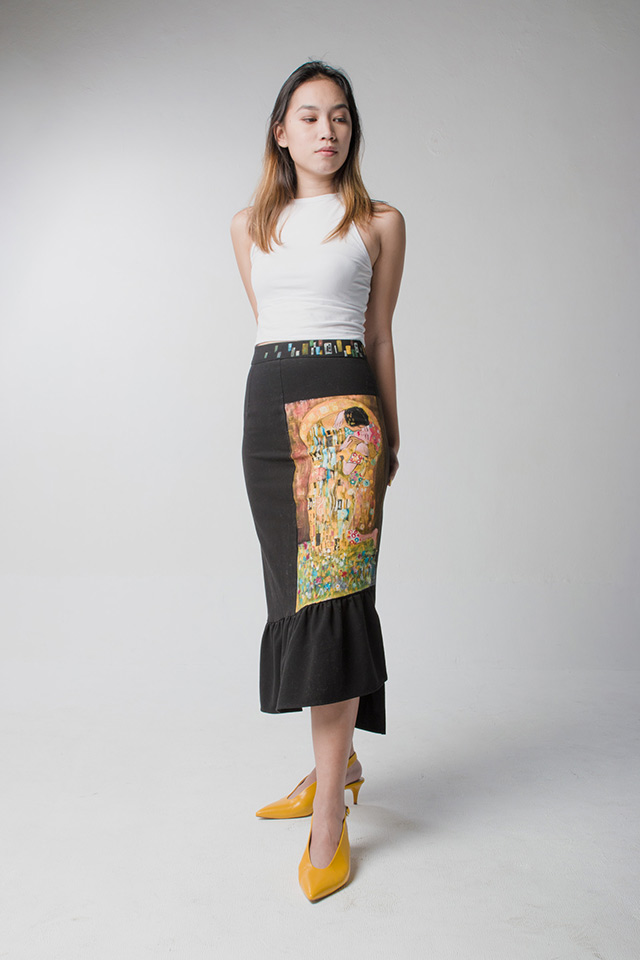 What challenges have you faced in creating these pieces and mounting your business?
ADVERTISEMENT - CONTINUE READING BELOW
"It's really finding a market for these products. We like to focus on formal wear because I want to preserve the artwork. I think wearable art is perfect for more special events and so selling is definitely seasonal."
What materials do you use and where do you source them from?
"It can either be readymade or tailor-made. Our first piece was a tailor-made evening dress I had to wear to a ball so we chose a dress design that was really meant to be painted on. As for the rest, we used pre-owned clothes I barely use or am getting bored with. We're still experimenting on which paints are best, but primarily we use textile and some acrylic. Textile works best, but acrylic paint colors are great too."
Do you only do skirts or do you also paint other articles of clothing like jackets, T-shirts, etc.?
"A lot of people have been asking if we can paint on casual wear like jeans and shirts, but we don't offer that (yet!). I think wearable art deserves a bigger platform like special events and such. So we mostly accept inquiries on evening wear, suits, and accessories."
ADVERTISEMENT - CONTINUE READING BELOW
Since they're hand-painted how do we maintain the quality of the product and the painting?
"As I mentioned, I don't recommend that our products be used for everyday wear. If absolutely needed, dry cleaning is the way to go!"
Could we have the price range of the pieces?
"Dresses and skirts can range from 4-8k, depending on the size and complexity of the artwork. Other pieces may fall under that."
How can we contact you if we're interested in buying your products?
"Send us an email at casabuen94@gmail.com or follow us on Instagram."