Only if Rei Kawakubo or her husband (Adrian Joffe) will attend—which I doubt."
When asked who she wanted to see on the red carpet of the Metropolitan Museum of Art Costume Institute Gala, lifestyle blogger Cecile Van Straten, also known as Chuvaness, challenged Rei Kawakubo's appearance at the carpet and even the designer's attendance at her own party. ("I always look forward to the Olsen twins," she adds, addressing the original question.)
The feted designer and her husband ultimately showed up at the gala—thanks to a few Instagram photos that served as proof—but in true Rei fashion, skipped the red carpet.
ADVERTISEMENT - CONTINUE READING BELOW
Rei, head designer at Comme des Garçons and subject of this year's Costume Institute exhibition, is notorious for being elusive to media as she is renowned for her directional style and underground cred. You've got to hand it to Cecile, a self-confessed fan of the designer and the brand, to be on the pulse of all things Rei.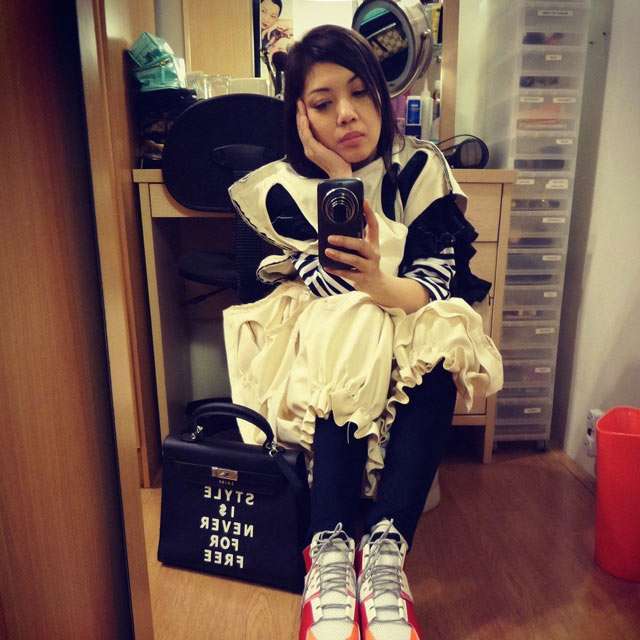 IMAGE Courtesy of Cecile Van Straten
In an e-mail interview one week before the Met Gala, Cecile links her fondness for the brand to an era marked with an overwhelmingly preppy aesthetic. "I was in high school and I saw photos in a magazine, around 1983. The clothes were all black and holey. We called it the beggar look. I understood it right away," she reveals.
Related Stories from Preview.ph
She continues, "In Manila, there were no teenager clothes like you have now. Teenagers then mostly copied what their parents wore (brands such as Lacoste, Ralph Lauren, Sperry Topsiders). I knew then I didn't want that look so Comme des Garçons really appealed to me. Since I couldn't afford it yet, I made patahi based on designs we would see in the magazines."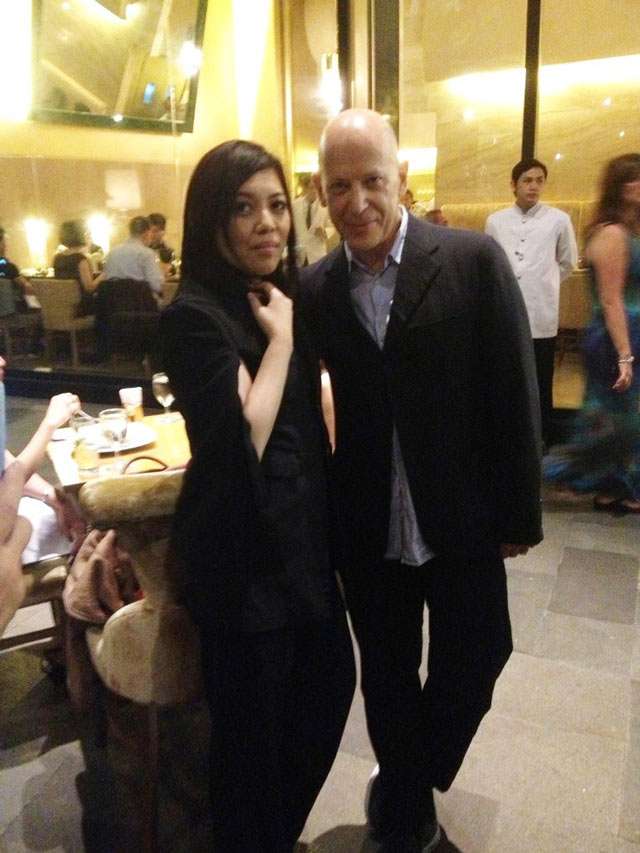 ADVERTISEMENT - CONTINUE READING BELOW
IMAGE Courtesy of Cecile Van Straten
Cecile with Rei Kawakubo's husband and Comme des Garçons' CFO Adrian Joffe.
While Cecile can now afford to wear Comme des Garçons all day every day if she wanted to, she had to be resourceful in her younger years. "Nobody wore black clothes, except me and my friends. Nobody sold black in stores unlike you have now—it's so normal. I even dyed clothes black in our kitchen, buying packets of dye at Unimart and cooking clothes in the kitchen. [I also] made my own holes—unlike now when you can buy holey clothes anywhere."
Similarly, stylist and personal shopper Monika Abad's first encounter with the brand also happened in the '80s, when she migrated from Manila to Tokyo. "I was instantly attracted to the brand's early collections," Monika admits, who acquired Comme pieces in an attempt to create an entirely new wardrobe to match her new surroundings.
ADVERTISEMENT - CONTINUE READING BELOW
As her collection grew—along with items from other Japanese greats such as Yohji Yamamoto and Issey Miyake—to a sizeable amount, so did her predilection for black—a recurring non-color in Rei's designs. "Black is my staple color and not for anything. It just is," she said in her Preview Best Dressed interview in 2015.
ADVERTISEMENT - CONTINUE READING BELOW
Nightlife denizen Jujin Samonte echoes the same love towards the brand albeit more excitedly. "It was probably in the early 2000s when I used to collect fashion magazines religiously. That was also the time when Style.com was rising so we see all the looks almost instantly after the shows during Fashion Week. Paris has always been my favorite and Comme is always a must-see."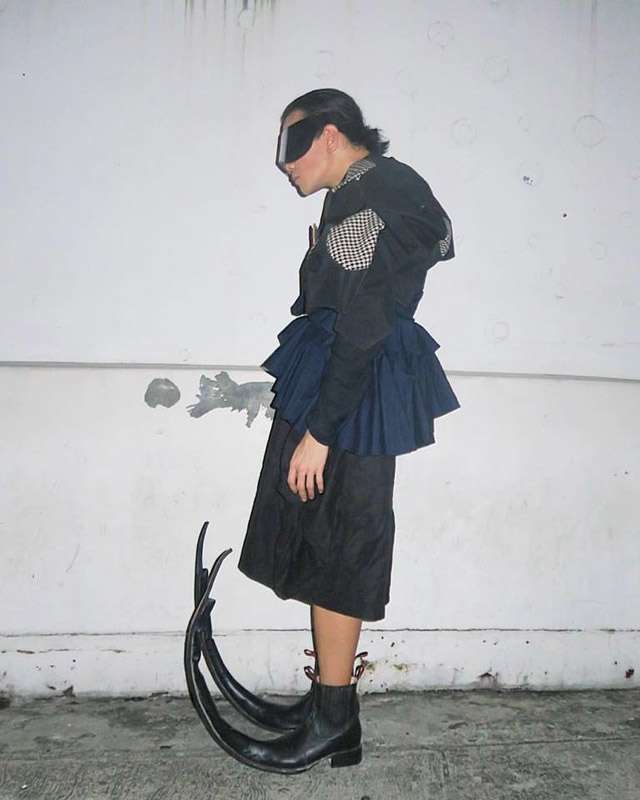 ADVERTISEMENT - CONTINUE READING BELOW
IMAGE Courtesy of Jujiin Samonte
Furthermore, Jujiin is sold to Comme des Garçons's prevailing themes of anti-mainstream and anti-pretty. "You know how they always say, think, or in this case, dress outside the box? Rei probably doesn't know what we're talking about because for her, the box doesn't even exist!" He goes on, applying these themes in his daily sartorial decision-making: "Personally, dressing up—for special occasions, based on mood, despite Manila having t-shirt weather—has never been about comfort or function. A sleeve isn't a sleeve! Obscure silhouettes! Mix and mismatch! Beautiful is ugly! Ugly is beautiful!"
ADVERTISEMENT - CONTINUE READING BELOW
Asked to pick a favorite collection, Jujiin gushes, "I can't remember where or when I first fell in love. But I still do, deeper and deeper, each season." He goes on to enumerate the collections that immediately come to mind: "Of course, the Spring 1997 Ready To Wear 'Body Meets Dress, Dress Meets Body' collection, the Biker/Ballerina looks from Spring 2005, the Men's Spring 2015 Collection where they presented super pointy Mexican boots, the super fun cartoonish 2D collection from Fall 2012. Each look gave me fashion orgasm!"
ADVERTISEMENT - CONTINUE READING BELOW
Jo Ann Bitagcol singles out the aforementioned Spring 1997 collection as her formal intro to Rei's world. "I got to wear a Comme piece from the Body Meets Dress collection for a shoot in Singapore," the then burgeoning model recalls. Mostly known for its lumpy, unshapely gingham dresses, the collection proposed a new silhouette and challenged what typically fits the female form. In an interview with American Vogue at time of this collection, Rei Kawakubo famously told, "It's our job to question convention. If we don't take risks, who will?"
ADVERTISEMENT - CONTINUE READING BELOW
"I didn't understand it, honestly, as I was only into my second year of exposure in fashion [as a model]," Jo Ann, now also an in-demand fashion photographer, admits candidly. But the passing of time has changed her view of fashion for the better—and her understanding of varying design philosophies. (She can rock a fringed Rhett Eala number as deftly as an architectural Joey Samson.) Of Comme des Garçons, in particular, she now says, "I admire the collections the brand has put out. Each one has so much courage and intelligence."
Rik Rasos' initiation into Rei Kawakubo's aesthetic was more guided. "Not counting the first time I found a Comme piece—'80s tartan pants—that I saw at a vintage store, it was my internship with Cecile Van Straten who has an extensive archive of CDG pieces that made me understand the value and importance of the brand and Rei Kawakubo in fashion."
ADVERTISEMENT - CONTINUE READING BELOW
Together with partner Pat Bondoc, Rik is behind the cult streetwear label Proudrace, whose predominantly voluminous silhouettes and dark coloration speak to a Comme des Garçons wearer as well. "People who buy Comme can definitely incorporate our clothes in their wardrobe. I really can't pinpoint the market but they definitely have good taste."
ADVERTISEMENT - CONTINUE READING BELOW
He mentions Rei's Fall 2005 collection of saccharine-colored dresses as one of his favorites. Adorned with mouse ears, bows, flowers, and 3D hands that touched the wearer's chest and hips, each embellishment alludes to a woman's journey from childhood to adulthood. "The outerwear with formed gloves is just brilliant," he singles out.
Ready-to-wear and bridal designer Happy Andrada feels the same way about the aforementioned collection, noting Rei's genius in presentation. "I love the sugar candy makeup and styling, the build-up of the collection starting from a very pale palette to an addition of beige and prints and finally, black."
ADVERTISEMENT - CONTINUE READING BELOW
As a student seeing a Comme des Garçons collection for the first time, it was as if she took a crash course in theatrics. "It's something I usually do for my shows now: To tell a story that ascends and ends strong." Even more, and for a label usually tagged as edgy, Happy learned a great deal about wearability. "The pieces are wearable and comfortable—things I'd definitely wear myself. The separates could also be statement pieces when combined with another garment."
IN BETWEEN UNDERGROUND AND MAINSTREAM
ADVERTISEMENT - CONTINUE READING BELOW
IMAGE Courtesy of Metmuseum.org
Entitled "Rei Kawakubo/Comme des Garçons: Art of the In-Between" the exhibit aims to the address the dualities in the designer's work such as Design/Not Design and Fashion/Anti-Fashion through clothes gathered from when Rei designed for Comme des Garçons in the early '80s.
Rei Kawakubo is only the second living designer in history to have been bestowed an exhibit by the Met's Costume Institute. The first one was Yves Saint Laurent in 1983. Unlike Yves, however, Rei represents an avant garde aesthetic polar to the styles subscribed to by the Anna Wintours, Lauren Santo Domingos, and Beyonces of this world.
To wit, there were only a handful of celebrities who wore Comme des Garçons at the Met gala. There were also only a handful of guests who wore pieces that paid homage to the label's aesthetic that night—and mostly from non-Hollywood royalty. Even Sarah Jessica Parker, the only celebrity Jujiin wanted to see on the red carpet, was not present at the fete.
ADVERTISEMENT - CONTINUE READING BELOW
Jujiin, he of underground leanings (Remember Fluxxe from the aughts?), points out, "Everyone else's too basic for Rei. Rei is not a red carpet designer. People actually reference her designs when they want to laugh about how far fashion has gone because they don't understand why people would want to look like 'idiots.'" He waves his #freakflag, "But you know, I'd want to keep it that way. Keep the rare birds rare. It's just more beautiful that way. My fist is up in the air!"
Cecile's pre-Chuvaness origins also manifest in light of Rei's sudden mainstream exposure. "To me, [having Comme des Garçons celebrated by way of a gala and exhibit] only means [that the brand has] gone mainstream, which doesn't necessarily appeal to me." The underground person in her still speaks, her own pulse attuned to Rei's. (Cecile was designer of seminal label Grocery before becoming a pioneer lifestyle blogger.)
ADVERTISEMENT - CONTINUE READING BELOW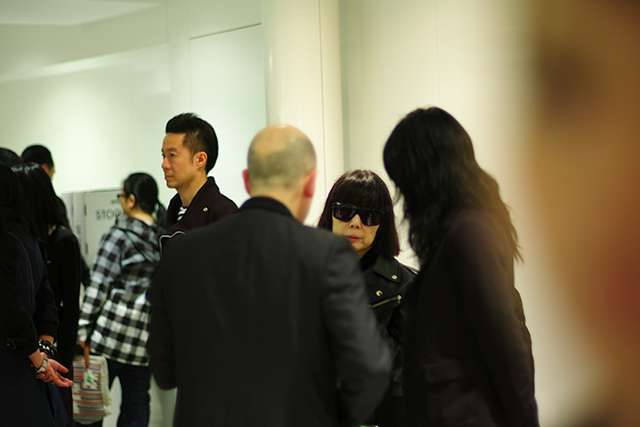 IMAGE Flickr Creative Commons / Ronnie
It is to be said that the forward-thinking Rei struggled with the idea of a retrospective. In an interview with Business of Fashion, Rei admits, "There was give and take. It's a Met show for Comme des Garçons, not a Comme des Garçons show at the Met. Compromises were made. The most important point was we finally agreed to compromise on showing old things."
ADVERTISEMENT - CONTINUE READING BELOW
For designers Rik and Happy, however, having Rei and Comme des Garçons as the subject of this year's Met exhibition means a great deal. Rik, who considers the designer the poster child for anti-fashion, thinks "it is about time" that her work speak for herself. Happy, on the other hand, describes Rei as "a fearless individual who makes her own trends, listens to herself and creates clothing that crosses over to art."
Despite his hesitations with the red carpet component of Rei Kawakubo's exhibition, Jujiin is all about the clothes. "The world needs to experience her genius," he says. "The world needs to know that there are other silhouettes out there, that there are fantastic perspectives of beauty that exist. Perspectives that can send chills down one's spine. The kind that can launch a thousand more marvelous ideas."
Hey, Preview readers! Follow us on Facebook, Instagram, YouTube, Tiktok, and Twitter to stay up to speed on all things trendy and creative. We'll curate the most stylish feed for you!