Disclaimer: This article does not aim to tackle political issues but rather focus solely on fashion.
The President may have been Monday's main speaker but from what we've seen, it seemed like the other legislators and guests also had plentiful things to say. From wearing peach for impeachment or yellow to show their support, each had their own story to tell whether it was promoting causes, making political statements, or just simply trying to look their best.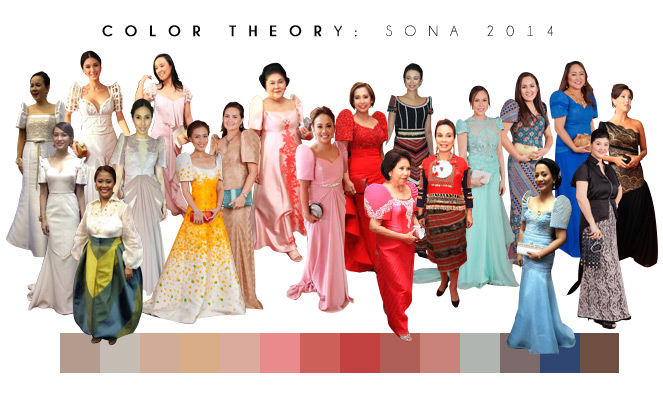 ADVERTISEMENT - CONTINUE READING BELOW
But as we track down the SONA's stand out color stories from 50 shades of white to pale, petal-like pastels, I couldn't help but wonder which among these dresses were actually appropriate for the occasion?
CONTINUE READING BELOW
Recommended Videos
Pictures worth a thousand tweets and comments have flooded my social media timelines with people saying that some of the legislators either looked foolish or were dressed too extravagant for the occasion. Then again, who are we really to judge when we haven't held the actual invite and read the dress code stipulated?
As a host shows consideration by providing clear dress guidelines, so should the guest return the favor. Let's face it, your getting ready is nothing compared to the trouble your host went through to prepare for the event; the least you could do is be mature enough to honor this tiny request being asked of you. But when it comes to state affairs–especially like ours where the Filipinana attire is favored over Black or White Tie, where do we draw the line when it comes to showing off our best garments?
ADVERTISEMENT - CONTINUE READING BELOW
I personally believe that one should always be mindful of the time. Sure, your custom-made ball gown might have won you best dressed of the night but it doesn't guarantee that you'll bag it had the affair been in the morning or afternoon. Here I track down five ladies who I believe exercised proper discretion as to their outfits at last Monday's state affair. Click on the photo gallery.
Photos from Carissa de Venecia, Marga Nograles, Mark Pimintel, Stanley Ong, Chona Yu, Apartment 8 Clothing, Angelu Dominguez, Cherry Pacheo, and Bang Pineda