Leaving Wall Street was perhaps one of Josie Natori's most crucial life decisions—the smartest, nonetheless. Why, more than three decades after, her self-established company makes millions of dollars in retail sales and has become a globally competitive brand. (Ed's note: You'll know it's a Natori from afar!)
The former banker has been based in the United States since the 1960s but she believes that being Filipino has become one of her assets in the fashion industry. The Natori trademark has always been the East-meets-Wear sensibility with a dose of Philippine design aesthetic whether in the prints, the silouettes, or the accessories and accents.
For the Fall/Winter 2013 collection, Josie takes a page from the Shanghai culture in the 1930s. Read on to know more about this and click on the photo gallery to view the collection.
--
Can you tell us about the collection?
The Fall/Winter collection is inspired by Chinoiserie from the 1930s Shanghai. So it's pretty exciting to show the collection in Buddha Bar [as] it segues perfectly. You can see from what I am wearing—it's just the perfect and seamless environment for the collection. It is obviously very rich in exotic prints. We're showing a whole gamut from ready-to-wear to accessories to loungewear and sleepwear to our couture kaftans—so it's a whole range. The prints are very vibrant…color and rich shapes. Natori obviously has been known for bringing art to life. You'll see in the prints—very rich— and from the reds to the golds and the blacks, the very intricate embroideries—these are very much in the DNA of the brand. So I hope you'll enjoy it.
ADVERTISEMENT - CONTINUE READING BELOW
Please take us through your design process.
Every season, we keep evolving. The collection doesn't change 360 degrees, it just gets inspiration from prints, color ways, details—all of that. So in terms of inspiration, we have an amazing team. There's a lot of work that happens before we begin the season—we research and obviously each brand (Josie Natori, Natori, and Josie) has its own take. A whole presentation is made. I mean there are specific prints that apply to each brand and different colorways and each one interprets—it's a long process.
This [collection] started in June of 2012, we showed it in February of 2013, it is in the stores now. As you can see from the time of the initiation, of the concept, it takes over a year to get to the stores. It usually starts to get to the stores in August. You have no idea what kind of work we delve into. Prints are a very big deal for our brand, as well as design and colorways. We spend an amount of time in developing prints and processing, going back and forth in mills. And then the shapes, the silhouette, the patterns…it's a lot of work, I have to say. But in the end when it all comes together, you know, it's exciting. The best reward is when the customers buy it and they like it. So far, we are having a really good Fall. The customers are loving the prints, the colors. Because our prints are very part of our brand, it's what people look forward to. You can only have enough solids but prints? You can see from far away that it is a Natori print.
ADVERTISEMENT - CONTINUE READING BELOW
Recommended Videos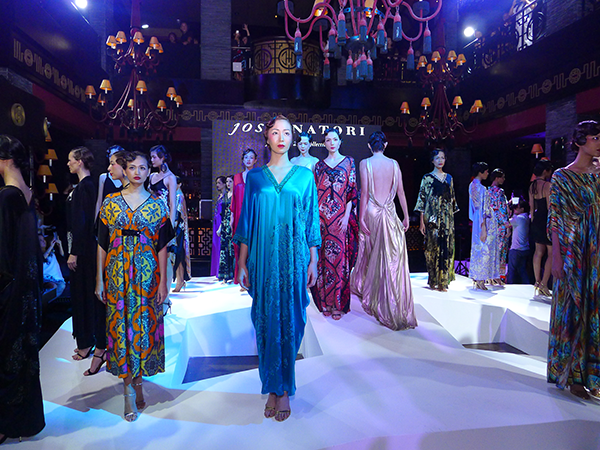 So you really design all your prints…
We design all of these prints, we have it made and printed. Everything is original. We have a huge archive that I developed for the last 40 years—antique fabrics, kimonos, and all that and so it's an amazing collection. We had collection in New York that was drawn from this inspiration—things that are museum-like and be able to do it for wearing and for everyday life. [The idea was] to recreate things that you would only find in museums because most of the time, it is impossible to own these things. A, you can't find it [anywhere else]. B, if you've found it, you can't afford it. The idea is to be able to reproduce it, of course, in a more modern way and a more wearable way. It's exciting and more accessible in price. Of course, we have a range of price points depending on the brand, you can find a kaftan from a $100 to $4000, so it depends which brand and the intricacy of the work.
ADVERTISEMENT - CONTINUE READING BELOW
Tell us about Manila FAME and Manila Wear.
I've been on it for years. This is a project that has been ongoing for many years and it's really exciting to be able to work with such talented Filipino designers and really, it is a work in progress—to come up with a vision, a concept that really mirrors what I believe is Manila's sensibility. So to me it's really about resort wear, tropical wear, accessories and all that. So we have been working at it, to be able to let designers come up with things that look very unique, and to show that sensibility that you can become an identifiable positioning for Philippine fashion globally or even here, other than the Barong Tagalog, modern wear also. So, it's been fun to work with them and to see different evolutions in terms of accessories and the clothes. I think this time it was fun to be able to work with non-apparel designers, people who design for home like Olivia Deville and Jinggoy—they did some accessories, they did a fabulous job. I think with FAME, the government is really amazing for supporting the efforts, the designers, and really showcasing amazing talent. We've got more to go, but we're definitely making progress.
ADVERTISEMENT - CONTINUE READING BELOW
Any tips for upcoming designers on how to make it here and globally?
First thing you do is to appeal to your own people. I think its exciting when your own country appreciates that there is such talent here. Understand what market you have, understand your point-of-view—there has to be a unique point-of-view for every designer. You have to be able to tell a story that's unique to the next one. I do think it's a question of understanding more of your marketplace, how you can be unique to compete—that's why I feel that Manila Wear and resort wear is where we can compete compared to winter stuff because it relates to our lifestyle here. And I believe our craftsmanship and artisanship is what makes us unique. So that's where I encourage everyone—do something that is unique, that gives you a reason why someone will want what you make compared to the next one.
ADVERTISEMENT - CONTINUE READING BELOW
Click on the photo gallery to view the Josie Natori Fall/Winter 2013 collection.
Hey, Preview readers! Follow us on Facebook, Instagram, YouTube, Tiktok, and Twitter to stay up to speed on all things trendy and creative. We'll curate the most stylish feed for you!
ADVERTISEMENT - CONTINUE READING BELOW
ADVERTISEMENT - CONTINUE READING BELOW
Recommended Videos
Hey, Preview readers! Follow us on Facebook, Instagram, YouTube, Tiktok, and Twitter to stay up to speed on all things trendy and creative. We'll curate the most stylish feed for you!