Those who regularly frequent Greenbelt 5 may already be familiar with the quirky displays of that mysterious store across Zara, which carries no sign, but constantly attracts shoppers and mall-goers with its eye-catching window showcases and beautiful merchandise.
The store is Celestina, the showroom of bag and accessory designer Tina Maristela-Ocampo. Last month, they showcased a few startling pieces from the Myth of the Human Body exhibit to accompany their Fall/Winter 2010 collection. This month, they have yet another attention-grabbing installation, one that—despite being only a few days old—has already been catching the fancy of Greenbelt 5 patrons, male and female alike, fashion-crazy or not.
Much of the showroom is filled with P6 million worth of San Miguel Beer cans (approximately 240,000 cans), all artfully arranged to showcase Tina's Spring/Summer 2011 collection of minaudières, crocodile skin totes, reversible linen capes, and statement accessories.
ADVERTISEMENT - CONTINUE READING BELOW
CONTINUE READING BELOW
Recommended Videos
But the purpose of the installation isn't to generate attention alone; it's to showcase creativity and recall Filipino heritage in a charitable way. The installation seeks to raise funds for Habitat for Humanity—San Miguel Brewery has pledged to donate P500,000 to the organization, and Celestina patrons (and Greenbelt 5 shoppers) are invited to request for the empty cans with coin slots and fill them with their own donations.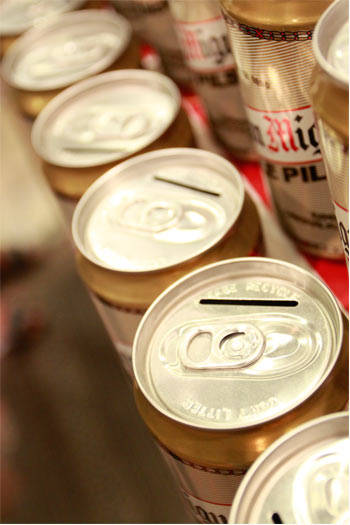 ADVERTISEMENT - CONTINUE READING BELOW
"After Bodies, we decided to donate to Habitat for Humanity," says Tina, "but in a way that we would be able to endorse and do an art installation with San Miguel Beer." And what a profound way to launch a collection, too. "In a way, we didn't want to just have an event where people are drinking beer, taking photos—that's not our idea. I think this is a good way of expressing creativity and at the same time being able to give."
The Celestina + San Miguel Brewery installation will be on display in the Celestina showroom until March 24, 2011. Click on the photo gallery to view Celestina's Spring/Summer 2011 collection.
Click here for Tina Maristela-Ocampo's Designer Directory.