Look, in the sky! It's a bird! It's plane! No, it's Celeste Cortesi—and she's gliding towards the Miss Universe 2022 crown!
With the pageant's preliminary rounds having just concluded, the Filipino-Italian beauty made quite the strong case for the title. For the national costume segment, she had her fellow kababayans in New Orleans hollering in glee when she walked out as her own rendition of the superheroine Darna.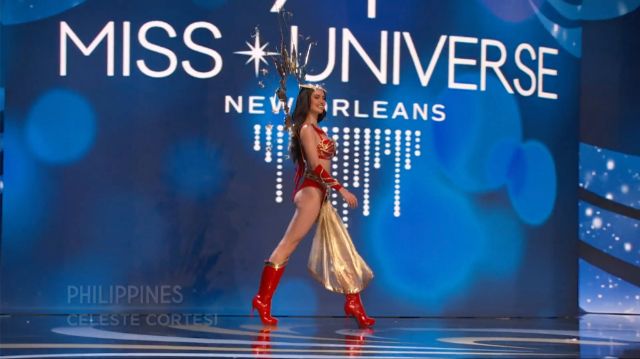 ADVERTISEMENT - CONTINUE READING BELOW
Preview Exclusive: Filipino Designer Oliver Tolentino on Celeste Cortesi's "Darna" National Costume for the 71st Miss Universe Competition
Crafted by Filipino designer Oliver Tolentino, Celeste's version of the red and gold costume featured the classic two-piece set, arm bands, and boots. Attached behind her was a sun fashioned out of gold-hued metal by Jerome Navarro.
Oliver tells Preview that the ensemble was put together in just four days. "[I] normally [don't] work with costumes, but [I] couldn't refuse Celeste's request. Because of all of the Christmas holidays and [my] own travel plans, [I] couldn't source materials until January 2, just a day before Celeste was due in New Orleans."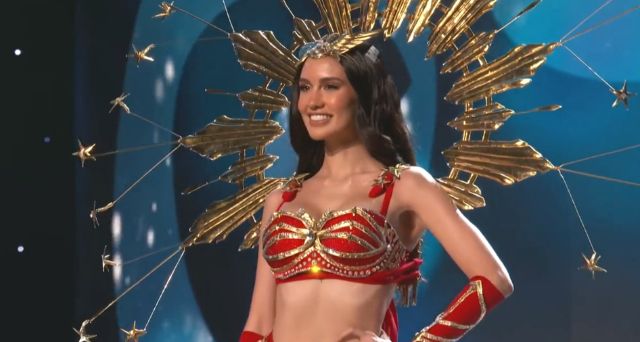 ADVERTISEMENT - CONTINUE READING BELOW
Eventually, it all came together, complete with the iconic winged headpiece shimmering from Celeste's temple.
Reactions to Celeste Cortesi's Darna Costume
Fun fact: The Miss Universe Philippines organization even came forward and revealed that her take on Darna had the go signal from Mars Ravelo's family.