Local retailer Harlan + Holden has a chic consultant at its helm. Caroline Issa, Fashion Director of TANK Magazine, brand advisor to the likes of Mulberry, Prada, and Chloé, and certified street style star, flew to Manila a few months ago to talk about how she helped the brand fortify its visual identity.
"Staying authentic is important, [which means] constantly going back and revisiting what you stand for in the first place."
Below, some of the helpful insights Caroline shared with us over an intimate dinner during her stylish weekend stay in Manila.
A lot of people know you as a street style star, more than an editor or a brand consultant. How did that happen?
It was the time of Scott Schuman, who started taking pictures of the It fashion insiders outside the shows, putting them up on his blog. It was really the first time, I think, when fashion editors got pushed into the limelight and I happened to be one of them, for better or for worse. You know, it's not something I [planned] but it's an interesting phenomenon. Vogue started running street style pictures. And now, there are so many more incredible platforms like Instagram where you can create your own story, your own content, and not only rely on the amazing photographs of [professional photographers]. So it has really changed and developed, and I think I was just really lucky many opportunities came my way.
ADVERTISEMENT - CONTINUE READING BELOW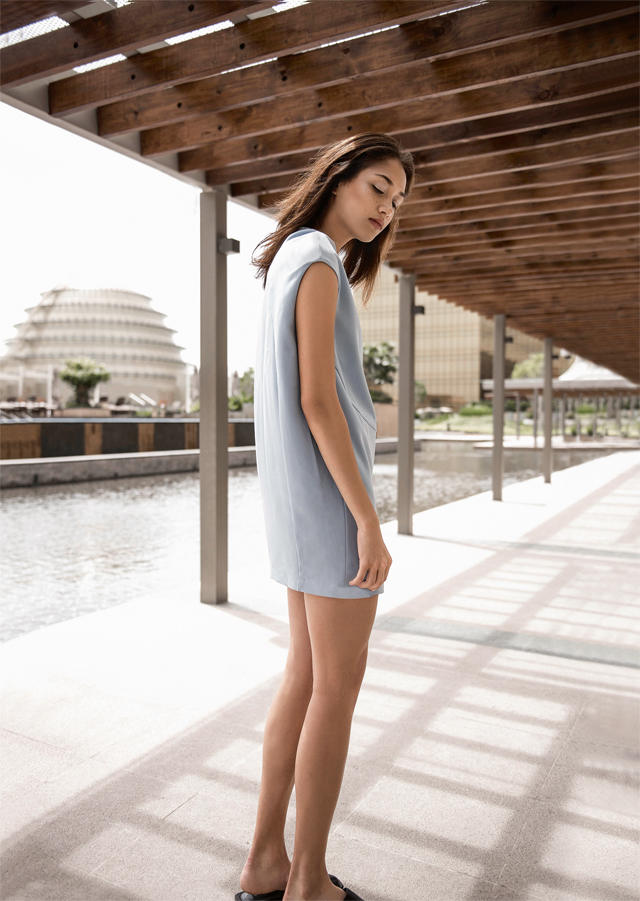 Monika Sta. Maria wears Harlan + Holden's Noelle dress, P3950.
How does a brand identity stay cohesive? How do you make sure it all stays on brand?
Authenticity will always stem from your values. For example, Harlan + Holden, provides simplicity in order for you to have time to do things that actually matter. Like, using tons of chemicals, to me, would be very inauthentic to the brand. And I feel like they would never do that, because of their brand values. Staying authentic is important, [which means] constantly going back and revisiting what you stand for in the first place. Also, making sure you deliver that in everything you do: product, store, whatever else.
CONTINUE READING BELOW
Recommended Videos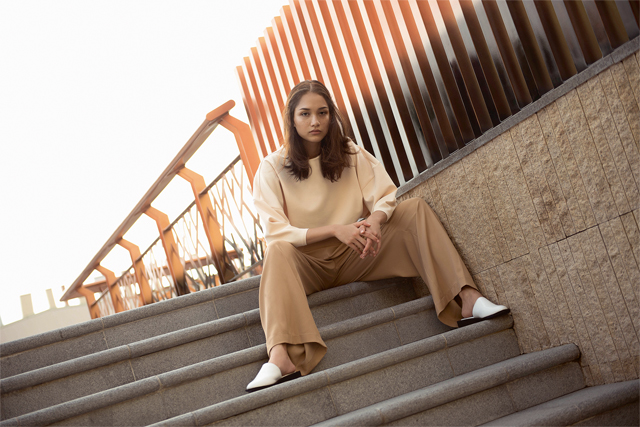 Cropped Calais top, P3450; draw string pants, P3450, both from harlan + Holden. Slides, P2850, Eliz Marcelo.
Of course, having a brand bible also helps maintain that consistency.
Like Gucci, for example. Their stores before were all gold. They had a strict color palette. They had the same Gucci everywhere in the world. For the color palette that we recommended for Harlan + Holden, it's pretty flexible: four to five colors that we use in specific situations, but they're very easy to work with many other colors. A neon orange in specific brightness probably wouldn't work. Knowing what not to use is as helpful as knowing what to use.
ADVERTISEMENT - CONTINUE READING BELOW
Since it's your job to be creative, do you ever get blocked or struggle to do something that hasn't been done yet?
We find inspiration everywhere. You know—travel, all social media platforms. Google images are wonderful - you type in one word and there are millions of results. I think the point is we have tons of information. Each of us has our own perspective. We curate the images that speak most to us. Even if we Google the same words or go to the same place, we take away different things and put forth an original point of view.
For the rest of our interview with Caroline Issa, download a copy of our September issue here.
Hey, Preview readers! Follow us on Facebook, Instagram, YouTube, Tiktok, and Twitter to stay up to speed on all things trendy and creative. We'll curate the most stylish feed for you!