Preview pushes for no-bounds fashion in this month's issue by featuring comedian Vice Ganda in "Showtime," a fashion editorial featuring the celeb comic as various fashion icons—Lucille Ball, Cher, Imelda, Madonna, and Courtney Love.
Stylist Daryl Chang picked out Preview designer to watch Camille Co to dress up Vice as 60's icon Cher. Here's Camille's account of her 60's-inspired design:
---
Last March 24, I received a message from the amazing Daryl Chang of Preview magazine for a possible project—another editorial for Preview's June issue. Woohoooo! Of course I got all excited again and said yes.
Here's the peg she sent me: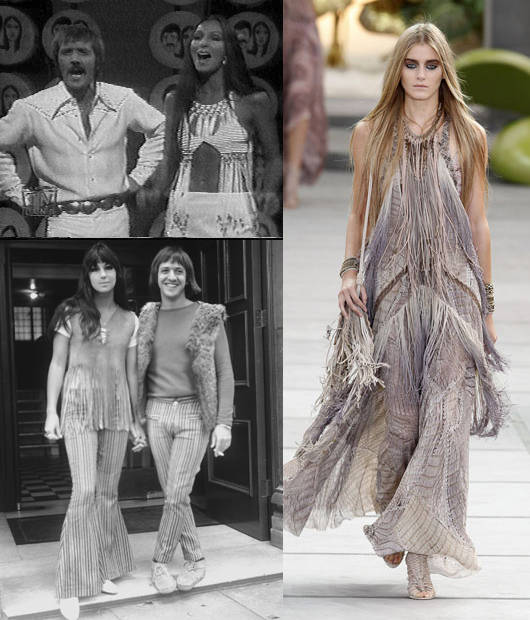 ADVERTISEMENT - CONTINUE READING BELOW
I was told the fashion editorial is about "decade icons." The icon assigned to me was Cher (the mother of all Beckies before Madonna and Lady Gaga) from the 60's. The trend was FRINGE, color should be gray and plain, and the silhouette has to be long. So basically, make a Cher-inspired outfit modern, à la Roberto Cavalli S/S2011.
Here's the clincher: in true Preview fashion, deadline was 5 days after. OH EM. Goodluck!
So of course, as a designer, when you think about fringe, ideally, you'd like to do it the best but hardest way, which is to attach bundles of thread one by one to create the fringe from scratch. The result is always better than using ready-made fringes. The thread falls really well, and looks especially nice when you walk or move around. But as much as I wanted to go for thread, time constraints hindered me from doing so. I still had to design and source the materials! Plus, I don't have a production powerhouse, you know. I am, after all, a struggling new designer.
CONTINUE READING BELOW
Recommended Videos
So ready-made fringe it was.
But of course, again, in true Camille fashion, something just had to go wrong. For two days I searched for gray-colored fringe and nada! I practically turned Divisoria upside down, even tried to order bundles but even wholesale suppliers were out of gray-colored fringe. I was even thinking of using other materials but they were just too ugly. It was so frustrating that they had fringes in bright orange, purple, bright green, pink, royal blue and more, just not gray. WHY! So I quickly called Daryl and told her about my dilemma. We settled for light blue instead' it was the nearest to gray and easiest to manipulate into resembling gray.
And the result?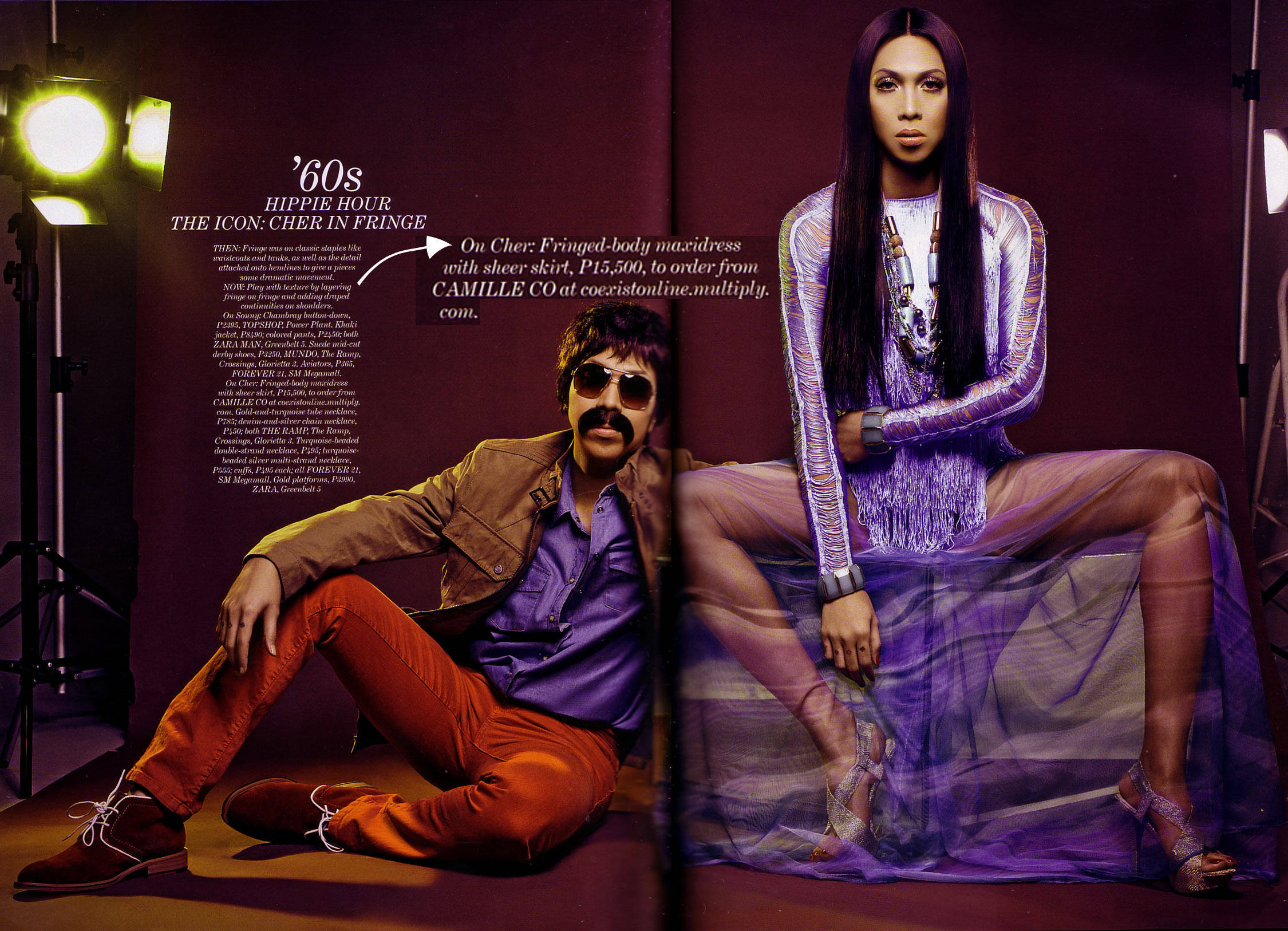 ADVERTISEMENT - CONTINUE READING BELOW
As seen on Preview's June 2011 issue, well-loved drag queen/celebrity, Vice Ganda, as both Sonny and Cher.
If you're wondering if I was informed that celebrity Vice Ganda was to be the model, then no. I had no idea! When I received the measurements, I was actually wondering why it wasn't the usual model size. I thought she was just really tall and possibly Western, so she's bigger-boned. I only found out weeks after when I made another costume for Vice Ganda and noticed that the measurements were the same. How cool is that? Vice Ganda is the first ever drag queen to be featured in a Preview fashion editorial.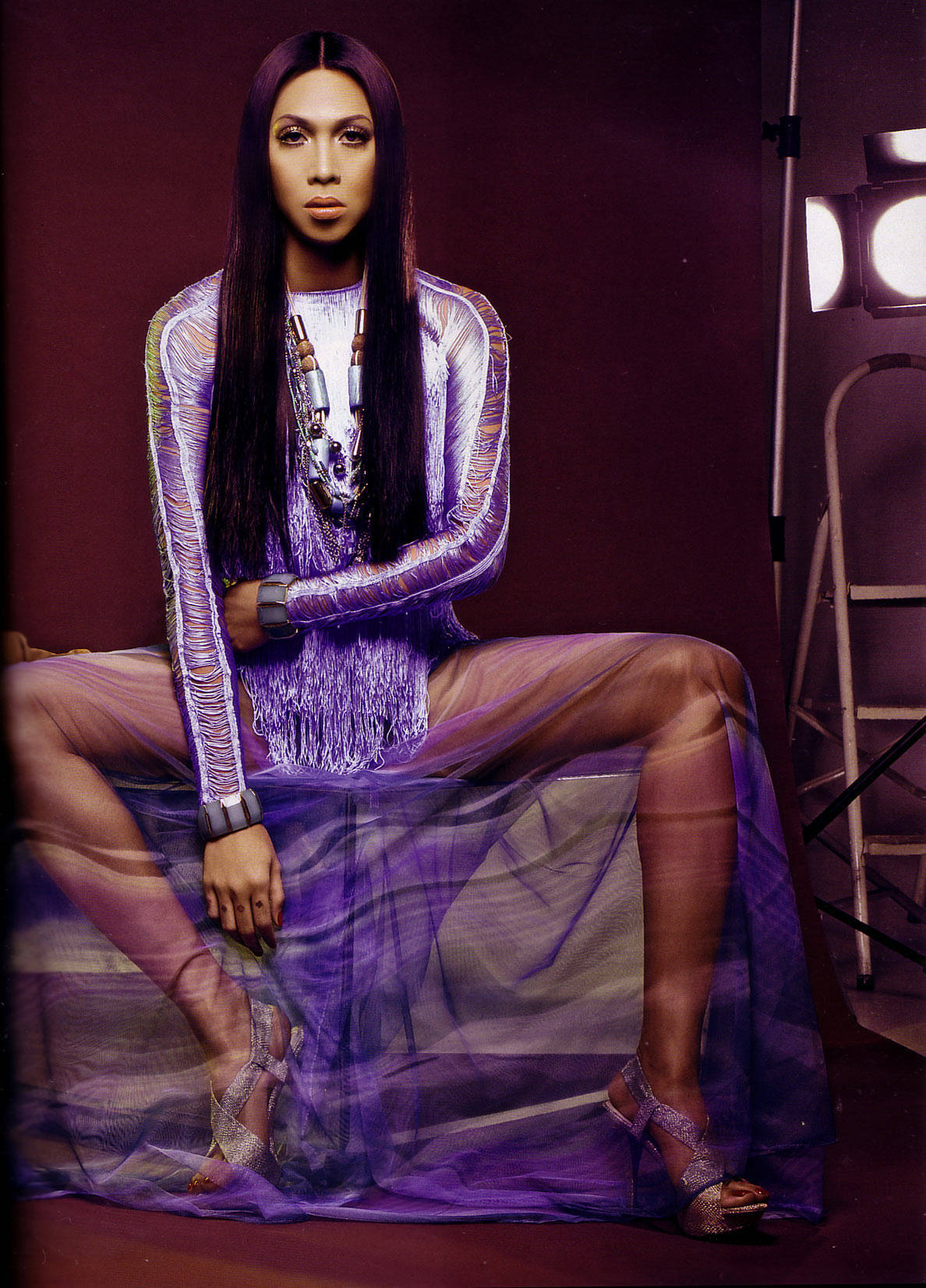 ADVERTISEMENT - CONTINUE READING BELOW
On to the design, the whole upper half (minidress length) of the gown is covered with fringes. Sucks [that] you can't really see the other details but there are cutouts on the sides of the waist, beneath the horizontal fringes. The fringes at the top center forms "V" shapes while the fringes on the lower half formed the opposite, mixed with a few loose horizontal fringes. I got a sheer light blue printed fabric for the skirt. The print resembles water, yes? Because the dress has a long silhouette, I wanted to add a touch of subtle sexiness to it. hence a little skin here and there. Still can't help thinking how much better this would look with real thread. But then again, I wouldn't be able to finish on time if I did use thread. Oh well!
I hope you like it!
—Camille Co (republished with minimal revisions from Behind-the-Design: Modern Cher, Camille tries to blog)
ADVERTISEMENT - CONTINUE READING BELOW
See Vice Ganda's other transformations in Preview's June 2011 issue and tell us which look you like best in our Beauty Poll!
Hey, Preview readers! Follow us on Facebook, Instagram, YouTube, Tiktok, and Twitter to stay up to speed on all things trendy and creative. We'll curate the most stylish feed for you!