It took a while for me to finally commit to the challenge, but the stan in me couldn't resist. Scroll down to see how worldwide sensation K-pop boy group BTS inspired my daily OOTDs! How convenient is it that they're seven in the group and there are seven days in a week?
Monday: Jungkook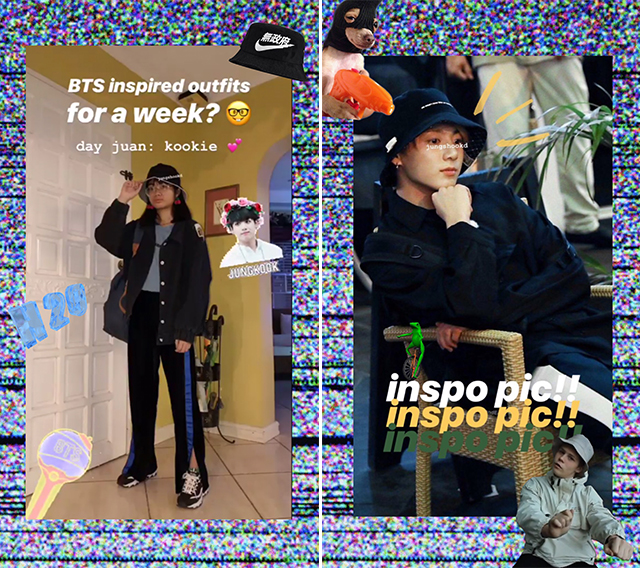 ADVERTISEMENT - CONTINUE READING BELOW
I actually didn't begin my week thinking of outfits inspired by BTS. On this particular Monday, this was the outfit I felt I wanted to put together and that was that. Pretty coincidental too, since I was running late for my 7:30am P.E. class and didn't have much time to really think about what to wear, much less even try it on since I had to come to school in my P.E. uniform. All I knew was that I had a final presentation today and our group was contemplating if we should all come in matchy colors. Early that morning one of my groupmates said she was coming in blue and so I grabbed the first blue top I thought of and threw on the P250 black denim jacket I snatched from an ukay bazaar.
Only later on in the day I realized how similar my look was to Jungkook's style. I had just come home from school and decided to put on a bucket hat my mom had recently bought for me, and BAM—in the mirror I saw Kookie. It was serendipity [wink] telling me that it was finally time to take on the challenge.
CONTINUE READING BELOW
Recommended Videos
Tuesday: Jin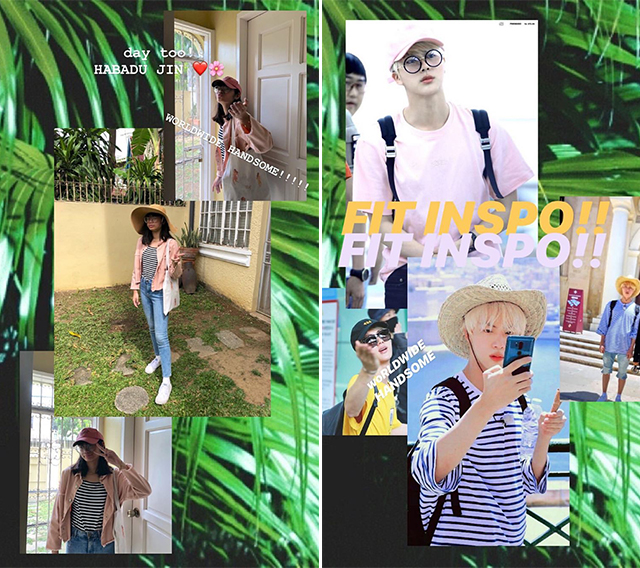 Wasn't it perfect timing that I was dressing like BTS on Seokjin's birthweek? At least on that day, December 4 (his 27th birthday!), I didn't have to begin worrying about which member I was going to take inspiration from.
Despite this, finding a Jin-inspired look was much more difficult than I thought. The boy doesn't care too much about how he dresses when he isn't styled. But, one thing's for sure: He. Loves. Pink. Now, I would have definitely gone out in his iconic oversized pink sweater, ripped jeans, and sneakers combo—unfortunately, my closet doesn't hold a pink sweater and my university doesn't allow ripped jeans, so I had to make do. I decided to merge his pink look with another iconic one of his from BTS' recent summer trip to Malta.
ADVERTISEMENT - CONTINUE READING BELOW
Wednesday: RM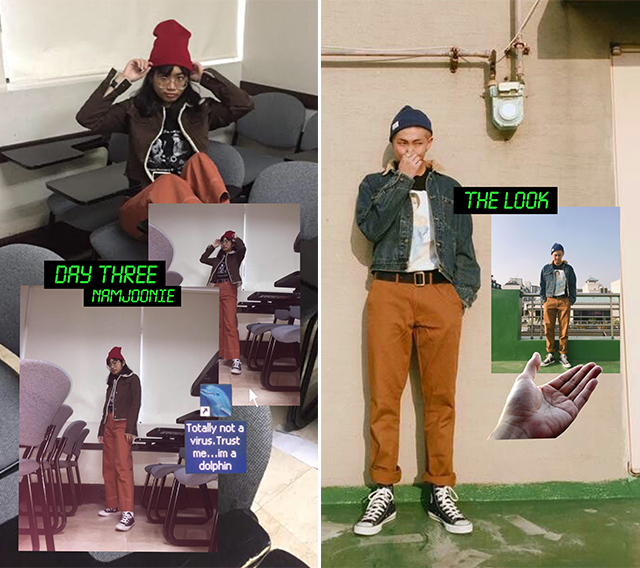 I felt myself connect with this Namjoon fit. He definitely has a ton of OOTD options to choose from (yay for #kimdaily), but I picked this one after realizing that I had a lack of cargo pants. Thank you, Namjoon, for allowing me to revive my sister's old denim-wool jacket from the inner depths of my closet.
ADVERTISEMENT - CONTINUE READING BELOW
Looking back at it now, while I always thought I shared similar tastes with Taehyung and Hobi, I am realizing that mine is definitely more of Hobi x RM.
Thursday: V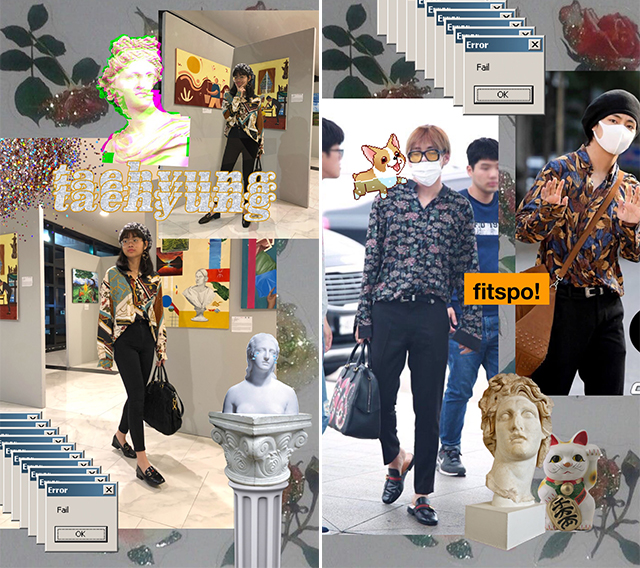 My fellow BTS stans at school recognized Taehyung in my outfit in a snap. It was really fulfilling.
ADVERTISEMENT - CONTINUE READING BELOW
I was initially planning to dress like Hobi today but the pants I planned to wear were still in the wash. Taehyung's ensemble was not difficult to recreate. His go-to look:
- Printed grandpa button down
- Loose black pants
- Loafers
- A beret
- Blingy earrings
AND I DID ALL THAT...except I could have worn slacks instead of skinny jeans, but I didn't have time that morning to hunt through my sister's closet for the black trousers she wears 30 times a week. I settled. Truth be told, the only thing I really own in this outfit is the jeans; the shirt, beret, earrings, and shoes are all my sister's. She's Taehyung in another life, so...
Friday: J-Hope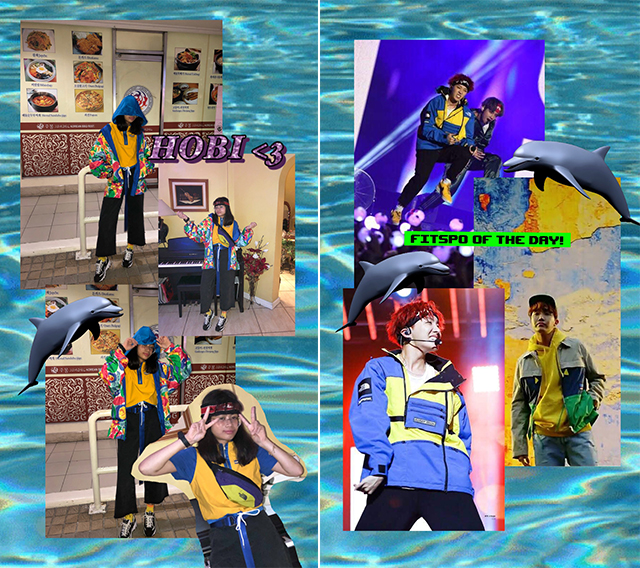 ADVERTISEMENT - CONTINUE READING BELOW
I pretty much just took inspiration from the color scheme of Hoseok's outfit, but honestly, I feel like he would totally wear it offstage too. I've had this Penshoppe vest lying around for quite some time so when I stumbled upon this concert photo, I finally found the oppurtunity to give it a shot. Among the seven members, Hobi's style is definitely the most colourful and #hYpeBEAsT. He owns a lot of baggy denims and fun printed t-shirts but despite the fact that he's always so subtly expensive (he casually just throws on Sacai coats and Louis Vuitton scarves to the airport, no biggie), we have quite the same taste in streetwear—the chunky shoes, bright colors, hats...
Saturday: Jimin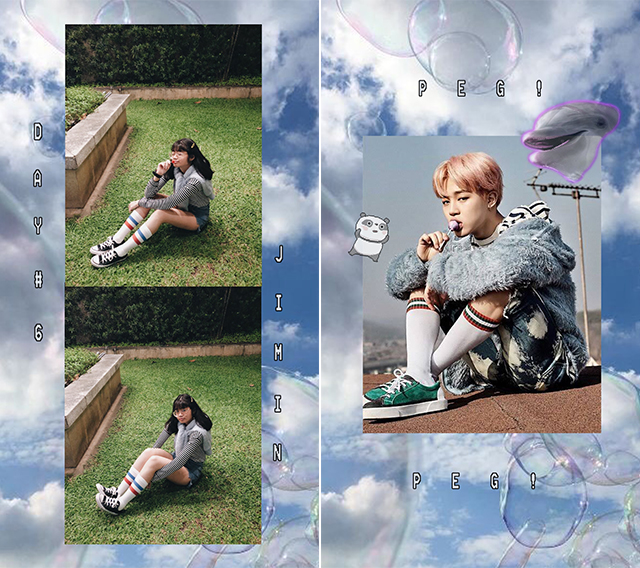 ADVERTISEMENT - CONTINUE READING BELOW
It was kind of difficult looking for Jimin fit inspirations probably because he doesn't really have a distinctive sense of style compared to the other members of the group (disclaimer: Jimin looks great in whatever he throws on to be honest, so you can't blame him for not having a specific look. He can pull anything off, that sweet boy).
Today's agenda was to visit the National Museum and I didn't know what to wear, so when I found this Jimin You Never Walk Alone concept photo I thought it was real cute and iconic and easy to recreate. To be honest, I wouldn't really choose to wear an outfit like this but for Jimin, I'd do anything.
Sunday: Suga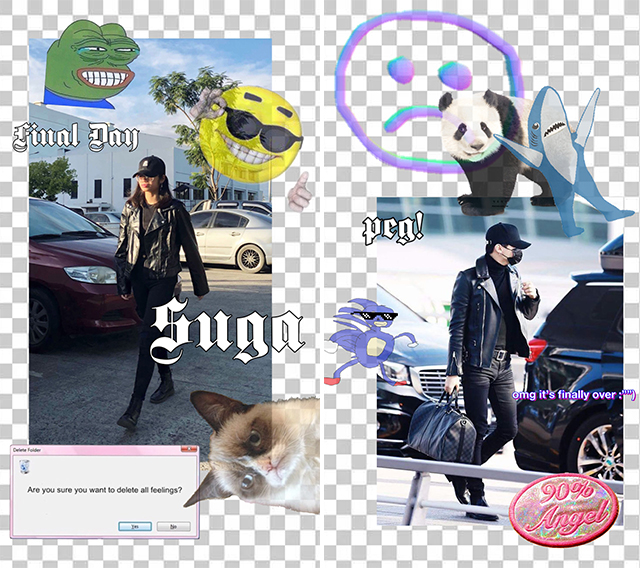 ADVERTISEMENT - CONTINUE READING BELOW
I actually had no initial plans to go out today, so my sister and I opted to hang around in a mall nearby to (1) get supplies for school and for her office desk and (2) obviously, to get a Suga photo.
I realized after today just how much influence my outfit has on my mood. Unlike Yoongi, who is always dripping in black from head to toe, I personally prefer my clothes to be a lot happier and more colorful. So, spending the afternoon dressed in nothing but black somehow got to me and turned me a bit more irritable. I will never understand the joy that Suga gets from his dark, dark wardrobe.
Conclusion
This was a great opportunity to plant a lil' ARMY seed in my non-ARMY friends.
Related Stories from Preview.ph
Hey, Preview readers! Follow us on Facebook, Instagram, YouTube, Tiktok, and Twitter to stay up to speed on all things trendy and creative. We'll curate the most stylish feed for you!