(Check out Tina's blog at www.religionblack.com!)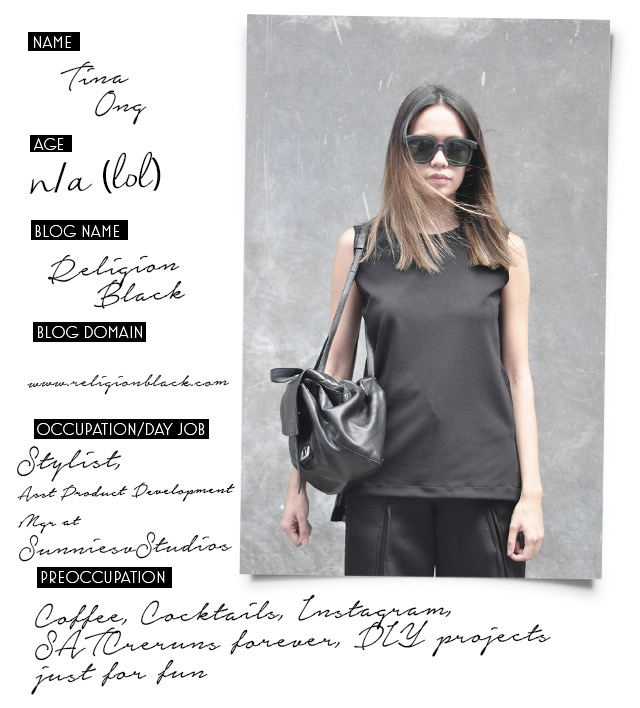 FIRST THINGS FIRST…
How did you come up with your blog name?
The naming-of-the-blog struggle started in Tumblr where I originally kept all the photos that inspired me. It was religionblack.tumblr.com, and the title of the page was "In the Religion of Black." It took a while before I finally decided to create a personal blog, and when I did, I saw no reason to change the name. Black, to me, is more than just a color. It's about its personality, what it inspires in art, music, and fashion.
ADVERTISEMENT - CONTINUE READING BELOW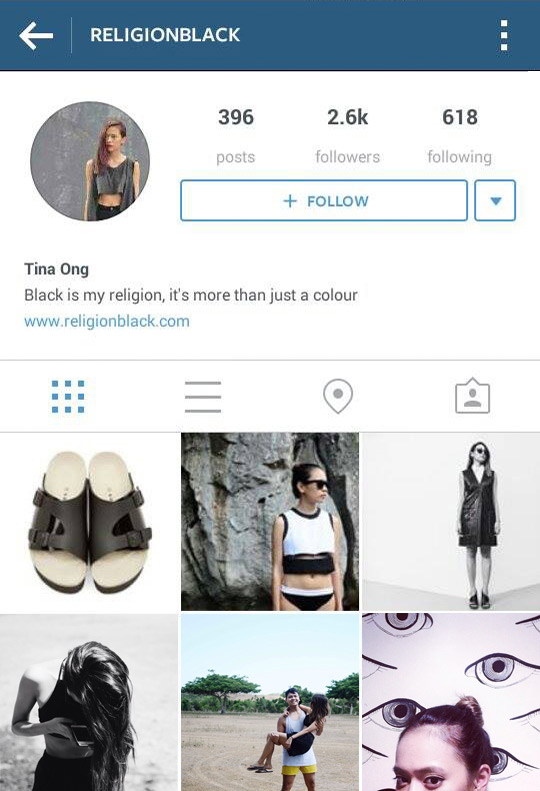 NAME YOUR…
Signature pose? Just standing there. Quite boring, actually.
Favorite editing app and/or filter? VSCO
Favorite foodstagram? It has got to be @gabbycantero
Pet peeve? Visible Panty Line (VPL) or Visible Bra Straps (VBS) :(
Favorite Spice Girl? Was Posh, still Posh.
Dream travel destination? It changes now and then, but for the moment, I dream of a big trip to Stockholm.
CONTINUE READING BELOW
Recommended Videos
COMPLETE THE SENTENCE.
I have a huge crush on _____________.
Answer: The boyfie :)
I make a mean ________________.
Answer: Resting bitchface sometimes, but I really don't mean it.
My most unforgettable fangirl moment was with _______________.
Answer: Lynn Yaeger. I sort of followed her around Saint Honoré in Paris. (Oops!)
I've always wanted to_____________.
ADVERTISEMENT - CONTINUE READING BELOW
Answer: Try camping, or better yet, "glamping."
The last quote that made me go 'That is so true!' was ___________________.
Answer: "It's when Pinays travel to cooler countries that their style game gets thrown off, and they tend to look, well, less than hot." –Izzy Tuason in How to Dress Like A Babe via stylebible.ph
I am a self-confessed _______________.
Answer: Introverted extrovert
ADVERTISEMENT - CONTINUE READING BELOW
THIS OR THAT?
Shoefie: Flats or Heels? I wish I could say heels, but flats win this round.
Lipstick: Matte or Glossy? Matte
Instagram Grid: Colorful or Washed-out? Leaning towards washed out
Chicken: Jollibee or KFC? Jollibee
Favorite Nicole: Kidman or Richie? Richie
Writing: Nosebleed or Passion? Somewhere in between, but lately it's been a nosebleed for me.
ADVERTISEMENT - CONTINUE READING BELOW
HOLD ON. LAST FEW QUESTIONS, PLEASE!
What's the best comment you've ever received on your blog?
"You're bringing something new into the local blogging scene."
And the worst?
"wtf?!"
Paste an emoji here which best describes how you feel about it.
Nominate another blogger to answer our slam book.
ADVERTISEMENT - CONTINUE READING BELOW
@thedandyproject and @inkarlcerating
Hey, Preview readers! Follow us on Facebook, Instagram, YouTube, Tiktok, and Twitter to stay up to speed on all things trendy and creative. We'll curate the most stylish feed for you!