(Check out Camie's blog at wild-spirit.net!)
FIRST THINGS FIRST…
How did you come up with your blog name?
I honestly was in a very Tumblr-y phase in life, and I randomly came across the two words and it resonated with me so much that it kind of just stuck.
NAME YOUR…
Signature pose? Head angled to the right, eyes looking down, curls falling on the right side of my face—my readers just call it the "Camie pose"
Favorite editing app and/or filter? VSCOcam all the way. No favorite filter though!
Favorite foodstagram? @Pepperph!
Pet peeve? When people go beyond your personal space, which to me is about a meter long.
Karaoke jam? Like A Virgin by Madonna
Dream travel destination? Right now, I'd say the Scandinavian countries!
FILL IN THE BLANKS.
I have a huge crush on _________________.
Answer: Ryan Gosling, Chris Hemsworth, Emma Stone & Lana Del Rey. (I'm sorry, I can't just pick one.)
I make a mean _______________.
Answer: Pan-grilled BBQ shrimp and steak rice
My most unforgettable fangirl moment was with ________________.
Answer: I'm ashamed that I haven't had an unforgettable fangirl moment yet… Maybe when I see Lana Del Rey perform live, that would be the day!
I've always wanted to try _______________.
Answer: Going into a French fromagerie and just sampling different kinds of cheese and learning about it all—maybe this year!
The last quote that made me go 'That is so true!' was _____________________________.
Answer: "Being aware of a single shortcoming within yourself is far more useful than being aware of a thousand in someone else." -Dalai Lama
I am a self-confessed _________________.
Answer: FRIENDS fanatic
THIS OR THAT?
Shoefie: Flats or Heels? Flats!
Lipstick: Matte or Glossy? Matte, please!
Instagram Grid: Colorful or Washed out? I lean more on the washed out.
Favorite Olivia: Palermo or Munn? Palermo, all the way!
Growing up: Bully or Bullied? Neither.
Writing: Nosebleed or Passion? Passion.
HOLD ON. LAST QUESTIONS, PLEASE!
What's the best comment you've ever received on your blog?
Whenever someone tells me I'm an inspiration to them, it always makes my heart swell.
And the worst?
I wouldn't say I've ever had a "worst" comment because if I did I'd easily remember it and right now I don't remember much of the hate comments I've gotten! I think just being judged in general is the annoying part.
Paste an emoji here which best describes how you feel about it.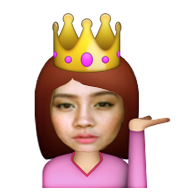 Nominate another blogger to answer our slam book.
Jeline Catt and Yuki Tansengco.