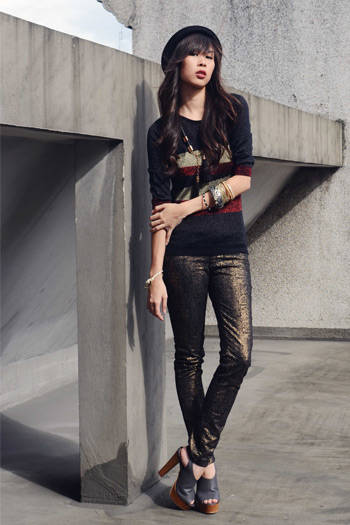 Lexi Gancayco
Blog: Lexi The Second
What is the metallic piece in this ensemble and what do you like about it?
My metallic pieces in this ensemble are the sweater and the skinny jeans.
I like the sweater because its not too metallic, and lit plays around with different metallic colors. This is really something I can "over-use" because its something you can throw on, on a lazy day and still look chic because its metallic. For the jeans, i really like the print and the fit.
ADVERTISEMENT - CONTINUE READING BELOW
How else would you style it?
I'd wear the pants with a white inner and a colored blazer then I'd play around with more accessories. For the top, I'd probably wear the top with maybe brown or khaki leather shorts and wedges.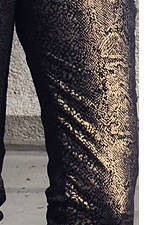 What do you love about the metallic trend?
CONTINUE READING BELOW
Recommended Videos
Aside from it being a trend, I really just love metallics because they make such a bold statement in a simple outfit. A whole look can really change if you go from yellow to gold, or gray to silver!
How do you build your outfit around it?
With Metallics, you can either go all out metal or combine metal with something neutral. For this outfit, I decided to really play up my look by doing (bold) metallic on (dark) metallic.
How did you make this look your own?
I'm a big fan of prints, and so when I found these metallic leopard printed pants from Mango, I just knew that this was the piece I needed!
How you wear the trend without looking over-the-top?
Like I said, you can match metallics with each other, just as long as you balance out the "sparkle" for the entire look. For example, if there is enough metallics used in the dress or ensemble, using metallic accessories might not be necessary anymore.
ADVERTISEMENT - CONTINUE READING BELOW
How do you accessorize metallics?
If you're wearing silver, gold or bronze, it would be nice to experiment with darker shades of those particular metals. Even black metallic pieces go very well with the usual metallics.
Additional styling tips?
When it comes to metallics, I find it nice to try and play around with different metallic colors like red, aqua, or magenta also. Another thing I like doing is matching the usual metallic shades like silver, gold and bronze with vibrant colors like red, blue, green or violet. It is something different from [pairing] your usual metallic shade and just black or white.
ADVERTISEMENT - CONTINUE READING BELOW
What's your favorite Mango piece in this ensemble?
As I mentioned earlier, I absolutely love the animal printed gold skinny jeans. I've really been looking for wild printed skinny jeans, and I'm so glad I found them in Mango!
Which metal shade do you prefer? Bronze, Silver, Gold?
I think among the shades, I like gold the most. I really like how gold goes with red, black and many other colors.
How would you wear metallic during the day? How about a night out?
In the day you can wear a metallic top and then tone it down with a neutral bottom like denim shorts, a khaki or pastel skirt or jeans. Then at night you can change into a metallic dress or metallic pants or a metallic blazer.
Lexi is wearing a metallic sweater, animal print skinnies, and accessories from Mango.
Jump to the next page to see how Alyssa Lapid wears metallics!
ADVERTISEMENT - CONTINUE READING BELOW
Show us how you wear metallics by posting your look in My Style!
Hey, Preview readers! Follow us on Facebook, Instagram, YouTube, Tiktok, and Twitter to stay up to speed on all things trendy and creative. We'll curate the most stylish feed for you!