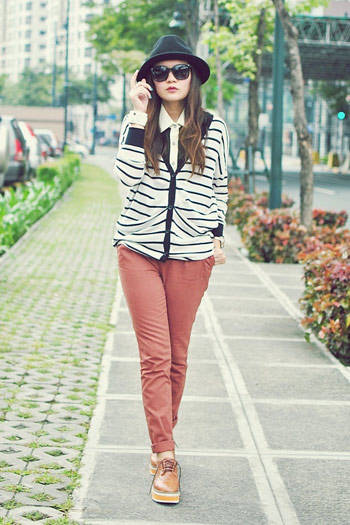 Kookie Buhain
Blog: Death by Platforms


What is the androgynous piece in this ensemble and what do you like about it?
The menswear piece in my ensemble is the slouchy "grandpa" cardigan and I just love how comfortable and easy it is to wear.

How else would you style it?
For a more feminine look, I would wear the cardigan unbuttoned, paired with high-waist tan leather shorts, cropped top and open toe wedges.

What do you love about the menswear as womenswear trend?
With the menswear trend, you don't always have to look calculated. You can just throw on different pieces, put on some sneakers or brogues, tie your hair in a ponytail or leave it messy and you can go straight out of the door.

How do you build your outfit around it?
For my menswear look, I chose a pair of tapered denims in a gorgeous rust color and I put on the grandpa cardigan over a buttoned-up sleeveless shirt.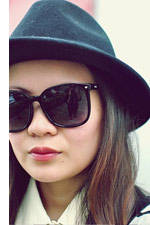 How did you make this look your own?
I decided to go for a casual preppy ensemble since I wanted to veer away from the conventional buttoned up shirt plus blazer menswear look. My signature wide-brimmed fedora definitely adds to the menswear vibe of the overall ensemble.

How you wear the trend without looking over-the-top?
It's a matter of balancing proportions and styles. Avoid dressing up "like a man" all the way. It's also better if you pair menswear pieces with other items that are more feminine (i.e. blazer + pants + heels).

How do you accessorize menswear?
With accessories that lend a menswear appeal as well—such as a chunky watch, a pair of sneakers or oxfords, wayfarers and a hat.

What's your favorite Mango piece in this ensemble?
It would have to be the grandpa cardigan because it's such a versatile piece. You can wear it buttoned up or as a cover up.

How would you wear this trend during the day? How about a night out?
The outfit I'm wearing in this photo is a look that's appropriate for a daytime event. For a night out with friends, I would wear the cardigan with slim leather leggings, red platform pumps and a corset top.

Kookie is wearing sunglasses, pants, and a cardigan from Mango.
ADVERTISEMENT - CONTINUE READING BELOW
CONTINUE READING BELOW
Recommended Videos
Show us how you wear it by posting a photo in our My Style section.
>