"When I remember that sophomore night—grabe nakakahiya!" Janine Gutierrez says as she gets her makeup done, laughing as she recalls that unforgettable night involving bad outfit decisions. Beside her is stylist and former Preview Fashion Assistant MJ Benitez who'd rather drop this nostalgic conversation, stat. "Stop!" MJ protests, to which Janine jokes, "Ito ba kababagsak natin?"
Janine's style has always been sophisticated, classy, yet a little playful—she is a Louis Vuitton ambassador, after all. MJ, on the other hand, loves a tailored look with a touch of whimsy and an indescribable chicness that's uniquely hers, sporting brands like Jaqcquemus and Acne Studios. But what makes this stylist-muse duo a powerhouse is the friendship they've shared since high school.
Despite the minimum number of social media receipts, Janine and MJ have actually been friends for almost 13 years, and their playful banter lasted throughout this Best Dressed shoot like a virus. MJ likes to call the partnership "symbiotic" as it's rare to see Janine step out in an outfit that MJ has not pre-approved or styled. "It was super life-changing for me, MJ is one of—if not the biggest influence sa evolution ng style ko," Janine shares. MJ, on the other hand, credits Janine for introducing her to celebrity styling. "It opened so many doors for me," she shares. "I came from editorial and it really opened me up to the show biz industry. [Styling Janine] was a stepping stone for me to getting into that world and to understanding it." It's funny as it is serendipitous how two high school friends ended up as stars in the local fashion scene with Preview as their common denominator.
ADVERTISEMENT - CONTINUE READING BELOW
Related Stories from Preview.ph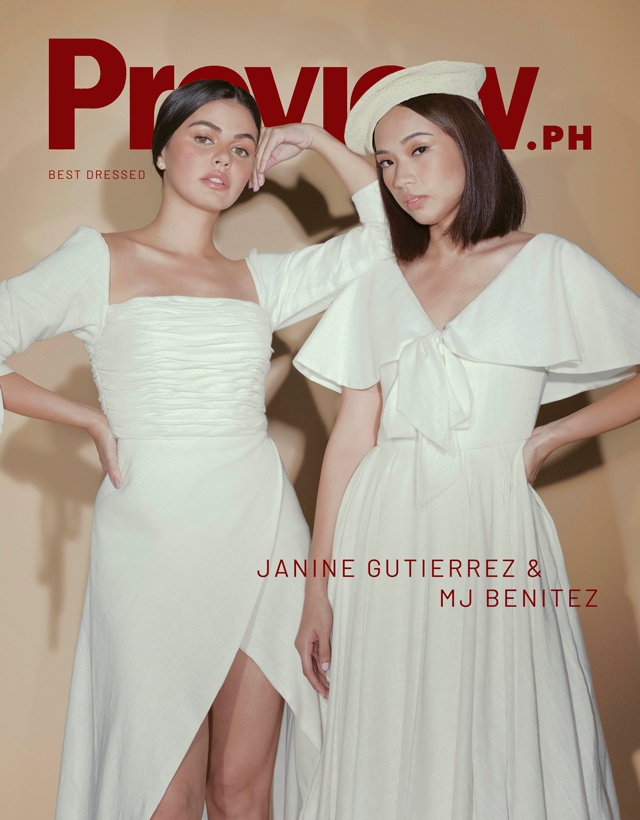 Janine and MJ both wear dresses from Vania Romoff.
How did you both meet?
MJ: "Parang we really became friends nung second year high school."
Janine: "Yeah, second year high school. That's more than 10 years na! We graduated high school 2007?"
MJ: "LOL! Ang tagal na!"
CONTINUE READING BELOW
Recommended Videos
Both: "We've been batchmates since grade school."
J: "But second year high school kami naging classmates."
MJ: "Because we became part of this weird barkada…called the Justice League!"
J: "I was thinking about this kanina kung mauungkat ba 'to? [Laughs]"
MJ: "And she was Green Lantern and I was The Flash."
J: "LOL! May pa-alter ego pa!"
MJ: "But professionally how we started working together was because of a Preview shoot and I was still an EA [Editorial Assistant]. I needed to do a [fashion] story but I didn't really want to interact with anyone. I already knew Janine, so parang for me, 'Oh madali na kung siya lang tatanungin ko!"
J: "I didn't know that!"
MJ: "And that became a whole 'next gen' celebrities story. But I really just wanted to work with you. And that was your first Preview shoot."
J: "Yeah, that was my first real fashion editorial shoot. That was where I met BJ [Pascual], Omar [Ermita]…the first time I worked with MJ."
ADVERTISEMENT - CONTINUE READING BELOW
MJ: "That was the genesis of our professional relationship."
J: "And it super changed everything for me."
Why do you think MJ deserves to be part of the Best Dressed list?
J: "I think MJ has a super distinct style that only she can pull off. It's a really unique taste. And when people work with MJ, that's why they get her because she's the only one who has that mix of classic, fashion-forward, sweet but also edgy in a way. That's why I think she's on the Best Dressed list because she's the only one I know who has that specific look, which is hers lang."
How about Janine?
J: "Because MJ is my stylist!"
MJ: "Well, she was on the list last year, right? I'm happy she's back on the list because even her following has acknowledged that she's a 'Fashion Girl.' It's a consistency thing. I mean clearly, you know how influence goes, may pros and cons siya, this is such a pro for Janine. Because that means that people actually look up to her and her style. And when people look up to someone's style—it's like a domino effect, eh—it also influences the style of others. It makes people more experimental or open-minded by having someone to look up to na may sense of style."
ADVERTISEMENT - CONTINUE READING BELOW
What do you like the most about how Janine dresses?
MJ: "The real core of Janine is that she's actually a simple dresser. That's what I like. Even when you're wearing basics, if that's authentically you, you don't have to go out of your way [to dress differently]. You don't have to dress extravagant. You don't have to peacock yourself around. But if you accept and embrace your own style, then that's good."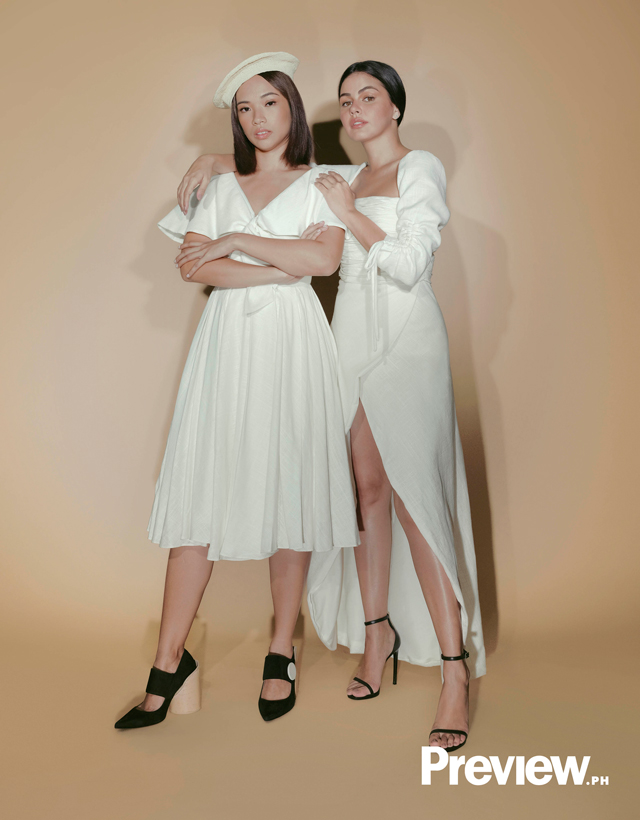 ADVERTISEMENT - CONTINUE READING BELOW
ON MJ: Pointed pumps with geometric heel, Jacquemus.
ON Janine: Thin-strapped heels, YSL.
If you were to scroll through each other's IG feed, what kind of style tips would you pick up?
J: "Oh my gosh! I guess one of the most helpful style tips I've learned from MJ is that black boots add another level or layer to any outfit. It doesn't matter if you're wearing a dress or a suit. It's one of her signatures that I really picked up on."
How about you MJ?
J: "Patay. [Laughs]"
MJ: "'Wag kang ma-insecure, girl!"
J: "Lately, wala akong dressy OOTD."
MJ: "Don't be afraid to wear color. She's super experimental. She wears a lot of head-to-toe monochrome. Don't be afraid to wear brights. Even when your style is simple, just adding color will make it more interesting."
If you could steal one thing from each other's closet, what would it be and why?
ADVERTISEMENT - CONTINUE READING BELOW
MJ: "I want Janine's Louis Vuitton boots. Because I love boots. And I love the geometric heel."
J: "I want to steal MJ's berets because she wore them before it was a trend, and I think that's also something I admire about her—she doesn't follow trends. I think that cements her personal style; [she's] not swayed by what everyone else is wearing."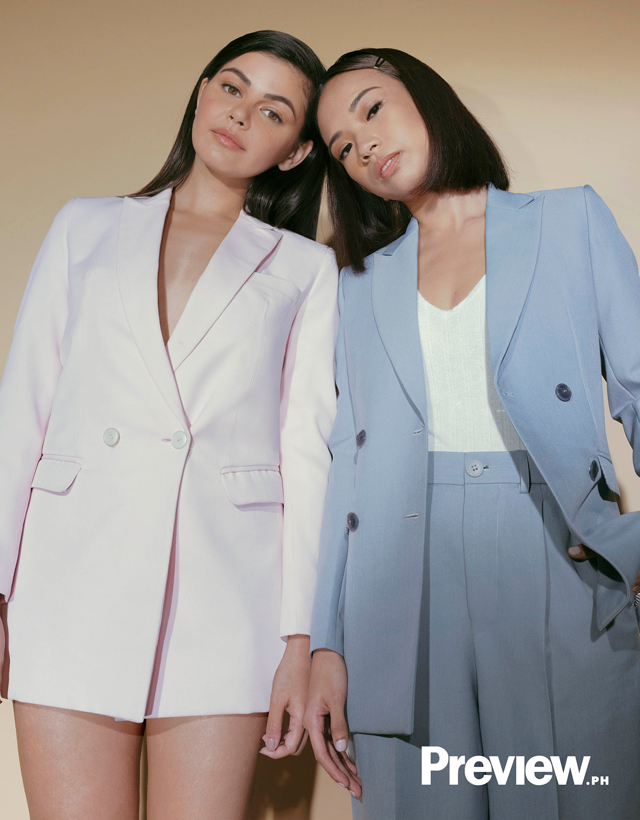 ADVERTISEMENT - CONTINUE READING BELOW
MJ and Janine both in suits from Ziggy Savella.
In what way are your styles different? In what way are they the same?
MJ: "That's what you're going to see in this shoot!"
J: "Counted ba ang beauty? Or clothes lang?"
[MJ and makeup artist Anthea Bueno give Janine a look.]
J: "Beauty as in makeup! Ano ba! I meant beauty as in makeup! [Laughs]"
MJ: "Well, Janine is definitely the more feminine one."
J: "The same about our styles? Feminine ba ako?"
MJ: "Oo kaya! Ano ka ba! I think we both don't like over-accessorizing."
J: "I was going to say nga. Even your core wardrobe is a lot of classics. You have a lot of the must-haves and you can play around with different colors or different fabrics."
MJ: "We're really not into jewelry."
Do you shop for each other?
J: "OMG."
ADVERTISEMENT - CONTINUE READING BELOW
MJ: "I don't really shop for her. [Laughs] She did buy me these Gudetama socks that I super love!"
J: "[Laughs hysterically] Oh no! Nakakahiya!"
M: "I love socks in general."
J: "Not necessarily shop, eh. But we we create a lot of looks together."
MJ: "What's interesting kasi with our pair is that it's a stylist-muse relationship, so it's a lot of collaborative work. Basically all the looks I've styled her in are collaborative."
J: "I'm lucky because she listens to what I want."
MJ: "Syempre when you're comfortable with someone it's easier to be honest."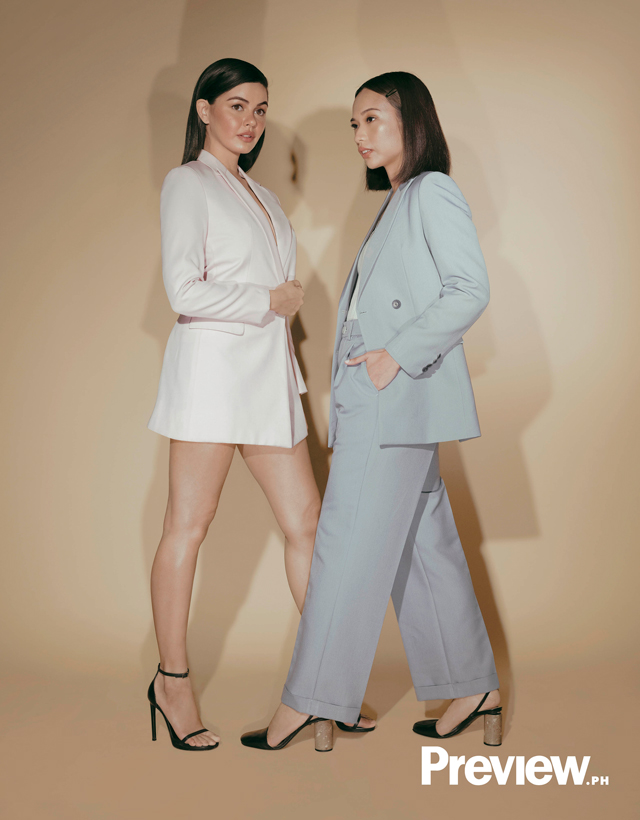 ADVERTISEMENT - CONTINUE READING BELOW
ON MJ: Heels, Acne Studios
If Janine/MJ could only wear one outfit for the rest of her life, what do you think she'd choose?
MJ: "What's the season?"
J: "Sa Pilipinas!"
MJ: "Maybe her fave high-waisted jeans and a light trench coat. Maybe Burberry, no? So it's classic. For shoes, like a block-heel?"
J: "For MJ a suit in a color! Maybe mustard? And a beret!"
What's one piece of fashion advice you want to give each other?
J: "I don't have advice for MJ."
MJ: "I don't have advice for Janine, either."
What do you both enjoy the most about fashion?
MJ: "I love everything about fashion, that's why I'm a stylist. I love how it's super visual. I got into the whole fashion thing because of photography. So I love photographers such as Tim Walker, Peter Lindbergh—it's about story-telling. I love that fashion is a way to tell a story without having to say anything."
ADVERTISEMENT - CONTINUE READING BELOW
J: "Oh my gosh, ang ganda ng speech mo. Pang Almost Famous! For me, I love that you'd get to know more about yourself and other people through fashion."
Produced by The Preview Team
Art Direction by Mark Buenaobra
Photographed by Shaira Luna
Makeup by Anthea Bueno
Hair by Mycke Arcano (Janine) and Mark Rosales (MJ)
Related Stories from Preview.ph
Hey, Preview readers! Follow us on Facebook, Instagram, YouTube, Tiktok, and Twitter to stay up to speed on all things trendy and creative. We'll curate the most stylish feed for you!