Being sisters, one might think that Chi and Gabs Gibbs are a duo by default. That, however, is simply not the case. Matching each other well is but a fortunate circumstance for them, because up close, they're as distinct as style goes.
It's Chi's second time to be on the Best Dressed list, the first being in 2015. The co-founder of Neon Island embodies the playful spirit of her brand—always in color and in printed anything, but considers herself quite the practical shopper. Meanwhile, Gabs is more experimental with silhouettes, yet unlike her sister, favors less color. Being a makeup artist, she often has her beauty looks as a focal point.
Despite their differences, however, the two are definitely a joint entity at home—they steal borrow clothes from the same closets, get ready together for as long as possible, and are each other's shopping guide. Not only do they know the other best, it's exactly their contrasts that make them complementary as well. Sibling style isn't always about twinning, after all.
ADVERTISEMENT - CONTINUE READING BELOW
Related Stories from Preview.ph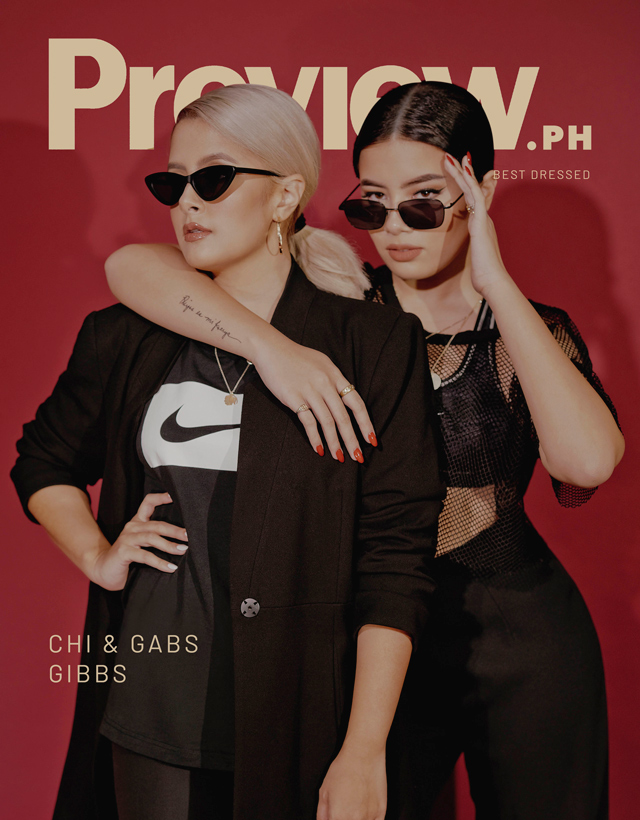 Gabs wears a sports bra from Nike, vintage pants, a Supre mesh top, and glasses by Sunnies
Chi wears a shirt and leggings from Nike, a blazer from Zara and glasses from Le Specs Glasses
Why do you think your sister was chosen to be a part of the best dressed list?
CONTINUE READING BELOW
Recommended Videos
Gabs: "Second time niya pala? 'Di ko nakita yung last. [laughs] Feeling ko, everyone in our family has really great style. [laughs] Ang yabang. I mean, you know building her own brand, [Chi]'s personal style is very authentic and very her. I think everyone appreciates that about her and wala lang, maganda lang 'yung style niya. It's just natural to her. Not surprised that she's been selected."
Chi: "I feel like in terms of style we feed off of each other, and Gabs is a creative, not just with fashion and makeup, feeling ko those go hand in hand eh. I'm not surprised [she was chosen] because art is her form her self-expression, so of course her clothes are cool, too. Actually, sa aming dalawa she's more experimental."
What do you like most about how the way your sister dresses?
C: "She gets the stuff that I'm scared to buy, like a weird polo na feeling ko overpriced. I'm like, 'Don't buy it,' but I end up using it since we borrow each other's clothes."
ADVERTISEMENT - CONTINUE READING BELOW
G: "Chi has a certain style talaga and it really reminds you of her like—'Oh, it's very Chi,' when you see it. It's color-"
C: "Feeling ko I force you to add color to your wardrobe."
G: "Yeah, that's true."
C: "She naman in turn influences me to be a little more androgynous. I feel like that's how we inspire each other in a sense."
If you were to scroll through each other's IG feed, what kind of style tips would you pick up?
G: "I think with her, she always matches everything. Like she'd wear a pink blazer, pink trousers, and like pink accents like earrings or something."
C: "With [Gabs], it's how to match your makeup with your clothes, because it's so important also. Like depending on what you're wearing, the makeup look should match. If you're wearing something crazy, medyo muted dapat 'yung makeup, like don't wear a crazy lip with a crazy-colored top as well. So I think with Gabs, I'd go to her for that kind of inspo."
ADVERTISEMENT - CONTINUE READING BELOW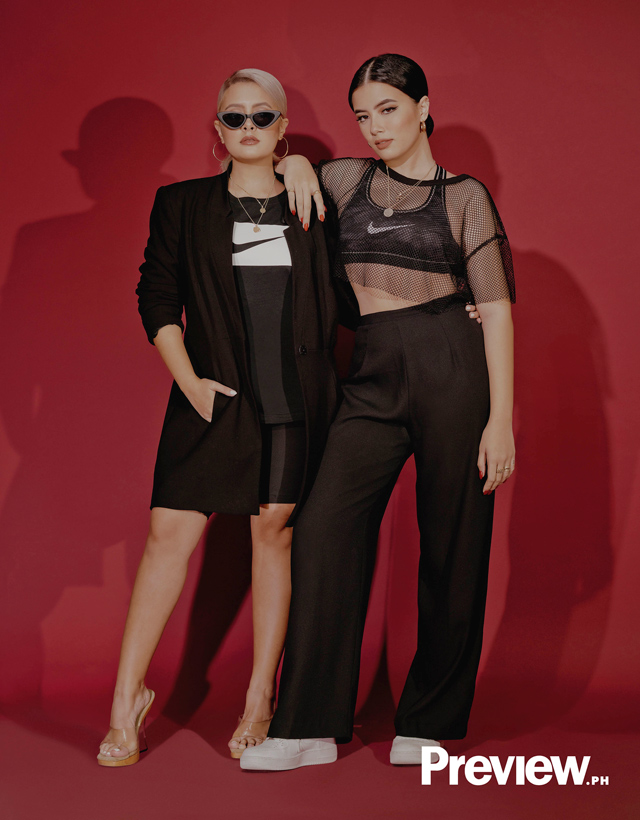 Gabs wears Nike sneakers and Chi wears vintage shoes
If you could steal one thing from each other's closet, what would it be and why?
C: "We always steal from each other. I feel like you wish you could steal but you couldn't because we have different shoe sizes."
ADVERTISEMENT - CONTINUE READING BELOW
G: "She has baby feet."
C: "I'm a size seven you just have big feet! I think you would steal my sneaker collection if you could. Ako naman with her she gets a lot of my dad's vintage jackets that I can't wear because they're too big. She's taller so it's a better fit for her."
G: "Even his concert clothes."
C: "Yeah, so that's what I wish I can steal from her. She has a lot of that."
Did your dad pass those jackets on to you?
G: "Di niya alam. Ninanakaw ko lang sa kanya. *laughs* He's like, 'Parang sinuot ko 'yan nung '90s.'"
C: "When I get dibs over her when I find something of my dad's, I have it altered kaagad. Because I know if she gets her hands on it, it will never be altered. I shorten the pants, I crop the jacket."
ADVERTISEMENT - CONTINUE READING BELOW
G: "May isang time nagsuot ako ng pants that I always wear. Pagsuot ko maigsi na. Sabi ko, 'Anong nangyari? Dumaan na kay Chi.'"
In what way are your styles different? In what way are they the same?
C: "I think we both wear sneakers a lot. We both have a collection, so that's where we meet, I think."
G: "A love for anything vintage. We'd revive our lola's dresses and gowns. We'd have them altered."
C: "Parang that's our first stop 'pag shopping. We always dig through [our family's collection]. So yes, [we] definitely [share] a love for vintage and athleisure."
Do you shop for each other?
C: "We live together too so we know each other extremely well. Like if someone's going to buy me a gift, I say, 'Just ask Gabs.' She's also like that, like when friends and family shop for her, they message me kasi they know alam ko na what [she likes]."
ADVERTISEMENT - CONTINUE READING BELOW
G: "We also send pictures [to each other], kunwari from a store. I'm like, 'Okay ba 'to?' to her."
C: "For my last birthday you bought me a bag, diba? Kasi I have an ongoing obsession with banig/abaka bags. 'Di parin namamatay. Even my boyfriend's gifts alam ko siya pumili. I'm like, 'How did you know? Ah, you asked Gabs.'"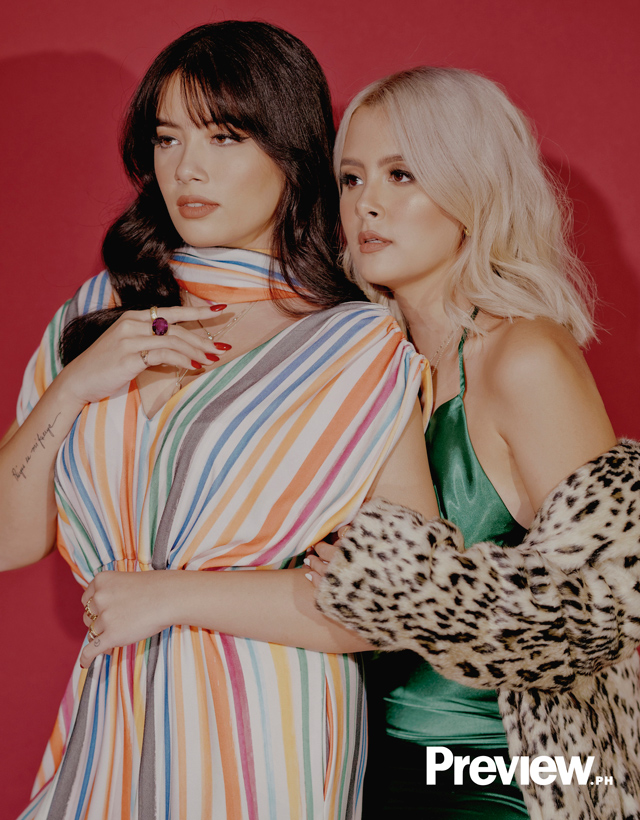 ADVERTISEMENT - CONTINUE READING BELOW
If your sister could only wear one outfit for the rest of her life, what do you think she'd choose?
C: "Nakahubad [laughs]. She'd be buried in a leather jacket and jeans! Mom jeans or high-waist straight cut jeans. [She's] not into skinny anymore. Maybe a silk polo, parang you're always [in one], you do have a lot. Parang you gravitate towards that. Ang hirap with shoes eh. She rarely wears heels, though, because she's tall."
G: "I like lola shoes. That's what I call them. Low, thick-heeled, parang step-in heels.
"For Chi, a one-piece [that] is obviously Neon Island. 'Di pwedeng 'di Neon Island. Something printed, colored pants, and sneakers."
C: "I'm always in trousers."
G: "Or a jumpsuit, like a printed jumpsuit. Either heels or sneakers. Feeling ko sneakers."
What kind of sneakers do you like, Chi?
C: "Chunky sneakers. Cortezes. That's what I have the most of."
ADVERTISEMENT - CONTINUE READING BELOW
Related Stories from Preview.ph
What's one piece of fashion advice you want to give each other?
C: "She always asks me if she's overdressed. I guess it's because of [her] love for makeup din. She always wants to balance it out. Ako naman my advice to her is, so what? Wear what you want to wear, parang ganon 'yung feeling ko. Life is too short to save this outfit for this day. If you feel like wearing it today, just wear it. I'm the type kasi that wears stuff down 'til it dies. Si Gabs saves it, she's like, 'Let's save this for a special occasion.'"
G: "It's either I wear to a special event or I wear it once and never ko na susuotin."
C: "I don't save clothes for occasions."
G: "[She buys] more useful things. I buy more statement things that I'll wear once in my life."
C: "I have a rule kasi na if it doesn't already match something in your closet, you shouldn't buy it. If it's something you have to build an outfit on pa, like you have to buy a pair of shoes that matches it, it doesn't fit your closet. It should match other things. I always tell you that, diba. 'Oh what are you gonna wear with that?' You're like, 'Sana I had...I don't know.'"
ADVERTISEMENT - CONTINUE READING BELOW
G: "I build [my outfits]. That's how I shop too much, parang ito bagay 'to with something ganon tapos I have to buy that item."
C: "Masyado siyang impulse buyer, ako no, I'm not. I'm a very careful shopper. Also, for example, traveling. I always edit my closet."
G: "This is my advice to you naman—once in a while you should impulse buy. When we're abroad, [Chi] is always like, 'I'll go back nalang.' Tapos ako I bought everything already, then she'll be like, 'Dapat we went back to that store.' You have to live a little, sis."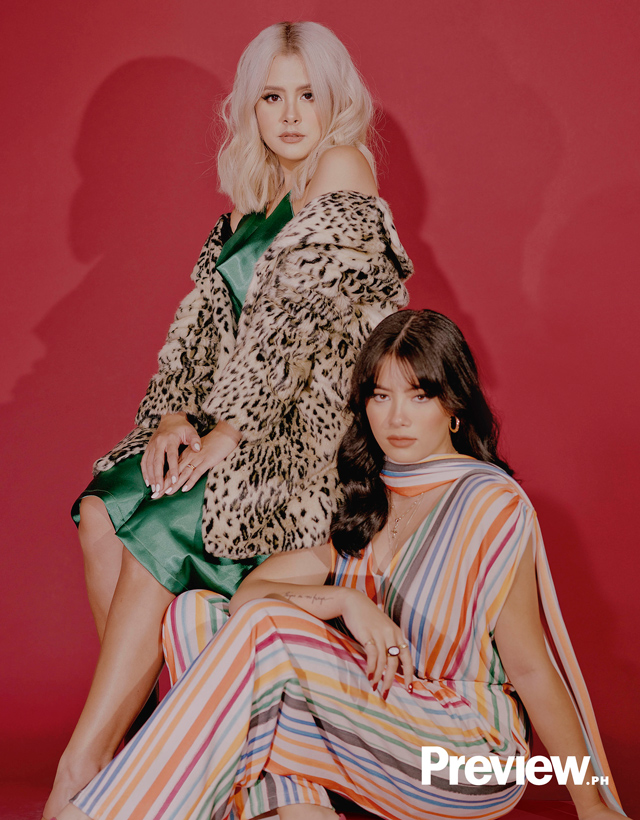 ADVERTISEMENT - CONTINUE READING BELOW
Gabs is wearing a striped dress from Neon Island and Chi is wearing a slip dress from Neon Island and a cheetah print jacket from H&M
What do you enjoy most about fashion?
G: "I think getting ready together is fun. And coordinating our outfits for pictures. Ang babaw. [laughs]"
C: "That's true. I second what she said. We're a duo most of the time. We're always together. That's part of the fun of dressing up—complementing each other but at the same time being a contrast. Diba, sis?
"Also, sharing inspiration, that's also fun. Being inspired by whatever. For example, we watch a movie and we're super into this movie, that's something we share. Getting inspo from a song or an artist and then translating that to your clothes. Expressing your mood, your interests. That's the most fun about it, I guess."
Produced by The Preview Team
Art Direction by Mark Buenaobra
ADVERTISEMENT - CONTINUE READING BELOW
Photographed by Charisma Lico
Hair by Mark Rosales (Chi) and George Aliben (Gabs)
Makeup by Chi and Gabs Gibbs
Related Stories from Preview.ph
Hey, Preview readers! Follow us on Facebook, Instagram, YouTube, Tiktok, and Twitter to stay up to speed on all things trendy and creative. We'll curate the most stylish feed for you!