Wearing colors can be a step outside of our comfort zones. Beyond the neutrals, there's a wide and extensive plethora of shades, tones, and hues that exist, all of which can be daunting to navigate. Of course, there's no denying that when you find the color that flatters you the most, it becomes a lot easier to create a wardrobe that works for you. So below, we created a guide that will help you discover the right colors that will form the nucleus of your closet.
Skin Spectrum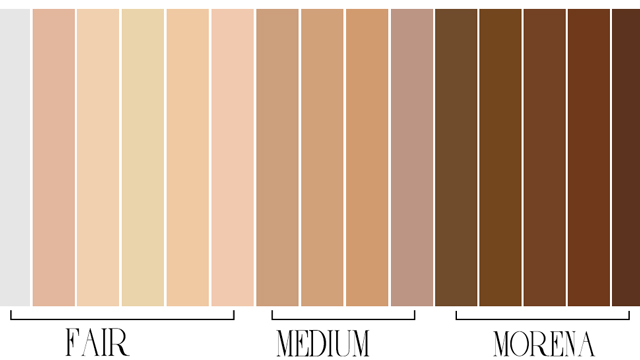 ADVERTISEMENT - CONTINUE READING BELOW
There is a wide range of skin tones out there and it is quite impossible to group colors for all in a single article! So here, we've classified a sampling of common skin colors into three groups: Fair, Medium, Morena.
Skin Undertone Spectrum
To be honest, whether you're fair, medium, or morena, these aren't the only determining factor for the best colors for you. Your skin undertone is another telling sign. Here's how to know if you're cool, neutral, or warm-toned.
ADVERTISEMENT - CONTINUE READING BELOW
Simply flip your wrist and check your veins. If the color of your veins is...
Blue- you are cool-toned;
Green- you are warm-toned (Fun fact: Your veins are still blue; you just see them through yellow skin, and color combinations teach us that yellow + blue = green.);
Hard to distinguish- you are neutral-toned
COOL-TONED
ADVERTISEMENT - CONTINUE READING BELOW
Colors from the cool tones that work for you: Royal blue, Deep blue, Navy, Emerald, Deep purple, Lavender
Colors from the warm tones that work for you: Bright pink, Reds, Reddish pink
Your best neutral: Gray
Colors that are a little hard for you to pull off: Bright oranges and yellows. (If you want to wear such, always look for a version that has a little red in it to tame the hue.)
NEUTRAL-TONED
ADVERTISEMENT - CONTINUE READING BELOW
Colors from the cool tones that work for you: Jade green, Moss green, Pale blues
Colors from the warm tones that work for you: Light peach, Blush tones
Your best neutral: Taupe, Gray
Colors that are a little hard for you to pull off: Anything too bright. (Always go for a softer version of the color, instead.)
WARM-TONED
ADVERTISEMENT - CONTINUE READING BELOW
Colors from the cool tones that work for you: Olive, Turquoise, Magenta, Orchid
Colors from the warm tones that work for you: Oranges, Reds, Golden yellow, Amber
Your best neutral: Taupe, Chocolate, Latte
Colors that are a little hard for you to pull off: Icy shades (It's best to have hints of oranges and reds to balance out the blue undertones of your skin.)