July 14 is always a special day for the French. Bastille Day, otherwise known as le quatorze juillet (the 14th of July) or French National Day, is a commemoration of the end of the French Revolution (au revoir, Marie Antoinette!) and the birth of République française as a modern nation (bonjour, Carla Bruni-Sarkozy and former First Ladies!).
The day was special for a few Filipino designers, too, as they joined the French Embassy of Manille in celebrating the momentous occasion just a fortnight ago. Ferdi Abuel, Regine Dulay, Sassa Jimenez, Jerome Lorico, Solenn Heussaff for TAN-GAN, and Lulu Tan-Gan all showcased mini-collections for the Bastille festivities held in Sofitel Philippine Plaza. Fashion, after all, is très important to the French, so naturally they'd celebrate it in high style.
ADVERTISEMENT - CONTINUE READING BELOW
CONTINUE READING BELOW
Recommended Videos
The fashion show was accompanied with an art exhibit featuring some beautiful pieces from French-owned pearl purveyor Jewelmer, and the works of pop artist Delphine de Lorme (paintings below) and sculptor Olivia d'Aboville.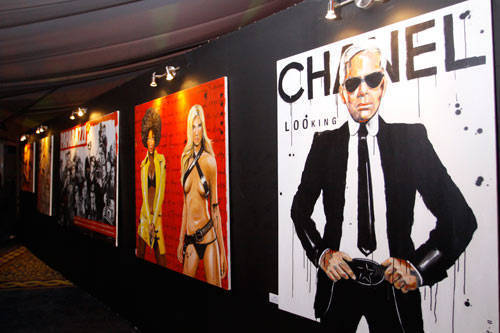 Onstage, renaissance woman (she sings, acts, paints, and designs clothes, among other things) Solenn Heussaff sang French jazz and pop while several artists painted on the spot, on big canvases on the catwalk.
ADVERTISEMENT - CONTINUE READING BELOW
A bit of a digression: This multi-talented woman can do no wrong! Is it not enough that she's a beautiful Survivor and talented in so many ways? Does she have to be a chanteuse as well, and a good one at that? Mind you, she didn't let her—warning, quease-inducing photo in the link—foot accident deter her from participating in the event. She hobbled onto the stage in crutches and sang beautifully before and after the fashion show. And her clothes were gorgeous, too. Can't wait to get our hands on her designs and her album!
Read on for the fashion rundown of the six designers' Bastille collections. Don't forget to click on the photo galleries to see the pieces!
FERDI ABUEL
Ferdi has a thing for '40s fashion. His Fashion Watch Holiday 2011 collection updated the '40s aesthetic with sportswear elements and streamlined tailored garments, and this time around is no different. Sticking to the New Look silhouette—the shapely hourglass: wasp waist and defined shoulders and hips—Ferdi doled out covetable evening ensembles. Soft, shirred old rose tops in mesh paired with floor-length crushed taffeta and gazar skirts in pewter and black given structure by peplums, some of which are no doubt inspired by Paul Poiret's "lampshade" skirts. The contrast between the daintiness of the shirred tops and the bravado of the voluminously elegant, sculptural skirts is a welcome contradiction—one that immediately lengthened our wish list for evening couture.
ADVERTISEMENT - CONTINUE READING BELOW
Click here to view his collection.
Click here for Ferdi Abuel's Designer Directory.
REGINE DULAY
Following Ferdi's strong 5-look outing is Regine's subtler, yet no less feminine lineup. Also sticking to structure, Regine made good use of boning material to create "waves" in the dresses, giving playful dimension to the cream, baby pink, and heather gray cotton she cut the pieces from.
We'd love to have this, this, and this in our closets. They're easy enough to accessorize, yet we know they'll hold their own, especially with volume like that.
Click here to view her collection.
Click here for Regine Dulay's Designer Directory.
SASSA JIMENEZ
Next up is Sassa, who revealed a sweet inspiration: mille feuille. The French—how apropos—dessert inspired the young designer to dish out tiers of ruffles and pleats in her chiffon, crepe, and organza confections. The vanilla-, light peach-, and latte-colored gowns are too yummy to pass up.
ADVERTISEMENT - CONTINUE READING BELOW
With inspiration like that, the ruffles are as ornamental as they are necessary—for hiding resultant bulges from gorging on one too many French pastries. Dress and napoleon alike, come to us!
Click here to view her collection.
Click here for Sassa Jimenez's Designer Directory.
JEROME LORICO
Jerome hasn't yet abandoned his band of knitted nomads. And with company this good-looking, we can't blame him. His band of dozen kings are bedecked in his signature knits and tailored pieces. Opening with an all-black ensemble, the collection gradually marches towards a sort of lightness with the help of stoles and capes of white and gray patterns. And as always, the outing bellows with the strong attitude and meticulous execution that is the battle cry of all of Jerome's collections. It's all very Games of Thrones-y, in that dark, fierce way of the Starks, and perhaps, the men of the Black.
Click here to view his collection.
ADVERTISEMENT - CONTINUE READING BELOW
Click here for Jerome Lorico's Designer Directory.
SOLENN HEUSSAFF FOR TAN-GAN
If she weren't so nice, we'd have good reason to hate her. Solenn is just as talented as she is beautiful, and her adeptness in reinvigorating the TAN-GAN brand with a younger, sexier vibe is not to be missed. Her knit separates are anything but basic and boring, given a whole lot of energy via a hodgepodge of silkscreened patterns and figure-flattering, cocktail-ready cuts. These are knits that are social circuit-ready. Shine with the help of those metallic beads and sequins and the striking metalwork accessories of Adante (who will be featured on Designer Spotlight very soon), and you're ready to party.
Click here to view her collection.
Click here for the TAN-GAN Store Directory.
LULU TAN-GAN
Not to be outshined is Lulu, whose three-look collection looked rich and supple in a combination of indigo knits and silver body accessories. The opening ensemble is a typical TAN-GAN creation: resort-ready and comfortable, practical for the jet-setting clientele TAN-GAN leans to. The second is a dressier outfit, perfect for cocktails at any tropical destination. The last, fittingly, takes the cake—an indigo, metallic-skirted body-conscious dress layered with a knitted cover-up is given structure by an armor-like shoulder vestment. Tough yet feminine, and 100% chic. Who knew knit could be this sexy?
ADVERTISEMENT - CONTINUE READING BELOW
Lulu, naturellement.
Click here to view her collection.
Click here for Lulu Tan-Gan's Designer Directory.
Follow Style Bible on Twitter, Facebook, and Tumblr for regular updates!
Hey, Preview readers! Follow us on Facebook, Instagram, YouTube, Tiktok, and Twitter to stay up to speed on all things trendy and creative. We'll curate the most stylish feed for you!