We know what you're thinking: Isn't the only investment-worthy bag from Balenciaga the legendary City? Well, we're here to make you think otherwise. Although the brand has evolved since Cristobal Balenciaga opened his first couture house in 1937, the brand's current creative director, Demna Gvasalia, still keeps the master couturier's spirit of modernity alive, albeit in a very streetwear sense.
The wildly inventive designer behind Vetements continues to reimagine the brand's DNA in a way that suits the hip streetwear looks that millennials love today, and that includes leather handbags. Many of the designs are future-forward with unique silhouettes and futuristic colorways (like space-age silver!), but they still have an air of timelessness to them, making them prime suspects for investment.
Below, we've rounded up the most versatile picks for you to choose from:
1. Classic City Bag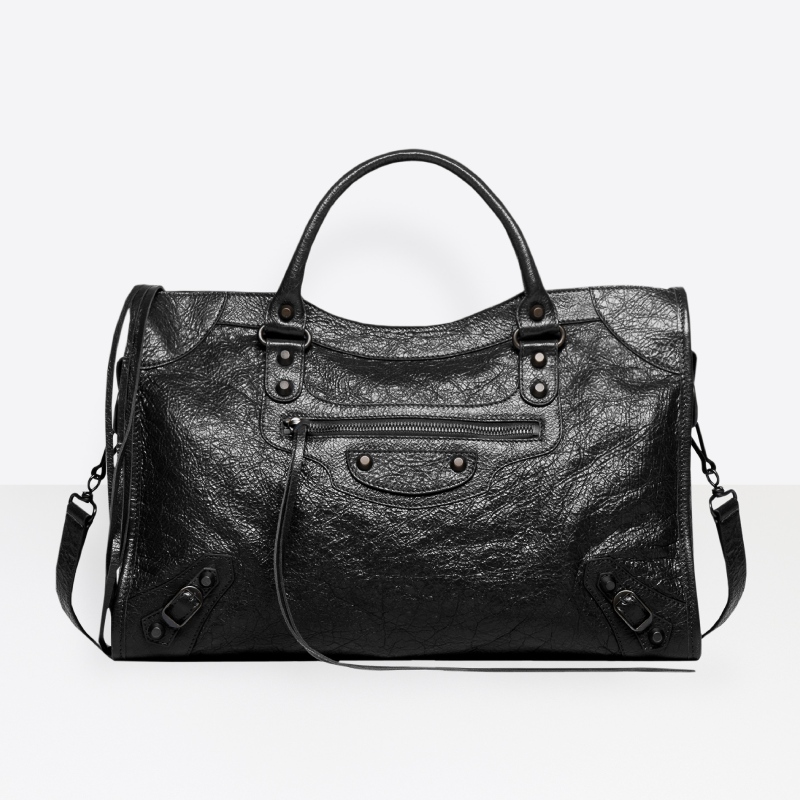 Classic City Shoulder Bag, $1639 (approximately P79,605.41), BALENCIAGA, balenciaga.com
ADVERTISEMENT - CONTINUE READING BELOW
This wouldn't be a Balenciaga list without the aforementioned City. The slouchy leather bag featuring aged hardware was released in 2001 and quickly defined early 2000's fashion. It's not to hard to see why, though. With its motorcycle-ready look, this tough design is almost like the handbag version of your favorite leather jacket. It's irresistibly edgy, but it can work with virtually any streetwear outfit. Plus, it's practical, too. Its roomy body is spacious enough to fit all your essentials and more, while the crossbody strap makes it easy to carry during weekend jaunts.
2. Sharp XS Satchel Shoulder Bag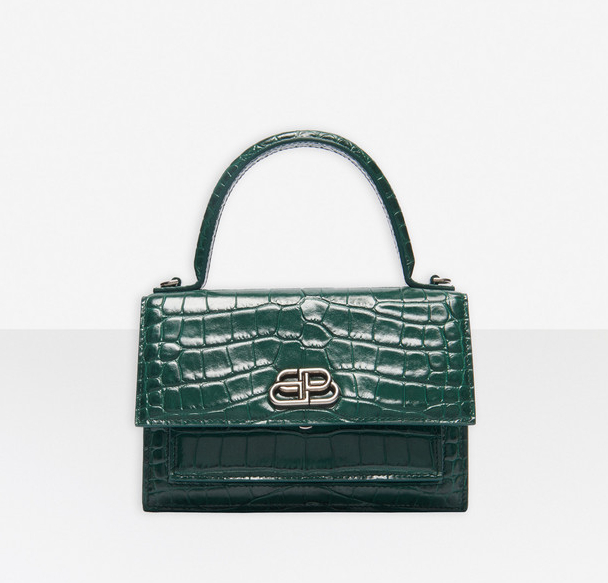 Sharp XS Satchel Shoulder Bag, $1730 (approximately P84,025.24), BALENCIAGA, balenciaga.com
Named after the bag's sharp design, this tiny thing is the weekend purse you've been looking for. Made in Italy with luxurious calfskin, the Sharp XS features a roomy main compartment and a cardholder compartment upfront to make stashing away your cash or spare change a breeze. There's even a pocket in the back to hide more of your secrets, but know that you can keep the bag close to you via the detachable crossbody strap. You can also just dangle it prettily on the crook of your arm using the top handle. With its posh look, you can easily take it with you to fancier affairs, too.
3. Ville Small Top Handle Bag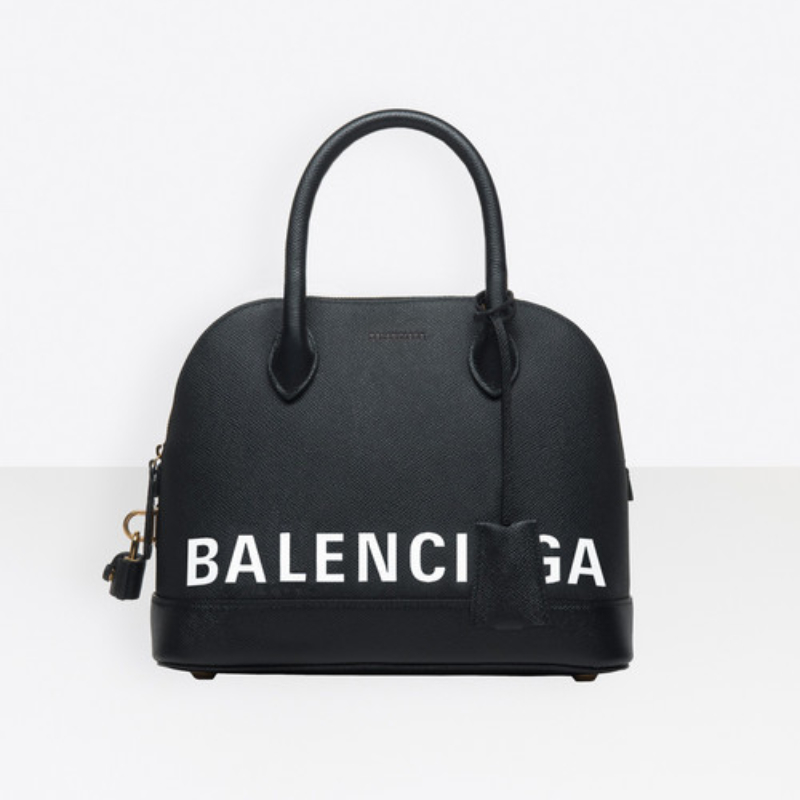 Ville Small Top Handle Bag, $2310 (P112,195.54), BALENCIAGA, balenciaga.com
Nothing says "designer bag" quite like a good old trapezoid shape, especially when it's made with grained calfskin. Balenciaga offers their own, but of course, it's got their own unique touch. The Ville Bag features everything anyone looks for in a classic trapezoid handbag: a sturdy top handle and a detachable strap. But the Ville includes the Balenciaga logo splashed for everyone to see—it's logomania at its finest, but we love how clean and minimalist the emblem is. This bag is perfect for streetwear enthusiasts who are looking for a worthy investment.
4. Ghost Large Shoulder Bag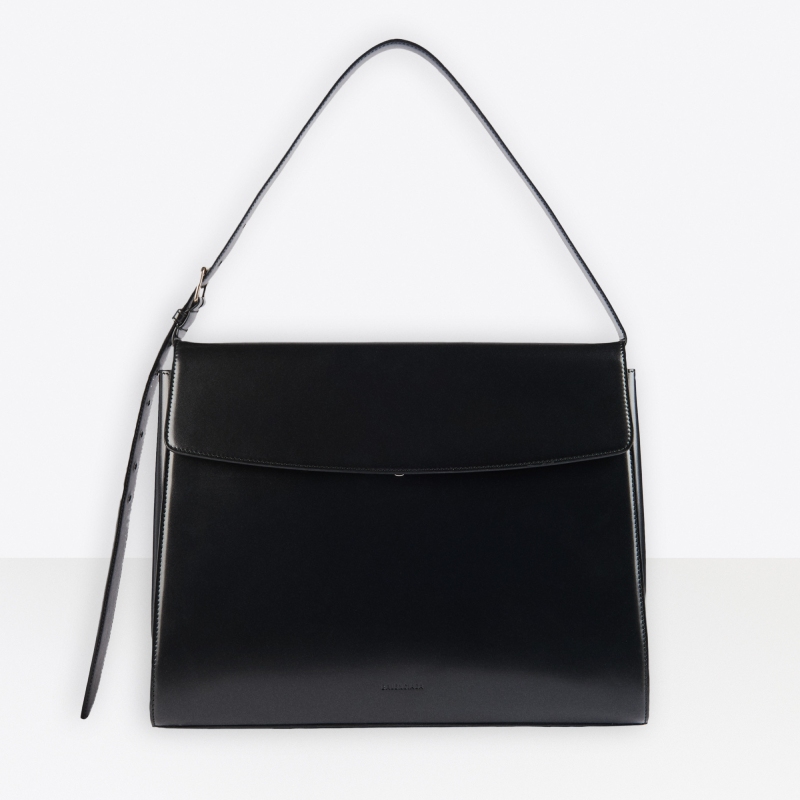 ADVERTISEMENT - CONTINUE READING BELOW
Ghost Large Shoulder Bag, $2165 (approximately P105,152.97), BALENCIAGA, balenciaga.com
Demna Gvasalia's Balenciaga has a way of making the most mundane objects or ordinary pieces of clothing look covetable (remember those Ikea bags?). This shoulder bag is a great example. Featuring an ordinary square shape, there's literally nothing more to this boxy bag, but that's exactly why it works. In fact, its sharp lines and imposing black colorway reminds us of 1940s handbags, so you can't go wrong with something this timeless! We imagine this with anything from sleek, minimalist outfits to vintage-inspired thrifted ensembles.
5. Hourglass Small Top Handle Bag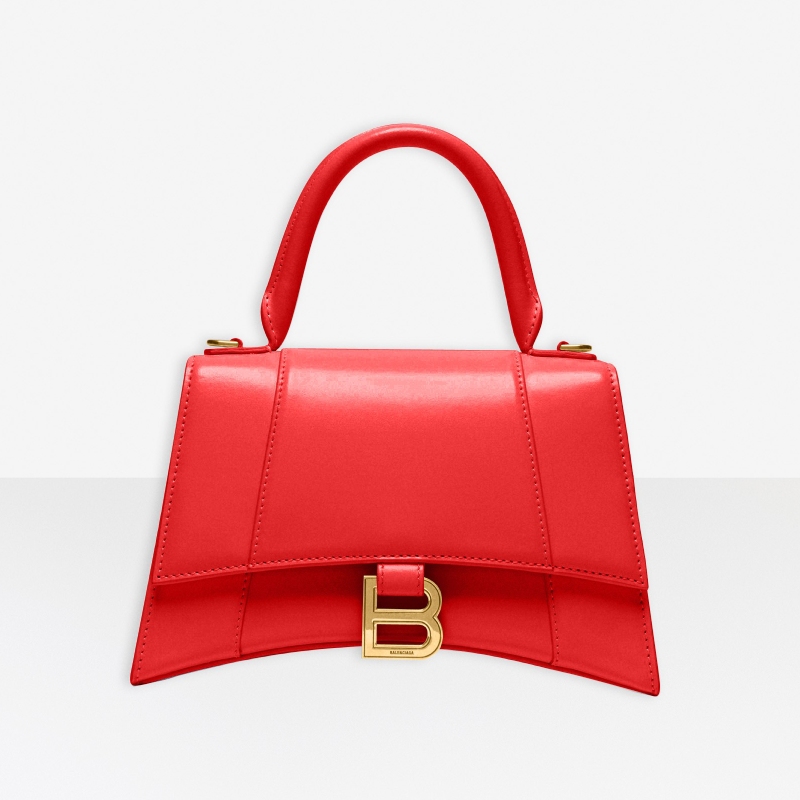 Hourglass Small Top Handle Bag in Bright Red Shiny Box Calfskin, $1895 (approximately P92,039.20), BALENCIAGA, balenciaga.com
If you're a fashionista who loves a good statement bag in a punchy colorway, look no further than Balenciaga's Hourglass Bag. With its boxy shape and top handle, this cute design once again reminds us of vintage purses. This easily makes it quite a unique find, but what makes it even better is the curved edges that bring this bag to the future—Jane Jetson would definitely approve. The Hourglass is great for those who like small bags but don't want to sacrifice style points!
6. Ghost Sling Bag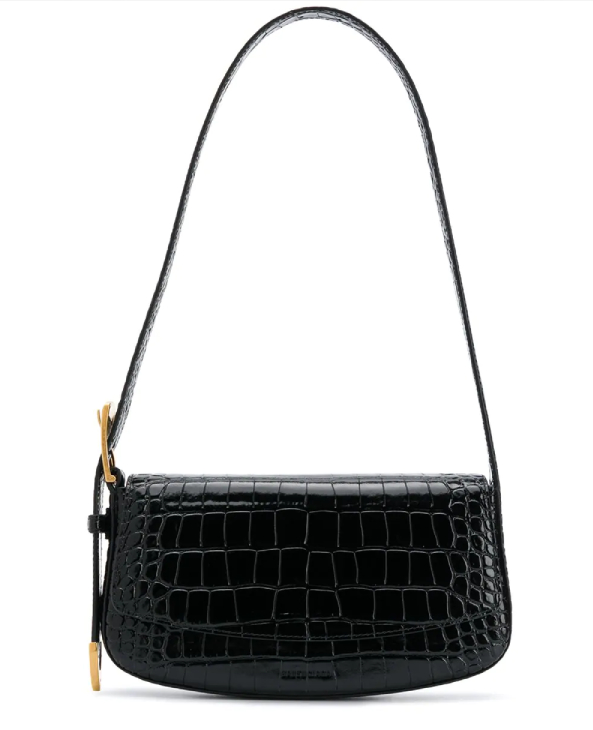 Ghost Sling Bag, $1290 (approximately P62,654.66), BALENCIAGA, farfetch.com
One bag silhouette that has recently become trendy again is the baguette bag—we blame the comeback of Y2K fashion! However, we have to admit how clean and classic a baguette bag actually is, especially when it's rendered in neutral colorways like black, nude, or white. Well, if you're ready for a grown-up version of your nylon baguette bags, consider the Ghost Sling Bag from Balenciaga. It's made with crocodile-embossed calf leather and accented with gold hardware—ugh, so opulent! Great addition to any casual outfit or evening look.
ADVERTISEMENT - CONTINUE READING BELOW
7. Souvenirs XXS Beltbag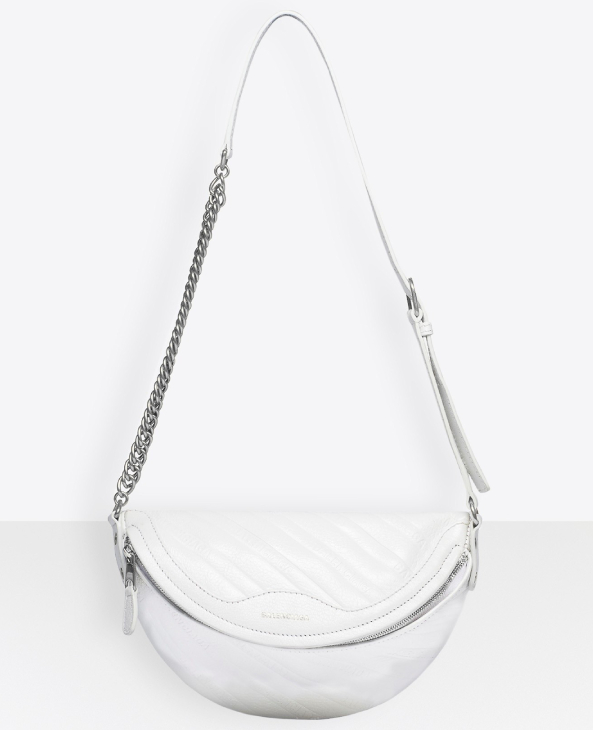 Souvenirs XXS Beltbag, $1440, BALENCIAGA, balenciaga.com
Not everyone is a handbag person and we totally respect that! Many of us are die-hard fanny pack or belt bag people, because, well, sometimes going hands-free is more fun (just admit it). Instead of the usual fabric fanny packs, though, might we suggest upgrading yours to Balenciaga's Souvenirs Belt Bag? It's made with shiny goatskin that comes in discreet colorways, like white and black. Plus, it's got luxurious palladium hardware for an elevated luxe appeal.
Hey, Preview readers! Follow us on Facebook, Instagram, YouTube, Tiktok, and Twitter to stay up to speed on all things trendy and creative. We'll curate the most stylish feed for you!