Q: I always find it hard to come up with outfits in the morning because my closet is too cluttered! I don't have that much space in my room for a big closet so every time I try to fix it, it always ends up messy the next day. Can you share some of your closet organization tips?
A: It's really hard to fix your closet if there's so much stuff cramped in a teeny, tiny space. I used to share a room and a closet with my sister growing up so I know how you feel! So the best way, really, is to declutter! Here's a diagram I picked up from Pinterest that pretty much explains how to do it. Read on!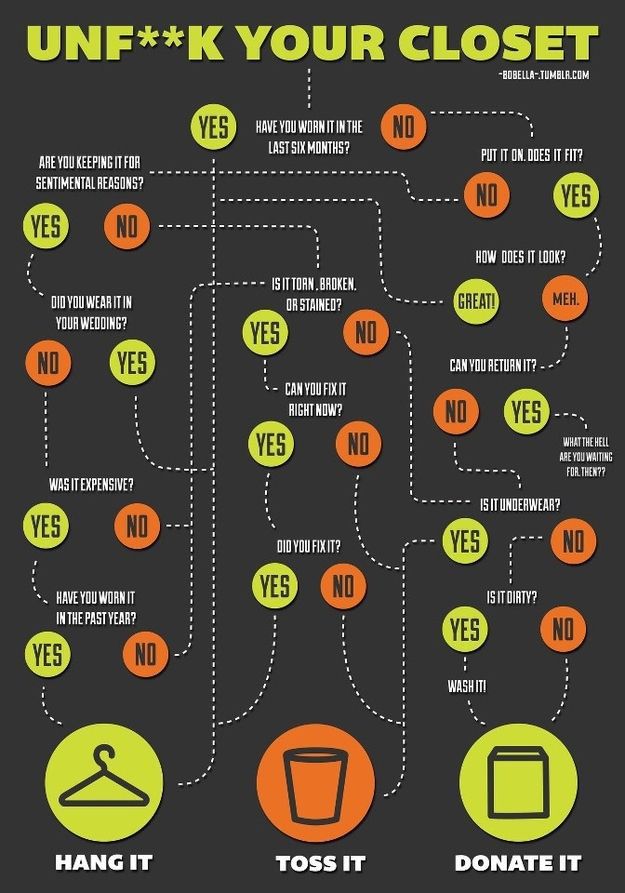 ADVERTISEMENT - CONTINUE READING BELOW
CONTINUE READING BELOW
Recommended Videos
Looks doable, right? Believe me, there's really no point in keeping those clothes in your closet if you haven't worn them for months! Aside from having more space to breathe, dressing up will be so much easier because you like all the pieces you see (and you won't get depressed whenever you come across that pair of jeans that won't fit anymore). Once you're done sorting, start organizing! Click on the gallery now for some easy organizing tips to help keep a spic-and-span closet for the rest of the year.
Photo Source: Pinterest
Want to see the closets we featured last year? Click on the following links: