Before you start, know that it really takes a village; as any editor will attest, rare is the occasion that we roll out of bed and look red carpet-worthy. We are though extremely lucky to have lots of friends to help us get there.
Dressing up for the daily hustle and bustle of publishing life is one thing, and then there are occasions like the Preview Ball where we bring out the big guns. Times like these, there's no excuse not to go all out! Read on for a little peek into what went into our prepping for D-Day.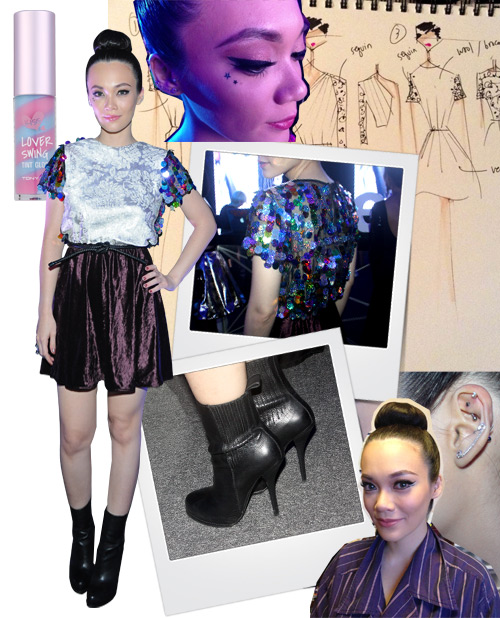 ADVERTISEMENT - CONTINUE READING BELOW
"I knew I wanted to have Veejay Floresca dress me up the moment I saw his Holiday 2013 collection. Rainbow sequins and '80s punk are OTT in the most fun way possible and are a blast to dress around, and this being my last Preview Ball I decided to just go for it. After sending me a few of his sketches, we decided on a short skater-skirt dress (I originally wanted a jumpsuit) so I could move freely—and dance, dance, dance! Veejay, who was in San Francisco and remotely corresponding with me, was giddy at the way the dress fit the theme.
My hair and makeup pegs were pretty straightforward and my artist Ren Bautista executed both flawlessly—I've actually never been able to fashion my own top bun before, and a few bobby pins (and a lot of hairspray) later, and I was a happy girl. Nail weapon of choice: Orly GelFX Pink-Blue Chrome mani.
CONTINUE READING BELOW
Recommended Videos
Accessories were all chunks of white gold and punky elements: Safety-pin sliders from Vito Studio and a knuckle ring from Seoul (as well as a myriad of other piercings) were it. And, natch, my Alexander Wang booties that have taken me from one real-life dance floor to another, and which have never let me go home without a story to tell."
In my purse: Tonymoly Lover Swing Tint Gloss in Pink Swing; eyelash glue; headache capsules
Eunice Lucero, Managing Editor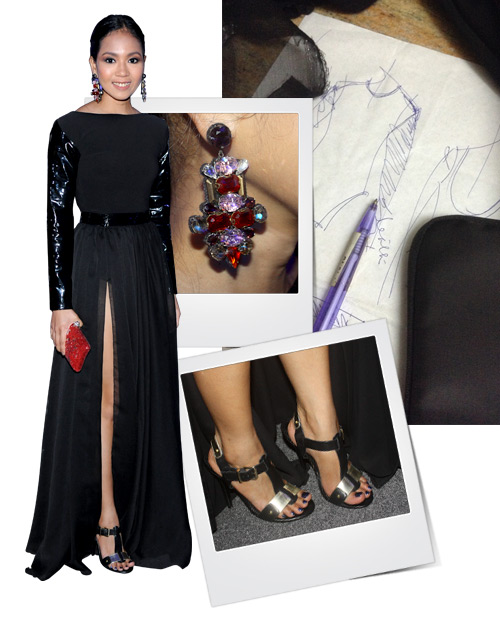 ADVERTISEMENT - CONTINUE READING BELOW
"I try to work with a different designer for my Preview Best Dressed Ball outfit each year and this time Arnold Galang was top of mind. I started working with him late last year for several event outfits and since then he's been my go-to designer. For this particular occasion, the process was quite a breeze. I wanted to play with contrast—masculine and feminine—so mixing leather and chiffon were an easy choice. I only had to e-mail Arnold what I wanted and after week, voila, I did my first fitting. He did not even have to get my measurement since this year alone he's already done more than five outfits for me. For the Ball, he created a playsuit with pleather sleeves and a long chiffon skirt with thigh-high slit­—and I mean thigh-high slit.
While I try to work with a different designer for my dress every year, I only go to one hair and makeup team—husband and wife tandem, Claire and Ricky Diokno. Claire and I decided on smoky eye makeup using chocolate hues while Ricky put my hair up in a messy bun that, thankfully, stayed up the whole evening despite hauling from one corner to another and a whole lot of dancing.
ADVERTISEMENT - CONTINUE READING BELOW
I took a minimalist approach for my full ensemble so I opted for a sleek pair of T-strap heels from Steve Madden and just a pair of Ken Samudio earrings to add just the right amount of shine."
Nikki Santiago, Associate Market Editor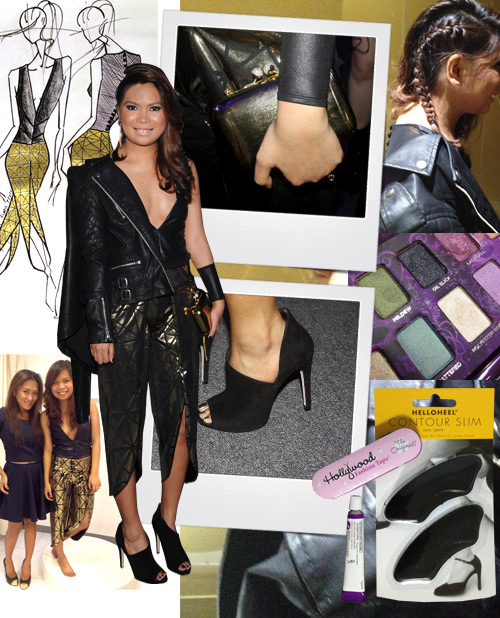 "I used to dance a lot back in college so when I found out that "dance" was the theme for the ball, I knew there has to be a hip-hop element in my outfit. Called up my go-to designer Pia Gladys Perey and these were my specifics: something fresh, bold, and a deep V, or maybe, play around with cutouts. Pia, being the draping queen that she is, was so ecstatic because finally, she can do something far from her usual Grecian dresses.
ADVERTISEMENT - CONTINUE READING BELOW
I fell in love with the gold fabric she used from her recent collection, so we decided to use that for my bottom, then paired it with a leather-ish jersey for the top, mixed with mesh at the back with fabric buttons lined up for a chic finish. Three fittings and several on-the-spot revisions later, my outfit was finally perfect from every angle. To style it ala Janet Jackson's All For You video, I layered it with a leather jacket from Topshop, accessorized with a cuff that I asked Pia to make for me the last minute (she's the best!) and a pair of drop earrings from Mango, and finished it off with peep-toe booties from BCBGMaxAzria.
Cara Delevingne's punk-rock Met Ball look was my hair peg for the evening, and hairstylist Kaycee Lim pulled it off with much ease. As for my makeup, I initially wanted red lips and a strong cat eye based on my mood board but upon seeing my outfit, makeup artist extraordinaire Joyce Ignacio wanted to go all-out smoky with nude lips so we ended up taking that route. I love working with people whom I trust so much, and I was beyond pleased with how my look turned out."
ADVERTISEMENT - CONTINUE READING BELOW
Kabbie Rodriguez Alipio, Associate Fashion Editor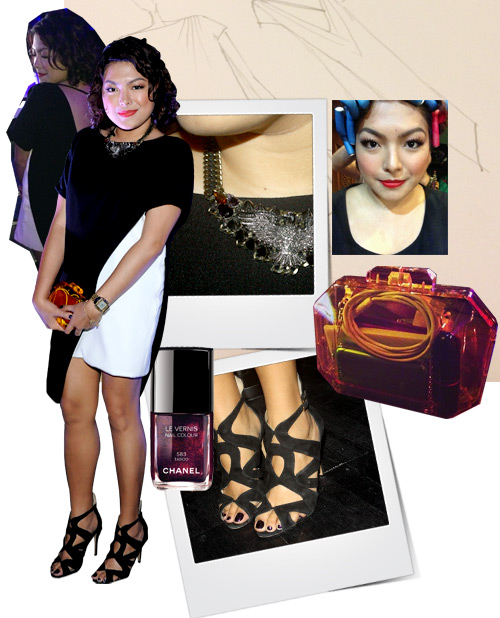 "I took things slow this year—in terms of having my dress made, that is. I knew I wanted something classic but with a sexy twist and Martin Bautista immediately came to mind. He makes pieces that are very edgy, feminine, and always flattering. After a couple of fittings, he came up with a black and white dress with interesting details like an uneven hem and a low-back (my only request!). I love how I can wear this dress over and over because of its design and color!
ADVERTISEMENT - CONTINUE READING BELOW
For my hair and makeup, I always, always go to Claire and Ricky Diokno—they always get the looks that I picture in my head and make it look great on me! This year, I told Ricky that I wanted a textured bob, I don't have thick hair so that was a bit of a challenge and as always Ricky made it work. As for my makeup, I told Claire that I just wanted to look fresh, not too much on the smoky eye this year, but more of a bright lip. I have to say that this year's look is my most favorite!
To finish it off, I wore the phoenix necklace by Ken Samudio, which I mentioned in our mood board feature, along with my crystal clutch and strappy heels from Zara."
Jacque De Borja, Fashion Assistant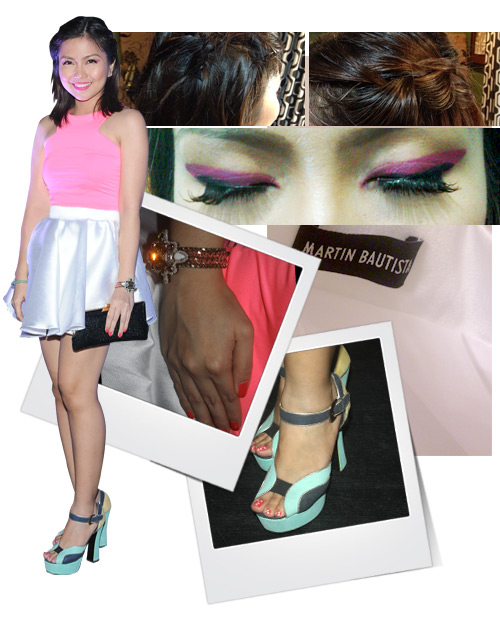 ADVERTISEMENT - CONTINUE READING BELOW
"I have this prom fixation: I was set on wearing a box pleated skirt but I still wasn't sure of the color. Martin Bautista asked what top I would be wearing, and I simply replied, "It's going to be neon, that's for sure." He suggested the color white so my top would pop out of my outfit.
Since neon was the name of the game, I had neon reddish pink gel mani done at I Do Nails Eastwood for it to last until the ball (Read my full review here). As for my hair and makeup, I wanted something fun and playful, far from my everyday makeup. I showed Claire Diokno my peg: cat eyes with lots of pink eyeliner matched with a Barbie pink pout. I thought it would be a little too daring. I was a bit hesitant because I didn't want to be a Day-Glo overkill but Claire assured me I could certainly pull it off. My current hair length is in its growing-out phase, I wasn't certain what hairstyle would suit me. I just knew I wanted braids. Ricky Diokno did a wonderful job of creating multiple braids on my crown.
ADVERTISEMENT - CONTINUE READING BELOW
Again, being afraid of being OTT, I ditched the earrings and opted for a bracelet from Ken Samudio. The stones had a tinge of green, a contrast from my pink-themed outfit and a complement of my aqua-colored platform sandals."
Ira Nopuente, Beauty Assistant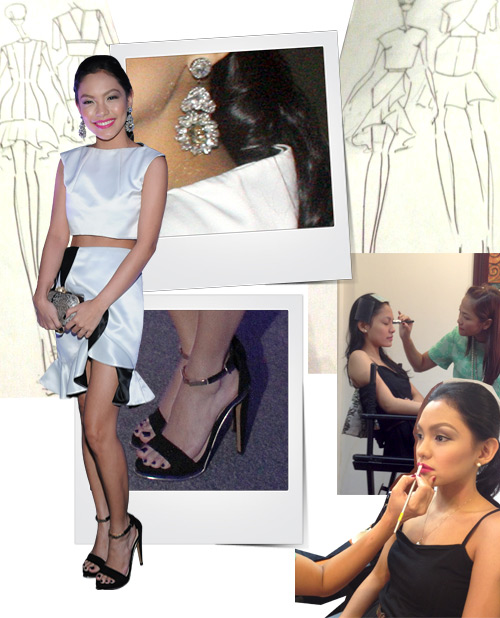 "When I met with my designer (and life saver) Seph Bagasao, he came prepared with two sketch options for me. We were running out of time since I met with him just a mere two weeks before the Ball and I had no idea what to do since it was impossible to create a well-made fringe dress in that span of time. Luckily, I instantly fell in love with Seph's sketch inspired by Balenciaga S/S 2013 collection—say crop and I'm sold—and simply told him that I wanted it in white. It came out exactly the way I imagined it and as an added bonus I realized that it looked like a flamenco dancer's dress. All I needed was to add a statement earring from Ken Samudio, a snakeskin clutch, and black heels with gold ankle strap detail.
ADVERTISEMENT - CONTINUE READING BELOW
For my makeup, Joyce Ignacio just wanted to keep it fresh and natural with a bit of smoke in my eyes and a bright pink lippy to edge up the look—I cannot explain how much I adored my matte pink lips which literally lasted the whole night even after eating and a whole lot of drinking! Kaycee Lim then finished my look with a voluminous ponytail to show the nice back detail of my crop top."
Bea Jocom, Editorial Assistant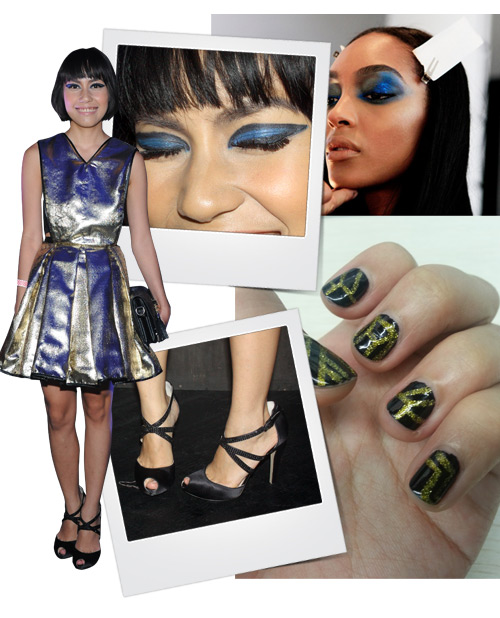 ADVERTISEMENT - CONTINUE READING BELOW
"When I heard that this year's theme was dancing shoes, I froze. Who makes dancing shoes for two left feet, anyway? Instead of calling attention to my less than stellar dance moves and more than awkward feet, I enlisted the help of Arnold Galang to dress me up in an obnoxiously shiny, swingy dress (yes, my peg was a disco ball).
As for my hair I asked for a simple blow dry, after all what else can you do to a chin-length cut? But with the help of a ton of wax, Ricky Diokno transformed my slick straight hair into a textured, voluminous bob. For makeup I decided to go with a jewel-toned butterfly eye , much like the makeup at Prabal Gurung's Fall 2012 show, and Claire Diokno did it with the precision of a surgeon.
On my nails, I decided to go with something dark with a bit of sparkle. I traipsed into Beauty & Butter and asked for a black base coat adorned with glittery, golden lines. I decided not to wear any accessories but I finished off my look with a pair of satin Nine West pumps with beaded straps."
ADVERTISEMENT - CONTINUE READING BELOW
Janey Aniban, Fashion and Beauty Assistant, TheMall.ph
Want to see what happened during the Preview Best Dressed Ball? Click on this video now!
Hey, Preview readers! Follow us on Facebook, Instagram, YouTube, Tiktok, and Twitter to stay up to speed on all things trendy and creative. We'll curate the most stylish feed for you!