Let me spill a little secret: At fashion shows, where everything you see is glamorous, backstage is actually chaos—not the scary, violent kind though. It's usually filled with makeup artists and hairstylists, models trying on clothes and practicing their walk, staff members steaming dresses, and organizers running around like headless chickens.
We witnessed this chaos at the backstage of Ashley Isham's Autum/Winter 2013 collection at the Asia Fashion Exchange held in Singapore. But what really caught our attention was how the designer himself was the definition of grace under pressure at that very moment: Ashley was composed the entire time, giving instructions to more than 10 different people all while being calm and collected. And even in the midst of such pandemonium, when stress levels are peaking, he graciously accepted our invitation for a short interview! Read on: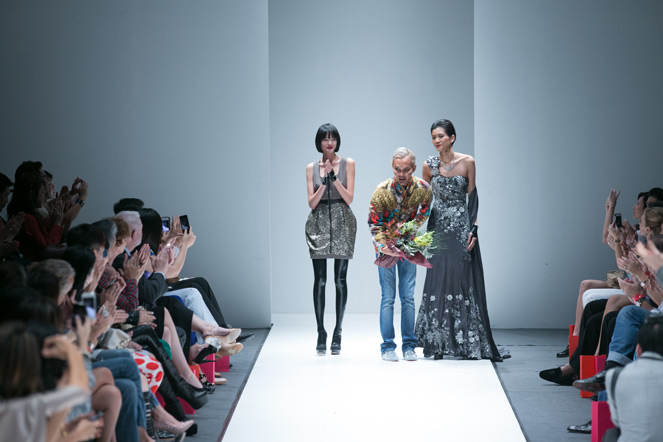 ADVERTISEMENT - CONTINUE READING BELOW
CONTINUE READING BELOW
Recommended Videos
WHERE DO YOU DRAW INSPIRATION FROM?
Sir Paul Smith once said that you can find inspiration everywhere you look as long as you keep your mind open. And of course living in London, we have the most, I think, amazing museums and art galleries. I also draw my inspiration from architecture. My Autumn/Winter 2013 collection is inspired by the photographer Helmut Newton. And hence, you'll see there are a lot of very sharp lines on the jackets and on the dresses. It's about the women empowerment. At the same time, it's also inspired by this '70s movie called Logan's Run, which is about the future.
And then the prints. I like prints. I always have prints but of course they change every season. My prints are specially done for me from scratch, from a plain white screen. For this collection, I wanted them to look exotic, so I created this exotic jungle print: it's floral but very moody, very sinister, very mysterious.
ADVERTISEMENT - CONTINUE READING BELOW
WHAT CHALLENGES DID YOU HAVE TO FACE AS A DESIGNER?
With every collection, there's always a challenge. Coming up with a collection is itself a challenge, I think. As a designer, I always try to push myself to the next level. I always try to do something new and fresh. At the same time, I make sure I learn from the mistakes I've done in the past. I've always believed that you only stop learning when you're six feet underground.
WAS IT DIFFICULT LEAVING SINGAPORE TO PURSUE FASHION DESIGN IN LONDON?
It was, but I had to leave to pursue my dream. London is really where I started as a designer. I went there to study at Central Saint Martins. At that time, in Singapore, your parents expected you to become a banker or a lawyer; they see fashion as a frivolous career. They didn't see the art in it at that time, so I had to move abroad. I'm just really grateful that my family has been very supportive about it. My mom is my biggest supporter, my biggest inspiration ever.
ADVERTISEMENT - CONTINUE READING BELOW
So when I was starting out, it was a little difficult coming from a country that had a very different fashion sense from London. But that changed quickly; I mean, Singapore really stepped up. It's amazing how Asia is now creating a lot of buzz in the fashion world. And I think that's the beauty of fashion—the excitement, the buzz.
YOU'RE RECOGNIZED FOR YOUR SHARP TAILORING AND SIGNATURE DRAPING.
I love mixing both; I like the combination of very masculine lines and the soft, feminine drapes. I just really love that contrast and it's evident even in my past collections.
DESCRIBE THE ASHLEY ISHAM WOMAN.
She's very ladylike but strong. She's powerful in her career. She's a go-getter.
WHAT'S YOUR BRAND VISION?
Right now, I'm really focusing on making it stronger… stronger every collection. I want people to see the evolution and growth with every collection. I'll take it one season at a time. It's also a personal journey for me as a designer. I'm just very fortunate that family, friends, and clients have been very supportive. I'm also extremely lucky that celebrities like Rihanna, Florence Welch, Christina Aguilera, Kylie Minogue, and Lady Gaga have also been supportive.
ADVERTISEMENT - CONTINUE READING BELOW
Click here to view the Ashley Isham A/W 2013 collection.
Hey, Preview readers! Follow us on Facebook, Instagram, YouTube, Tiktok, and Twitter to stay up to speed on all things trendy and creative. We'll curate the most stylish feed for you!