UPDATED: 12:30pm, February 16, 2015
A few days ago, we released a story on Bench's most recent ad campaign, "Love All Kinds Of Love," enclosing photos PR photos from the same campaign as those of billboards found along the Guadalupe bridge. Among those featured were Preview's creative director Vince Uy with his boyfriend Nino Gaddi, and makeup artist Ana Paredes with her girlfriend Carla Peña, all proudly representing the LGBT (Lesbian, Gay, Bisexual, Transgender) community. We also mentioned in the previous article that the original concept did not see the light of day due to concerns by the Ad Standards Council—the advertising industry body in-charge of screening and regulating content of advertising materials.
ADVERTISEMENT - CONTINUE READING BELOW
A rendering of the billboards along Guadalupe with the original images as supplied to us by Bench for social media and PR promotions only.
At first, the bold move garnered an impressive response from LGBT supporters. But shortly after, the round of applause faded into a cry for help upon the realization that the billboard actually has Vince's and Nino's hands covered in what looks like black paint. Bench Advertising and Promotions Manager, Jojo Liamzon told Style Bible, "The ad board thinks holding hands is too gay."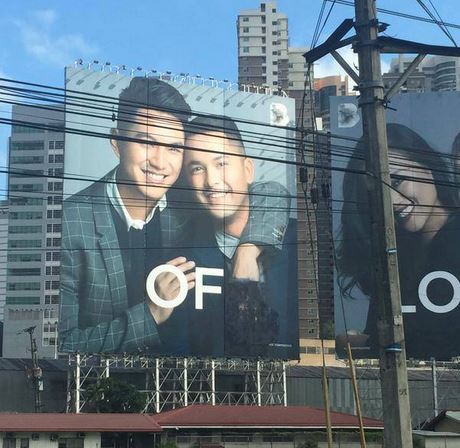 CONTINUE READING BELOW
Recommended Videos
A photo of the actual billboard that was put up along Guadalupe. Note that the image already had the "blackened out hands" when it was put up.
(photo via @vaughpinpin on Twitter)
Meanwhile, Vince Uy has this to say about the issue: "Personally, I feel that it's unfortunate that our hands had to be covered. We feel that the positive reception to the campaign shows that Filipinos are more openminded and progressive than we're given credit for. On the bright side, we are still happy and thankful because, holding hands or not, Bench was still given the opportunity to spread the message of acceptance, tolerance and equality of any kind of love—perhaps slowly, but definitely surely."
This caused a stir not only within the LGBT community but also across different social media sites. Rob Cham, an art director for the lifestyle brand The Diff, started a meme rally encouraging fellow Filipinos to repaint Vince's and Nino's hands where they belong. Their call to action? #PaintTheirHandsBack!
ADVERTISEMENT - CONTINUE READING BELOW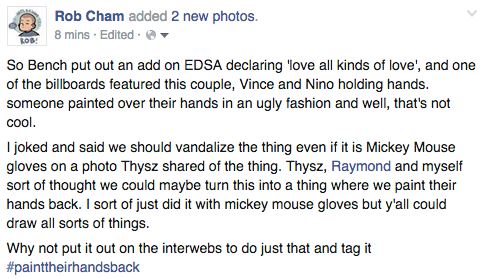 (via @robcham on Twitter)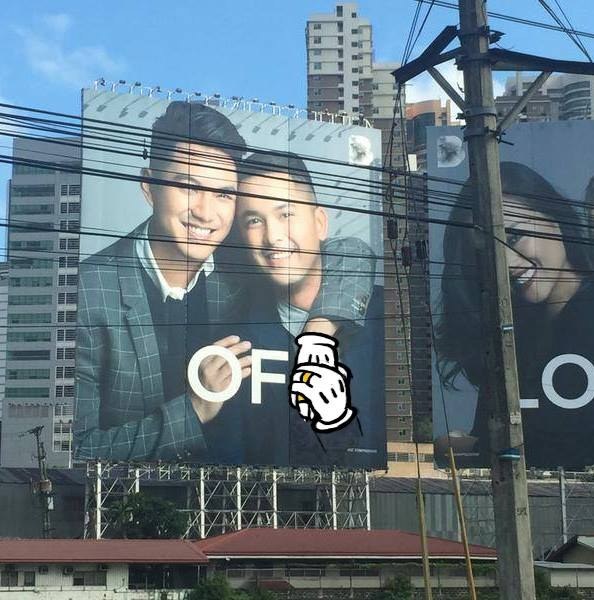 ADVERTISEMENT - CONTINUE READING BELOW
To kick things off, Rob gave the couple Mickey Mouse gloves wearing wedding rings.
Lots of design-savvy Filipinos have already jumped in to support the #PaintTheirHandsBack campaign, posting their own artsy versions and giving Vince and Nino their newly drawn hands. Here, we've listed down some of the most creative ones we've found online.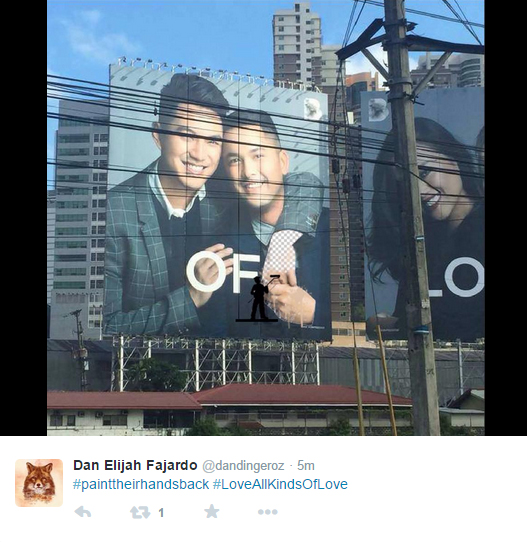 ADVERTISEMENT - CONTINUE READING BELOW
Dan Fajardo took it literally with Photoshop-inspired artwork painting back the hands of Vince and Nino.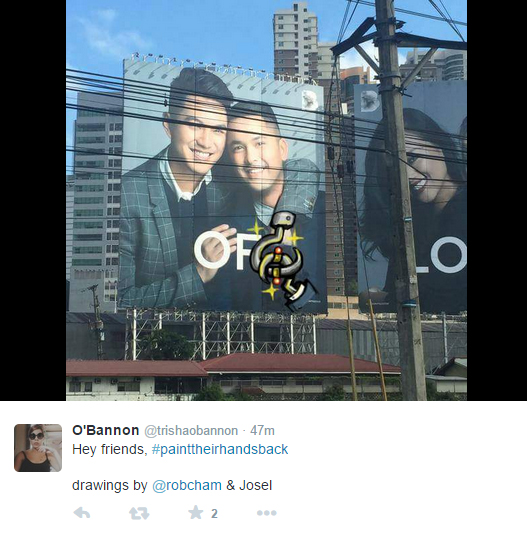 Meanwhile, Josel Nicolas hooked them up instead. Nice Peter Pan reference, this one.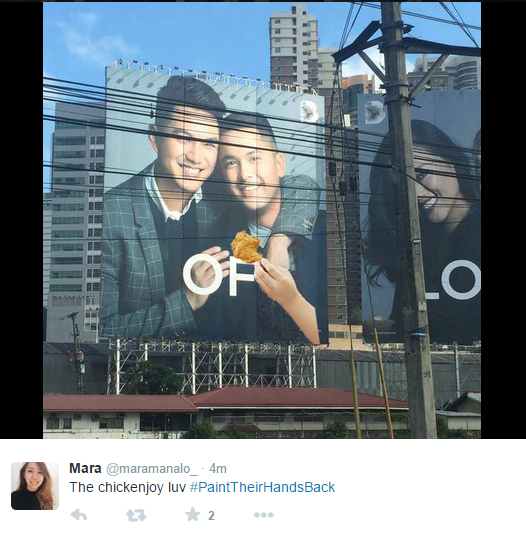 ADVERTISEMENT - CONTINUE READING BELOW
By Mara Manalo: Jollibee Chickenjoy, anyone?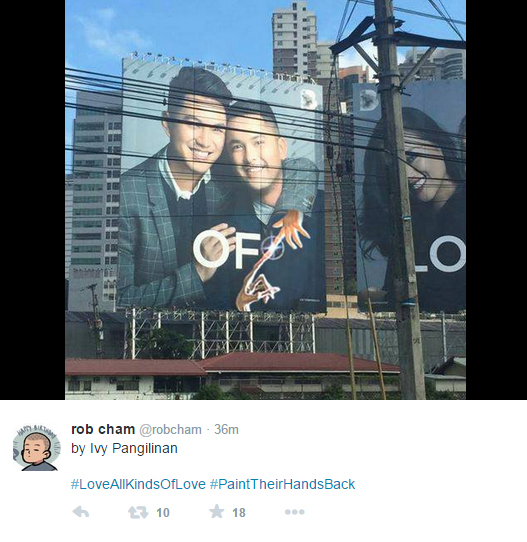 Ivy Pangilinan channelled her love for E.T. in support of the LGBT community.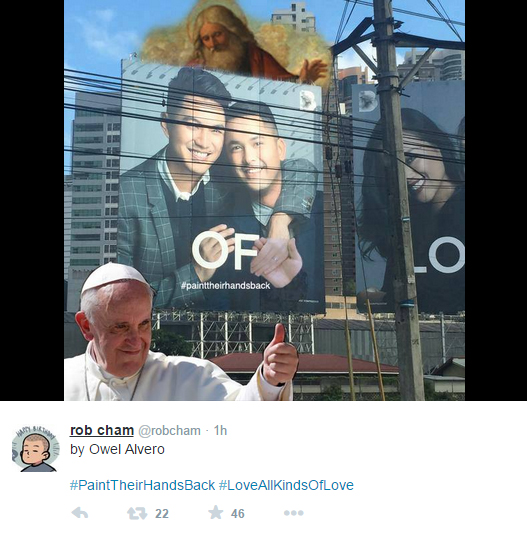 ADVERTISEMENT - CONTINUE READING BELOW
A divine intervention by Owel Alvero.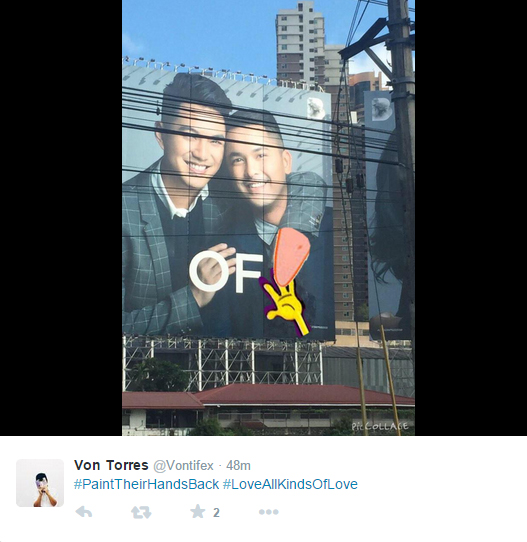 Von Torres drew Spongebob's and Patrick's hands to represent Vince's and Nino's love.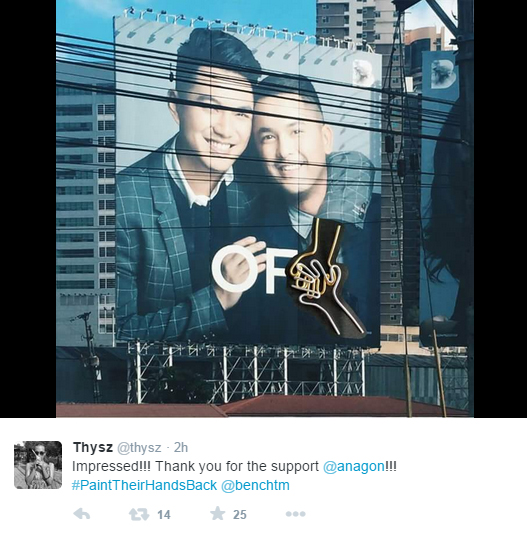 ADVERTISEMENT - CONTINUE READING BELOW
Blogger Ana Gonzales also joined in the fun!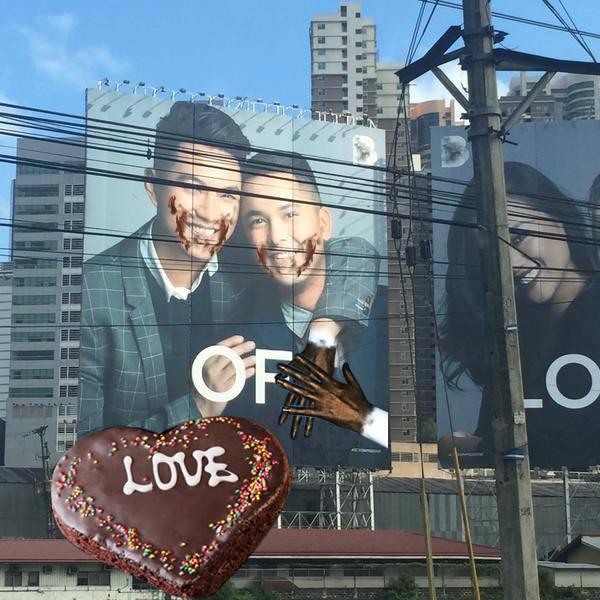 Preview's very own Mark Buenaobra brought a chocolatey twist to Vince and Nino's portrait.
ADVERTISEMENT - CONTINUE READING BELOW
Preview's Maura Rodriguez gets artsy and renders an anime-inspired version of the portrait.
The question is: Do you love all kinds of love, as well? Then we invite you to support the campaign and post your own version. Don't forget to tweet us @stylebibleph when you #PaintTheirHandsBack!
Main image by Mike Dee
Hey, Preview readers! Follow us on Facebook, Instagram, YouTube, Tiktok, and Twitter to stay up to speed on all things trendy and creative. We'll curate the most stylish feed for you!