In case the teasers weren't obvious enough, Givenchy just announced their newest face and it's none other than Ariana Grande. Clad in a cut-out LBD reminiscent of Audrey Hepburn's iconic frock in Breakfast at Tiffany's, plus a pearl headband that's similar to what Givenchy's artistic director herself, Clare Waight Keller, wore to the recently concluded Met Gala, Ariana was revealed on the French luxury house's official social media pages with a short video clip of the singer belting a tune, accompanied by a hashtag: #Arivenchy.
Ariana says in a statement, "I am so proud to be the new face of Givenchy. It is a house I have forever admired, and to now be part of that family is such an honor. I love this clothing and the confidence and joy it brings to the people wearing it. Not only is the clothing timeless and beautiful, but I'm proud to work with a brand that makes people feel celebrated for who they are, and unapologetic about whatever they want to be."
ADVERTISEMENT - CONTINUE READING BELOW
According to the House of Givenchy, the 25-year-old pop star was chosen because "she naturally embodies the spirit of the Givenchy woman with impertinence, generosity, and a lightning wit—all cloaked in a touch of mystery." (But more on that "mystery" in a bit!)
Ironically, while the "secret" may already be out, it seems like the internet had a field day following the release of Givenchy's cryptic teasers featuring one of the most easily recognizable celebrity silhouettes. The Twitterverse, in particular, clearly enjoyed coming up with their own hilarious "guesses" as to who might be the new face of Givenchy (because it's very evidently not Ariana Grande):
Naturally, even Instagram had a lot to say about it:
ADVERTISEMENT - CONTINUE READING BELOW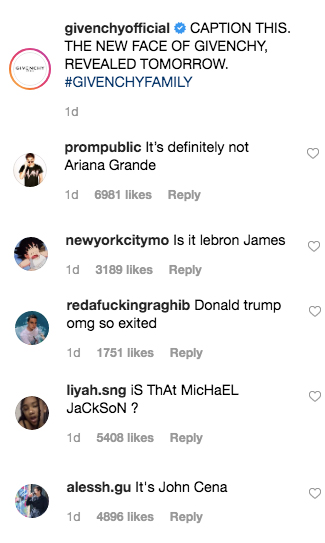 LOL!
Givenchy's full Fall/Winter 2019 campaign featuring Ariana will be unveiled in July, but until then, it seems like the internet will have fun guessing...or pretending to guess.