This month, we ask local bag designers to create clothes instead of their usual array of clutches or totes for our Shift Switch editorial. We talk to Aranaz founder Amina-Aranaz Alunan about her three-piece capsule collection just for Preview.
Work is playtime; it is toiling with pure sense of wonder and experimentation. Enter Amina Aranaz-Alunan toying with straw and snakeskin. She builds skirts and pantsuits—one is cage-like made out of wooden rattan, the other is a spectacle of embroidered appliques completed by Bengt Enrique. A raconteur's delight—all three's a balancing act between function and fantasy.
A graduate of Instituto Marangoni, Amina is the creative director of Aranaz, a line of bags that celebrates life in leisure and aims to "de-ethnicize the ethnic." She is also the co-founder of the School of Fashion and the Arts (SoFA). She worked with emerging designer Bengt Enrique for this project who also happens to be a part of PEFTA's (Preview's Emerging Fashion Talent Awards) honor roll.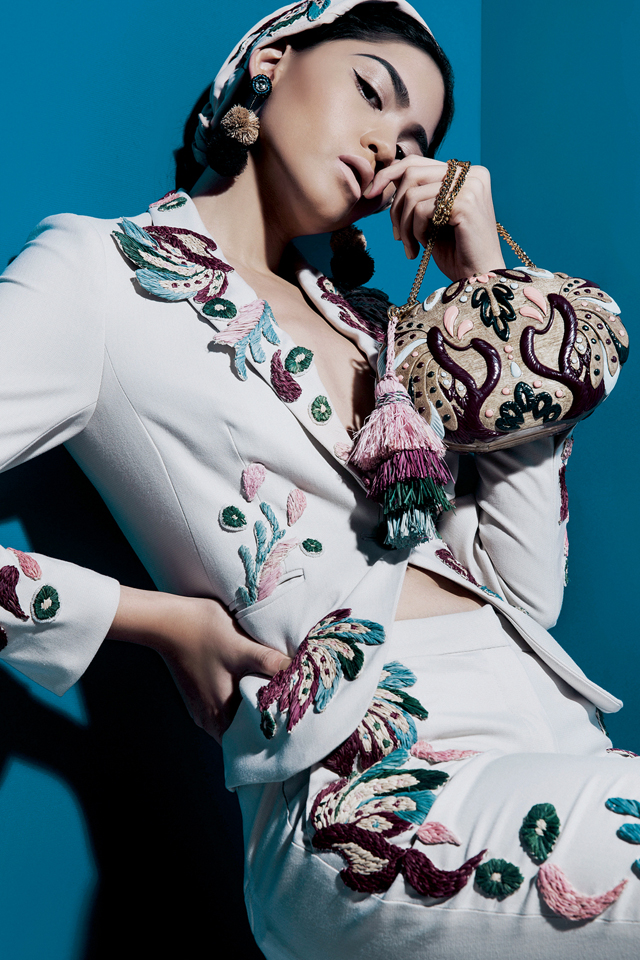 Amina on the piece she worked on with Bengt: "The difference between our own pieces and Bengt's pieces is in the medium, fabrication, and construction. I would say that the outfit of Bengt is more wearable. It is evident that it was made by a clothing designer."
Tell us about the story, materials, and inspiration behind your collaboration with Bengt Enrique.
The pieces I created for this story reflect the artisanal and leisurely spirit that the ARANAZ brand represents. For these pieces, we used a lot of our signature natural materials such as raffia embroidery, weaving, and abaca.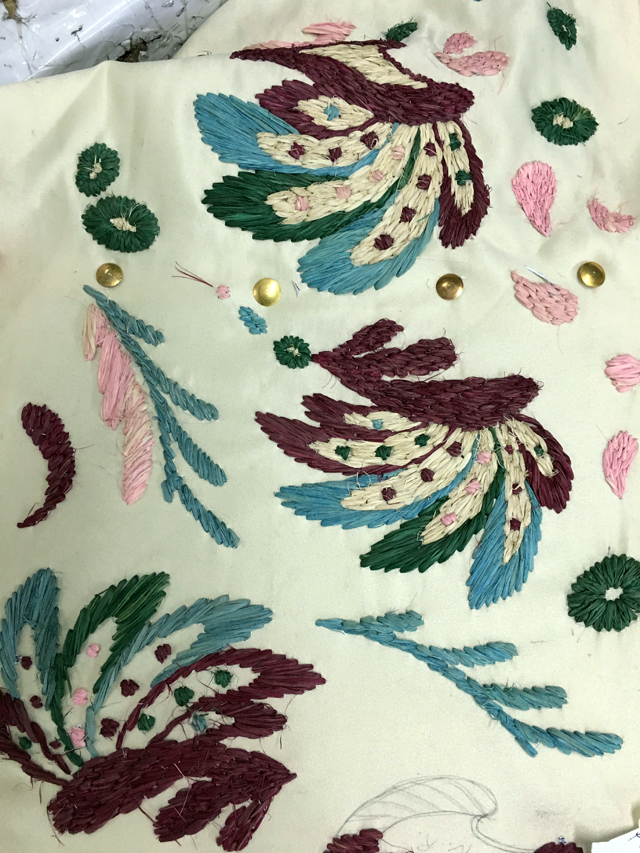 Detail of Amina's straw embroidery on Bengt's pantsuit
You mentioned that you're doing two outfits, one with Bengt and one on your own. How would you differentiate the two?
I actually ended up making three outfits, one with Bengt and two on our own. The difference between our own pieces and Bengt's pieces is in the medium, fabrication, and construction. I would say that the outfit of Bengt is more wearable. It is evident that it was made by a clothing designer. He created a pantsuit, which I applied embroidered appliques on. While we created outfits that use the actual materials we use for bags on majority of the garment. So our pieces are more conceptual rather than wearable. Our first look is a fully embellished skirt using straw embroidery and snakeskin, while our second look is a cage-like skirt using woven rattan.
ADVERTISEMENT - CONTINUE READING BELOW
As a bag designer, what challenges did you face while designing clothes? How did you overcome these challenges?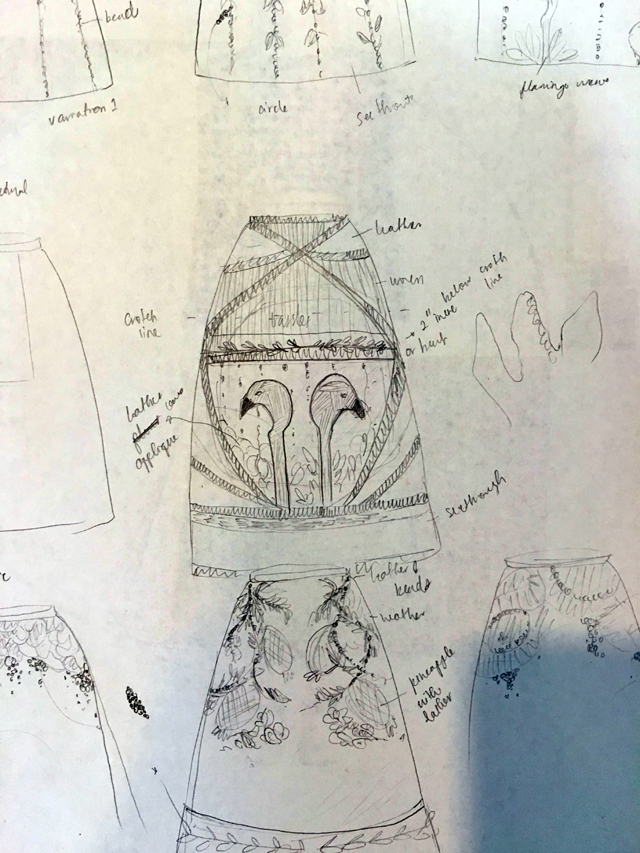 An initial sketch for the falmingo design embroidered skirt.
This was my first time I attempted to design clothes. The biggest challenge was utilizing the same materials and techniques that we use for our bags for garments. The raw materials that I am used to using are very stiff and heavy, so translating them into clothes was difficult. I had to consider how the base fabric would hold up against the heavy materials. I also didn't have too much time for experimentation given the time frame, and many of our pieces and techniques are very labor intensive due to its handmade nature. So even if I had more ideas, I could not explore all of them. I had to make quick decisions. I initially wanted to create something that would be very wearable…but seeing the non-washable nature of the materials I chose, I realized that I would stick to the more conceptual route for my first foray into clothing.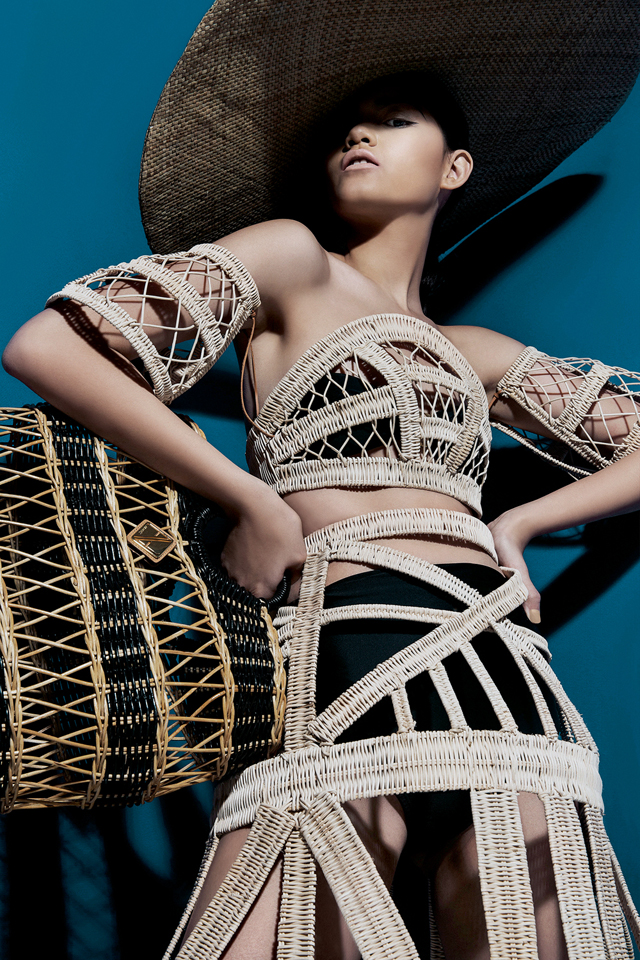 Aranaz' rattan-made cage dress.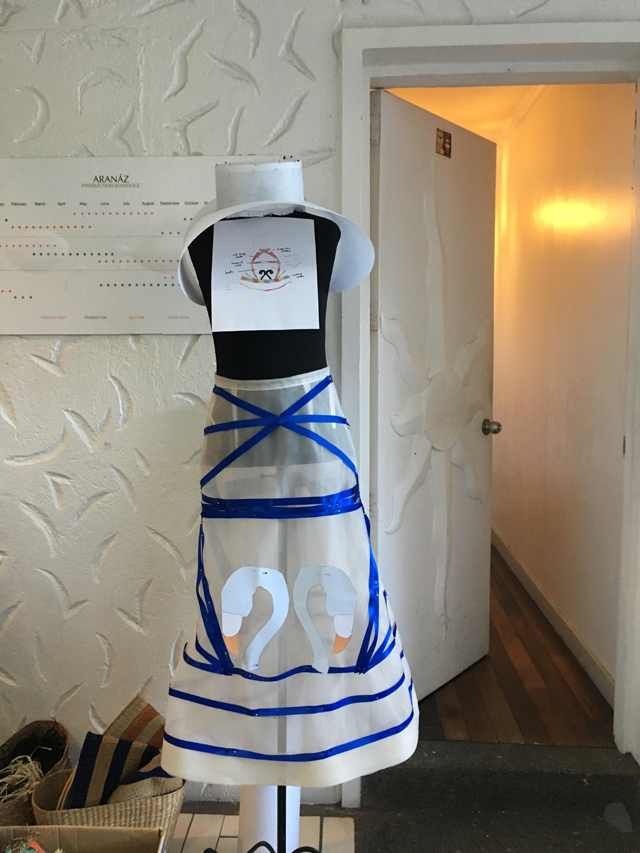 Amina's design on a bodice inside her Aranaz workroom.
What's the ultimate takeaway from this experience and in what ways do you think have you grown creatively after this?
I have to say that this project really excited me and absolutely managed to get my creative juices flowing. I have always imagined and dreamt of making garment versions of my bags but never had the chance to do it until now. It was the excitement that pushed me to create three outfits instead of just one. I would say that it was the perfect creative challenge I needed to jumpstart my year. I was on a "design hiatus" for a couple of months, and this challenge allowed me to dive right in head and heart first. I loved every second creating it! The ultimate takeaway from this is that sometimes you really need a design challenge to get out of a creative rut and that it is actually possible to translate what we do in accessories into clothing. I love breaking barriers and doing things out of the box. And this project really gave me the license to do that. So what you will see on the pages of Preview is simply the product of a little creative playtime. I would consider these the initial prototypes that still need a little bit more research, experimentation and refinement. After this little project, I will continue exploring this creative arena. I will see how far I can take it.
ADVERTISEMENT - CONTINUE READING BELOW
See the rest of the editorial in our May issue here.
Photographed by Koji Arboleda
Styled by Andre Chang
Art Direction by Vince Uy
Makeup by Brigiding Aricheta
Hair by Gerald Magtibay for Phyto Production Design by Tipping Point Collective
Model: Hannah Locsin