Our society's standards, by default, recognizes boundaries in fashion that separates males from females. Naturally, girls are expected to be feminine and guys need to be masculine. The times, however, have changed. And all thanks to androgyny (derived from the Greek word "andr" meaning man and "gune" meaning woman), men now aren't all about trousers anymore in the same way that women are no longer limited to skirts. Men and women can now freely share the same ideas on fashion.
Meet Jullian Culas of Professional Models Association of the Philippines (PMAP), a 23-year-old male with long legs and an androgynous skinny figure. Discovered by his talent scout online, Jullian has already walked for a number of local designers like Renan Pacson, Avel Bacudio, Kaye Morales, Via Valencia, Vivian Ramsay, Jerome Salaya Ang, and MEDIDA by Mark Tamayo and Niño Angeles. And get this: he has modeled for both menswear and womenswear. He also did a collection of lookbooks for Rajo Laurel and Carl Jan Cruz, and we don't know about you, but to us that definitely says a lot about fashion's stand on gender fluidity.
ADVERTISEMENT - CONTINUE READING BELOW
Read his interview with Style Bible below.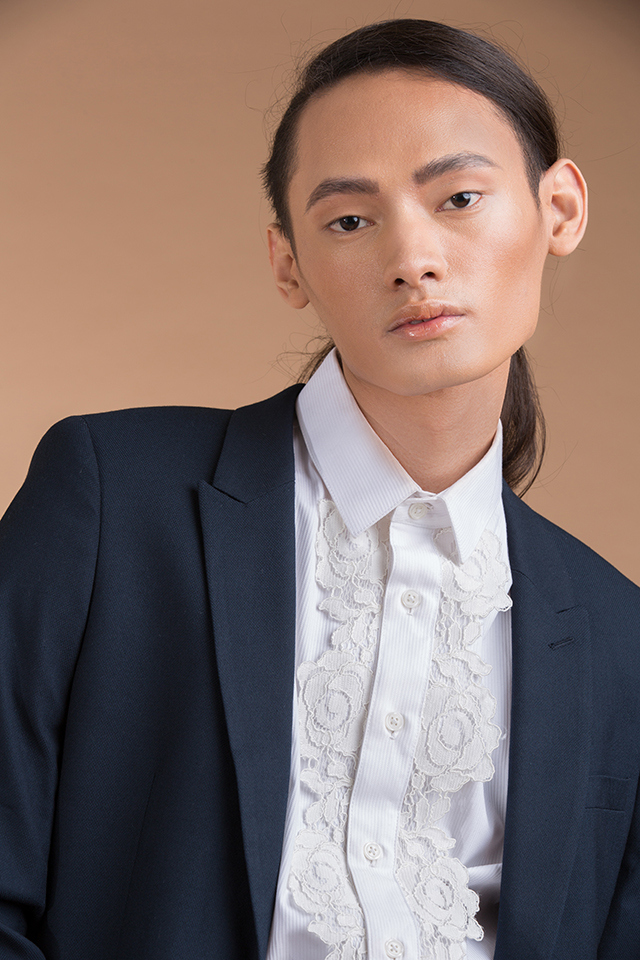 Skinny Blazer, P5995, Topman; Francisco Polo, Rajo Man
Tell our readers a bit about yourself.
I'm Jullian Culas. My friends call me Julls. I graduated from University of Asia and the Pacific (UA&P) last year with a degree in Integrated Marketing Communications. I originally come from the City of Tacloban. I grew up there, so I'm basically Bisaya/Waray. I came to Manila for college.
CONTINUE READING BELOW
Recommended Videos
Ever since I was a kid, I didn't know why, but for some reason I already knew I had to leave the province eventually. I didn't want to settle for a provincial life. I believed Manila had more opportunities for me. I also had the feeling that it had something big in store for me, I just didn't know what it was until now. I'm obviously not traditional and conservative, contrary to the people from the province. Currently, I'm lucky enough to be one of the few androgynous models in the Philippine fashion industry.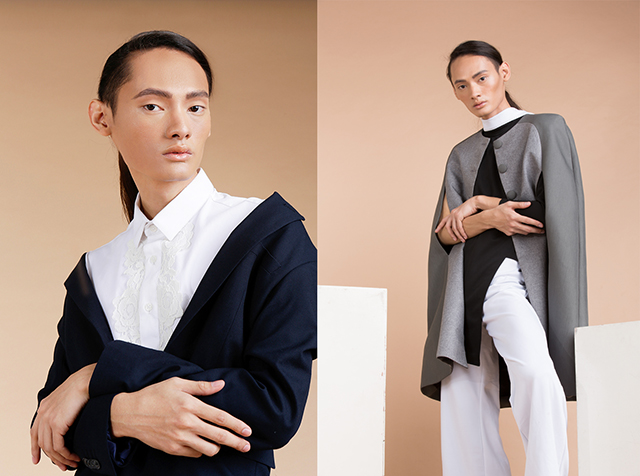 ADVERTISEMENT - CONTINUE READING BELOW
Right: Ellery Mono Sleeve Top, P2500, Via Valencia; Jumpsuit, MEDIDA by Mark Tamayo and Niño Angeles; Raglan Cut Cape, P7500, Brit Tripudio
What is Androgyny for you?
In my actual practice of it, I honestly consider androgynous modeling as an art. It's all about breaking barriers and redefining what's normal, at least in the fashion industry. It is the ability to transform into anything—image, gender, character. Androgyny would be one of the best examples of showcasing versatility in modeling or fashion. I think the best thing about androgyny is the interest it gives to the audience upon seeing you—the dialogue you create between you and the audience.
I believe the tricky part in androgyny, however, is keeping it neutral. For me, it should not be all too feminine or all too masculine. There should be a marriage of both looks, enough to spark interest and wonder to the viewer. You engage their minds, make them think, and open their imaginations.
ADVERTISEMENT - CONTINUE READING BELOW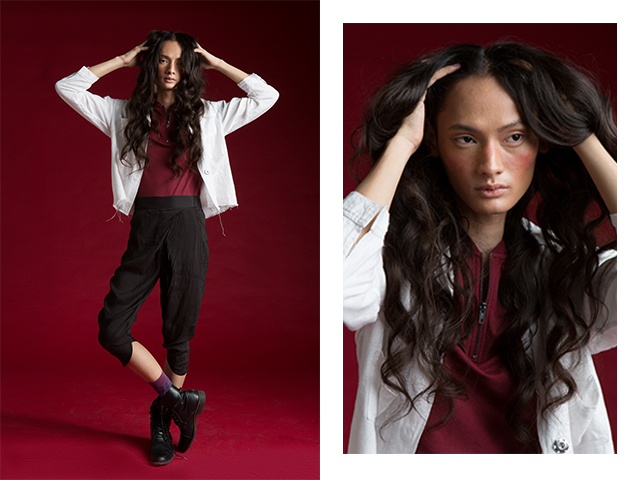 Zipper Shirt, P1595, Topman; Imperfecto Biker Jacket Shirt, $420, Carl Jan Cruz; Pants, Via Valencia; Shoes and socks, model's own
What makes you androgynous?
I am known for my long hair and skinny, lanky, non-typical physique for a male model. I possess both masculine and feminine features, and that makes me androgynous. My look is basically my brand. It is my asset in this ever-competitive industry and it's what sets me apart from the rest.
ADVERTISEMENT - CONTINUE READING BELOW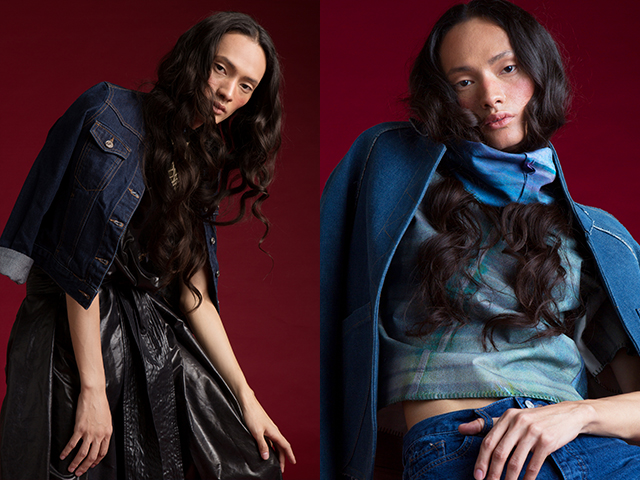 Left: Denim Jacket, Topshop; Mesh Shirt, P950, Brit Tripudio; Jumper, Jerome Salaya Ang
Right: Jan Shell Jacket in Edition 1 Denim, $647, Carl Jan Cruz; Non Box Scarf Top in Toniyo Print, $700, Carl Jan Cruz; Shorts, Topman
What personal challenges do you face being androgynous?
As you may know, my androgynous look leans more towards high fashion and not commercial. So business-wise, it's not really that profitable. However, the best thing about this is that it's a very specialized look. It is unique. And given that there are only a few of us of our kind in the local scene, I usually get contacted whenever clients, photographers, or designers need my type of look.
ADVERTISEMENT - CONTINUE READING BELOW
My look is what you call a "Now Face" opposite to the "Classic Face." Classic faces are timeless. They can be both commercial and high fashion. In a way, they normally book more jobs. The Now Faces, on the other hand, are the specialized looks. They are more conceptual and high fashion. We are considered rare, weird, or special. Now, the challenge is how to stay classic with a Now Face, how to stay relevant in a very commercial market, and how to excel and stand out amongst your competitors in both the high fashion and commercial worlds.
More than just the attention, another challenge would be the fact that not everyone understands my look. I mean, I'm not obliged to make everyone like my look. However, it also feels uncomfortable when people judge you with how you look, what you wear, and what you do. But then again, I am clear and I am certain about my market. My look caters to a niche in this industry. The androgynous look is not yet fully accepted in our society, but with all the designers patronizing and introducing this look in their works, I believe that soon enough it will be.
ADVERTISEMENT - CONTINUE READING BELOW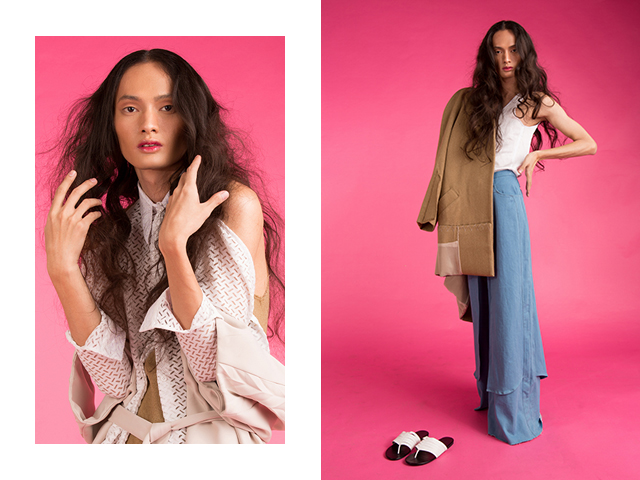 Left: Kit Angled Vest in Boiled Wool, $547, Carl Jan Cruz; Polo, MEDIDA by Mark Tamayo and Niño Angeles; Vest, Via Valencia
Right: Carl Coat in Boil Camel Wool, $1747, Carl Jan Cruz; Classic Corset Tank Top in Silk Linen, $155, Carl Jan Cruz; Trousers, MEDIDA by Mark Tamayo and Niño Angeles; Slippers, Charles & Keith
ADVERTISEMENT - CONTINUE READING BELOW
Girls often borrow clothes from the boys, but in your opinion, how can boys wear skirts in their everyday outfits? Or, how can boys work their wardrobe to be more androgynous?
Well, first of all, men do not need to wear skirts. Again, it all boils down to one's look. This is one misconception that I have to correct: Androgyny is not merely cross dressing. It's more than that. It's more than just wearing a skirt. It doesn't mean that if you wear a skirt, you're already androgynous. Character is key. Androgyny goes beyond just dressing up or looking like the opposite sex.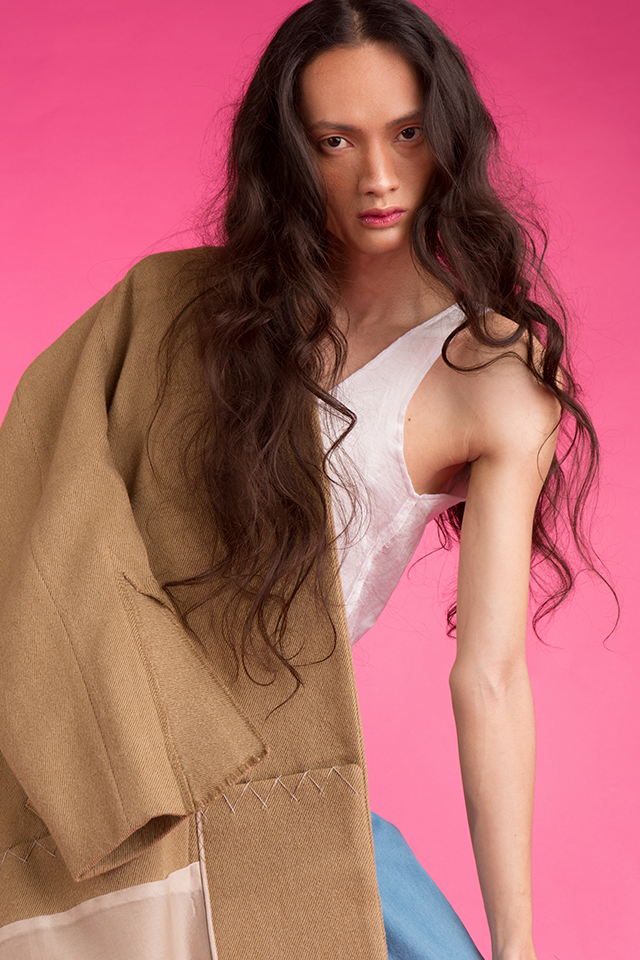 ADVERTISEMENT - CONTINUE READING BELOW
What can we expect from you next?
I know that the local fashion industry has been very supportive of me and my look and I'm really grateful for it. I have learned and am still learning a lot from the best in the field. I believe I have yet to discover my full potential. Right now, I'm exploring various opportunities in modeling. I'm honestly not yet sure what's next for me, but I'm working on it. In my one year of modeling experience, I think I have acquired quite meaningful achievements already and I know there is still more for me out there. So let's see where all this takes me.
Well, that's the good thing about androgynous models, they can pose masculine and feminine at the same time, it's multi-tasking at its finest.
Model Jullian Culas (@jullscoolass)
Photography by Erwin Canlas (@erwincanlas)
Art Direction by Gab Gutierrez (@pgabogutierrez)
ADVERTISEMENT - CONTINUE READING BELOW
Styling by Celina Dayacap (@celdayacap)
Hair & Makeup by Sylvina Lopez (@slomakeup)
Hey, Preview readers! Follow us on Facebook, Instagram, YouTube, Tiktok, and Twitter to stay up to speed on all things trendy and creative. We'll curate the most stylish feed for you!