What used to be archived and displayed in national museums will now come to life on the runways of the 55th Japan National Fashion Design Competition, thanks to local designers Jun Artajo and Andi Amora. These Mindanaoans will bring local woven fabrics like T'nalak and Inabal to the said competition as they stitch together their ethnic-inspired designs.
In an interview with Preview, Jun explains, "I admire the artisanal hand of our indigenous people for they work hard to preserve the culture. The aesthetic is very rich that I can extract all the details, put it in the garment and yet it blends cohesively. This is my way to give tribute to their continuous effort."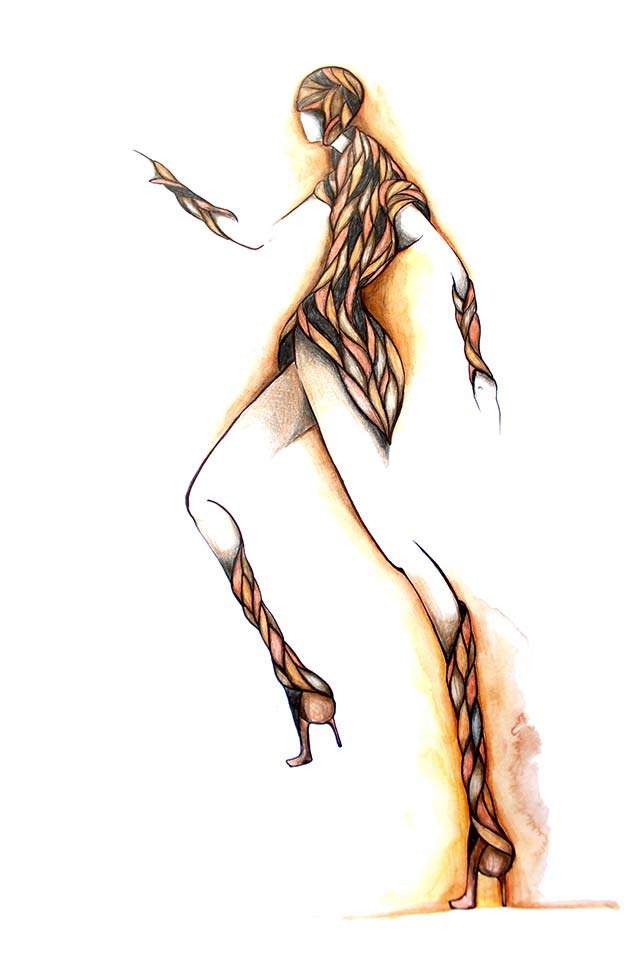 ADVERTISEMENT - CONTINUE READING BELOW
IMAGE Courtesy of Jun Artajo
He brings this perspective as he created his Bubay collection for the competition that reflects different tribes such as the B'laan, Bagobo, Manobo, Mandaya, and the Mansaka. Jun dabbles into their aesthetics through "fabric manipulation, beadweaving, and fiber weaving to create a unique concept on a three-dimensional garment that represents a diversified culture."
Meanwhile, Andi, who belongs to the Mandaya tribe, shares, "I want our tribe and their ways to not be forgotten and to be recognized beyond Mindanao. Part of the reasons I became an artist and a designer was to do my part to preserve and promote their artistry and design. I want to help preserve the culture and tradition that our ancestors brought in this world. I grew up looking up to the craftmanship and artwork of the Mandaya and as a designer, I want to do my part to tell their story through the beautiful patterns and intricacy of the abaca they weave strand by strand. It is a true art form that should be preserved and shared for the future generations."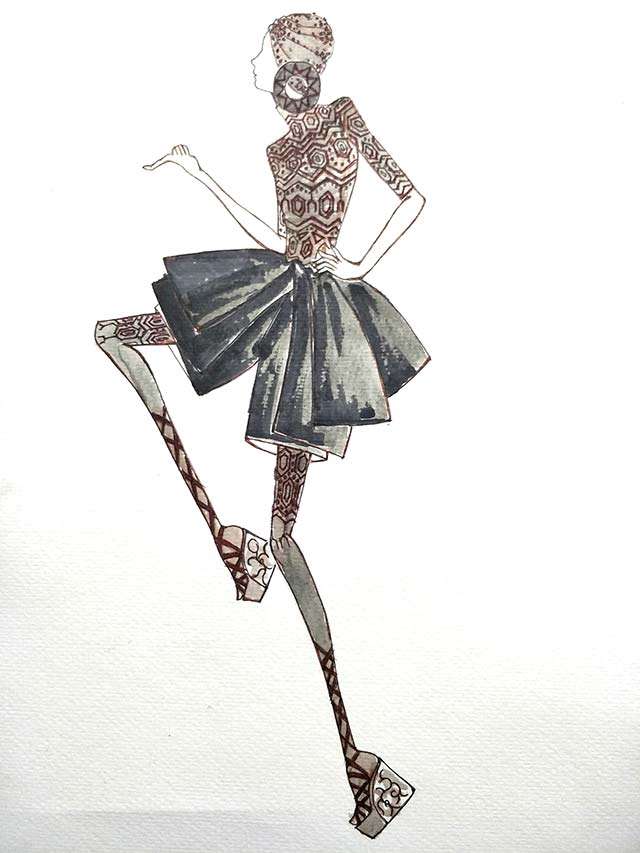 IMAGE Courtesy of Andi Amora
Andi's First Upstream collection is inspired by the Mandaya tribe who first lived in the upper portion of the rivers in the Davao region. His pieces are embellished with bead works lining the geometric patterns that, "according to the tribe, were dramatically designed by their nighttime dreams." Andi translates the Mandaya lifestyle through "patterns intricately laid out with seeds, tusk, animal bones and wooden beads" with the goal to "showcase their true form of art of strong leadership and rich cultural heritage."
Below, we talk to them about their design philosophies, aesthetics, and how they incorporate their indigenous roots in their work.
How would you describe your design aesthetic and philosophy?
Jun: "My design aesthetic ranges from being a minimalism and maximalism but considering the right balance of textures."
Andi: "I love free flowing clothing that isn't restrictive or stuffy. I am drawn to warm colors like red, orange and mustard reflecting the Mandaya palette of my ancestors that I grew up around."
ADVERTISEMENT - CONTINUE READING BELOW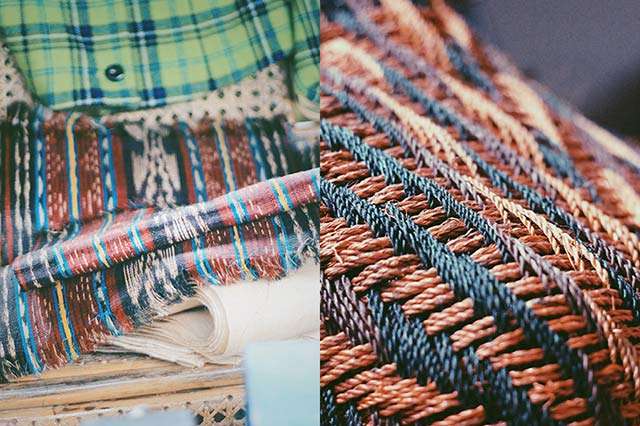 IMAGE Courtesy of Jun Artajo
Do you have a signature design or key element evident through your collections?
Jun: "I've always been fascinated with pleats and weaving, drapery and moulage, and textured beadworks. I also do fabric dyeing in achieving monochromatic and bi-chromatic colors."
Andi: "All of my designs have a whimsical nature to them. My pieces are meant to accent the human form which isn't flat but has beautiful angles and curves to it. Great lines aren't artificial or exaggerated but blend with the body and I try to capture that in all of my designs."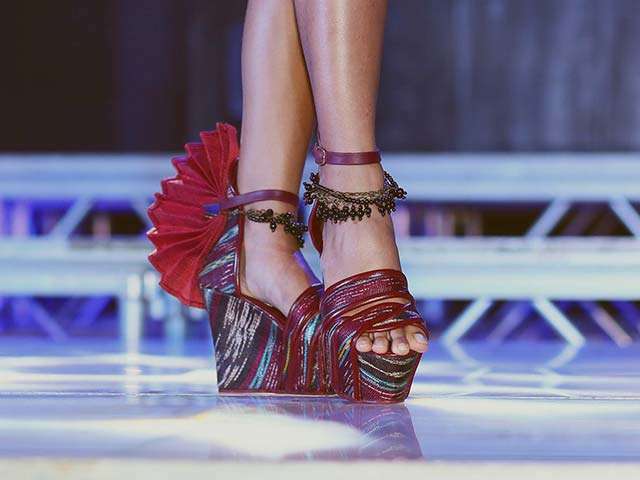 IMAGE Courtesy of Jun Artajo
Where do you usually draw inspiration from?
Jun: "I usually get inspired from my surroundings such as architecture and nature, and my travels around the country—that ranges from structures of traditional houses to the fluidity waters. I love the feeling that you get to carry the beauty of art in a garment or in accessories."
Andi: "If I am designing for a person or an event I try to capture that in my head and fit my design around that. Every person has different tastes and every event has a certain range of clothing that would either complement or contrast to abruptly from that."
Can you walk us your creative process as you design clothes?
Jun: "I usually start with a silhouette, then I choose the materials, and color palette. In choosing for materials, I always try to practice how it will react to different manipulations. The colors or print are printed by blocks on a paper and I try to create a blocking on a silhouette."
Andi: "I try and find out as much about the piece first being aware of the person or event I am designing for. From there, I sketch out a few concepts and then refine with colors or styles as my inspiration guides me and then the making of pattern to sewing the garment will follow."
ADVERTISEMENT - CONTINUE READING BELOW
Is there a specific person you have in mind when you create your collections?
Jun: "I usually think of either Alaiza Malinao, Charlene Almarvez or Charo Ronquillo—natural Filipina beauties. A person who loves to explore the art of fashion. A person who want to stand out. A person who wants to look their most beautiful."
Andi: "My mother is frequently my muse. She is a beautiful woman with her striking Mandaya features. I imagine someone who is stylish but a smart dignified woman."
Could you describe the lifestyle that fits your design philosophy?
Jun: "I design for empowerment. My design gives a sense of authenticity and cultural diversity but with a modern twist. It embodies a beauty that can be simple yet sophisticated or ethereally sweet and sexy."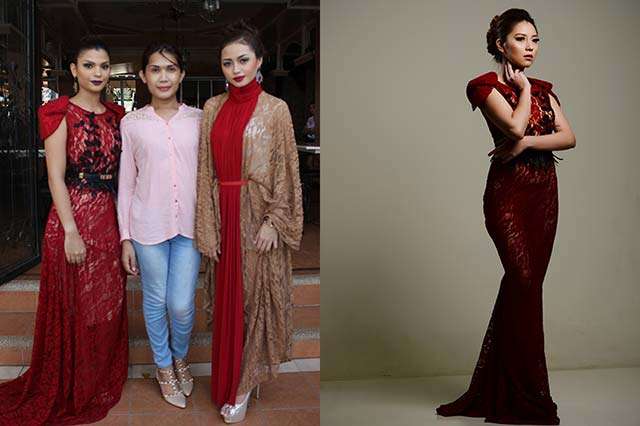 IMAGE Courtesy of Andi Amora
Andi: "I am an adventurous person who is very passionate about my life in general and design. I design for someone who doesn't just look at life [as it goes] by but experiences it. I want the same spirit of my own life expressed in my designs. I want to see a design that has some life to it sprinkled with a dash of fun and not forgetting to be beautiful."
How has your brand evolved since you started?
Jun: "The design aesthetic goes back to my roots, which is Mindanao. Working with the Bagobo in Bansalan, Davao del Sur is very fulfilling. The studio became a collaborative effort by my family, our seamstress and tailors, bead workers, and local weavers and artisans."
Andi: "When I first started designing as a teenager, I thought I was learning like any young designer. As I have become more experienced, I have learned not only to trust myself more but to make the design fit the person. A good design conforms and accents by blending with and not reshaping the person wearing it. It's that fit that makes something elegant and natural, not contrived and ill-fitting."
Jun and Andi will be competing this October in Tokyo, Japan. Previously. the said contest had notably discovered local talents including Tracy Dizon (2009), Veejay Floresca (who won Special Award from Senken Shimbun); and Jerome Lorico, who bagged the Grand Champion Award in 2010. Additionally, Jun had previously won the Tokyo Metropolitan Government Award in 2011.
Related Stories from Preview.ph
Hey, Preview readers! Follow us on Facebook, Instagram, YouTube, Tiktok, and Twitter to stay up to speed on all things trendy and creative. We'll curate the most stylish feed for you!