Meet Ana Javier, a Filipina designer who's living every fashion girl's dream, a.k.a. studying in one of the most prestigious fashion schools in the world and working in a showroom in New York. And she's doing all these at the age of 25.
Jay-Z wasn't lying when he said "since I made it here, I can make it anywhere." It was in his rap lyrics for Empire State of Mind with Alicia Keys. It rings true for a lot of fashion girls: New York is the goal; it's the mecca. It's a place where fashion is being created every day and inspiration can be found everywhere. Needless to say, for Ana, things are no diffrerent.
ADVERTISEMENT - CONTINUE READING BELOW
Ana studied Entrepreneurship at the University of Santo Tomas. Back then, she hasn't fully realized yet that she's been bitten by the fashion bug. But when she wasn't making business plans for class, she would do commission work by creating handmade accessories and taking on small projects like designing tops and skirts. Eventually, she also learned how to design gowns and ended up making her and her blockmates' Graduation Ball looks.
ADVERTISEMENT - CONTINUE READING BELOW
Recommended Videos
One of her designs even made it to Preview's 20th Best Dressed Ball red carpet when Janeena Chan wore her creation:
At this point, her road to fashion was inevitable. So after graduating with a degree in business, the budding designer decided to pursue formal training.
ADVERTISEMENT - CONTINUE READING BELOW
In an interview with Preview, the young designer shares the challenges of studying abroad, what it's like living in the Big Apple by herself, and what it takes to work in a fashion showroom.
What made you want to pursue fashion?
"I was honestly scared to do fashion right away because I was not creative growing up. I couldn't even draw a proper stick figure before! I was really more into business and selling when I was younger. It actually just started when my mom bought me my first DSLR. I got into photography and became a photographer for the Commerce Journal in UST. It was sort of a domino effect for me. I met creative people and got inspired to try to learn how to draw. I bought my first fashion drawing for dummies book in my junior year and I just started investing in books from then on. I really believe in practice makes perfect, like I make sure to draw every day."
ADVERTISEMENT - CONTINUE READING BELOW
ADVERTISEMENT - CONTINUE READING BELOW
When did you realize you wanted to study fashion design?
"After graduation, I wanted to learn more about fashion so I enrolled in SoFA for their two-year program. They're really good at teaching us how to draw design inspirations. I also met a lot of talented professors and classmates there. However, I didn't finish my program. After my first year, the school had their field trip to Italy and I really wanted to join but one of my best friends there suggested that we just try to find an internship in New York for the summer."
ADVERTISEMENT - CONTINUE READING BELOW
How would you describe your design aesthetic?
"I always like to describe my designs as sugar and spice—feminine and sweet, but also sexy."
What was your internship like?
"I was able to land an internship with Paul Carroll. He's a Brooklyn-based womenswear designer. His designs are mostly fun party dresses. He's very hands-on with each dress and I learned a lot of technical techniques from him, most of the techniques I didn't learn from school."
ADVERTISEMENT - CONTINUE READING BELOW
How was it like living in a new city?
"My very first struggle when I moved here was the season. I moved during winter and it was my very first one. I didn't know how to bundle up well back then and it was just so hard to do everything in the cold. Fortunately, I eventually adjusted. I love New York's fast-paced lifestyle but it was also tough for me at first. New Yorkers literally walk and talk really fast!"
ADVERTISEMENT - CONTINUE READING BELOW
After your internship, you also attended Parsons School of Design. What made you wanna study?
"I just fell in love with NY. The city is overflowing with inspiration in every corner. I love how I can really express myself through fashion here. So when my summer internship ended, I decided to apply to Parsons School of Design. I decided to go to Parsons because when I did my research, they produced a lot of designers who I admire like Prabal Gurung and Derek Lam. I was just choosing between Fashion Institute of Technology and Parsons. But FIT prioritizes New Yorkers since it's a state university, whereas Parsons welcomes anyone who passes their criteria."
ADVERTISEMENT - CONTINUE READING BELOW
Was it difficult to get in?
The process wasn't easy (it is one of the top fashion schools in the world, after all!) but it wasn't impossible as well. I just had to fill out application forms and send out transcripts to the World Education Services, an institution that verified my credentials course-by-course, to prove that the four program I took here in the Philippines is equivalent to a four-year program in the U.S. This will also check if my previous grades meet their minimum grade requirements. I also had to make a collage reflecting my aesthetic. So I just submitted everything online and I heard back from them after two weeks. After getting accepted, all the enrollment instructions were in their student portal and almost all transactions are online so it was really easy for me. I even landed a scholarship from the school!
ADVERTISEMENT - CONTINUE READING BELOW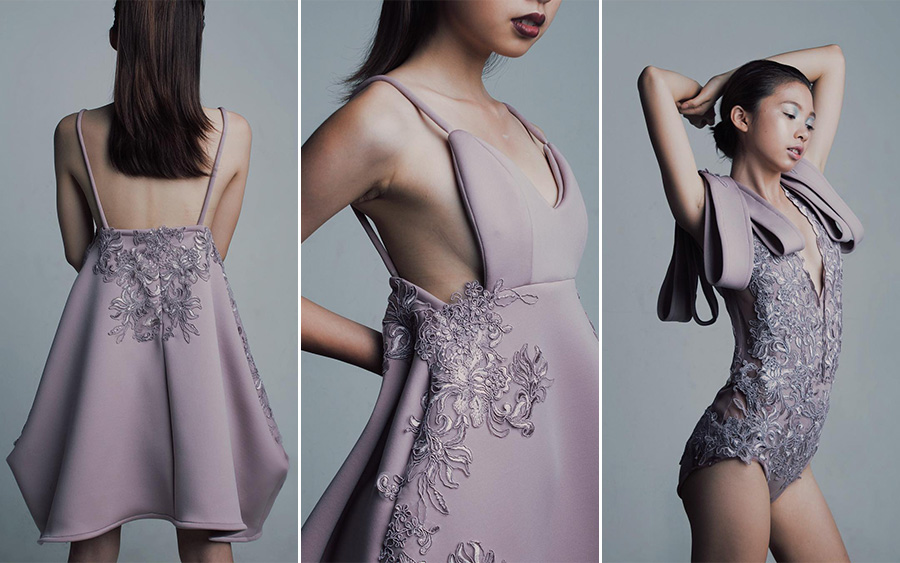 Was it everything you ever dreamed of?
"Yes! It was more than I could ever dream of. Parsons is a really good playground for aspiring designers, and when I started my internship and work, I always get starstruck whenever I meet designers. Although I was also scared at first and thought it will be like The Devil Wears Prada, but not at all! I worked with really nice and humble people. I'm really thankful for that. I took up the one- to two-year program and I finished it in one and a half. For my last semester, I got an internship with Zac Posen in his design team. That's probably one of my favorite experiences. I did mostly designing embroideries and embroidery placements."
ADVERTISEMENT - CONTINUE READING BELOW
How different was it studying there after your experience studying in the Philippines?
"It's really different studying in New York especially coming from UST. My first few months, I was really culture-shocked. The students are free to wear whatever they want and express what's on their mind. The professors are also very critical, which I like because it really helps us improve our craft. One of the things I love about Parsons too is their facilities, and they're free for the students to use. They have open studios for students that are open 24/7. A lot of things to explore too such as laser cutting, embroideries, and fabric printing."
ADVERTISEMENT - CONTINUE READING BELOW
ADVERTISEMENT - CONTINUE READING BELOW
How was it like working in New York after graduating?
"After graduation, I wanted to explore more so I applied at Findings Showroom. It's a multi-brand showroom that houses designer and contemporary brands such as Isabel Marant, Ulla John, Clare V, and many more. We handle their wholesale and we work with big retail and online stores around the world like Nordstrom, Neiman Marcus, Shopbop, and Tom Greyhound."
What's your advice to aspiring designers out there?
"Don't be afraid to make mistakes—as long as you learn from them. Also, always be open to criticisms 'cause that's how you will grow."
ADVERTISEMENT - CONTINUE READING BELOW
Related Stories from Preview.ph
Hey, Preview readers! Follow us on Facebook, Instagram, YouTube, Tiktok, and Twitter to stay up to speed on all things trendy and creative. We'll curate the most stylish feed for you!