"It is an identity. The abel is usually for special occasions when made into clothing, like ceremonial apparel," says Abra Governor Joy Bernos of her province's weave, a practice echoed for the most part throughout modern Philippines, each region bearing something of their own ancestors.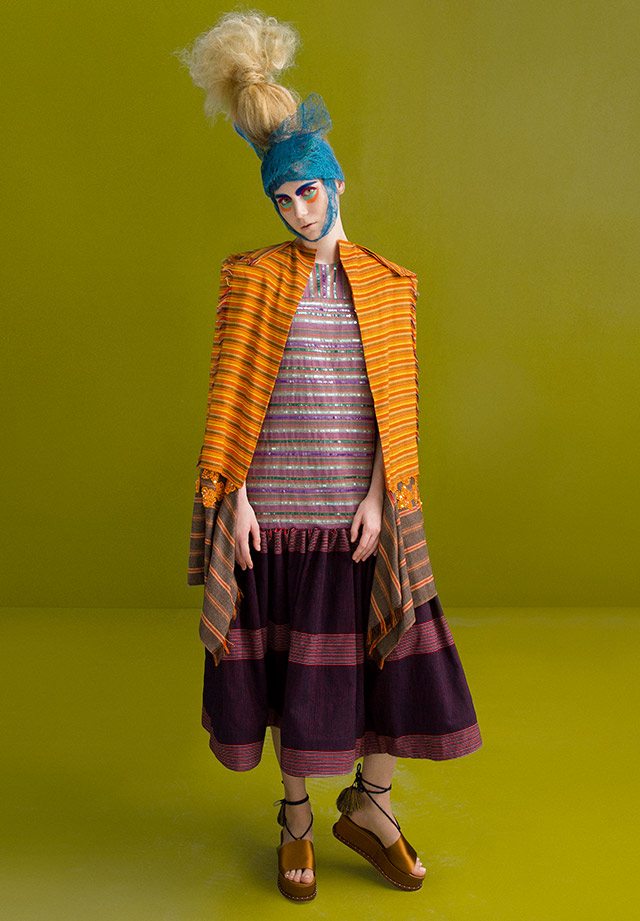 ADVERTISEMENT - CONTINUE READING BELOW
Cape and dress, prices unavailable, both DENNIS LUSTICO, cel. no. 0918 921 1269. Flatform sandals, P3195, CHARLES & KEITH, Greenbelt 5
It is the reason that brought her to Ivar Aseron's atelier, asking the designer to fashion a dress out of the fabric. Every tribe's weave is as unique as they are scintillating, but the Abra abel, with its muted hues and delicate lines, instantly piqued Ivar's curiosity. "I brought up the idea of promoting it by featuring it in a fashion show to help the communities involved in weaving it by bringing in more business for them," he recalls. During Abra's Centennial Celebration, the fashion show Mga Obra ng Abra: Katutubong Kulay was staged. As part of one's identity, why can't it be embraced daily?
Like Ivar, some of the other top Manila designers that participated in the show— Jojie Lloren, Dennis Lustico and Joey Samson—are no strangers to working with local and indigenous fabric. Ivar has worked with jusi and piña ever since he started designing; jusi has figured prominently in his past collections, giving a softness to his minimal silhouettes.
CONTINUE READING BELOW
Recommended Videos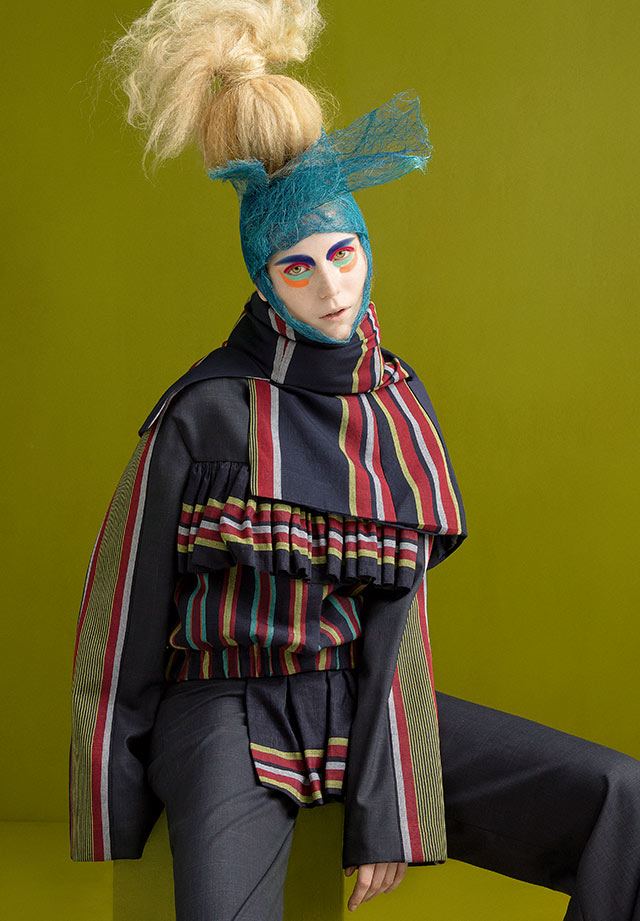 Top and trousers, prices uavailable, both IVARLUSKI ASERON, cel. no. 0928 501 3468
Dennis and Joey always work with local materials, but are confined to variations of piña, abaca and jusi, as well as banana for Joey, to meet their clients' requirements to attend weddings; for politicians, something to wear to government functions where our national costume gets some time to shine.
ADVERTISEMENT - CONTINUE READING BELOW
Jojie is experienced in working with weaves, such as Iloilo's hablon and a number of Mindanao weaves. "It is my duty and responsibility as a Filipino designer to use and promote indigenous fabrics," he says. Obra ng Abra isn't his first encounter with abel either. For a past museum exhibition highlighting weaves, he created an installation of three elaborate gowns in one continuous roll of binakol, the Abra abel's more circuitous Ilocano neighbor, differentiated by its pattern of squares against a grid.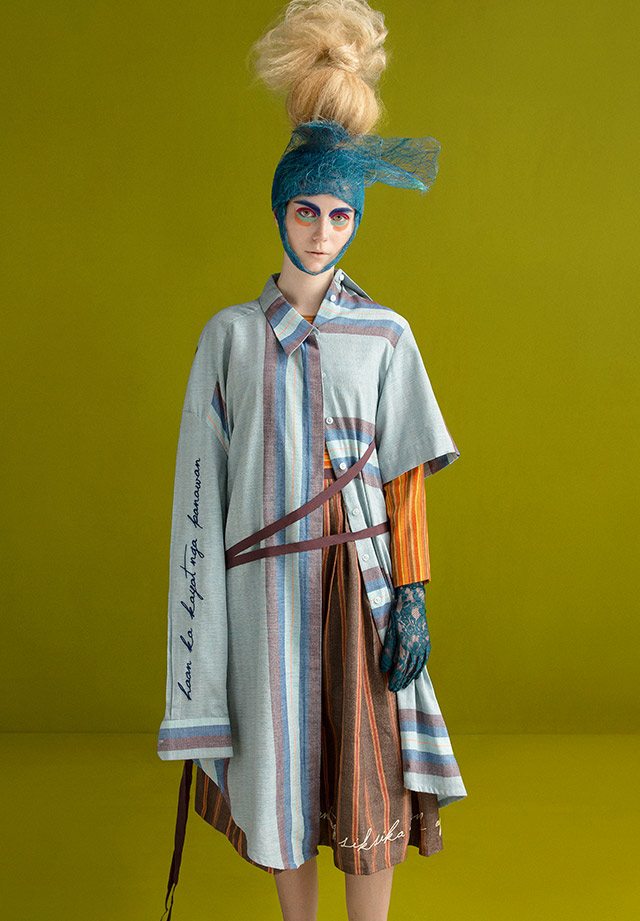 ADVERTISEMENT - CONTINUE READING BELOW
Shirt (worn as a jacket), dress and gloves, prices unavailable, all JOEY SAMSON, cel. no. 0918 959 2541.
Indeed, the weavers of La Paz in Abra trace their history to settlers from Ilocos Sur who imparted their craft. The Abreños, in turn, gave life to their own abel. There are tricolor stripes like kantarines and tiniri, which the designers all gravitated to for their five-look collections, to the more intricate patterns depicting their bucolic life, usually reserved for home decor.
A proficiency with the medium is evident in Jojie's five looks: Combined with silk and cotton, the weave was manipulated to skim a woman's body. "I just wanted to show that the abel is just like any other fabric one can use for contemporary clothes. I see foreign women, aside from locals, wearing them."
Ivar's vision, too, was relatability and he carried this out by mixing abel with light wool and rayon, using the weave as an accent in sleek shifts and separates for men and women that would easily be statement pieces in an urbanite's wardrobe.
ADVERTISEMENT - CONTINUE READING BELOW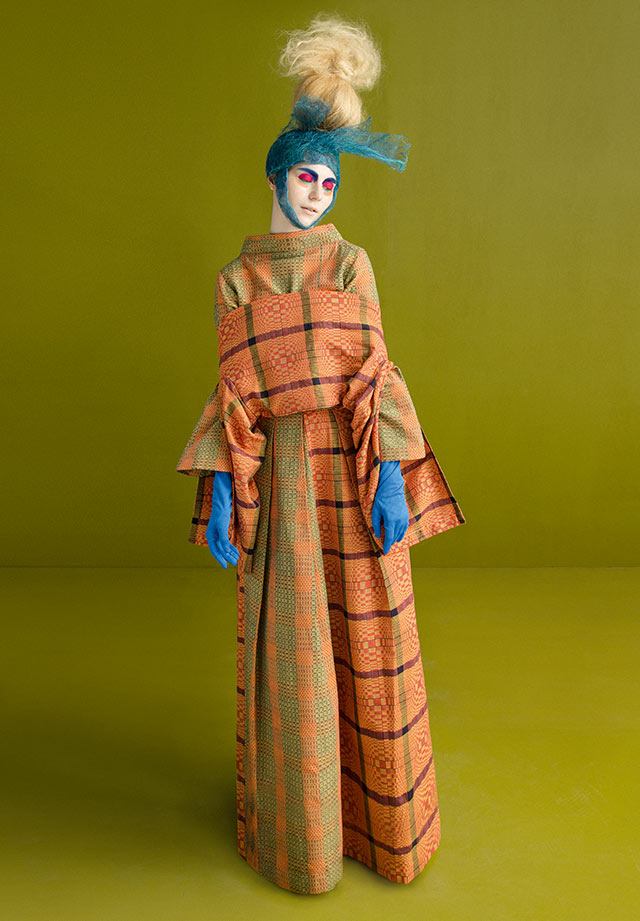 Shirt, P6000; shirt (worn as an off-shoulder jacket), P6000; skirt, P5000; all JAMES REYES, cel. no. 0917 623 6183. Gloves, price unavailable, IVARLUSKI ASERON, cel. no. 0928 501 3468

"The abel fabric has pros and cons. The positive side of it is that one can create one's own pattern in any color combination imaginable as long as the threads are available. The downside is that the fabric is only available in a 25-inch width, which has its limitations," Ivar says. According to Gov. Bernos, the feasibility of making a loom in wider yardages is now being studied by the provincial government.
ADVERTISEMENT - CONTINUE READING BELOW
Dennis took the challenge that the width posed as an opportunity to combine patterns for his collection of shifts, with a notable red number where a contrasting weave ran into flirty ruffles in the back. "Colors motivate my design process and abel offers me an endless palette. It is young and vibrant and easy to handle," he reasons. And even with this limitation, he steered clear of commercial fabrics. A sheath in gradients of brown allows the weave to take center stage. "I wanted to show the people of Abra that abel can stand on its own. I wanted to impress upon the enterprising people of Abra that it is possible for them to make a business out of it."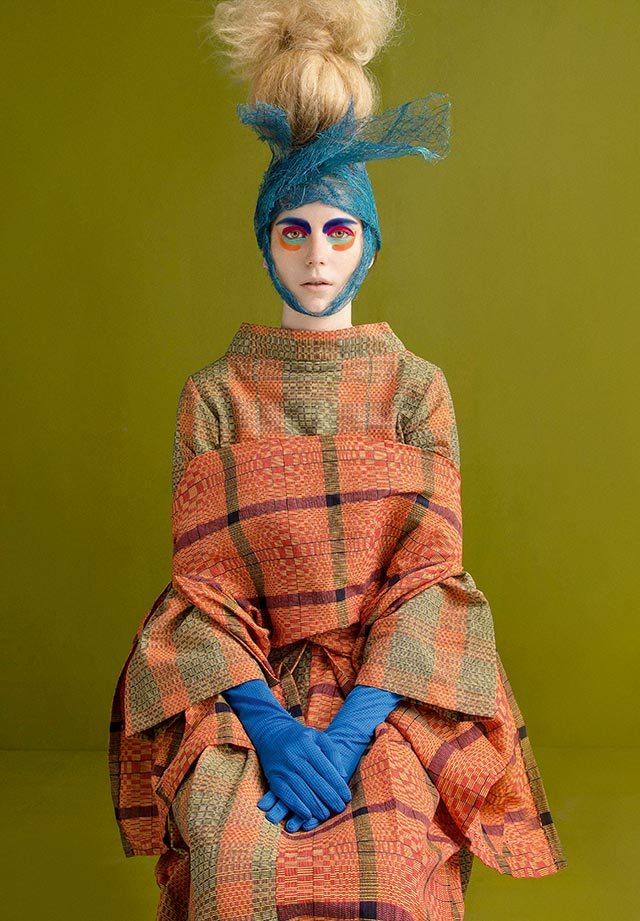 ADVERTISEMENT - CONTINUE READING BELOW
Shirt, P6000; shirt (worn as an off-shoulder jacket), P6000; skirt, P5000; all JAMES REYES, cel. no. 0917 623 6183. Gloves, price unavailable, IVARLUSKI ASERON, cel. no. 0928 501 3468.
On the other side of the spectrum are Joey's tailored pieces that veer toward androgyny. "What was particularly challenging for me was how to breathe new life into a local, sometimes even classified as ethnic, weave. Fabric as such comes with a connotation that it's costume-y," he admits.
Joey had hand-embroidered lines and phrases from Ilocano literature on the back of a shirt, the hem of a skirt, and running an entire sleeve length against the linear patterns of the weave. He sums up his approach for relatability: "It's for anyone who is openminded and wants unusual, fun details in a garment." The abel itself is a richly textured weaving of social, political and cultural history in a form more functional, but just as precious as words—isn't it a fitting juxtaposition?
ADVERTISEMENT - CONTINUE READING BELOW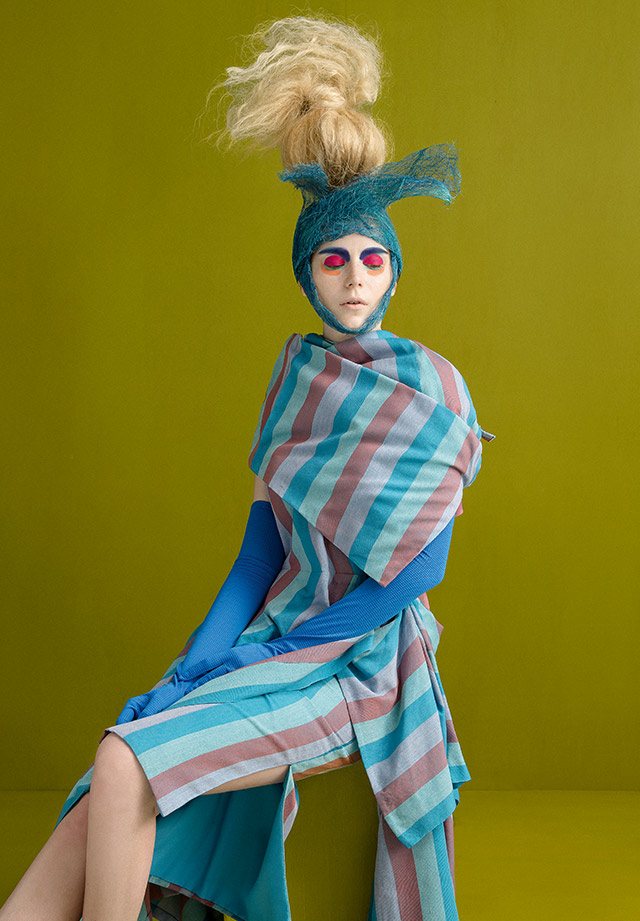 Striped dresses, prices unavailable, both JOJIE LLOREN, cel. no. 0917 851 1225. Gloves, price unavailable, IVARLUSKI ASERON, cel. no. 0928 501 3468
But here's the caveat: Jojie reveals, "Some [weaves] are still made of polyester yarns. Manual labor is put to waste by using synthetics." He suggests that "natural fibers would give the fabric a high-end appeal." These threads and yarns are still being sourced abroad. Gov. Bernos' government hopes to not keep it this way. "Research sponsored by the Department of Trade and Industry is being conducted for the viability of maguey and banana plant fibers to replace the imported threads used by the loom weavers. When the study is completed and the results will be favorable, the provincial government will be on the lookout for chances to put up plantations so that the province will have a steady supply of materials. Of course, this would also give added value to the Abra abel because everything will be homegrown," she says.
ADVERTISEMENT - CONTINUE READING BELOW
As for the Abra abel's growth as a player in the textile market, Obra ng Abra has done its job, planting its seeds.
Produced by Andre Chang
Styled by Daryl Chang
Art direction by Vince Uy
Makeup by Owen Sarmiento
Hair by Mong Amado using Lynelle Hair Extensions
Production design by Jo Claravall.
Model: Kristina of Elite
Stylist's assistant: April Lozada
*This originally appeared in Preview August 2017 issue.
Related Stories from Preview.ph
Hey, Preview readers! Follow us on Facebook, Instagram, YouTube, Tiktok, and Twitter to stay up to speed on all things trendy and creative. We'll curate the most stylish feed for you!