You might not need to swallow that stone to transform into a fierce superheroine.
Illustrator, playwright and Zsazsa Zaturnnah creator Carlo Vergara has mocked up a t-shirt dress of the Darna-like female with big red hair and major muscle tone. Her alterego, Ada, an effeminate homosexual male who owns a beauty salon, becomes so upon ingesting a spiky stone.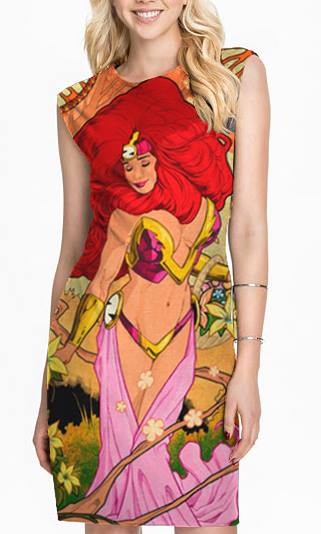 Via Visconde Carlo Vergara on Facebook
Vergara posted the above image on Facebook, saying:
"After seeing my customized dri-fit t-shirt, a magazine editor told me that the design I used would look great on a shift dress. (And, back then, I had no idea what a shift dress was.) She asked me if I had other designs so she could help me pitch to a fashion retailer. Of course, I didn't have anything else. huhuhu"

He clarified that the image was just a mock-up made on Photoshop. Time to put this up on Kickstarter!