Food is the new fashion, with Pinoys obsessed with showing off what and where they've eaten through social media.
Last month, we visited the Noma (currently the number one restaurant in the world) pop-up in the Mandarin Oriental in Tokyo, where chef René Redzepi relocated his famed Copenhagen restaurant (chefs, wait staff, dishwashers et al) for a six-week immersion. The event set the culinary world abuzz and diners from all over, including Moment Group founders Eli Antonino, Abba Napa and Jon Syjuco (Mecha Uma, 'Cue, Manam) and pastry chef Sonja Ocampo (Sonja's Cupcakes) made the pilgrimage to witness how this esteemed chef would apply his foraging and local-produce-only philosophy in the gourmet capital of the world.
Style Bible tagged along for this gastronomical experience of 17 courses, presented one after another on the tasting table, yes, much like a fashion show.
1. Unripe strawberries and sake lees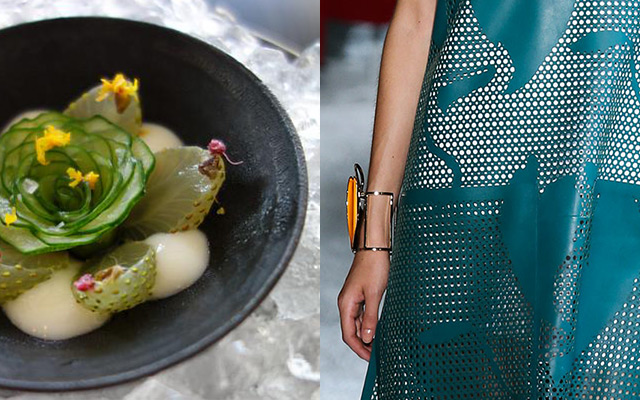 The dish, left. Right: Tod's S/S 2015
TRANSLATION: Unripe strawberries and cucumber over sake kasu (or the leftover bits from the sake-making process).
THE VERDICT: Take what's widely available and use it in uncommon ways. Redzepi's strawberries are Alessandra Facchinetti's leather. At Tod's, the brand where the Italian designer was appointed as creative director, Facchinetti manipulates leather, typically hard and unyielding, and turns it into lace.
ADVERTISEMENT - CONTINUE READING BELOW
2. Botanebi with flavors from the Nagano forest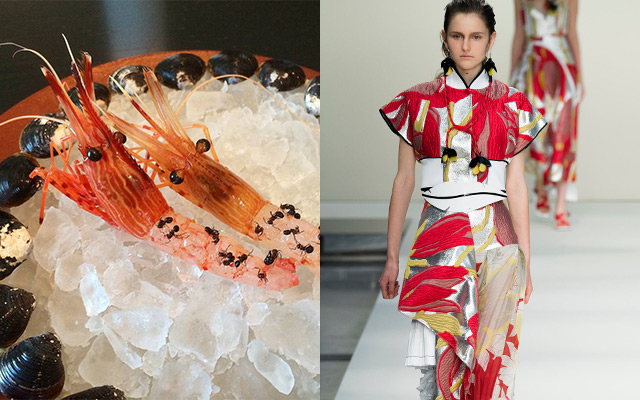 The dish, left. Right: Marni S/S 2015
TRANSLATION: Raw shrimp sprinkled with ants from Nagano forest.
THE VERDICT: Though the ants gave off a surprising citric kick (balancing off the sweet, live shrimp and the fat you inevitably come by when you suck on its head), no one really batted an eyelash. Hard core foodies, like hard core fashionistas, are so used to being served ants at the Noma Copenhagen that no one spoke of them lengthily - in the same manner that no one rhapsodizes anymore about what an outstanding purse a Chanel 2.55 is.
3. Citrus and long pepper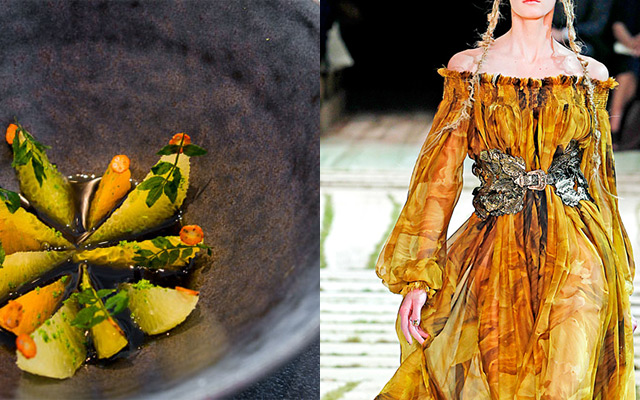 ADVERTISEMENT - CONTINUE READING BELOW
The dish, left. Right: Alexander McQueen S/S 2011
TRANSLATION: Different citrus: mandarin, buntan (pomelo), kabosu (similar to yuzu) and pampeyu (like a pomelo, but larger) at different levels of ripeness. They sit on an oil made of intense kombu seaweed for umami, with pickled long peppers and salted sancho leaves.
THE VERDICT: Redzepi said that flavorful kombu seaweed oil (normally used by the Japanese for dashi or fish stock), if bottled, would run into thousands of dollars. And that's what haute cuisine is for, to push the limits of what you can do, and see if everyone else will embrace the idea. The late great Alexander McQueen was a master at this, creating looks that were as beautiful as they were sometimes disturbing, sometimes grotesque to behold.
4. Shaved monkfish liver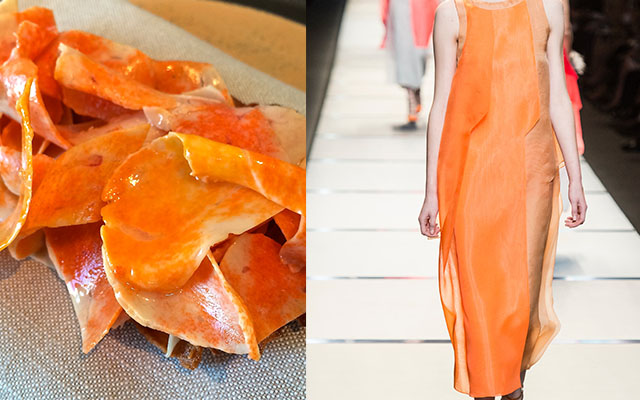 The dish, left. Right: Fendi S/S 2014
TRANSLATION: Monkfish liver (aka ankimo) brined for 24 hours then smoked, frozen, shaved thinly and served on a crisp sourdough toast.
THE VERDICT: A new interpretation of a local item, this may be one of the justifications for the size of the Noma pop-up's reported wait-list: 60,000 people. Wait lists are notoriously attractive to fashion peeps because it underlines an item's exclusivity after which that "it" item is forgotten once the season is over and a new trend comes along.
ADVERTISEMENT - CONTINUE READING BELOW
5. Koika cuttlefish "soba"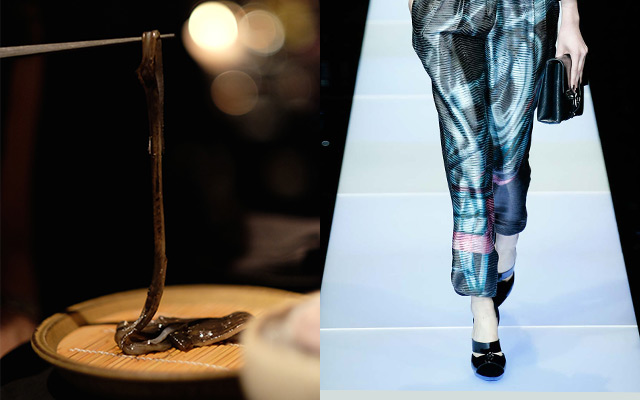 The dish, left. Right: Giorgio Armani A/W 2015
TRANSLATION: Inky raw cuttlefish cut into ribbons and served soba style on a slotted tray.
THE VERDICT: The dip is a delicate infusion of pine and roses until you bite into one of the edible pink petals and then the flavor becomes heady and aromatic. Even if I wasn't a fan of edible roses, this rather odd flavor pairing makes you think. Remember when you weren't supposed to pair a maxi-skirt with flats? That was in 2012. Oh look, everyone's doing it now.
6. Freshwater clam and wild kiwi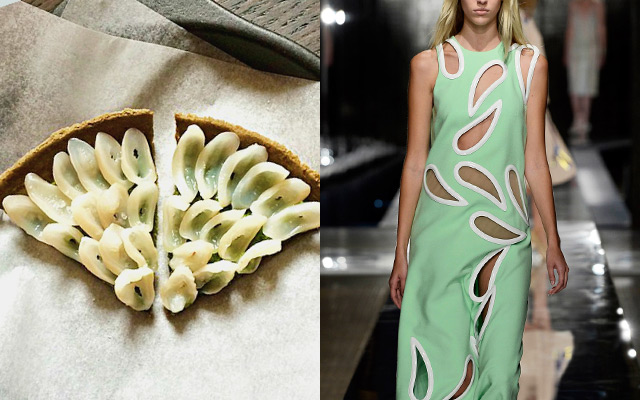 The dish, left. Right: Christopher Kane S/S 2014
ADVERTISEMENT - CONTINUE READING BELOW
TRANSLATION: Clams normally used (and discarded in miso soup) are shucked and eaten raw on a crust made from roasted seaweed and puréed with wild kiwi from Nagano.
VERDICT: The sourness of the wild kiwi is pretty intense—and surprising—as it sits in the back of the mouth for a couple of minutes. I loved that the tartness of the wild kiwi—it came as an aftertaste—was so unexpected. Surprise is a great trump card, one that John Galliano plays so well.
7. Tofu, just steamed with wild walnuts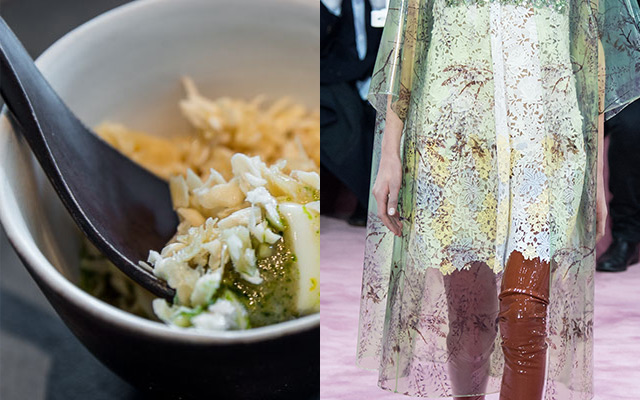 The dish, left. Right: Christian Dior Spring 2015 Couture
TRANSLATION: Freshly made steamed tofu sitting on a bed of miso sauce and topped with shaved, wild walnuts.
VERDICT: Sometimes you really have to look at the programme notes to truly understand a dish. Just like realizing that the embroidery on a Valentino gown entailed 300 hours work when you check the Style.com reviews, making freshly made tofu, I realized as I read up on it post-dinner, is not something for the faint of heart.
8. Sea urchin and cabbage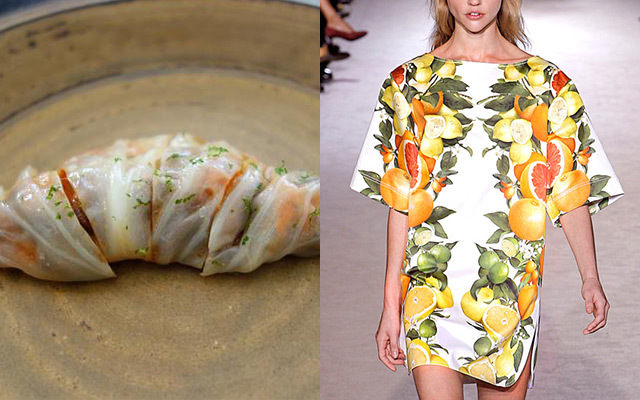 ADVERTISEMENT - CONTINUE READING BELOW
The dish, left. Right: Stella McCartney S/S 2011
TRANSLATION: Sea urchin wrapped in cabbage leaf brushed with mushrooms.
THE VERDICT: Halfway through a 17-course meal, I realized that dinner is the new theater. It used to be fashion shows, you know? And so now hope springs that people will start seeing fashion shows as more than just entertainment.
9. Scallop dried for two days, beech nuts and kelp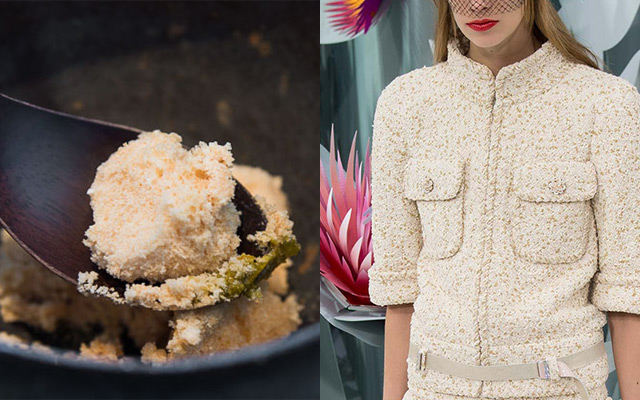 The dish, left. Right: Chanel Spring 2015 Couture
TRANSLATION: Scallops, dried and dehydrated and then blitzed in butter. Afterwards, it is aerated to make it light and fluffy, like a cloud. It sits on a bed of seaweed oil (made of kelp) with lightly toasted beech nuts.
THE VERDICT: Haute cuisine is like haute couture, where innovation and technique are revered. A cloud made of scallop, when you think about how it is made, is as mind-blowing as the way Raf Simons showed a plastic opera coat enrusted with embroidery for the Christian Dior Spring couture show.
10. Hokkori pumpkin, cherrywood oil and salted cherry blossoms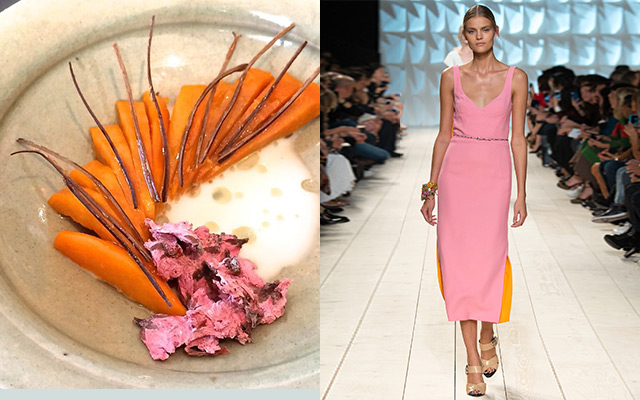 ADVERTISEMENT - CONTINUE READING BELOW
The dish, left. Right: Nina Ricci S/S 2015
TRANSLATION: Pumpkin marinated in cherry blossom tree oil with roasted seaweed garnish and dried, salted cherry blossoms.
THE VERDICT: Never underestimate the power of flowers—as seasoning or embellishment.
11. Garlic flower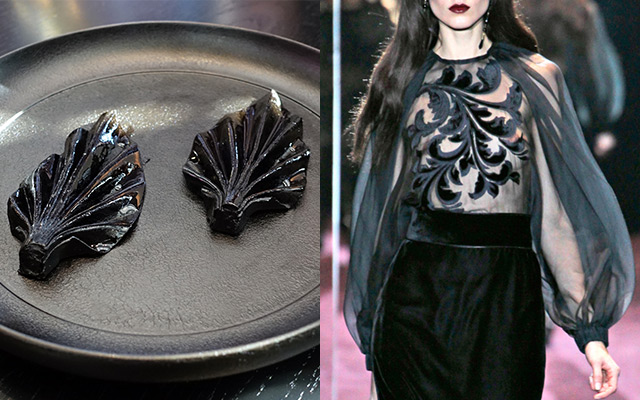 The dish, left. Right: Gucci A/W 2012
TRANSLATION: Fermented black garlic is aged for 30 days in a humidifier, where it starts to turn black and caramelized, and produces a natural fruit flavor. The pressed-out paste of fermented garlic is rolled out like fruit leather and fashioned origami-style into a leaf.
THE VERDICT: Fruit leather (albeit made of fermented garlic) is a great way to bring fun into a serious meal. Jeremy Scott does this at Moschino with his nostalgic pop culture references and they rock!
12. Roots and starches with ginger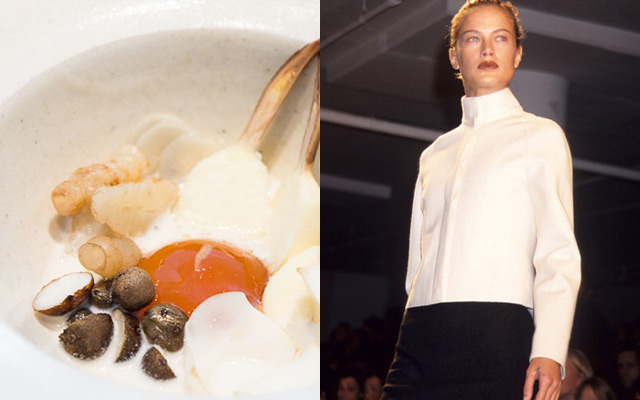 ADVERTISEMENT - CONTINUE READING BELOW
The dish, left. Right: Calvin Klein 1999
TRANSLATION: Tiny potatoes, lotus roots, lily bulbs with pickled ginger and an egg yolk cured in miso.
THE VERDICT: The culinary world has its own version of normcore: roots and starches, simple and humble ingredients that can be refined—and then later sold for $$$.
13. Wild duck and shiitake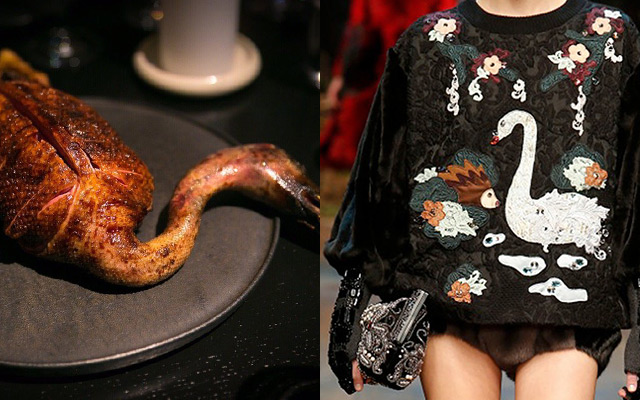 The dish, left. Right: Dolce & Gabbana A/W 2012
TRANSLATION: Wild duck from Akita prefecture in northern Japan has been captured using nets in the traditional Japanese way. Barbecued, it is served with a side sauce made from shiitake mushrooms.
THE VERDICT: Diners are invited to sample the different parts of the fowl—the skin (crisp and salty), the flesh (succulent and pink next to a ribbon of oozing fat), the feet (all bone and cartilage) and the brain (soft, creamy and rich). Such nose-to-tail dining offers a valuable lesson for fashion in general: Exhaust your resources, from feet to guts.
14. Yeast and turnip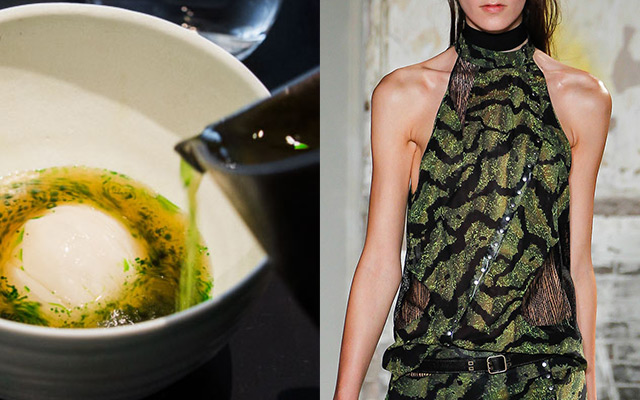 ADVERTISEMENT - CONTINUE READING BELOW
The dish, left. Right: Proenza Schouler S/S 2013
TRANSLATION: A simple—humble really—turnip and mushroom broth served with roasted yeast and parsley oil.
THE VERDICT: When you're a chef of René Redzepi's caliber, the fans (and critics) expect bells and whistles. But as any designer who has done a minimalist collection knows, keeping things simple is a complex exercise. Just ask the Olsen twins.
15. Rice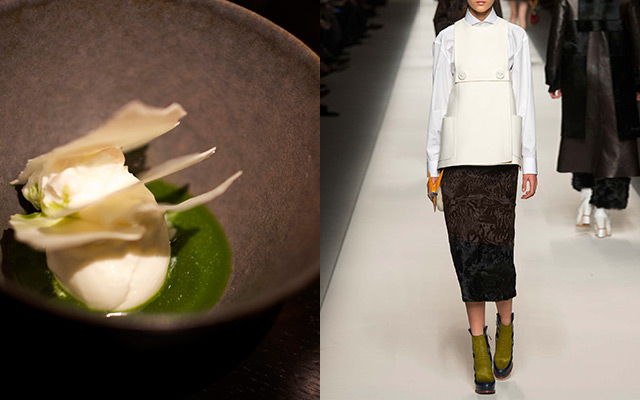 The dish, left. Right: Fendi A/W 2015
TRANSLATION: The traditional rice course reinvented as rice crisps and sake rice ice cream with a sauce made from sorrel leaf and yuzu.
THE VERDICT: Go for the unexpected. People expect savory; give them sweet. It's exactly what Nicolas Ghesquiere has been doing in Louis Vuitton.
16. Sweet potato simmered in raw sugar all day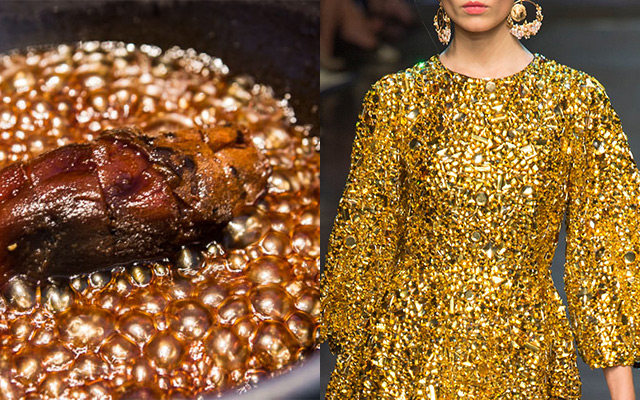 ADVERTISEMENT - CONTINUE READING BELOW
The dish, left. Right: Dolce & Gabbana S/S 2014
TRANSLATION: Kamote cue in a nutshell with wild kiwi and geranium sauce on the side.
THE VERDICT: The classic Pinoy merienda finds itself on the menu of the number one restaurant in the world and I'm indifferent. I realize now I should have been more excited. Eating kamote cue in Noma should have been like seeing Phoebe Philo send a terno down her runway.
17. Wild syrup and fermented mushroom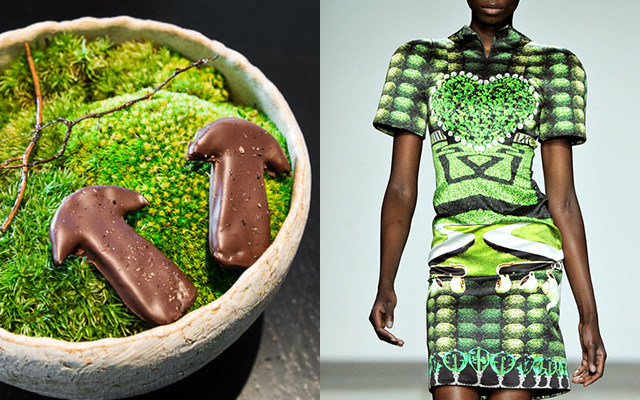 The dish, left. Right: Mary Katrantzou A/W 2012
TRANSLATION: A Noma Copenhagen fixture, wild mushrooms are dipped in dark chocolate and served with cinnamon roots.
THE VERDICT: So you wanna be a foodie? They won't bat an eyelash when served a garden on a plate. It's all familiar territory to the fashionista, who wears a garden on her skirt.
Preview/Style Bible was invited to the Noma pop-up dinner by the Moment Group.
Food and fashion juxtapositions by Anna Canlas, Zoe Laurente and Yayay de Castro. Images via Getty, Style.com, Yelp, the Wall Street Journal, Kayoubi Desu and norecipes.com.