I have a problem with not being sexy. Something I came to terms with when I started my new job in a corporate office last week. Prior to this, I had only ever worked in the creative industry – as a fashion journalist, and most recently editor-in-chief of Stylebible.ph. I could show up at work in denim cut-offs and be applauded for it. Not the case at many, many (make that most) workplaces. Certainly not at my new job at a legacy telco.
As I enter this new era, two things I want to be: Chic and office-appropriate. How to strike the balance is something I discovered my first week on the job. It's actually not that hard, and to be honest, quite fun. Here goes my crash course in corporate dressing:
Day 1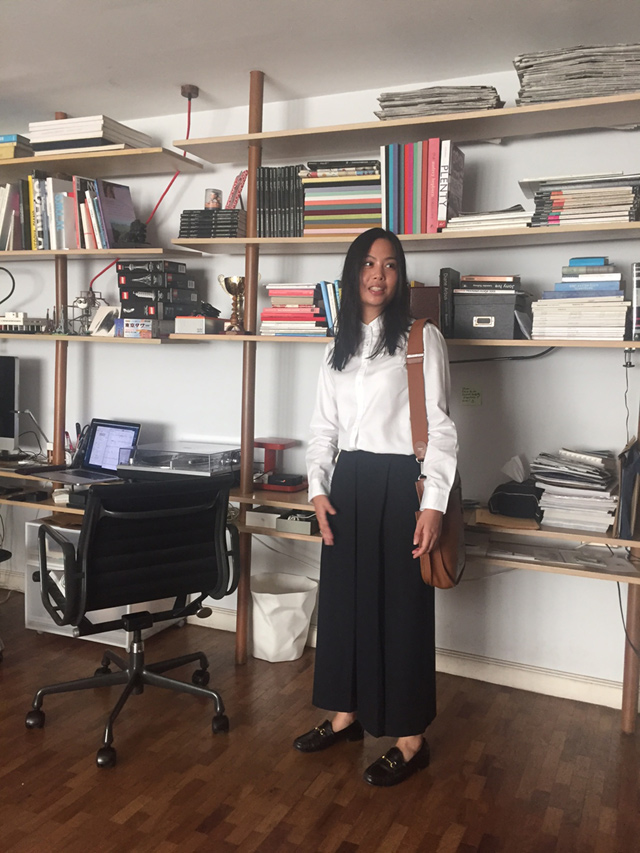 Shirt, Ines de la Fressange Paris x Uniqlo. Culottes, Zara. Loafers, Gucci. Bag, Hermes.
ADVERTISEMENT - CONTINUE READING BELOW
Wanted to play it safe, so I stuck to a palette of black and white: crisp dress shirt, buttoned all the way up to the top (this one had a cute Pan collar and subtle red stitching on the top button and cuffs; plus, it didn't choke me at the neck), paired with black culottes – a very trendy silhouette right now. I paired it with my absolute favorite loafers and a saddle bag borrowed from my loaded older sister. Note to self: Invest in more leather goods. Felt like a really chic cater-waiter.
Day 2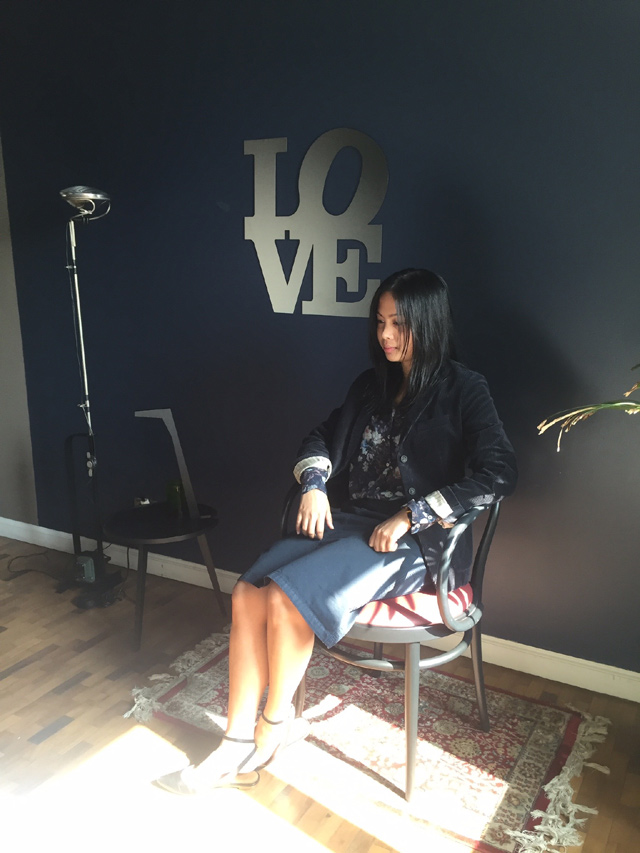 CONTINUE READING BELOW
Recommended Videos
Cord blazer, Ines de la Fressange Paris x Uniqlo. Floral buttondown, Massimo Dutti. Midi skirt, Muji. Ankle-strap flats, Madewell.
Did a subtle audit of people at the office, a.k.a. gave them the head-to-toe. What I realized: Office people – they're just like us! They wear chambray, they wear sleeveless, they wear color, they wear floral palazzo pants with a hot pink shawl to board meetings. So today it felt right that I was experimenting with florals – dark florals, to be precise. It just felt more businesslike. Over it, I threw a corduroy blazer (cooler than crepe!), and paired it with a midi skirt in navy fabric like the kind used for chinos - also a key workwear fabric for men, based on my observations.
Day 3
Sweater, Ines de la Fressange Paris x Uniqlo. Pants, Joey Samson. Tote, Saint Laurent Paris.
ADVERTISEMENT - CONTINUE READING BELOW
My friend Stacy from New York will get me on this point, but I've always dreamed of wearing cashmere in Manila. That dream came true today. I've been realizing how cold the AC was in boardrooms so I took the chance to wear this light-gauge 100% cashmere sweater in GREY with wide-leg pinstriped pants that I wore to the Preview Ball this year. Even if I slipped on a silk-mesh tank underneath so I wouldn't itch, I didn't feel too toasty. I'm OBSESSED.
Day 4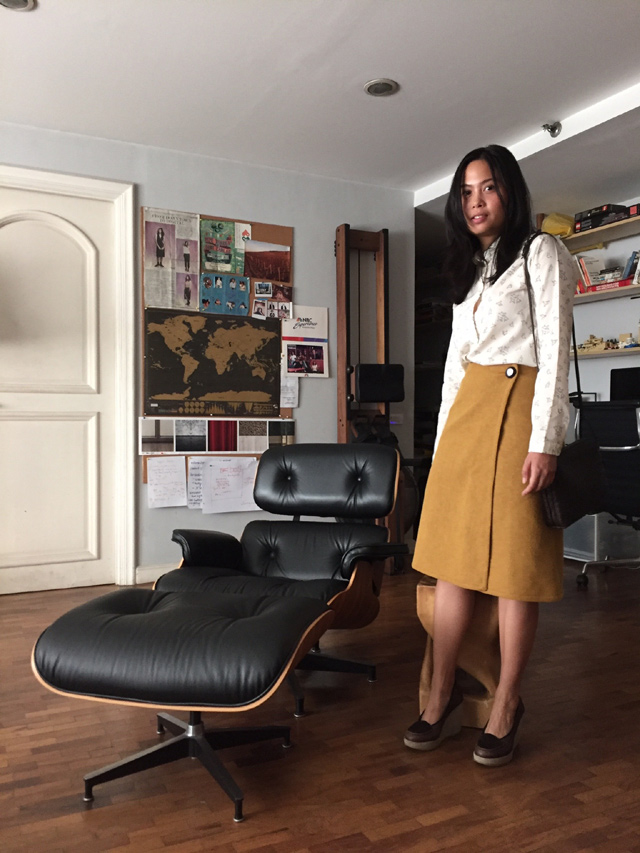 Shirt, Ines de la Fressange Paris x Uniqlo. Skirt, Trademark. Wedges, APC. Handbag, Bottega Veneta.
ADVERTISEMENT - CONTINUE READING BELOW
Was in a Miu Miu mood today so I reached for a bird-print buttondown, which I teamed with a burlap wrap skirt that was as comfy as a couch. Probably looked like one, too. I felt quirky-ish, but not too much that I would feel out of place at a strategy meeting. A roomy handbag and wedges completed the look. As with the rest of the week, I had on close-to-no-makeup, which I just updated with a plummy red lip (L'Oreal Paris Collection Star in Pure Garnet) when I said hi at a coworker's birthday party that evening.
Day 5
Holiday today! Really must lobby for four-day workweeks. Anyway, a few takeaways:
1. Wedges are back! And they're so perfect for work.
2. Ditto for pointed flats that give off the look of heels without the pain of walking in them all day.
3. You can wear trendy silhouettes like culottes or wide-leg pants as long as they come in heftier (think: suiting) fabrics.
ADVERTISEMENT - CONTINUE READING BELOW
4. Day-to-night, or rather office-to-cocktails dressing doesn't require you to sex up your office outfit.
Forget the bodycon dress with blazer combo. Modesty is hot right now.
5. Since you have to get to work at 8:30 or 9 a.m., quit trying to rush a full face and wear the least amount of makeup possible - as in, tinted sunscreen is enough. I like La Mer's Reparative Skin Tint as it covers up blemishes and gives you a really nice glow that you don't even need to wear blush. Or anything else, really.
6. Buttondowns rule! You can get away with a funky print as long as it's on a buttondown. I draw the line at mustache prints however. Never wear those.
7. Pick a bag that's deep but slim – the better to hold your laptop in.
8. Good news for those who can't stand this heat:
You don't need 3 pieces to look professional.
Two smart ones will do. For example: a buttondown and trousers, a smart sweater and trousers, a buttondown and wrap skirt.
ADVERTISEMENT - CONTINUE READING BELOW
9. If you must wear a blazer, consider materials other than crepe. I imagine velvet would look great in the colder Ber months.
10. Most offices in the Philippines are relaxed enough to permit you to experiment with color or print. In fact, when I did just that on my second day, one of my bosses said he loved my outfit.
Hey, Preview readers! Follow us on Facebook, Instagram, YouTube, Tiktok, and Twitter to stay up to speed on all things trendy and creative. We'll curate the most stylish feed for you!