The transitional month of June has descended upon us again, bringing with it the end of summer and the start of the misty season—as well as the its traditional nuptial tidings (which harks back to the month's being named after the Roman goddess Juno, the goddess of marriage).

Starting this week until the end of this month, we'll feature three go-to bridal designers every week—one for wedding gowns, one for grooms' suits, and one for the bridal entourage. We've interviewed some of the country's best bridal designers (and their former clients) to fill you in on what you need to know as you plan your wedding ensembles.

First in the lineup is Cary Santiago, one of the Philippine's foremost fashion designers. Cary is an indefatigable and formidable artist who constantly dreams up the most glamorous creations, bringing them to life through impeccable tailoring and his trademark laser-cut technique.

Having been based for quite a while in the Middle East (where decadent tastes abound), Cary has mastered the execution of breathtaking, intricately adorned regalia. So if you want to shine in stately grandeur during your most special day, Cary's your man.

HOW WOULD YOU DESCRIBE YOUR DESIGN PHILOSOPHY AS A BRIDAL DESIGNER?
My design style has always been simple: classic and glamorous silhouettes with opulent yet subtle details. It is romantic because of the femininity that I always consider and yet modern because of the embellishment techniques—but always within the bounds of haute couture principles.

WHAT IS THE SIGNATURE FLAIR THAT IMMEDIATELY CHARACTERIZES A WEDDING GOWN DESIGNED BY CARY SANTIAGO?
I have always been known for my laser-cutting prowess. But really, as a "romanticist," the lines of my creations are my foremost concern. But I guess people notice first what I put on last.

Therefore I have been trying to master the elements of couture for my clients' dresses: pleating, fabric quilting (they look like carvings), iron-moldings wrapped in fabrics, "faggoting," crocheting, etc.

CAN YOU TAKE US THROUGH THE PROCESS OF HAVING YOU AS ONE'S BRIDAL DESIGNER?
Six months before their wedding or earlier, they have to make an appointment. They can either fly to Cebu to meet up with me in my atelier or wait for me to schedule a flight to Manila to meet up with my bridal clients.

During the first meeting, I discuss the design and concept of the wedding and I take their measurements via "muslin block" fitting. After that I make the dress for the client. We then meet up for another fitting of the finished dress about a month before the wedding or as per our arrangement.

WHAT ARE THE PRICE POINTS OF A CARY SANTIAGO WEDDING GOWN, AS WELL AS THE PIECES FOR THE BRIDAL ENTOURAGE? DO YOU DO THE GROOM'S AND GROOMSMEN'S ENSEMBLES AS WELL?
First of all, I don't do suits. I am a dressmaker. And I only cater to the bride's, the mothers' and principal sponsor's dresses. I simply can't cater to dresses of the other members of the entourage because of the volume of brides that I get every year.

My bridal gowns start at P150,000 to P500,000. The mothers' dresses start at P50,000.

ANY POINTERS PROSPECTIVE CLIENTS NEED TO KNOW ABOUT HAVING YOU AS THEIR BRIDAL DESIGNER?
Just that I am a very hardworking designer and I am most creative and inspired when my clients are friendly and give me their full trust.

Click here to view and read about the wedding gown Cary Santiago designed for Erika Jimenez-Nepomuceno.

Click here to view Cary Santiago's Designer Directory.
ADVERTISEMENT - CONTINUE READING BELOW
Hey, Preview readers! Follow us on Facebook, Instagram, YouTube, Tiktok, and Twitter to stay up to speed on all things trendy and creative. We'll curate the most stylish feed for you!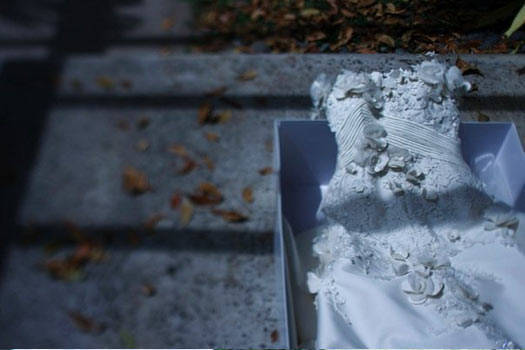 Hey, Preview readers! Follow us on Facebook, Instagram, YouTube, Tiktok, and Twitter to stay up to speed on all things trendy and creative. We'll curate the most stylish feed for you!