Though a lot of rules and traditions apply to weddings, we think that one of the most important ones is for the bride to wear exactly what she wants when she walks down the aisle. Whether you chose to have a princess moment, opt to wear a suit just like your beau, or flaunt some skin confidently on your big day—your choice of dress will be remembered and reminisced through countless of conversations on and offline with friends and family. This is why some brides have opted for uniqueness above everything else to make their personalities shine through on their wedding day.
TOP STORY: 10 Most Expensive Designer Tees Owned by Local Celebrities
Tropik Beatnik founder Carla Cruz-Bellare just recently tied the knot in an intimate civil ceremony wearing a fun and quirky two-piece piña terno set by HA.MÜ, and we immediately fell in love with her unconventional choice. Carla, who has always had a penchant for the boheme island girl aesthetic, looked glowing and happy in an outfit, we surmise, that only she could pull off.
ADVERTISEMENT - CONTINUE READING BELOW
In an exclusive interview with Preview, we spoke with Carla and HA.MÜ about the whimsical wedding dress and how the design process happened online—from initial sketches, fittings, and revisions—via Zoom and Instagram chat.
What was the initial concept or peg for your wedding gown?
Carla: When I was thinking of what I wanted to wear for our civil ceremony, I knew I wanted to wear something that was Filipino, but with a fun spin to it. I've always been drawn to the iconic butterfly sleeves and intriguing layering of the tapis, so my initial sketch was something along the lines of a terno.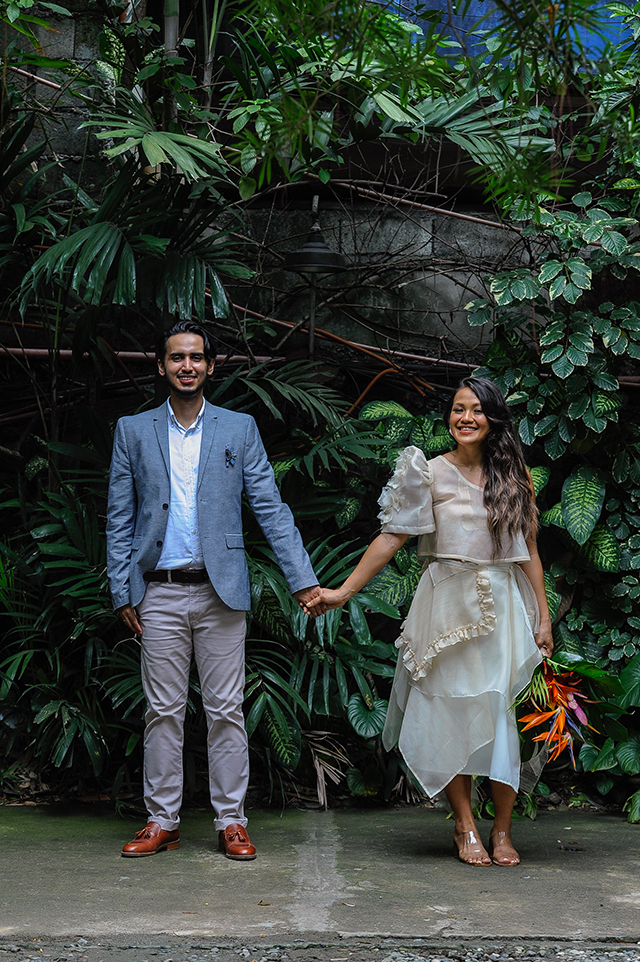 ADVERTISEMENT - CONTINUE READING BELOW
Recommended Videos
Why HA.MÜ?
C: I just love ḢA.MÜ! I've been familiar with their work for awhile and I've always loved their out-of-this-world designs! I also think it was serendipity and meant to be!
When our church wedding was cancelled in March this year, I was already actually starting to look for local designers who could possibly do a simple dress for a small ceremony, should it ever come to that. It was then that I messaged them on their Instagram page to inquire about a piña set they posted. Since then we've been familiar with each other's work (them HA.MÜ; me Tropik Beatnik).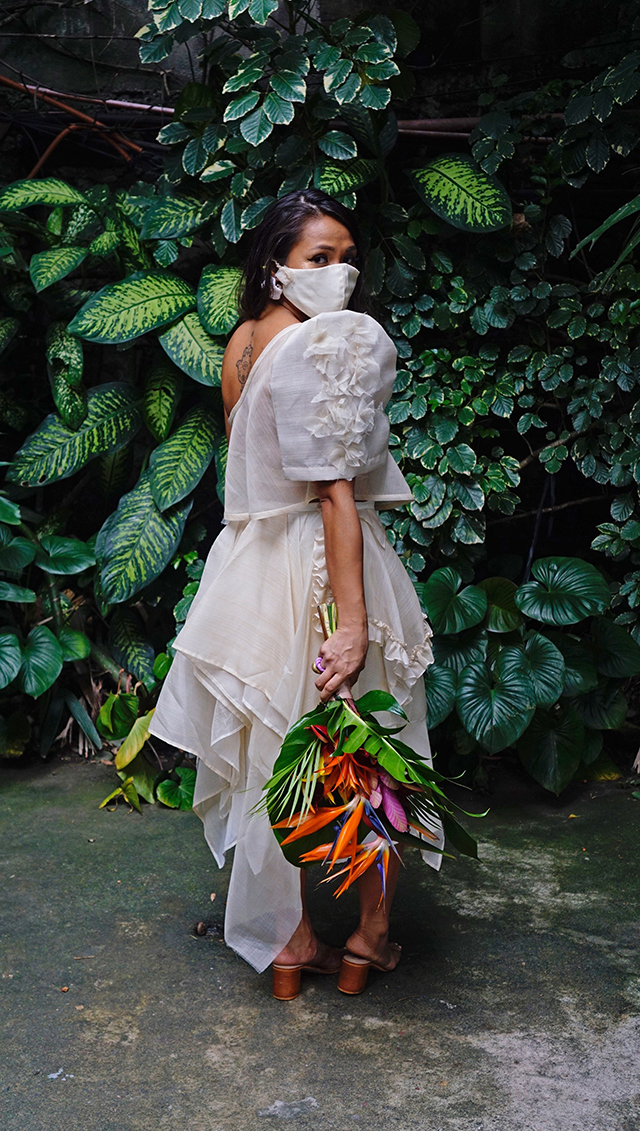 ADVERTISEMENT - CONTINUE READING BELOW
How did the design come about?
HA.MÜ: The design came about when Carla sent us a couple of photos of piña pieces that we have previously worked with before, and she mentioned she wanted something quirky, fun and functional. We had a feeling she already had a look in mind and we just helped shape her idea into something solid.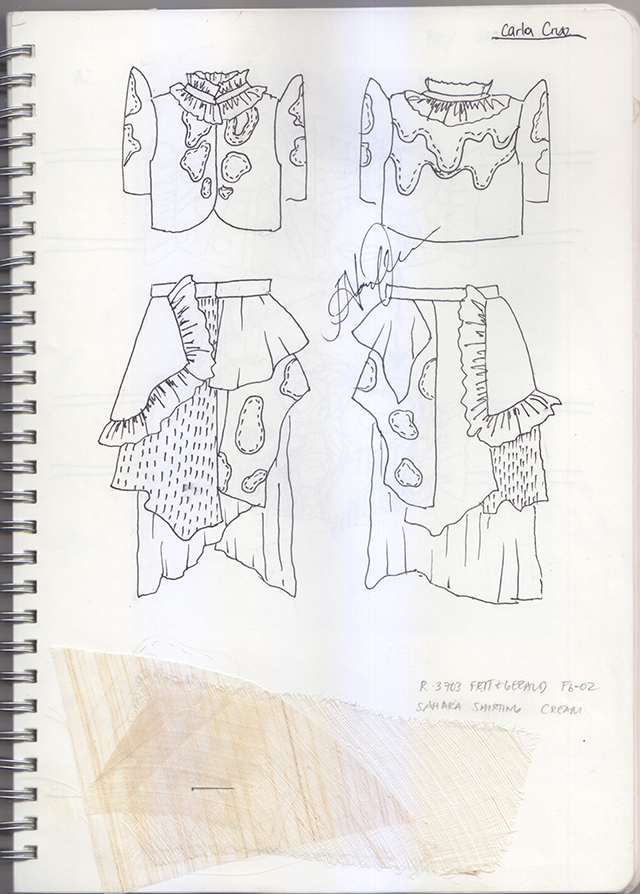 ADVERTISEMENT - CONTINUE READING BELOW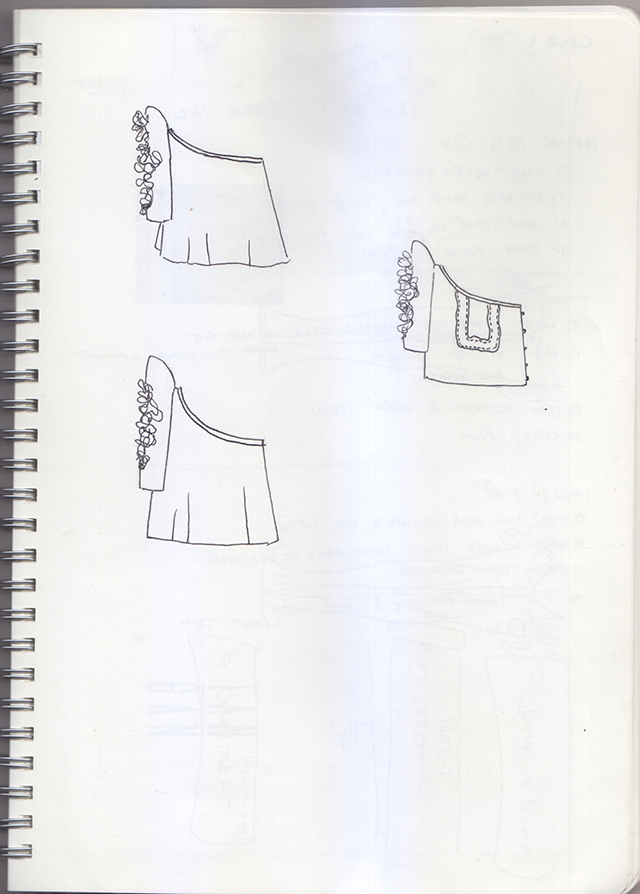 The design process was actually fun and pretty easy since we both could imagine the look that the bride was going for. Plus, explaining the specific details through text was not hard since we backed it up with sketches that were easy for her to understand.
How collaborative was the design process?
C: It was very collaborative! I had a sketch when I first approached them about making my dress, and they did their own version of this, which still later on evolved during the whole design process.
ADVERTISEMENT - CONTINUE READING BELOW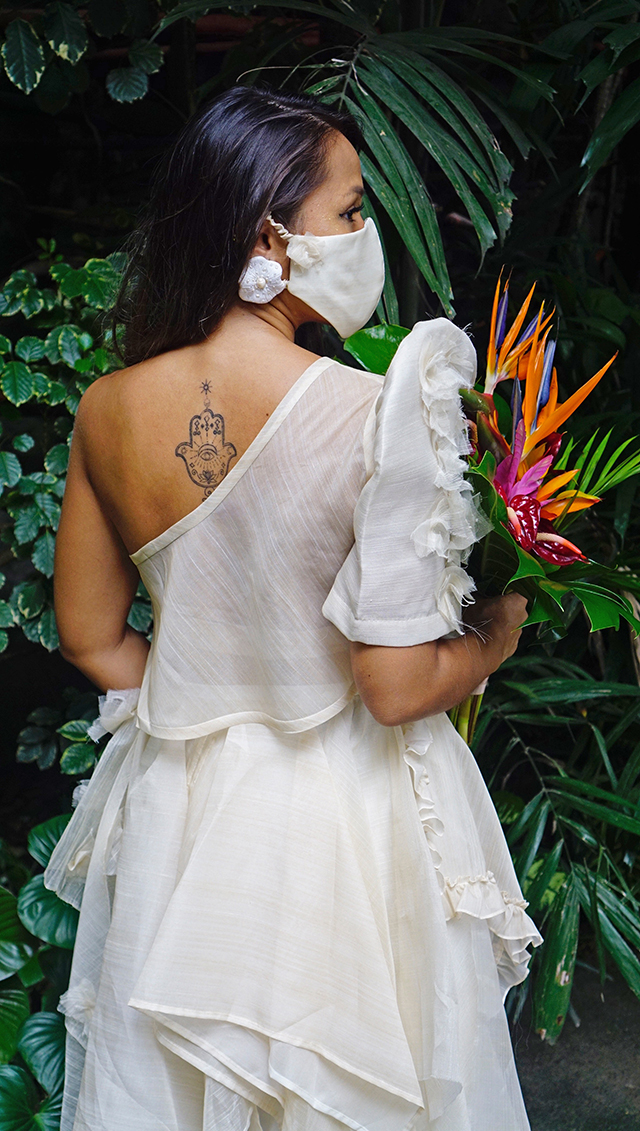 Off the bat, I knew I wanted something with the iconic butterfly sleeves and a modern take on the tapis, like separates that I could wear, even after. The guys loved this idea, and injected their own brand of whimsy and magic to this concept. They filled it with deconstructed flowers and ruffles, and I couldn't ask for more!
ADVERTISEMENT - CONTINUE READING BELOW
What's your favorite thing about the dress?
H: For me (Ham), my favorite thing about the dress was the overall look. This was our first time to design a head-to-toe pińa look that is quirky, fun and very functional. For Mamu, his favourite part of the dress was how the layering came together. We innovated the usual way that pińa is used into something modern and fresh. We gave new life to a material that has been around for quite a while.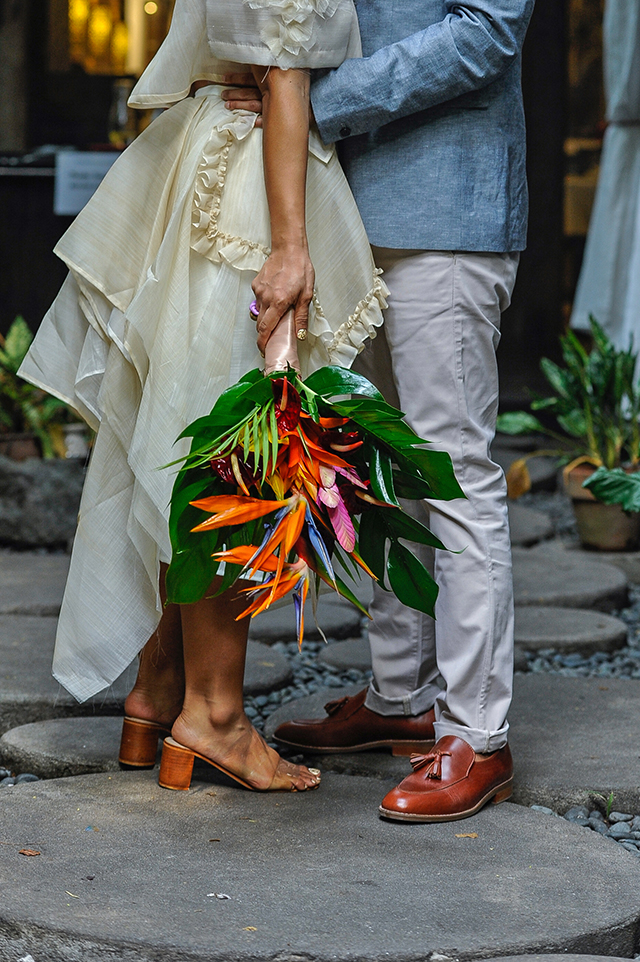 ADVERTISEMENT - CONTINUE READING BELOW
How long was the process?
C: I think it took around 2 to 3 weeks? Even before we got an appointment for our civil wedding, I was already toying with the idea of having something made by ḢA.MÜ. So when we finally got a wedding date, they started working on it right away.
With both our busy schedules and a pandemic going on, the HA.MÜ team and I decided it would be better to do everything online. So from conception of the design, to measuring, to weekly updates, to fitting, everything was done over Zoom video calls and Instagram chat. I think communication was really key and it made it possible for the whole look to come together without ever having to meet in person.
Carla, you also designed your earrings, what was the inspo behind that?
C: I wanted to create something feminine, whimsical, and dreamy that would match and complement the deconstructed blooms that HA.MÜ filled my butterfly sleeves and parts of my tapis with. It had to be a statement piece that would be stunning but without taking away attention from the dress.
ADVERTISEMENT - CONTINUE READING BELOW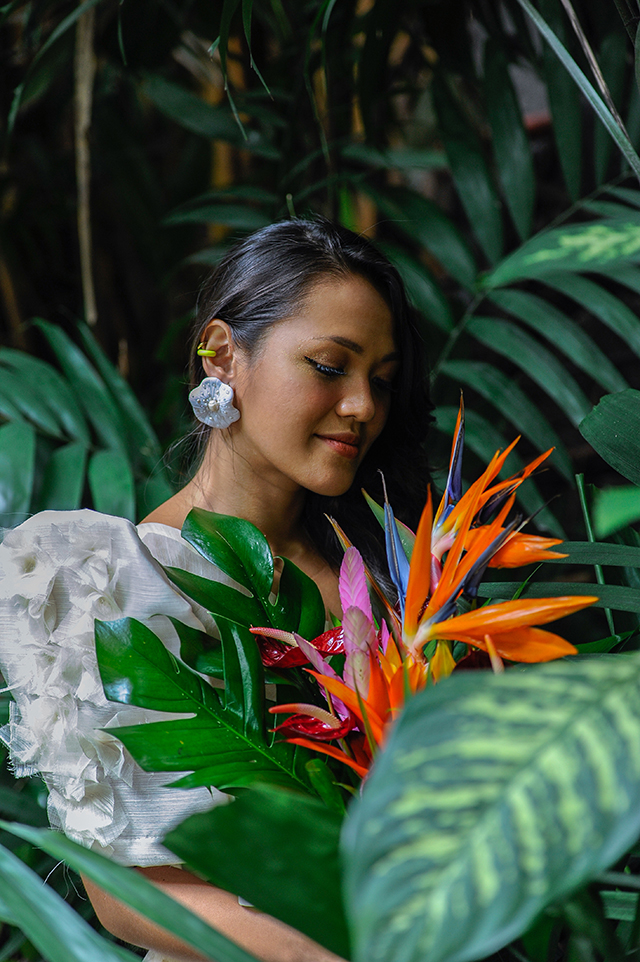 That's why I came up with the Bulaklak blooms—frosted, glittery cream blooms embedded with freshwater pearls and glass beads in shades of white and cream. They came out pretty divine and look like they were made for the dress.
HA.MÜ, what's your advice for brides who want an unconventional gown?
H: Be open to experiment while sticking to your original idea. Also to trust the designer you have decided to work with.
ADVERTISEMENT - CONTINUE READING BELOW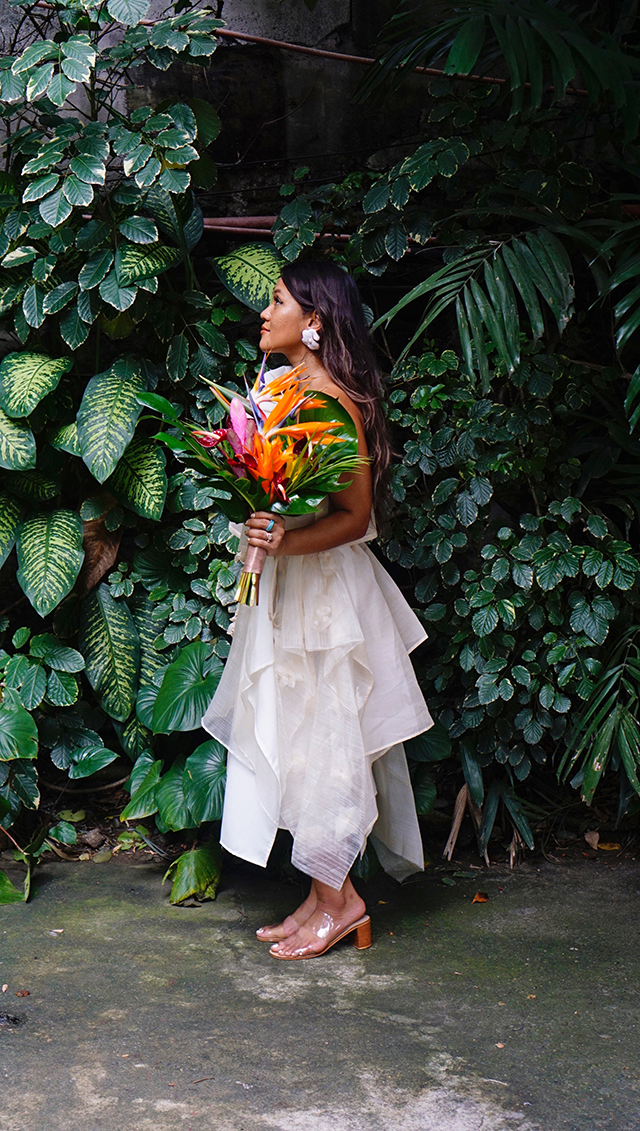 Related Stories from Preview.ph
Hey, Preview readers! Follow us on Facebook, Instagram, YouTube, Tiktok, and Twitter to stay up to speed on all things trendy and creative. We'll curate the most stylish feed for you!