I don't think I'm alone in thinking that scrolling through Instagram can sometimes feel a bit toxic and unpleasant. The social media platform is notorious for highlighting beautiful and aesthetic imagery that are oftentimes too good to be true. Spoiler alert: They most probably are! But despite knowing that what you see online can be far from the reality that influencers, celebrities, or even your friends and family are living in real life, the constant bombarding of this standard of "perfection" and "prettiness" can make oneself feel bad. It makes one ask questions like, "Why isn't my life like that?" or "Why don't I look like that?"
TOP STORY: This Is How Short You Should Be Cutting Your Bangs, According to a Korean Hairstylist
That said, when I came across FLOAT Swimwear's latest campaign, I felt a piercing and welcoming shot of comfort and belongingness. For girls who don't have "Instagrammable" bods, shopping for swimwear (or even getting photographed in them) tends to be a bit of a nightmarish ordeal. I'm constantly conscious about my body folds, my puson sticking out, and the lack of desirable curves in the right places—but the local brand's imagery is meant to normalize that and boldly tell you, "It's okay to look like yourself."
ADVERTISEMENT - CONTINUE READING BELOW
CONTINUE READING BELOW
Recommended Videos
"We did a similar campaign a few years back with plus size models. This year, we wanted to take it to the next level. We didn't want our followers to think of it as a trend. Real girls are here to stay," FLOAT co-founder Tracianne Estrada tells Preview. "I'm really done with body shaming comments; it's done nothing but put girls down. It's time to let go of all the hatred and resentment. People should accept that each body is unique no matter what shape or size, and just choose to enjoy it for what it is."
ADVERTISEMENT - CONTINUE READING BELOW
The brand worked with Anj Angeles, the photographer behind Her Light Studios, who specializes in lifestyle photography and aims to empowering women through her pictures. "All I want to do is keep taking beautiful photos of these [real] girls, and show them that they already are beautiful, exactly the way they are! And this is exactly the message that I wanted to convey for my shoot with Float Swim, a brand that I chose to collaborate with because I know they share these exact same advocacies!" she shares.
ADVERTISEMENT - CONTINUE READING BELOW
ADVERTISEMENT - CONTINUE READING BELOW
Having grown up looking at fashion magazines with images of perfect-looking women, Anj, like the rest of us, developed this idea that these glossy bodies and Photoshopped faces were the only standard of beauty. So her campaign images with FLOAT feel more like an anti-thesis of what we're accustomed to seeing. "When I started doing my own shoots for women, they would always be so self-conscious, and always had the same wishes: that they could look differently, that they could look slimmer, whiter, or more beautiful!" the photographer tells us.
ADVERTISEMENT - CONTINUE READING BELOW
For Elora, one of the models in the campaign, this project felt particularly refreshing and uncompromising in terms of visual honesty. "My subconscious was telling me my head would probably be cropped out so my face wouldn't be shown, parts of my cellulite and my fat would be trimmed down somewhere in the process. Because that's what I was used to seeing in other companies or brands who were hopping on the body positive campaigns across the globe as if it were a gimmick to sell and not a true advocacy: Make it real, but make it acceptable." Elora explains.
ADVERTISEMENT - CONTINUE READING BELOW
"It's photographers like Anj, creatives like the women who run FLOAT, who have seen what the industries before us have done to diminish the spirit of girls like me. I grew up thinking I had to wait until I was 90lbs and my face was free from all my birthmarks. But Anj came up to me with the vision of the shoot, of strong women in different shapes and sizes, as if it was the most sensible idea for a swimsuit campaign. It's true pioneers like her who truly care about self-love that will really revolutionize how the world can really look at themselves in the mirror and see that they too deserve to be the face of a swimsuit campaign, or a makeup line, or just the beautiful face of self-love."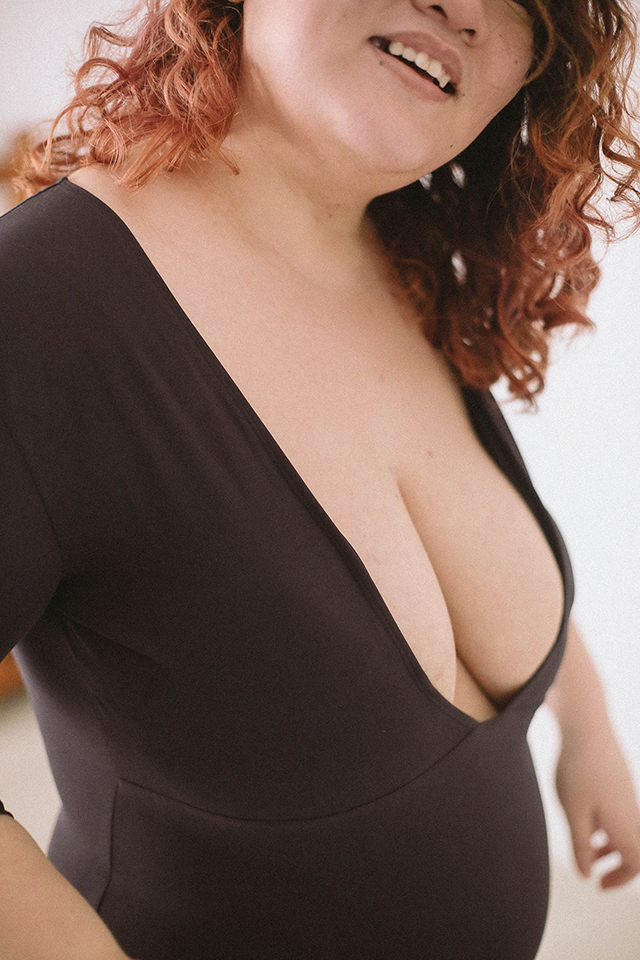 ADVERTISEMENT - CONTINUE READING BELOW
What's real can be scary—because of what others and even the media have dictated or deemed to be "beautiful." But isn't that just all just perception? That reality may be far from the fantasy world of perfection, but our bodies—no matter how flawed, unfiltered, and "ugly"—are beautiful once we accept ourselves as such. No questions asked. That's why unretouched images like these, of women's bodies in their most vulnerable and conventionally unflattering, need to be seen more. As people who consume imagery on social media on a daily basis, we're unconsciously subjecting ourselves to photos and videos that might brainwash us to thinking that there is a one-size-fits-all "look" for beauty.
ADVERTISEMENT - CONTINUE READING BELOW
"It's very easy to tell women that they are beautiful. I can tell that to you every day for the rest of our lives. But if a little girl right now can grow up knowing that she can look at herself, see all the flaws that make her perfect, and know that she is beautiful and worthy, then that's how I know our generation has done at least something good," Elora adds. And I could not have said it better myself.
ADVERTISEMENT - CONTINUE READING BELOW
Hey, Preview readers! Follow us on Facebook, Instagram, YouTube, Tiktok, and Twitter to stay up to speed on all things trendy and creative. We'll curate the most stylish feed for you!