Funemployed or sniffing around for a possible career refresh? We know juuust what you need: The Perfect Job Interview Outfit.
Thing is, not all of us are applying to the same places or aiming for the same industries, so workwear isn't a one-size-fits-all affair. If you're crazy clueless as to what you're supposed to look like when you walk (confidently, with a winning smile plastered on) into that boardroom, we're here to help you out. Below, eight stylish outfit inspo pegs for every career path to help you ace your interview and land that job. Get hired!
CORPORATE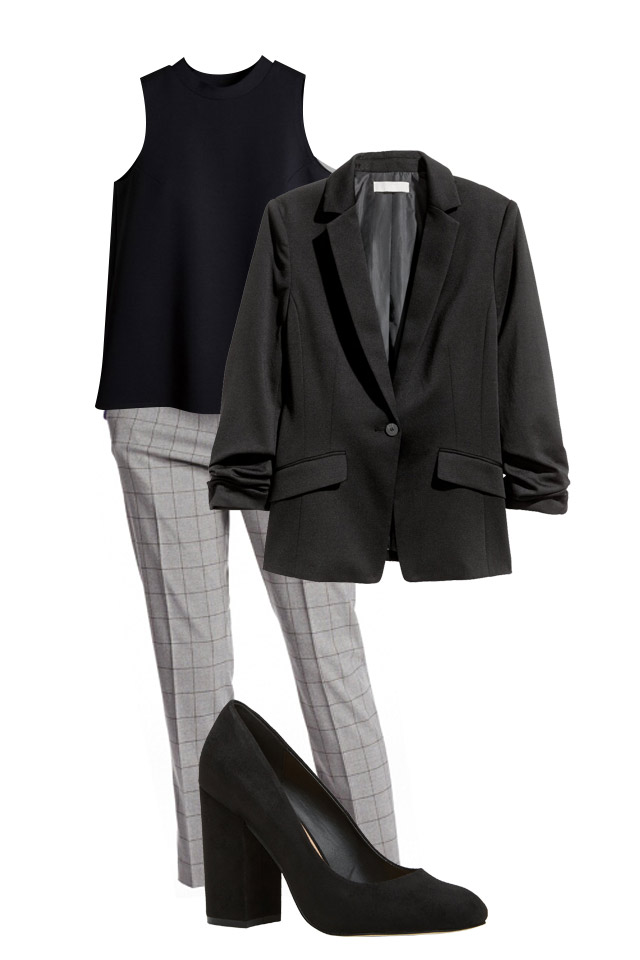 IMAGE Harlan + Holden, Call It Spring, uniqlo, H&M
Harlan + Holden High neck top, P3950, Shangri-la Plaza East Wing; H&M Basic blazer, P1490, SM Makati; Uniqlo Ankle crop trousers, P1499, SM Mega Fashion Hall; Call It Spring Block heel pumps, P2800, SM Megamall
Chances are, all the other interviewees are going to be in suits, so up the ante and go for a bit of subtle print! Also, make sure your blazer and trousers are tailored perfectly--ill-fitting clothes look drab and dowdy.
CREATIVE WORK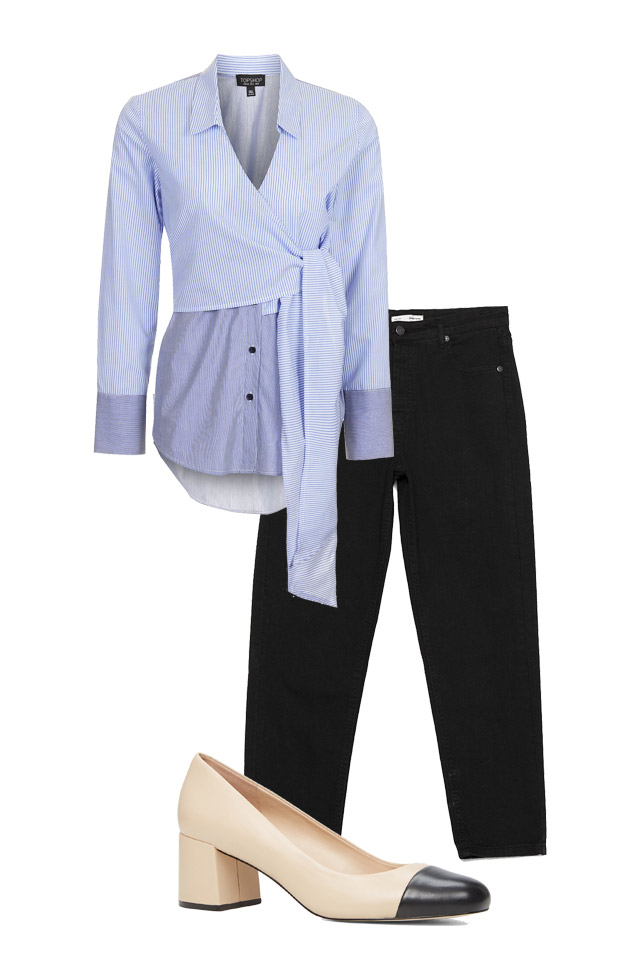 IMAGE Aldo, Stradivarius, Topshop
Aldo Cap toe midi pumps, P4000, Greenbelt 5; Stradivarius Straight leg jeans, P1790, SM Aura; Topshop Deconstructed button down, P1995, SM Aura
Yes, you're at liberty to wear jeans, but remember to keep 'em sleek: not too many slashes, not too skinny, not too faded. This is where a chic deconstructed men's shirt comes into play, too--it's the perfect mix of profesh and, well, fresh.
FASHION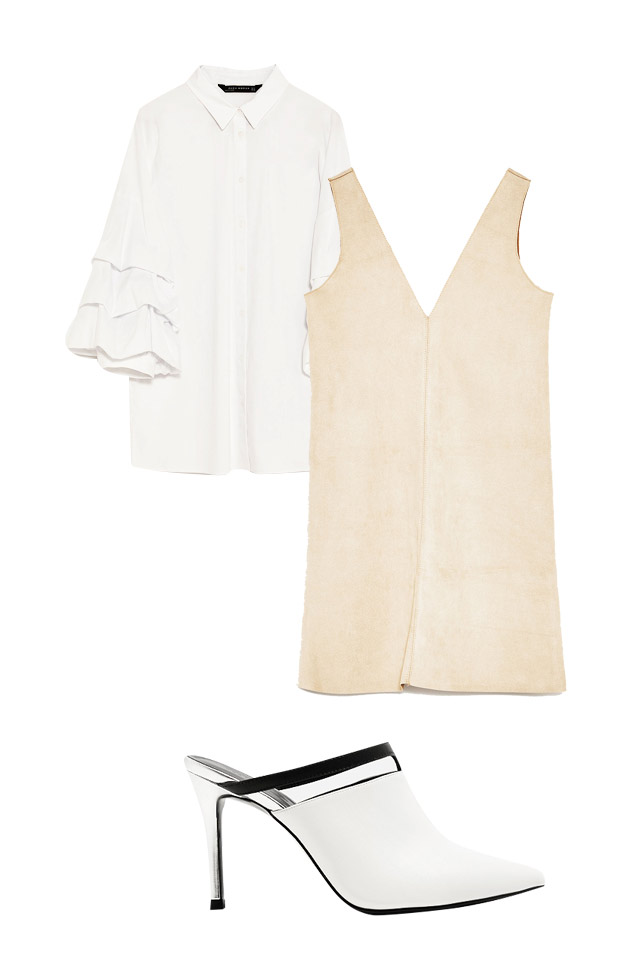 IMAGE Zara, Charles & Keith
Zara Structured suede dress, P1795, Greenbelt 5; Zara Ruffle sleeve poplin shirt, P2295, Greenbelt 5; Charles & Keith Contrast mules, P2299, Greenbelt 5
Applying for a job in fashion? Then you should know that your interviewer is likely going to have a keen, lean, mean eye for detail. Here's where you can play with layering: toss a knee-length suede pinafore over a pretty-yet-appropriate ruffle-sleeved button down.
ADVERTISEMENT - CONTINUE READING BELOW
FINANCE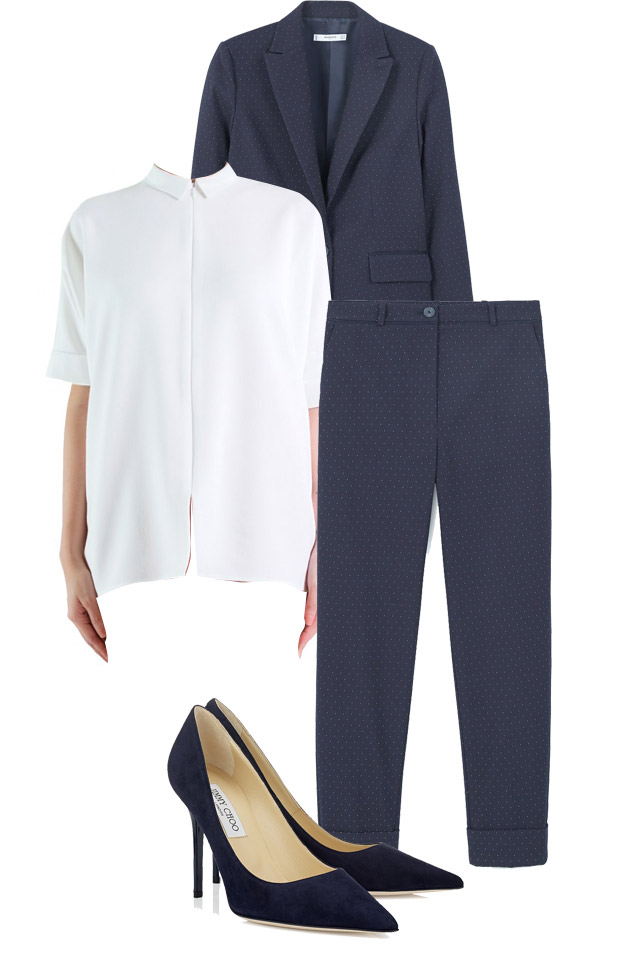 IMAGE Mango, Jimmy Choo, Harlan + Holden
Harlan + Holden Button up shirt, P3950, Shangri-la Plaza Mall; Mango Polka dot suit, P6290, PowerPlant Mall; Jimmy Choo Abel pumps, price available upon request, Shangri-la Plaza East Wing
Working in finance or managing accounts may be serious business, but that doesn't mean you can't juggle those numbers in style. Dress to impress with a subtly-printed navy suit and matching, no-nonsense pumps (these are a solid investment, btw, so go ahead and splurge)!
GOVERNMENT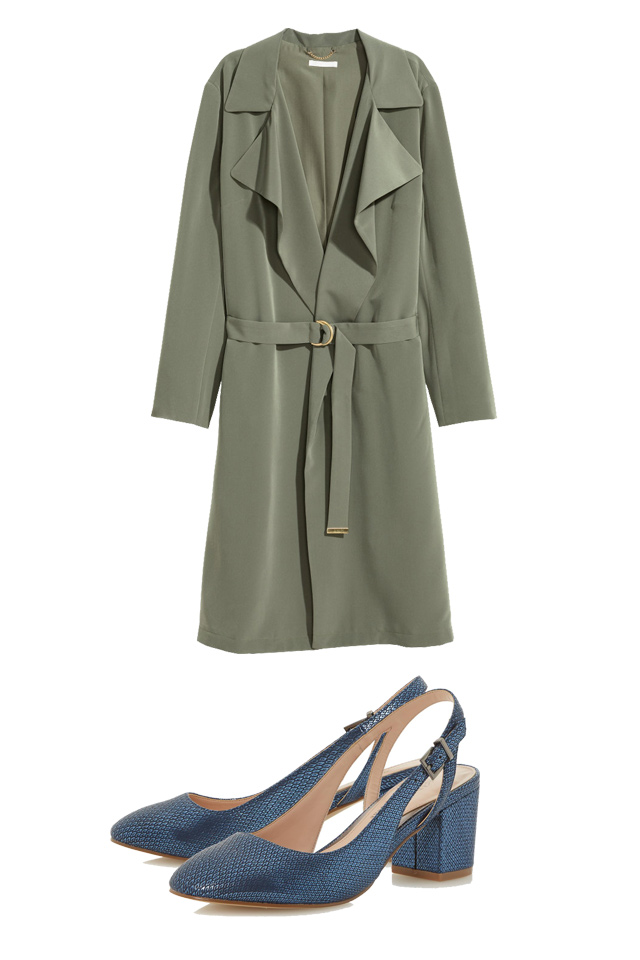 IMAGE Dune, H&M
H&M Trench wrap dress, P2690, SM Makati; Dune London Charly slingback pumps, P2700, Greenbelt 5
Keep things simple and low-key with a belted wrap dress and low-heeled slingbacks in cool, muted hues.
HOSPITALITY INDUSTRY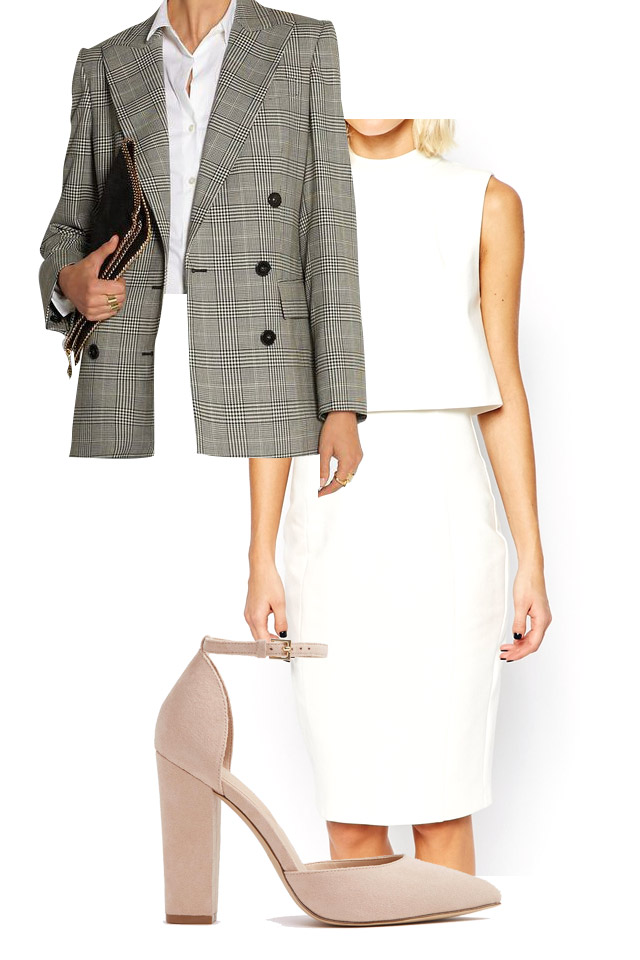 IMAGE Aldo, Miss Selfridge, Saint Laurent Paris
Aldo Suedette ankle strap pumps, P4000, Greenbelt 5; Miss Selfridge Column dress, P3995, SM Aura; Saint Laurent Checked jacket, price available upon request, Shangri-la Plaza East Wing
Think about it like this: in many ways, you're applying to become part of the nation's welcoming committee, so you've got to look the part! A white sheath makes for a pleasing, neat line under a slightly boxy Wales-checked jacket.
START-UP COMPANY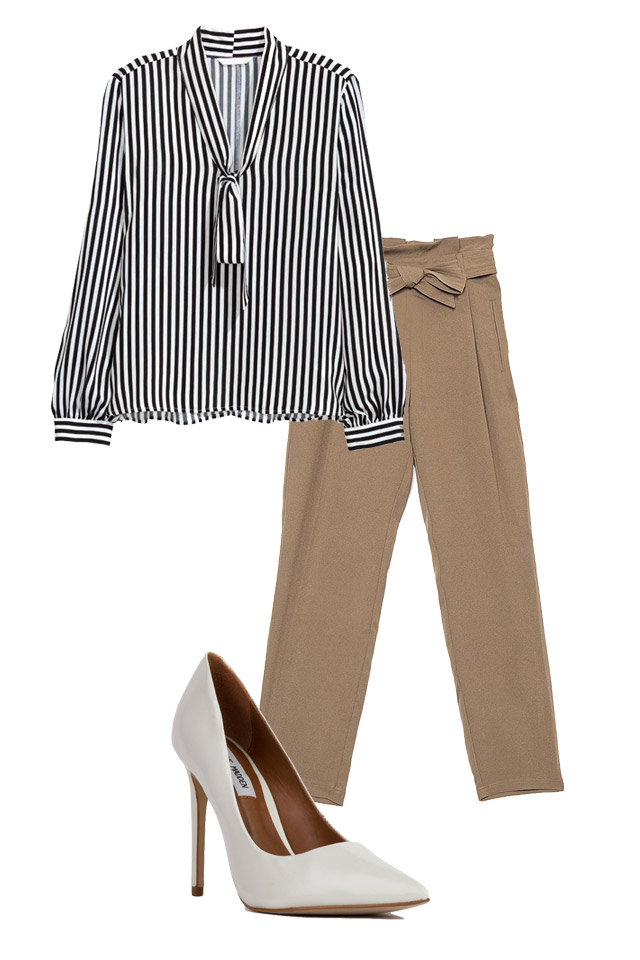 IMAGE H&M, Steve Madden, Stradivarius
H&M Pussybow blouse, P899, SM Makati; Steve Madden Proto pumps, P5350, Shangri-la Plaza Mall; Stradivarius Paper bag waist trousers, P1590, SM Aura
A startup company may have a far more relaxed vibe than others, but know that you've still got to clean up. This paperbag waist trouser and pussybow blouse combo gets the job done!
TECH FIRM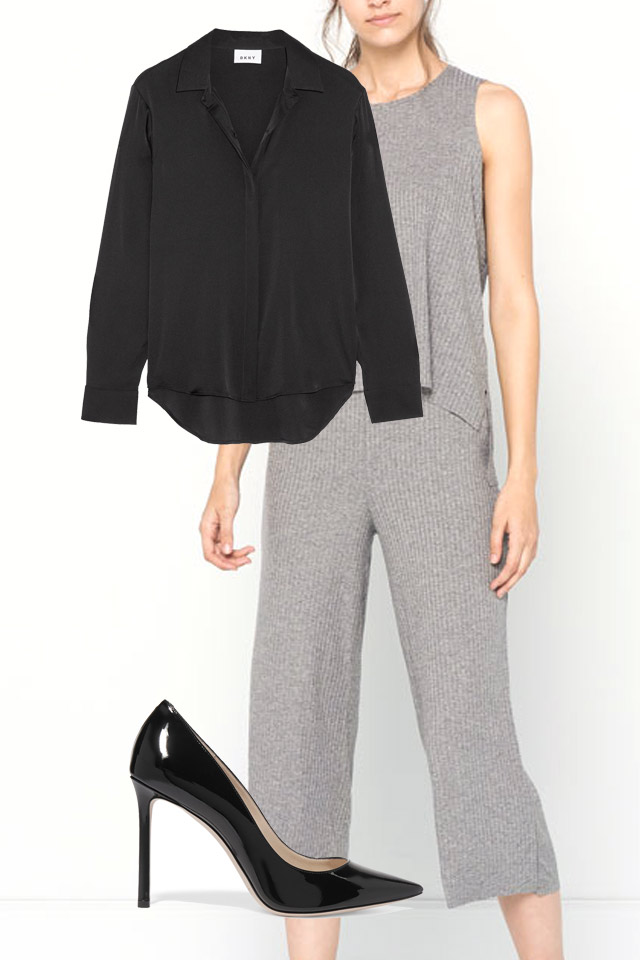 IMAGE Pull & Bear, Jimmy Choo, DKNY
DKNY Silk shirt, P16,550, Shangri-la Plaza East Wing; Pull & Bear Culotte jumpsuit, P2595, SM Mega Fashion Hall; Jimmy Choo Romy pumps, price available upon request, Shangri-la Plaza East Wing
Wear a trendy-yet-streamlined gray culotte jumpsuit over a black silk shirt and classic, no-fail pumps to show 'em that you mean business, but can still keep things creative. A must in the tech field!
ADVERTISEMENT - CONTINUE READING BELOW
Found the dream job you're looking for? Good luck!