1. YOU THINK THAT EVERY PESO YOU SPEND HELPS SAVE THE WORLD.
Just because it says "for every purchase, a portion will be donated to charity" doesn't mean you have to buy them in all colors. But you do anyway, even if you have no idea where and how you'll wear it. "But it's for a good cause," you always say. Uhm, okay.
ADVERTISEMENT - CONTINUE READING BELOW
2. YOU SEE A "SALE" SIGN AND YOUR FACE INSTANTLY LIGHTS UP.
You just had the worst day of your life and then you see a "SALE" sign on your favorite store and suddenly, the world becomes the sweetest place to live in, extra whipped cream if the tag says "70% off."
CONTINUE READING BELOW
Recommended Videos
3. EVEN IF THE ITEM'S WAY OUT OF BUDGET, YOU BUY IT ANYWAY. THAT'S WHAT CREDIT CARDS ARE FOR, RIGHT?
You just finished watching the Sex and the City movie and you instantly had that urge to get a pair of blue Manolos like Carrie's. You look it up online, type in your credit card deets without blinking, and there you go, you have new shoes (and a scary credit card bill beyond your imagination)! Next up: a green scarf like Rebecca Bloomwood's!
ADVERTISEMENT - CONTINUE READING BELOW
4. YOU'RE WILLING TO PUT ON A CAT FIGHT JUST TO GET WHAT YOU WANT.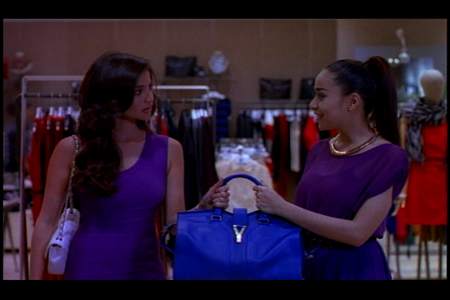 You consider shopping as a sport, and if it means fighting for that very last piece on sale, you'll go all out without hesitation.
5. YOU CRY LIKE A BABY WHEN AN ITEM IS NOT AVAILABLE IN YOUR SIZE.
ADVERTISEMENT - CONTINUE READING BELOW
You have no plans to shop but this beautiful pair of limited-edition pumps caught your eye so you retrace your steps to give it a closer look and ask for your size. Then the saleslady drops the sorry-there's-no-more-stock bomb and your world suddenly falls apart.
6. YOU HOARD LIKE THERE'S NO TOMORROW.
ADVERTISEMENT - CONTINUE READING BELOW
You try to practice restraint during one of those mall-wide sales but soon as you get home, you feel bad for taking home only two bags, which, by the way, are already filled with cute skater skirts that you bought in all colors.
7. YOU HAVE ZERO SPACE IN YOUR CLOSET AND YOUR SOLUTION: GET A BIGGER ONE!
ADVERTISEMENT - CONTINUE READING BELOW
Having no space in your closet won't stop you from shopping, because duh, there's still space under your bed anyway.
GIF Images from Giphy.com, No Other Woman photo from theultimatefan.blogspot.com
Hey, Preview readers! Follow us on Facebook, Instagram, YouTube, Tiktok, and Twitter to stay up to speed on all things trendy and creative. We'll curate the most stylish feed for you!