When was the last time you dressed up in Filipiniana? We bet those of you who can answer this question donned it for a formal occasion—one that probably required it. Once upon a time, from the turn of the century till the early '70s, our lolas proudly wore Filipino dress to their weddings and balls. Now, the iconic terno, barong, and the kimona't patadyong call to mind a look that's more, well, ninang than now. There's a new guard of designers, however, who are mining the Philippines' rich costume history, giving the Filipiniana clichés a contemporary spin.
Creating basics with a twist rather than avant-garde couture, these designers have been working with artisans from different provinces (as in the case of Anne Marie Saguil, who works with a community of women in Bulacan), taking their embellishment techniques and applying them onto contemporary silhouettes (think tunics and baby-doll dresses) in denim, silk, cotton, and ployester. Anna Marie's brand, called Amarie, has been a runway hit in the bazaar scene, where the doña-meets-preppie-chic look of the label has gained a steady following.
Len Capili of Filip+Inna has also done the bazaar scene and small trunk shows to rave reviews. Tall and svelte, she cuts a statuesque figure dressed in a crisp white button-down and traditional T'boli-embroidered pencil skirt in apple-green cotton. A mixture of cross-stitching and shell sequins, the estoric embellishment on Filip+Inna's classic-cut high-waist pants, short shorts, narrow skirts, and day dresses bring the right amount of bohemian—just a tad!—to minimalist lines. Len also designs flouncy-sleeved boleros made from t'nalak fabric woven in Lake Sebu, South Cotabato, callado-embroidered piña tanks (a spin-off of the aformentioned kimona but cut shorter and closer to the body, which, when worn with jeans, have that high-low, masculine-feminine, formal-casual tension stylistas love).
ADVERTISEMENT - CONTINUE READING BELOW
In a market saturated with high-street prét-à-porter, tapping into the rich reserves of our culture enables a brand to stand out. Such is the case of Betina, a luxe T-shirt line that sells in Barney's and locally in Celestina. Designer Betina Ocampo, daughter of veteran retailers Ricco and Tina, has been criss-crossing the archipelago seeking inspiration from different crafts. Her sweatshirt, the one that found its way onto the pages of Vogue, was done by artisans who embroider the robes of the Sto. Niño and other poons. Cesar Gaupo, meanwhile, has a line of polo barongs (sold in Kultura, SM's balikbayan specialty store) that look more like designer button-downs than bodyguard uniforms.
What these designers have given us is the ability to dress down Filipiniana and to open it to myriad styling possibilities. By doing so, we are able to incorporate it into everyday wear and not just costumes to don for Linggo ng Wika.
Below, seven fashion hotshots prove that yes, the slew of "traditional" garments goes stylishly the the rest of your wardrobe.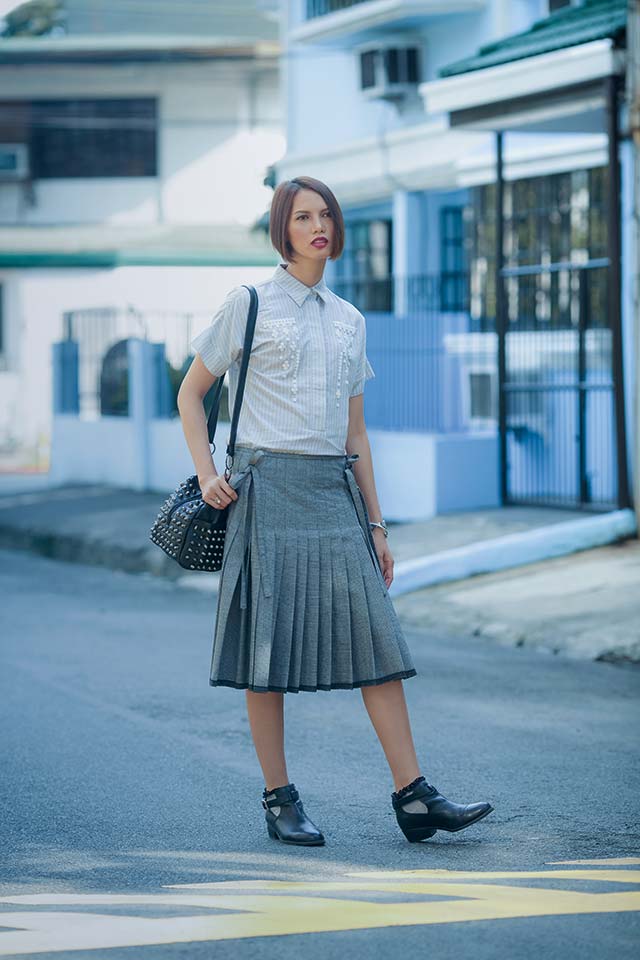 IMAGE Jo Ann Bitagcol/Preview April 2014
Ria Bolivar in Cesar Gaupo for Bestido by Kultura
Ria Bolivar turns uniform dressing on its head by pairing a berriboned pleated skirt with an embroidered polo barong in cotton. In jusi or piña, a barong, be it short-sleeved or long, can be starched, stiff, and scratchy. By using cotton, Cesar came up with a softer take in this piece created for Kultura's Bestido line (other Bestido designers work with Rurungan sa Tubod Foundation, which supplies the hand-woven fabric made from natural fibers on traditional looms). Cut close to the body, and editing down the typical embroidery on the bodice, Cesar's polo-barong is runway-ready. Old school Filipiniana is bound in rules, says Ria, who likes modern renditions better because "you can wear them with shorts!"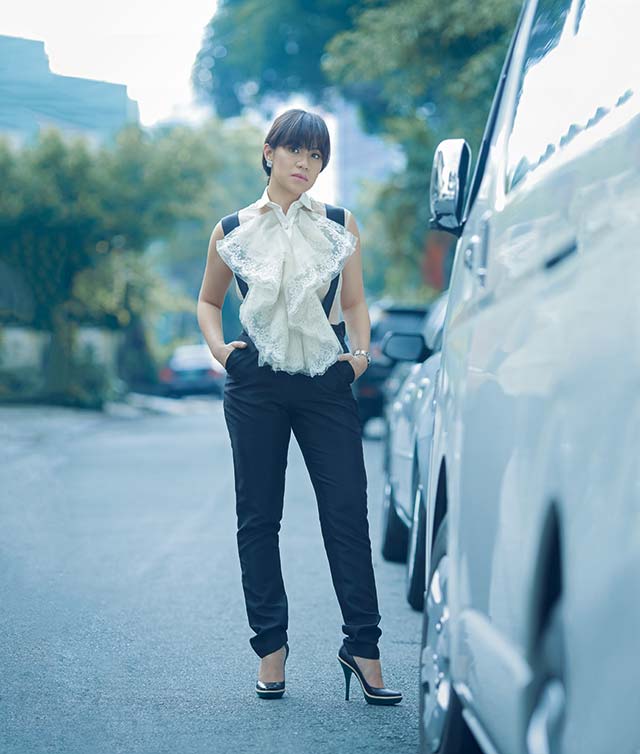 IMAGE Jo Ann Bitagcol/Preview April 2014
Lucille Dizon in JC Buendia
The late great jeweler Jul B. Dizon had a thing for Filipiniana. Throughout her later years, Jul deliberately wore piña to offset the magnificent jewels, and to, of course, promote Filipino design. "She would always ask us why we had to buy imported goods," remembers Lucille Dizon. For the soft-spoken stylista, who is also a jewelry designer, wearing Filipiniana is an homage to her mother-in-law. Indeed, Lucille says she has a closet full of Filipiniana, and cites a trench coat with interchangeable terno sleeves by Noel Crisostomo as one of her favorites. This JC Buencia piece, a modern dandy version of the barong, is another beloved piece. "I can wear this with a skirt or with jeans. It's really versatile."
ADVERTISEMENT - CONTINUE READING BELOW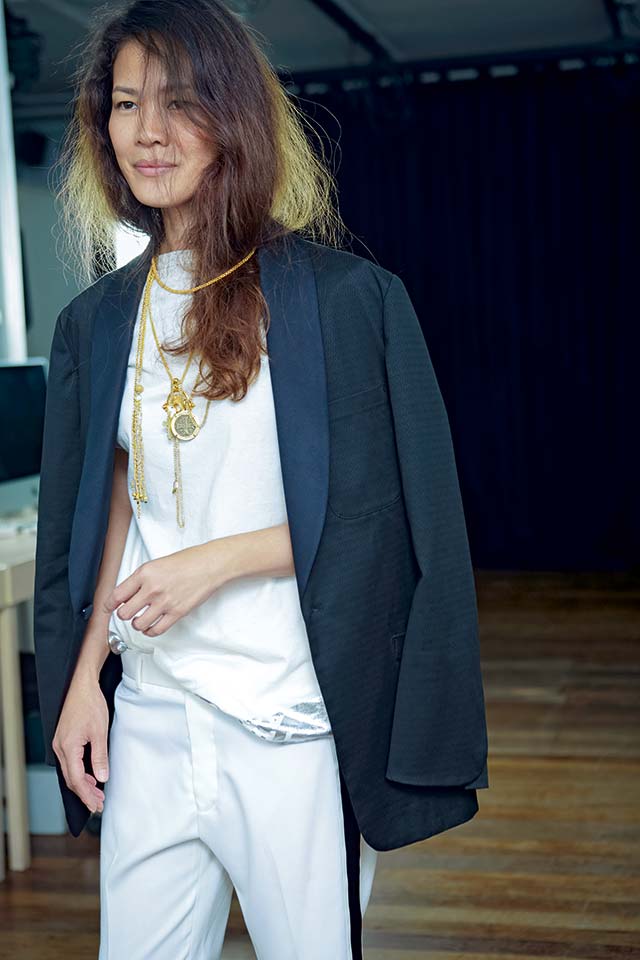 IMAGE Jo Ann Bitagcol/Preview April 2014
Jo Ann Bitagcol in Natalya Lagdameo
"Wearing Filipiniana is a form of nationalism—and you don't really see it anymore these days," Jo Ann Bitagcol says. She likes the idea od going back to our roots and embracing "what is our own." The photographer/model has taken a shine to Natalya Lagdameo's heirloom jewelry. Accoding to Natalya, who wears her jewelry with dressed-down tees and jeans, "They don't make tamburin the way they used to, so I hunt down these antique components one by one." Jo Ann wears a suite of three necklaces strung together—"You know me, I don't like normal"—and wrapped nonchalantly around her neck, scarf-style. Paired with menswear pieces, the result is definitely throw-on chic.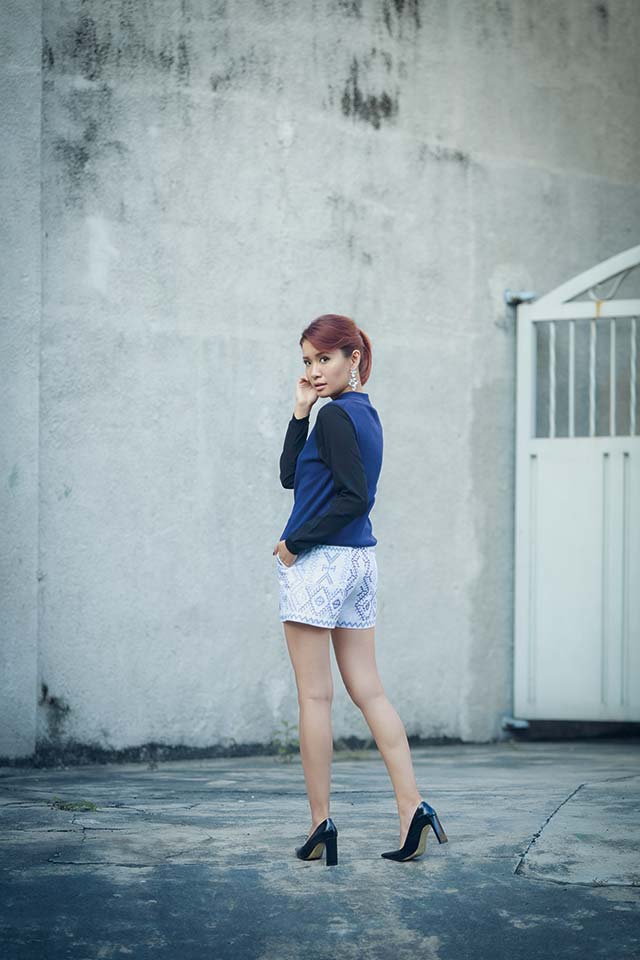 IMAGE Jo Ann Bitagcol/Preview April 2014
Tricia Gosingtian in Filip+Inna
Blogger/Photographer Tricia Gosingtian discovered Filip+Inna through a limited edition collection the brand did with Bayo in 2013. "Their prints are cute," says the social media star. Those prints, which are actually T'Boli embellishments (trivia: designer Len Capili pays these T'Boli artisans per stitch), have come to be indentified with Filip+Inna, and regularly appear on their streamlined trousers, coats, skirts, and shorts, as well as a variety of day dresses. "[Filipiniana] doesn't have to mean old-fashioned. Filip+Inna puts a fun spin [to their pieces]," shares Tricia, who chose the brand's shorts to go with an of-the-moment sweater and pointy-toed single sole pumps. The deft pairing proved that tribal can indeed be trendy.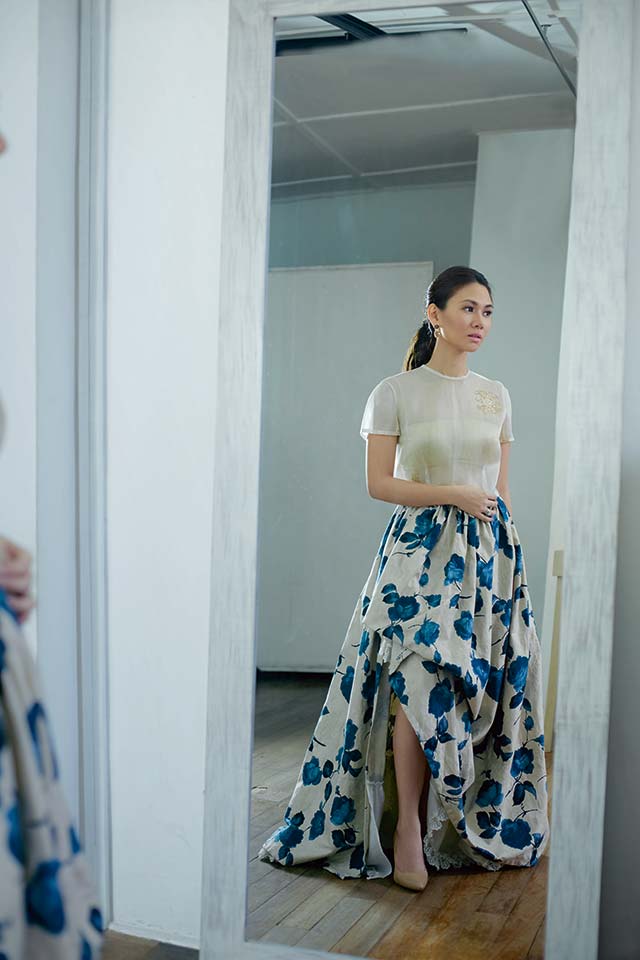 ADVERTISEMENT - CONTINUE READING BELOW
IMAGE Jo Ann Bitagcol/Preview April 2014
Kai Lim in TAN-GAN
"The only reason I don't wear [more] Filipiniana is that it's not top of mind, but with the designs out now, it's very much wearable to cocktails and events," reveals Kai Lim, who, together with five friends, put up the lifestyle boutique Cura V. Kai gravitated towards this piña-silk cropped top and knit bandeau from TAN-GAN and love the pinapple fiber because it exudes luxury. "Filipiniana doesn't have to mean a barong or terno; it could be piña. I have a top that has a bow tie—in piña." Lulu Tan-Gan also loves the fabric just as much as her signature knits, and makes striped piña mini dresses with clashing color-block knit chemises.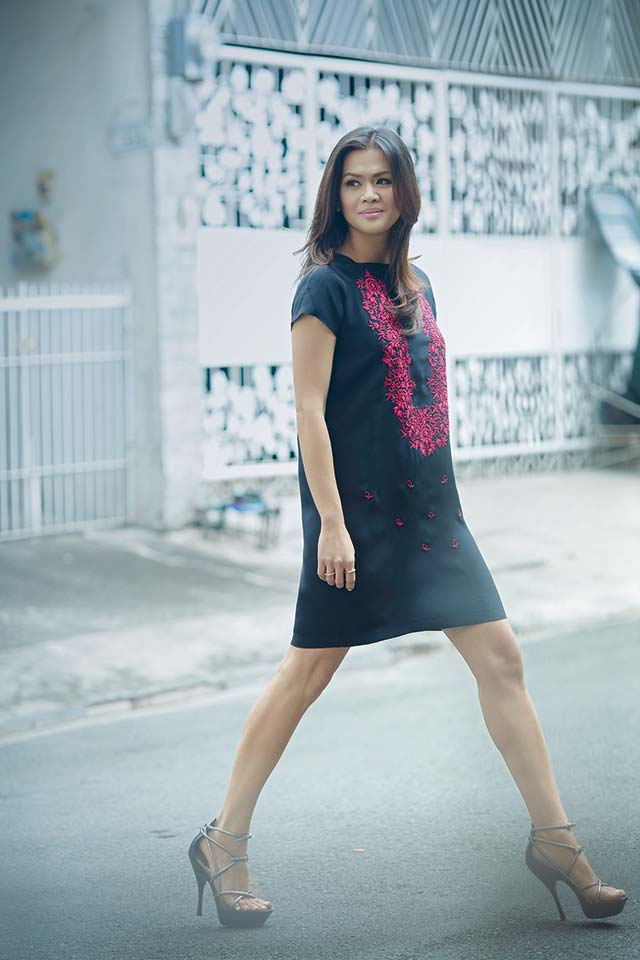 IMAGE Jo Ann Bitagcol/Preview April 2014
Loralee Baron-Soong in Amarie
Loralee Baron-Soong is mother hen to the next generation of designers and tastemakers. As the co-founder and executive director of the School of Fashion and the Arts (SoFA), this busy mother of two relies on chic, easy pieces to get through her days. The barong-inspired dresses of Amarie are a no-brainer to put on during hectic days when she has to go from her twins' school activities to evening cocktails. Outside this shoot, Loralee loves that she can wear this Amarie dress casually, a sentiment echoed by busy moms everywhere who just want to put on a smashing outfit and be done with it. The feel-good factor of this silk dress goes up a notch when one learns that designer Anne Marie Saguil, through Amarie, has given a community of women—housewives, mainly—in Bulacan a lucrative means to augment the family income without leaving their home.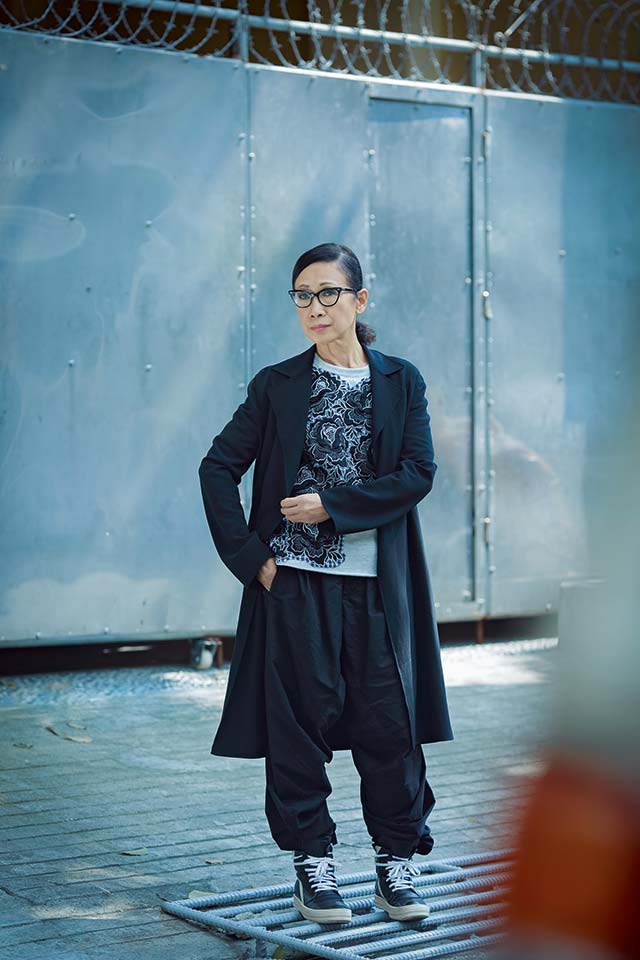 IMAGE Jo Ann Bitagcol/Preview April 2014
Tessie Singson in Betina
"This is the first time I've worn Filipiniana," exclaims Tessie Singson, who runs Unisex Rewind with her son JP. Tessie picked up an affinity for streetwear and (non)colors black and white. Betina Ocampo's intricately embroidered sweatshirt from her eponymous brand was a welcome surprise. "It's nice that there are pieces like this that you can dress down," quips the former Preview Best Dressed Lister, who associated Filipiniana with weddings and wakes. Tessie shows that Betina's luxe, handcrafted tees need not be all posh, and that a cool pair of sneaks can play nicely against couture.
ADVERTISEMENT - CONTINUE READING BELOW
Produced by Isha Andaya-Vallés
Phototographed by Jo Ann Bitagcol
Published in Preview April 2014
Related Stories from Preview.ph
Hey, Preview readers! Follow us on Facebook, Instagram, YouTube, Tiktok, and Twitter to stay up to speed on all things trendy and creative. We'll curate the most stylish feed for you!