When I first pursued a career in styling, I remember how my relatives would always ask me about my job every time I'd come home to the province for a family reunion. "I'm a stylist," I used to say, but then that would elicit more questions, like a very confused "What is that?" or a slightly judgmental "So you put together clothes for a living?" Eventually I gave up, and now I've come to accept the fact that maybe my line of work is just not something that my grandparents would understand. Not that they oppose it, of course. It's simply a testament to how much times have already changed; back then, from where I came from, the only fashion-related career one can take on is to become the neighborhood modista.
But as I've said, the times have changed; being a stylist is as #legit as can be. And let me guess—you're still reading this because you want to be one. Although here's the thing: it's not all roses and champagne. Being a stylist is a real job, which means there are real responsibilities involved. "Pulling out" clothes (the industry's term for "borrowing") from stores or designers will be your bread and butter. So if you really want to pursue a career in styling, below are some golden rules to keep in mind when you're borrowing items. Learn these by heart!
ADVERTISEMENT - CONTINUE READING BELOW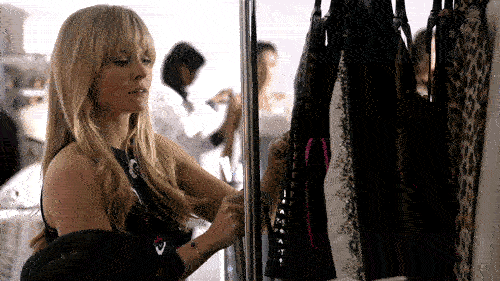 IMAGE Giphy.com
1. Ask nicely.
Brands and designers are not obliged to lend you their items. And since you're the one who's asking for a favor, make sure to ask nicely and approach them professionally. If they don't reply within the day, it's okay to send a follow-up text or email; it's entirely possible that they've been busy so they forgot to respond to your inquiry. But if after that your pull-out request still hasn't been granted, respect that and refrain from bombarding them with one message after another.
2. Take good care of the borrowed items.
Even if it's just a pair of socks, guard it with your life (okay, fine, this may be an exaggeration). The point is, if a designer has trusted you enough to lend you his/her garments, then you should honor that by taking good care of whatever was entrusted to you. For all you know, it might've taken someone from dawn to dusk working on that one piece of clothing—always keep in mind that there's a lot of time, effort, and resources that have been put into it, so borrowing an item only to neglect it is an ugly form of disrespect.
3. Credit accordingly.
This one is self-explanatory. Especially if you did not pay a single dime for the item that was worn, the least you could do is to give credit where it's due. If you're posting a photo on social media, be diligent in tagging the brands or the designers—what's two minutes of your time to check the correct spelling of their names or Instagram handles anyway? It's nothing compared to the amount of time and effort they spent working on each piece, and given that, they still agreed to lend you their prized garments. So again, make sure you uphold your end of the bargain and credit accordingly.
ADVERTISEMENT - CONTINUE READING BELOW
4. Return the borrowed items on time.
The standard practice is to return within a week after the items have been pulled out. Some stores are very strict with this rule, and with good reasons; for one, they have to do regular inventories, and every day that their products aren't in the shelves is a missed opportunity for them to translate those items into potential sales. That said, if you had time to borrow, then it's only fair you make time to return. Holding onto the borrowed items for more than seven days is already pushing the envelope. But if you have a valid reason for any delay, at least handle it like a professional and inform the designer/store about the late return. Apologize profusely, and then make sure to comply with the new date you agreed on for return.
5. Return it in the same condition it was borrowed.
ADVERTISEMENT - CONTINUE READING BELOW
If you followed #2, then this shouldn't be a problem. Although practically speaking, some things are inevitable when it comes to dealing with clothes to be worn for a photo shoot, like makeup stains, sweat, and the smell of the model's perfume which might latch onto the fabric. If such happens, the responsible way to deal it with it is to have it dry cleaned before returning it to the store/designer. Return it clean, fragrance-free, and in pristine condition.
6. Take responsibility for damaged items.
Stores and designers inspect their items upon return to make sure everything is in good condition. If, heaven forbid, something has been damaged—say, there's a snag in the fabric or there's a missing button—the borrower is naturally held liable. Don't think that you can simply run away from this responsibility because you can't and you shouldn't. If you feel there has been a mistake, the best you can do is to politely make your case by emailing the store or explaining it to the designer. Of course, the decision is still theirs to make, and if they feel that a certain sum has to be paid, you need to take responsibility for the damaged merchandise.
ADVERTISEMENT - CONTINUE READING BELOW
7. Learn how to say thank you.
You'd think this is common sense, but there are so many stylists out there who don't know how big of a difference this two-word sentence can make. Now, here's a gentle reminder in case you want to start a career in styling: If you want to build a good relationship with various brands and designers, know that it's not enough to simply tag them on Instagram and return borrowed items on time. Be gracious, say thank you, and mean it! Because without them, how in the world do you think you can survive a career in styling?
Related Stories from Preview.ph
Hey, Preview readers! Follow us on Facebook, Instagram, YouTube, Tiktok, and Twitter to stay up to speed on all things trendy and creative. We'll curate the most stylish feed for you!