In this digital age when OOTDs are carefully planned and curated for social media, it's inevitable for other people to feel a tad bit embarrassed to be caught wearing the same outfit. That said, allow us to set the record straight once and for all: Repeating clothes is not a sin. Rather, it's a skill—and any true-blue fashion girl would tell you that it's an essential one for that matter. Because setting Instagram aside, the reality is that we all repeat clothes. After all, it's not about how much clothes you have inside your closet; it's about how you make the most out of each and every piece.
While it may be normal for most of us, what's usually frowned upon is if you're a celebrity who got photographed wearing the same piece of clothing on different occasions. Thankfully, there are the likes of Kate Middleton who beg to disagree. And if the Duchess of Cambridge herself says there's nothing wrong with it, who are we to say otherwise?
Another case in point is our very own Heart Evangelista who seems to have mastered the art of repeating clothes in the most fashionable way possible. The actress regularly frolics around the globe in her impeccably styled ensembles, and thanks to her well-documented OOTDs, we were able to score some sartorial tips! Below, the five times we spotted her wearing the same thing while still looking chicer than ever: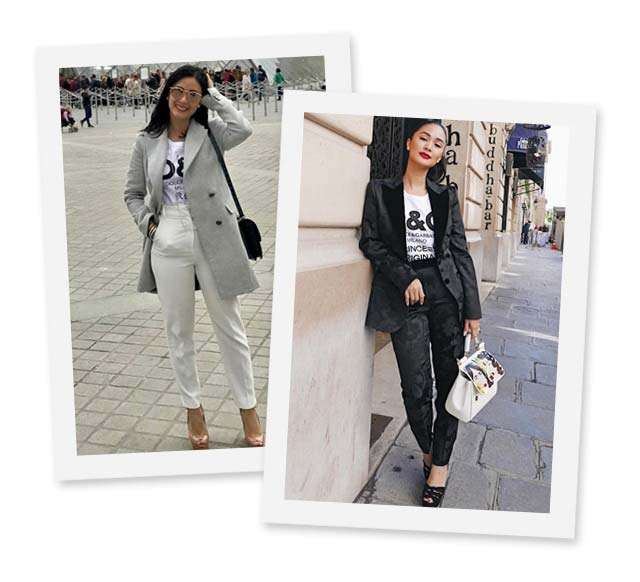 IMAGE INSTAGRAM/iamhearte; INSTAGRAM/stylebylovemarie_e
Remember that controversial Dolce & Gabbana logo tee Heart first wore to Paris last April? Of course you do! Well, she wore it again when she came back to the City of Lights for Paris Fashion Week. This time around, she donned a black jacquard suit with a bright pop of red on her pucker.
ADVERTISEMENT - CONTINUE READING BELOW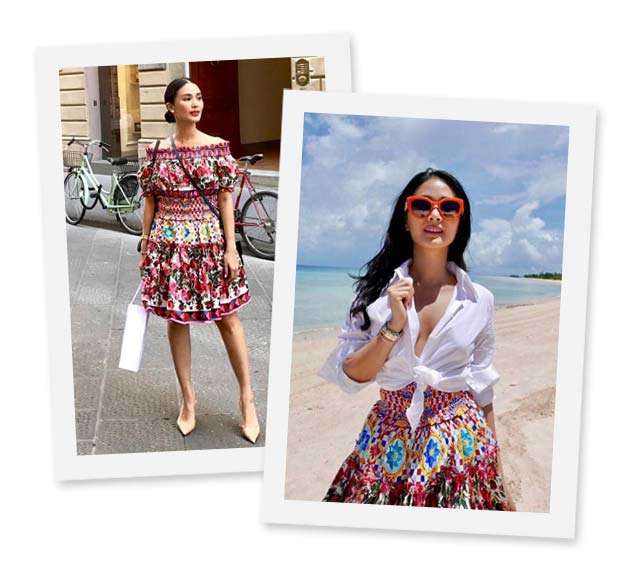 IMAGE INSTAGRAM/iamhearte; INSTAGRAM/stylebylovemarie_e
Who said one can't get away with being swathed in the same statement print more than once? You can wear your flirty floral frock on its own like Heart did during her last trip to Italy and cop her Balesin OOTD by throwing on a white button-down and a cute pair of sunnies for a beach-worthy look!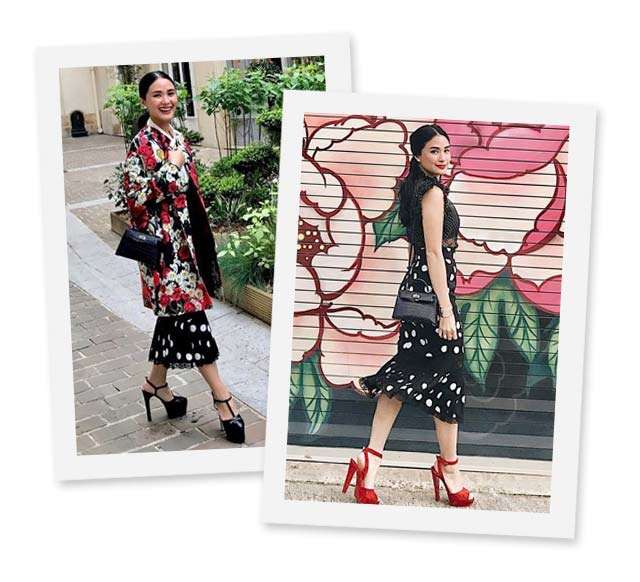 IMAGE INSTAGRAM/iamhearte; INSTAGRAM/stylebylovemarie_e
Heart made a case for print-on-print while prancing around the streets of Paris a few months back, but what impressed us even more was when she wore the same skirt to Hawaii and took things up a notch by playing with not just one, but two polka-dotted pieces. Genius!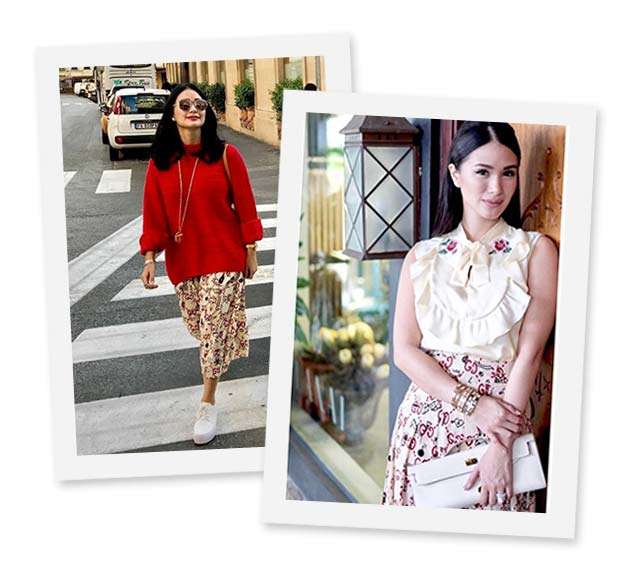 IMAGE INSTAGRAM/iamhearte; INSTAGRAM/stylebylovemarie_e
Remember our #PreviewBestDressedBrunch where Heart showed up in a glorious Gucci ensemble? She brought the same pleated skirt to Florence and gave it a casual spin by trading the pussy bow top with an oversized sweater. She then finished it off with pristine white sneakers and called it a day!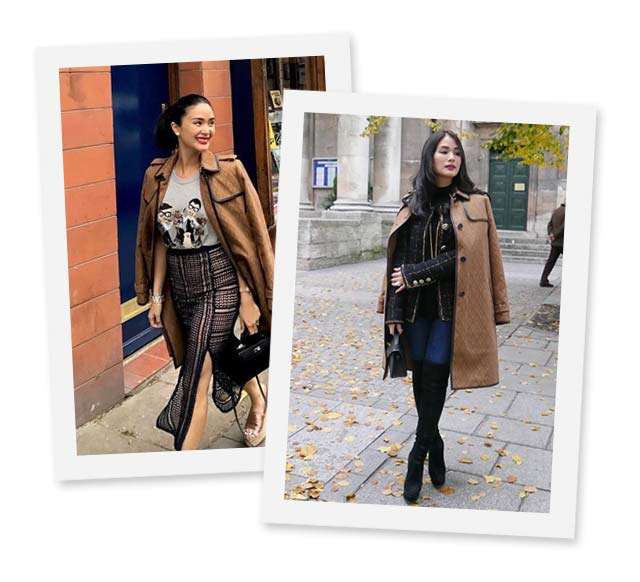 IMAGE INSTAGRAM/iamhearte; INSTAGRAM/stylebylovemarie_e
When it comes to layering in style, count on Heart to knock it out of the park! Invest in a comfy yet chic overcoat—preferably in a neutral color—that you can seamlessly pair with the rest of your wardrobe.