Diffusion label Marc by Marc Jacobs certainly has the same spirit of youth and rebellion its big brother does and the good news is that the apparel is actually available in the Greenbelt 5 boutique. We zoned in on five key looks at the recent Fall 2012 preview that we're certain will pique your interest.
1. Retro Prints
The patterns we're seeing were plucked from the '70s. You'll fall for op-art dots, the cocktail of stripes, unstudied zigzags, or the edgy take on dip-dye that run the gamut of dresses, tops, skirts, and cardis. (P.S.: Even the gadget cases come in a variety of prints!)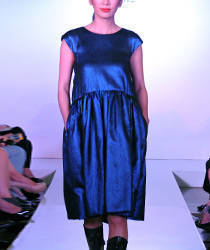 2. Dresses Hang Loose
Consider this proof that it's time to take a breather from body-con numbers. These dresses may be '50s in silhouette but quite '90s in their loose 'n easy fit.
3. Sweater Central
With the weather getting cooler, sweaters have replaced tees and tanks as the cool top to wear over skirts, shorts, and denims. We especially love the underlying metallic threads and rich emerald, navy, and granite shades we saw in this preview.
4. Wedge Kicks
You know how fashion's new love affair with sportswear has brought to life those high-top sneakers with their secret hidden heel? Well, like Isabel Marant, Marc Jacobs is one brand that incorporated this into their collection.
5. Stylish Shorts
No longer typecasted to just the denim and tailored variety, shorts have taken a dressy turn thanks to skirt-like flaring and the use of extra-lovely fabrics.
Click on the photo gallery to view photos of the Marc by Marc Jacobs Fall/Winter 2012 collection!