A fashion girl is never afraid to experiment with her wardrobe while staying true to herself. It's not easy being one, but that's why influencers like Kaila Estrada, Nicole Andersson, and Tricia Gosingtian are around to help give their followers the inspiration they need to create their individual styles.
Last October 18, Preview Girls were invited to a private event in the Kate Spade New York boutique in Bonifacio Global City to celebrate the YESSSSSSS Campaign. Each 'S' in the 'YESSSSSSS' represents each day of the week when you should celebrate their small victories—from simply completing your daily to-do list to finally doing something that scares you. It's a campaign about taking power back in your life and remembering to treat yourself to the things that make you happy and practice self-love whenever you can.
Clad in their favorite Kate Spade New York attire, attendees were treated to cocktails, canapés, and hand massages and got a glimpse of the 2018 Fall/Winter collection. As an iconic brand that showcased chic, quirky, and feminine designs, from bags to apparel, here are five Kate Spade New York-inspired elements every fashion girl should add to her wardrobe, as seen on influencers:
Statement bag
A statement bag can complement an outfit or become its focal point. Whether it's a polished tote or a structured satchel, a statement bag can add a pop of color to a monochromatic outfit or texture to a sleek look. Below, Coleen Garcia sports the Kate Spade New York Hayes Street Studded Small Sam bag and the Camelia Embroidered Midi Dress, while Andi Eigenmann wears the Kate Spade New York Wild Roses Ruffle Wrap Dress and the Owen Lane Hazel Multi-Glitter bag.


Eye-catching necklace
Need a quick fix for your basic outfit? Wear a statement necklace. It can add charm and a touch of femininity to an otherwise simple look. Give your dress shirt a classier look by buttoning it all the way to the top and donning a collar necklace, or opt for a pendant necklace while wearing a mock turtleneck. For Lissa Kahayon's look, she opts for a crystal pendant necklace for a subtle accent on her one-shoulder top and paper bag pants ensemble.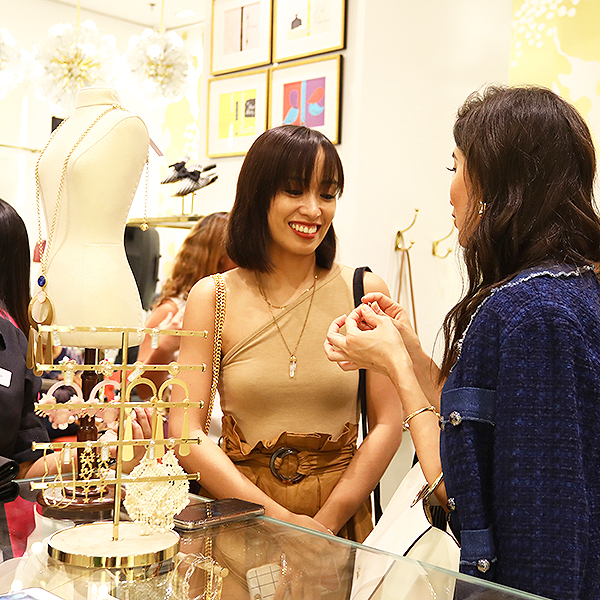 Killer heels
By choosing to wear heels, you automatically elevate your outfit—not just literally—by turning your casual OOTD into a sophisticated and chic look. If you prefer kitten heels, pair them with a short skirt or trousers that fall to your ankles, but if you're more into higher heels, wear them with a knee-length or midi dress to add length to your look. For Kaila Estrada's Kate Spade New York look, she wears a pair of strappy peep-toes with her Kate Spade New York Medallion Metallic Dress and So Foxy Fox Binx bag.


Printed dress
Dresses, like jumpsuits, are quick and easy pieces every fashion girl should have in her arsenal. It's an entire outfit on its own, and all you need are some accessories. Layer your frock with a sleek coat, or pick a sling bag to finish your look. In the photo below, Mikaela Martinez (far left) and Rosenthal Tee (middle) wore pieces from the Kate Spade New York Fall/Winter 2018 Ready-to-Wear collection, while Tricia Gosingtian (second from right) sports the Kate Spade New York Prairie Rose Clip Mini Dress.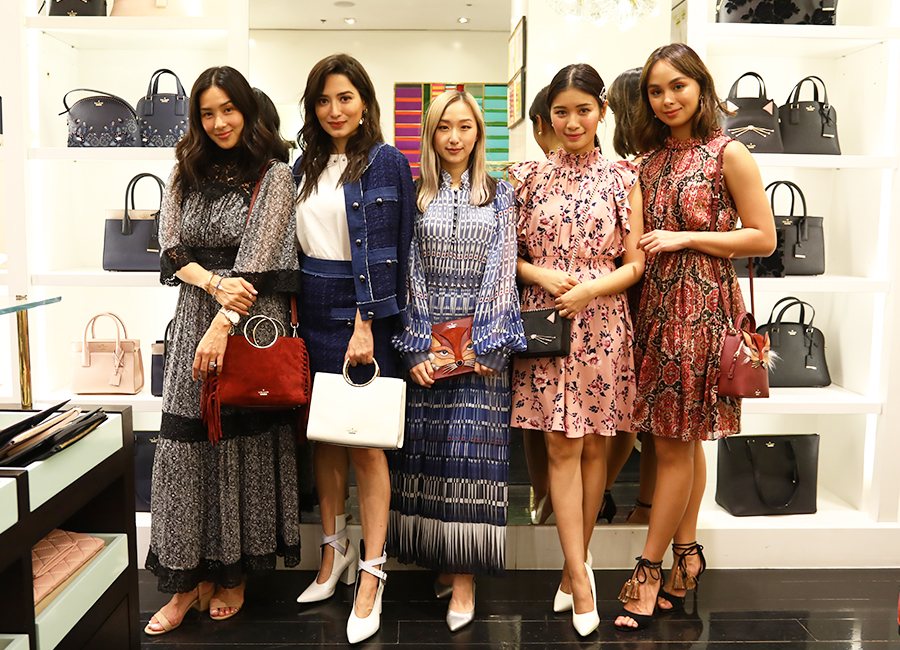 Chic co-ords
The best thing about co-ords is that they're basically a three-in-one ensemble—that is, you can choose to wear the co-ord as it is or pair either the top or bottom with other pieces of clothing in your wardrobe to create different outfits. Nicole Andersson's look for the night includes the Kate Spade New York Stud Embellished Tee and Denim Tweed Jacket and Skirt set.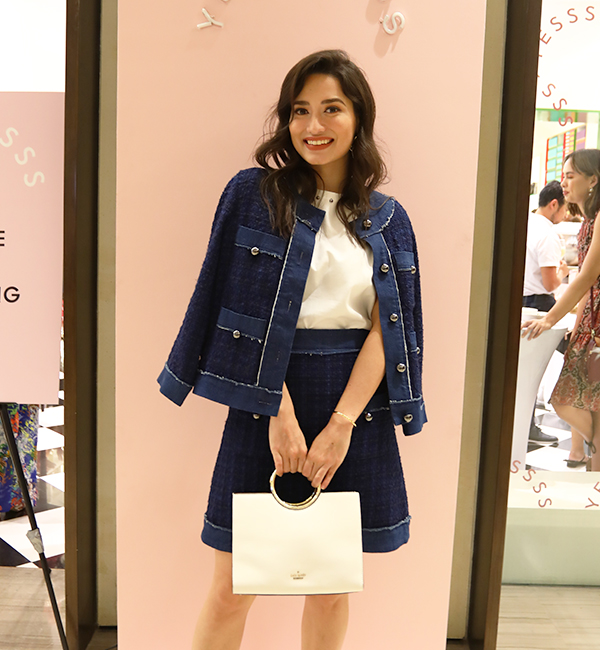 Follow Kate Spade New York - Philippines on Facebook.