Purple has always been associated with royalty and their lavish lifestyles. But we prefer to label the hue as the essential dash of femininity that will never fail to punch up our borrowed-from-the-boys favorites. Below, we've picked out five stunning accessories that we guarantee, will take any and all ensembles up a notch.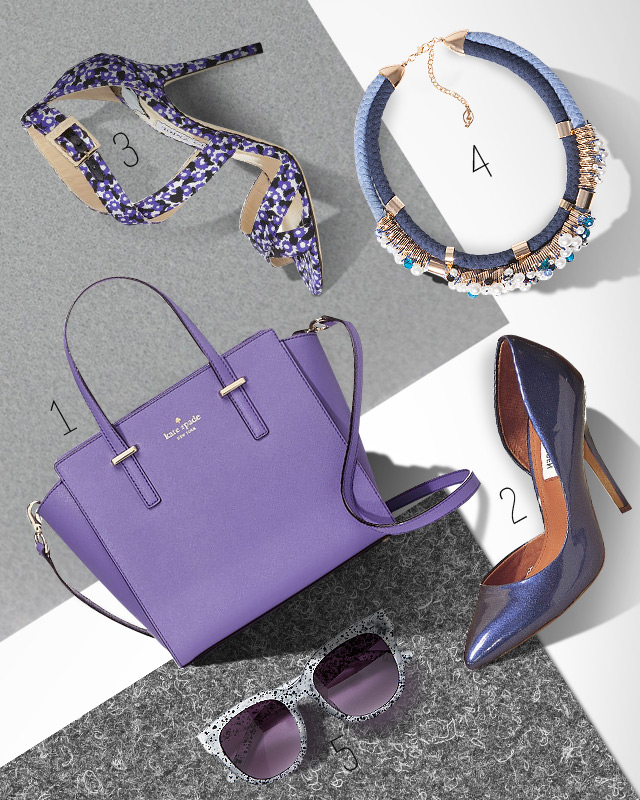 ADVERTISEMENT - CONTINUE READING BELOW
1. Cedar street small Hayden, Kate Spade. A small purse for the ladies who brunch. 2. Gayyle pointy toe pumps, P3650, Steve Madden. Sparkly pumps for the party staple. 3. Lottie Violet Floral Printed Jacquard Sandals, Jimmy Choo. Floral steppers for the young and in love. 4. Double cord and pearl necklace, P895, Stradivarius. For the slightly subdued, a bejeweled mauve necklace for work and play. 5. Transparent sunglasses, P995, Zara. Purple lens sunnies for the adventurous teen.
CONTINUE READING BELOW
Recommended Videos
***
Are you caught in the dilemma of using your savings to get a new phone or that summer-ready Kate Spade? Well, what if we told you that Smart Infinity thought of a brilliant solution to this millennial's dilemma? Ladies will probably never run out of reasons to shop, which is why Smart Infinity along with Stores Specialists, Inc, or SSI (bringers of Zara, Jimmy Choo, Marc by Marc Jacobs and all the brands above) thought of giving us an insanely amazing perk. Get this: a FREE shopping spree care of the best colored plastic ever, the Purple Card, for every iPhone Smart Infinity plan! Basically, each of the newest iPhone or Samsung plans comes with a free gift card in denominations of up to Php24,000. Whoa.
ADVERTISEMENT - CONTINUE READING BELOW
––
Totes amaze or what? Right, right? Don't let this awesome offering pass, fashion girls! After all, you will need a new phone to take a shot of that equally new OOTD.
Interested? Sign-up up now at smart.com.ph/infinity/purplecard