Fashion's most talked about male model of the moment is not a hoax. When we were given ten minutes for a one-on-one interview with Lucky Blue Smith (five minutes for Q&A and the other five for a quick shoot) at the launch of his Penshoppe Fall/Winter campaign, it seemed like an impossible task. Really, a five-minute shoot? It's almost unheard of—until we we started the interview.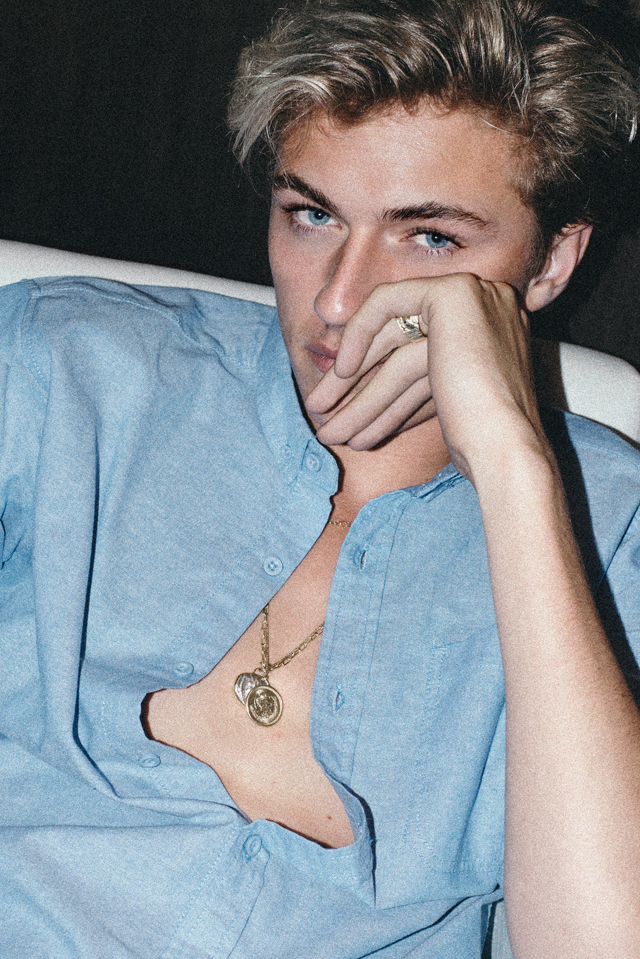 ADVERTISEMENT - CONTINUE READING BELOW
IMAGE Andrea Beldua
He is, truthfully, adorably nice. And that might be me partly speaking as a fan of the 18-year-old wonder boy, but arriving less than 24 hours prior to that press con, he was professional, accommodating, and showed no signs of whiny jet lag demeanor. Plus, he nailed all his poses under the incredulously tight time frame. And if he can strike a handsome smize under a minute, what can Lucky Blue not do?
CONTINUE READING BELOW
Recommended Videos
We had a quick chat with the platinum blonde 6'3" teen, who's walked the runways of Tom Ford and Versace and has been on the covers of V Magazine and Vogue Paris, about modeling, music, and why he doesn't need to workout.
What's the story behind your catchy but peculiar name?
"Well, my mom had three girls before me, so I'm the only boy. She always says she was lucky to have a boy. She wanted my name to be 'Blue,' [and] my dad picked 'Lucky.' That's how I got my name."
ADVERTISEMENT - CONTINUE READING BELOW
You're tall and lanky—not the typical hyper-masculine male model. What comes to your mind when they say you're the pretty or David Bowie type?
"I don't really have an impression. I've been given what I have and I'm just using it. I'm just chilling. I'm flattered, though! It's a nice compliment. I mean, being compared to David Bowie is rad! He [was] the king!"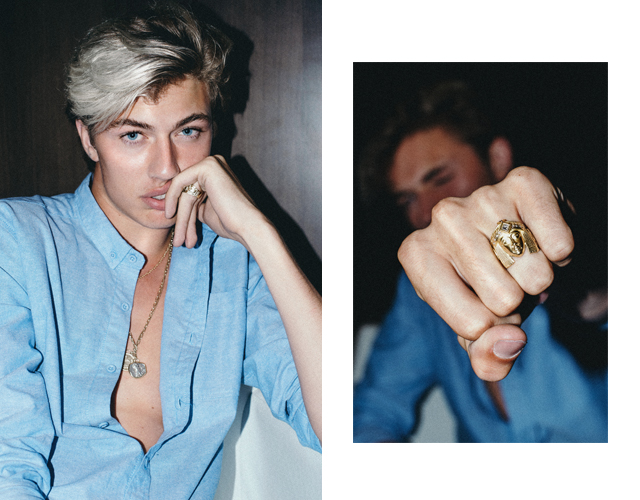 ADVERTISEMENT - CONTINUE READING BELOW
IMAGE Andrea Beldua
We noticed that you accessorize a lot. How would you describe your personal style?
"I like tight, skinny jeans, a cool button-down shirt—printed or not— and a pair of black boots. I like to layer some necklaces on and wear rings, too. Just something classic, rock 'n' roll, and a little vintage."
What are your denim essentials?
"Black skinny jeans and light blue ripped skinny jeans. Penshoppe's got a pair that's really comfortable that I like."
Would you do denim on denim?
"Yeah, I guess. Sometimes!"
ADVERTISEMENT - CONTINUE READING BELOW
IMAGE Andrea Beldua
Do you work out?
"A couple of minutes? I dunno, I don't really go to the gym."
But do you want to bulk up?
"No, no. I don't really care about that too much."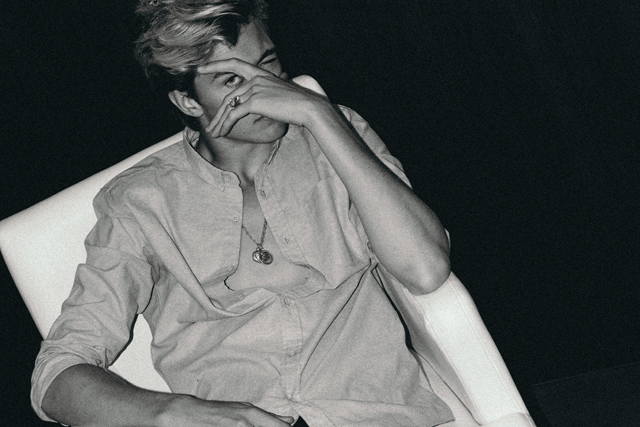 IMAGE Andrea Beldua
Who's your favorite band?
"I mean, my band is pretty sick, we're working on an album right now. I like the The Black Keys a lot. Then there's Jimi Hendrix and Led Zeppelin."
ADVERTISEMENT - CONTINUE READING BELOW
What's the craziest fashion show you've walked for?
"Craziest? Philipp Plein, probably. He just comes up with the craziest things. I opened the show standing on the back of a motorcyle. It was crazy."
What's the weirdest thing you had to do as a model?
"It's not really all that weird, but I was in London for a shoot with Love Magazine and in this photo they wanted to put a darker lip on me. The photo was black and white so you couldn't tell I was wearing dark lipstick or whatever. I didn't like it that much but it was for the shot."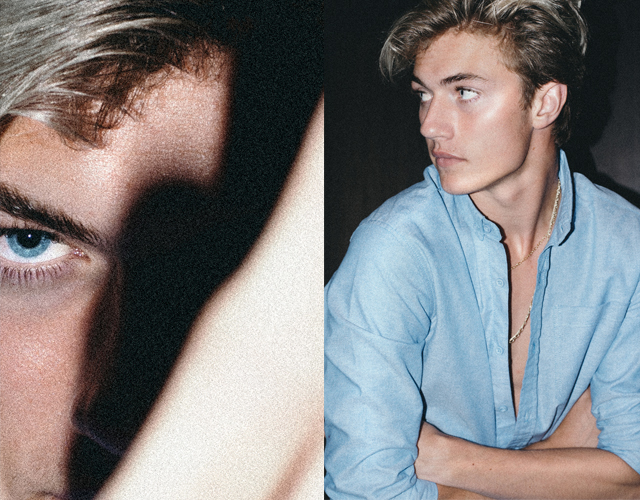 ADVERTISEMENT - CONTINUE READING BELOW
IMAGE Andrea Beldua
So do you wear makeup?
"Like right now? Or ever? No. They just put lotion on my face right now! (Laughs)."
...And your lashes are curled.
"I swear I didn't do anything to them! They're naturally like that!"
Read more about Lucky Blue inside our October issue here.