What is life without Zoom? These days, the video chat service has become our virtual portal for instant interaction with friends online. Zoom makes it possible to conduct meetings and even stage photoshoots from the comforts of home. In fact, influencers have jumped on the trend by showing their stylish 'fits set against Comfort Care Detergent's customizable Zoom backgrounds. The BG collection features vibrant colors and patterns that complement their creative shoot ideas. Below are fun examples starring your fave influencers:
1. A Fun Dance-Off
Verniece Enciso invited fellow influencers like her sister Vern Enciso and their friends Nicole Andersson and David Guison to a fun dance showdown where they took turns to bust their best moves. Look at how they all dressed up for the occasion! David and Vern used pieces from the same color family as their BGs while Vernice and Nicole donned analogous colors to stand out against their BGs. For this setup, use Zoom's Gallery View feature so you can see all your friends on the screen. Best if you assign one BG for each person so everybody gets a chance to shine.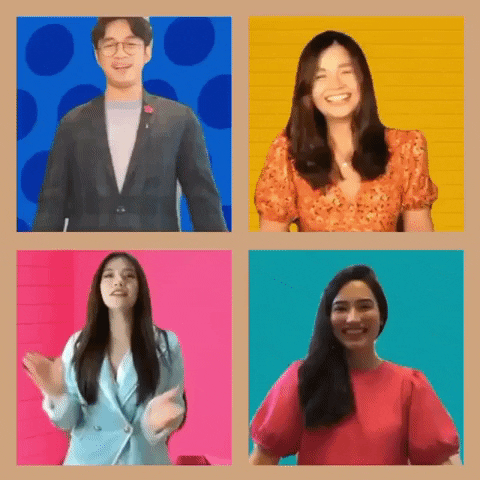 2. #ZOTD Game
Also known as "Zoom Outfit Of The Day," #ZOTD is a fashion term we need to get used to! Take a look at Rei Germar who's slaying the #ZOTD game as seen in her recent photoshoot. She struck a pose, and with the help of her photographer friend, they took snaps of her casual chic 'fit featuring a loose suit, bralette, and wide-legged trousers. Rei uses Zoom's touch-up feature for a soft focus filter that helps freshen up her look.
3. Pass the Props
Janine Gutierrez and Laureen Uy suited up in pastel colors and caught up with each other in this Zoom shoot! They shared props like a coffee mug, a pair of stylish specs, a go-to lippie, and freshly cleaned clothes. Notice how they wore colors inspired by the other person's BG? So cool! Janine and Laureen used Zoom's recording feature to shoot this cute and funny clip. After recording the Zoom hangout, they downloaded and edited the video to make it shareable on their IG feed.
4. Tie-Dye Experiment
Janeena Chan checked to see if her colorful tie-dye top can stand out against different Zoom backgrounds like the geometric pattern, polka dots, swirls, and even a faux brick wall. Spoiler alert: Everything looks adorable!
5. Solo Shoot
Former Preview Creative Director Vince Uy still manages to bring something new to the table! In his Zoom photoshoot, he offers a unique take on brainstorming online by having it with himself. Of course, he recorded it in four different takes to perfectly display his vibrant WFH 'fits and fave BGs from the collection. Genius!
Want to get those fun Zoom backgrounds? Download Comfort Care Detergent's Zoom BGs here! Use them to #SlayAtHome for your photoshoot! Wear your most stylish 'fits and keep them in good condition using Comfort. It helps clean and protect your outfits from possible signs of clothes aging like color fading, yellowing, shape loss, roughness, or bobbling.
For more details, follow Comfort on Facebook.